These crispy kale quesadillas, stuffed with shredded cheddar cheese and a sweet kale pesto, are quite possibly our favorite new way to eat greens. The recipe comes from the new book, Little Bento, by Michele Olivier (check out the free giveaway below!), and the timing couldn't be better. Ella is going to be in first grade in a couple of weeks (WTF, that's old! No; not her—me!!), and I've slowly started thinking about back-to-school. While there's a lot to be excited about, there's also one thing that's hanging over my head like a load of stinky laundry. Packing lunches.
Dum, dum-dum-dummmmm.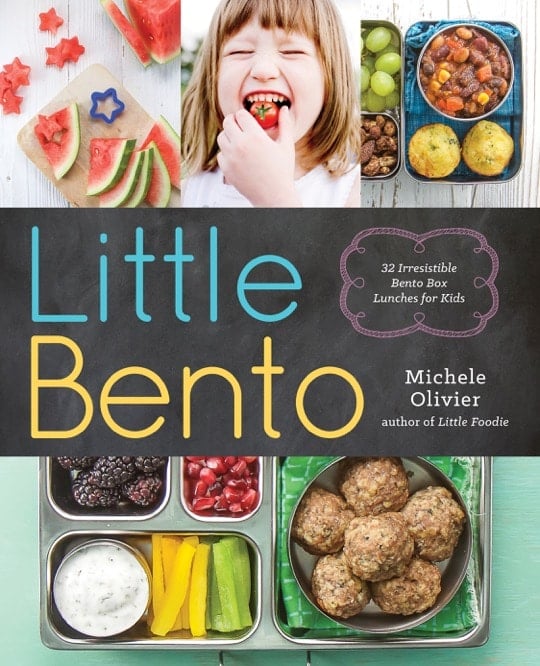 Back to school blues
As I've mentioned before, I hate packing school lunches. My kids are lucky if they get scrounged up leftovers, or maybe pita bread pizzas. Luckily this year I have a bit more fire under my belt, thanks to Michele. She's a cookbook author and the publisher of the blog Baby FoodE (and an all-around amazing woman). Now that her kids are off to preschool, she's offering creative lunch ideas for kids. Wait; back up. These are just great recipes, kid or not, lunch or dinner. From easy baked falafel, to Vietnamese meatballs with dipping sauce, to DIY garlic noodles and crispy chicken strips made with brown rice cereal and sunflower seeds, this are kid-approved recipes that are far from boring. I can't wait to dig in.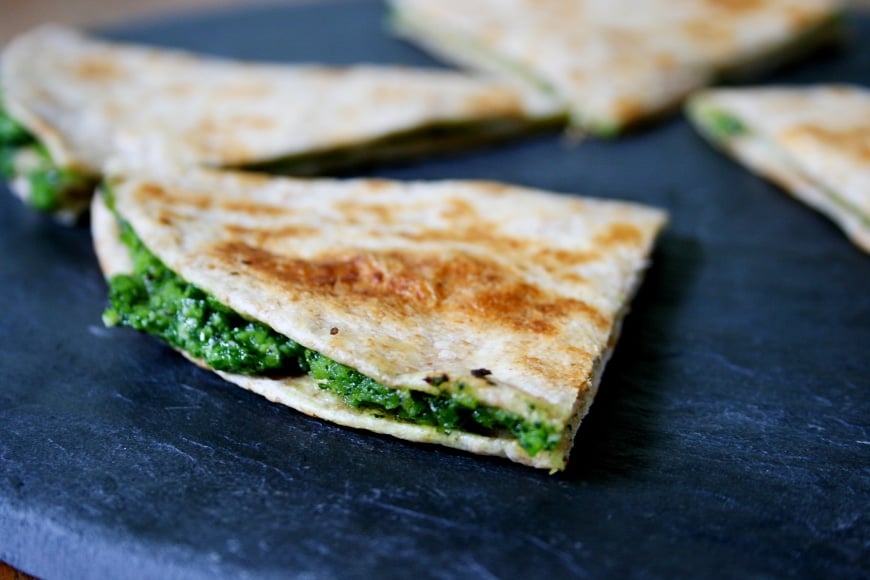 Quesadillas to the rescue!
Last week I tried these cheesy kale quesadillas, and we are hooked. The recipe calls for making a quick kale pesto, which is brilliantly sweetened with half an apple. I'm not kidding when I say that I'm going to be putting this pesto into everything—I've already slathered it on tomato sandwiches, spooned it over grilled snapper and swirled it into chilled corn soup. Here the pesto gets spread onto flour tortillas (you can use regular or gluten-free), topped with grated cheddar or mozzarella (I used cheddar), and cooked until crisp. I made Michele's Mexican street corn on the side (it's from another chapter), which was so awesome that I ended up hoarding the leftovers for my own lunch the next day (sorry, girls!). (Check out the recipes below!)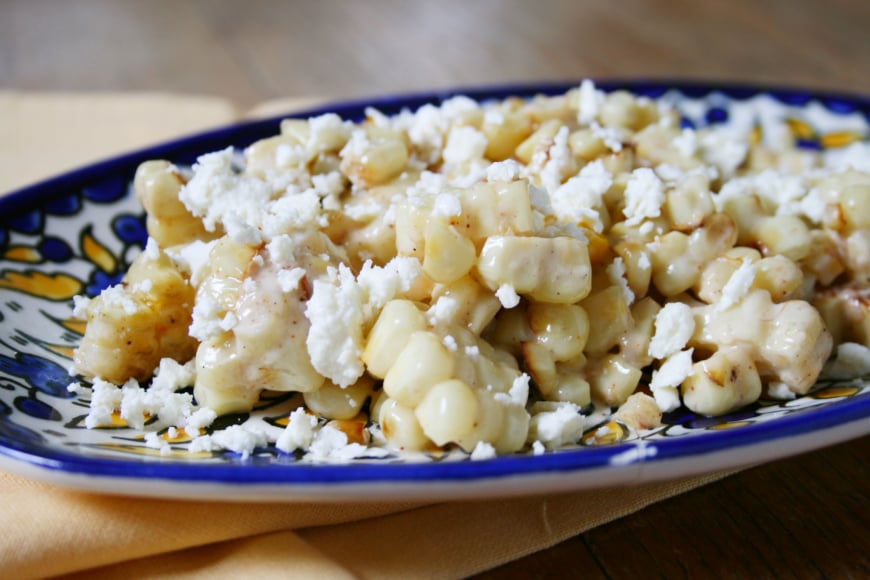 The book is broken down into bento box lunches, but don't let that intimidate you. Just think of it as an assortment of recipes, which you can either make into full meals or pick and choose from (I don't own a bento box but am reconsidering—you should see the disorganized mess of little glass dishes and Tupperware in my cupboard). Michele also offers useful (and often funny) advice for packing lunches, such as to assemble them the evening before (avoiding the stress of the morning hustle), and to pack them while making dinner, using components of dinner for lunch the next day. That's my new goal, except for the fact that if I'm making these recipes, I'm probably going to want to save the leftovers for myself.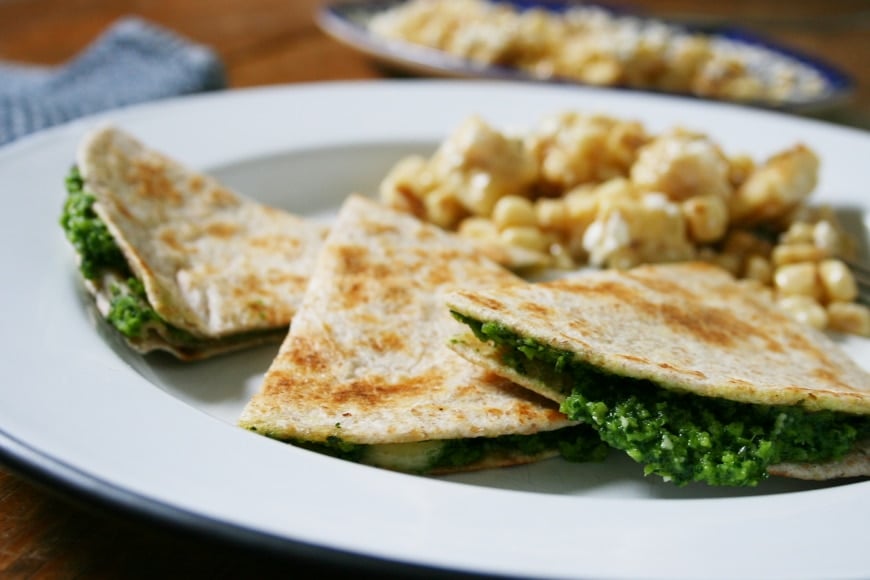 I'm so excited to be giving away two FREE COPIES of Michele's book! Enter below for a chance to win!
Free giveaway!
[promosimple id="a174"]
Get the recipes!
Cheesy Kale Quesadillas
By Michele Olivier. Recipe from Little Bento: 32 Irresistible Bento Box Lunches for Kids (Sonoma Press, ©2016).
Ingredients
3

kale leaves

, stemmed and roughly chopped (about 2 cups)

½

apple

, peeled, cored, chopped

1

garlic clove

, peeled

1 ½

cups

mozzarella or sharp white Cheddar cheese

, divided

1

tablespoon

extra-virgin olive oil

, plus 1 teaspoon

Salt

Freshly ground black pepper

4

large tortillas

(white, whole-wheat, or gluten-free)
Instructions
In a food processor or blender, combine the kale, apple, garlic, ½ cup of cheese, 1 tablespoon of olive oil, salt, and pepper. Blend, scraping down the sides of the bowl if needed, until everything is combined and resembles a chunky pesto, 30 to 60 seconds.

Heat the remaining 1 teaspoon of olive oil in a medium skillet over medium heat. Spread roughly 2 tablespoons of the kale pesto onto one tortilla, sprinkle ¼ cup of cheese over the kale, and cover it with another tortilla. Place the quesadilla in the skillet and cook until golden brown, about 3 minutes. Flip it and cook for another 2 to 3 minutes. Repeat this step with the remaining tortillas, kale mixture, and cheese. You will have 2 quesadillas.

Let the quesadillas cool on a cutting board for 5 minutes. Cut each into 4 wedges and serve. If packing for lunch, let cool completely before placing in the bento box.
Mexican Street Corn
By Michele Olivier. Recipe from Little Bento: 32 Irresistible Bento Box Lunches for Kids (Sonoma Press, ©2016).
Ingredients
1

tablespoon

extra-virgin olive oil

3

ears corn

, kernels cut off the cobs, or 1 cup frozen corn, thawed

3

tablespoons

plain Greek yogurt or sour cream

, 2% or full-fat

Juice of ½ lime

1

garlic clove

, minced

¼

teaspoon

chili powder

Salt

Freshly ground black pepper

3

tablespoons

cotija cheese

, shredded or crumbled
Instructions
Heat the oil in a skillet over medium-high heat. Add the corn and cook, stirring occasionally, until most of the kernels are golden brown and some are just starting to burn, 7 to 10 minutes. You will want some pieces of the corn to be slightly charred.

In a small bowl, stir together the yogurt, lime juice, garlic, chili powder, salt, and pepper.

Remove the skillet from the heat and stir in the yogurt sauce until well combined. Sprinkle with the cheese and serve. If packing for lunch, cool completely before placing in the bento box.