Reminiscent of our favorite spicy salmon rolls, these portable sushi burrito wraps are one of my new summertime staples. A ginger- and sriracha-spiked salmon salad gets wrapped in nori with sushi rice, cucumber and avocado. They're portable, delicious, and surprisingly easy to make—no sushi mat required! (Watch how to roll them in the video below.)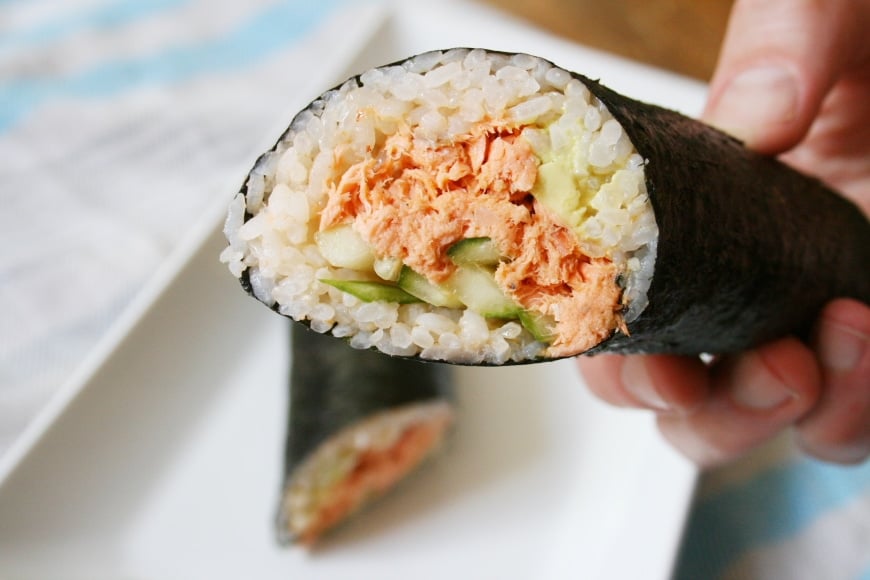 I didn't try sushi until I was eighteen-years-old and in college. Ella first tried sushi at 18-months-old and in diapers. We were both smitten at first bite. While back then Ella stuck mainly to avocado or cucumber rolls (which I guess aren't technically sushi, but rather maki), today she loves fish rolls, especially salmon. We occasionally go out for the real deal when we're in the city or traveling, but there aren't any good sushi restaurants near our home. We therefore often make our own sushi, especially in the summer when we crave cooler foods. I most often use cooked salmon (we usually can't get super fresh wild salmon), and Ella likes to help with the assembly process (you can read how we make the sushi rolls here).
Sushi Burrito
A couple of months ago I was in LA for work and popped into a juice-bar-hipster-type restaurant in Beverly Hills to grab a quick bite before a meeting. I only had a few minutes so headed to the prepared-foods section, where I snatched a "sushi burrito" (I know, bad name). It was basically a large, uncut sushi roll stuffed with sushi rice, cooked salmon and julienned cucumbers. It was surprisingly really, really good.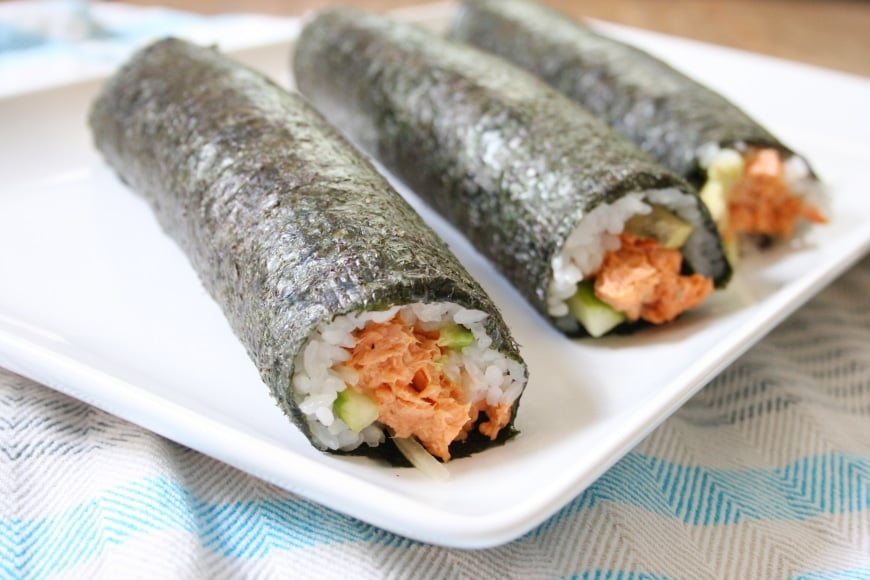 I've since started making sushi burritos as do-ahead dinners. They can be assembled in advance, and since they're so portable they're perfect for meals outdoors or for picnics by the river. For the filling, I mix cooked, flaked salmon with ginger, garlic, tamari, lime juice, sriracha and a touch of mayonnaise, which we layer with creamy avocado slices and crunchy cucumbers (the salmon salad is also fantastic in sandwiches with thinly sliced cucumbers and avocado). Sushi rice, which is basically sticky rice that gets mixed with vinegar, salt and sugar, adds a lot of flavor and can even be made a few hours in advance.
You can eat the wraps on their own (my preference) or you can dip them in tamari or soy sauce (James's preferred method). For Ella, I slice them crosswise into "sushi rolls" which, wouldn't you know, Juniper has come to love as well (she just turned 18-months, so there must be a trend here!).
Watch the Video!
You don't need a mat to make these sushi burrito wraps, but you do need a piece of parchment paper, which you'll use as leverage to wrap them tightly. Watch how it's done here:
Get the Recipe!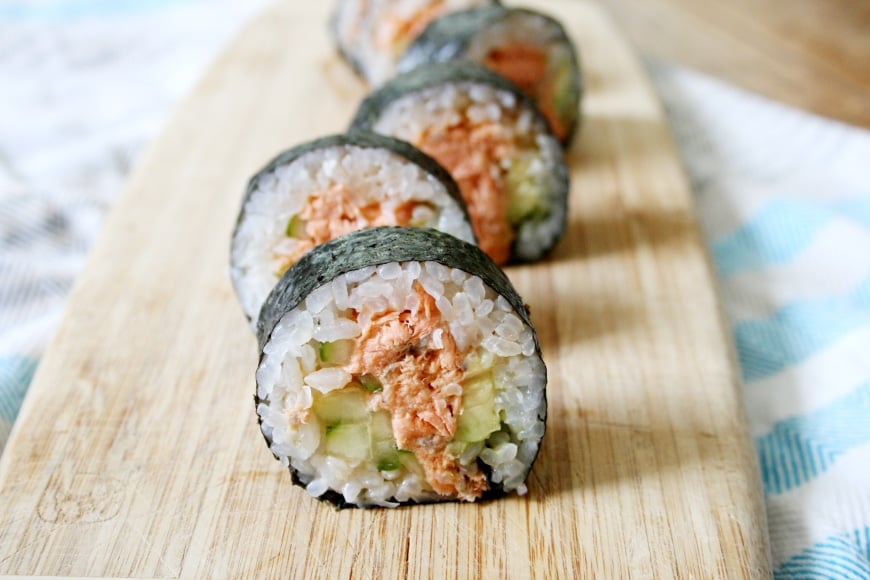 Spicy Salmon Sushi Burrito Wraps
Reminiscent of our favorite spicy salmon rolls, these portable sushi burrito wraps can be made ahead and don't require a sushi mat! A ginger- and sriracha-spiked salmon salad gets rolled in nori with sushi rice, cucumber and avocado (the salmon salad is also delicious in sandwiches with avocado and thinly sliced cucumbers). Be sure to start the sushi rice first. Watch how to assemble and roll the wraps
here
!
Servings:
4
(makes 4-5 wraps)
Ingredients
1

pound

wild salmon

Salt and freshly ground black pepper

1

tablespoon

fresh lime juice

(about ½ lime)

1

teaspoon

low-sodium tamari or soy sauce

, plus more for serving (optional)

1

garlic clove

, grated on microplane

1

teaspoon

freshly grated ginger

3

tablespoons

mayonnaise

2-4

teaspoons

Sriracha

, to taste, plus more for serving

5

sheets of nori

Sushi rice

(see below)

½

large English cucumber

, cut into julienned strips

1

avocado

, pitted and thinly sliced
Instructions
Preheat the oven to 425˚F. Line a baking sheet with parchment paper.

Place the salmon on the prepared baking sheet and season it with salt and pepper. Roast 10-14 minutes (depending on the thickness of the fish), or until it flakes easily but is still pink in the center. Let cool then coarsely shred the salmon using a fork. (Alternatively, you could grill the salmon or even poach it).

In a medium bowl, combine the lime juice, tamari, garlic and ginger. Season with salt and pepper. Let sit 5 minutes. Add the salmon and toss to coat. Add the mayonnaise and stir in sriracha to taste (depending on how spicy you like it). Fold to combine. Taste and season with salt and pepper. Do Ahead: The salmon salad can be made up to 1 day in advance.

Place a sheet of nori, shiny side down with the longest side closest to you, on a piece of parchment paper that's about 2-3 inches longer than the nori on the top and bottom (or you can use a bamboo sushi mat). Spoon a heaping cup of sushi rice on top of the nori. Dip your fingers in water (this will help to prevent the rice from sticking), then pat the rice into an even layer, going all the way to the sides but leaving a 1-inch border across the top and bottom, adding more rice as needed.

Arrange a layer of julienned cucumbers horizontally across the bottom of the rice (closest to you). Top with a few spoonfuls of spicy salmon salad, followed by about 4 slices of avocado.

Now it's time to roll! Hold the parchment (or sushi mat) and use it to roll the nori over the filling. The first roll should go all the way around the filling. Use the parchment to tighten the first roll, squeezing the filling into a nice compact log. Then continue rolling, using the parchment as leverage. Once you get to the end, wet the edge of the nori and seal it.

Repeat the process for the remaining wraps (I usually get about 4-5 big wraps). Serve the wraps on their own, or with tamari for dipping. (You can also cut them into sushi rolls, if you wish—just be sure to use a sharp knife). Do Ahead: The wraps can be refrigerated for up to 1 day.
Sushi Rice
There are two tricks to good sushi rice: first you rinse the rice well to remove the excess starch; and then you coat the cooked rice in a vinegar, sugar and salt mixture. The rice can be made on the stovetop or in a rice cooker, and it can be cooked up to 5 hours in advance.
Ingredients
2

cups

short-grain white rice

(sushi rice)

3

tablespoons

rice vinegar

2

tablespoons

sugar

1

tablespoon

kosher salt
Instructions
Place the rice in a large bowl and cover with cold water. Swirl the rice a few times then pour off the water. Keep doing this, using several changes of water, until the water runs clear.

Drain the rice well and transfer to a pot or to a rice cooker. Add 2 cups of water. If using a rice cooker, lock the lid and cook according to the manufacturer's instructions. If using a pot, bring the water to a boil, uncovered. Once boiling, reduce the heat to low and cover. Cook 15-20 minutes, or until the water is absorbed. Remove from the heat, cover and let sit 10 minutes to steam.

In the meantime, combine the vinegar, sugar and salt in a small saucepan. Bring to a boil and cook until the sugar and salt are dissolved.

Transfer the cooked rice to a large bowl. Drizzle the vinegar mixture over top. Using a rubber spatula, fold and turn the rice until each grain is coated. Let cool. Do Ahead: The rice can be made up to 5 hours in advance. Once cool, cover with plastic wrap and store at room temperature.