This vegan quinoa burger recipe is one of my favorite back-pocket meals! The burgers are a perfect weeknight dinner, especially on days when I don't know what in the he$$ to make, since I usually have all of the ingredients on hand. ?
Vegan quinoa burger recipe
Cooked quinoa gets pulsed with cannellini beans, garlic, scallions, cilantro and plenty of flavorings in the food processor, and then peas and panko breadcrumbs (regular or gluten free) are stirred in. The cannellini beans provide plenty of "stickiness," so no eggs or other binders are needed, meaning these little babies are vegan. The burgers are cooked until golden and crisp on each side and can be served in any number of ways—on a salad, on a bun or even in pita bread.
Quinoa burgers, any way you like 'em
I prefer the quinoa burgers on their own over greens with a smear hummus and smashed avocado, and James likes them on English muffins with yogurt, mint, avocado, feta and spinach (go big or go home). For my kiddos, I stuff them into pita bread with hummus and tomatoes!

Vegan burger recipe: make it your own
Whenever I make a batch of grains (quinoa, brown rice, millet, etc), I always make extra to use later in the week. These burgers are an excellent use for leftover quinoa, and the flavorings can be adjusted to what you have or what you're in the mood for. I'm looking forward to trying an Indian approach with curry powder, topped with chutney and yogurt, or even going Mexican style with chili powder and oregano, topped with avocado and salsa. Think of the recipe as a guideline, and don't be afraid to experiment!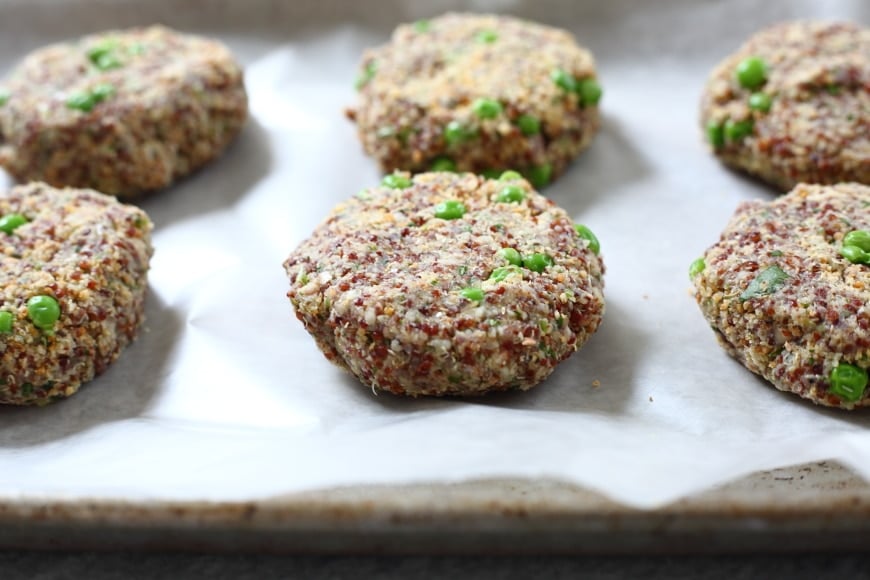 How to make vegan quinoa burgers
First, cook the quinoa. If you have leftover cooked quinoa on hand, this is a great place to use it! (You'll need 2 cups cooked quinoa.)
These burgers get made right in the food processor! The quinoa gets pulsed with garlic, scallions, cilantro, white beans and flavorings. I stir in panko breadcrumbs (gluten-free for me) and frozen defrosted peas at the end for a pop of flavor and texture.
Once shaped, the burger patties are sautéed in a large non-stick skillet until they're browned on both sides. I love my teflon-free Scanpans!
You can serve the burgers over salad greens (I love to top them with hummus or mashed avocado) or on buns with your favorite fixings.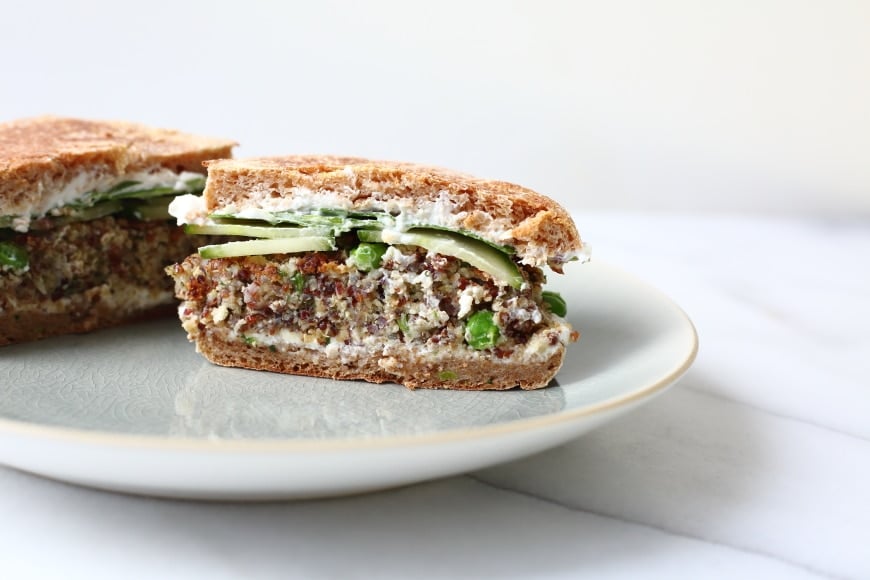 For another veggie burger variation, don't miss these Gluten-Free Beet & Sweet Potato Burgers (pictured below)!
Vegan Quinoa & White Bean Burgers (Gluten-Free)
These easy quinoa burgers come together quickly in the food processor! The burgers are incredibly versatile—you can serve them alone with a salad, on buns, or stuffed into pita bread. Top them with hummus, cucumbers, avocado, yogurt or cheese (if not vegan), tomatoes, mint leaves... whatever you like! This is a great way to use up leftover quinoa.
Ingredients
½

cup

red or white quinoa (or 2 cups already cooked quinoa)

Salt

2

large garlic cloves

1 15-

oz

can white beans (navy or cannellini)

3

scallions, coarsely chopped (white and green parts)

¼

cup

cilantro leaves (packed)

1

teaspoon

lemon zest

1

teaspoon

ground cumin

Freshly ground black pepper

½

cup

fresh or frozen peas (defrosted if frozen)

½

cup

panko breadcrumbs (regular or gluten free)

3

tablespoons

ghee or extra virgin olive oil, divided

Toppings for serving,, such as: hummus, smashed avocado, sliced cucumber, mint leaves, sliced tomatoes, garlicky yogurt, feta cheese, etc.

Buns, English muffins or pita bread for serving, if you fancy
Instructions
Rinse the quinoa well in cold water and drain. Put the quinoa in a small saucepan, and cover by 1 inch of cold water. Season with salt, and bring to a boil. Reduce to a simmer; cover and cook 16-18 minutes, or until most of the quinoa grains have unfurled like little curlicues. Drain and let cool. Do Ahead: The quinoa can be made up to 3 days in advance and stored in a covered container in the refrigerator.

In a food processor with the blade running, add the garlic cloves and finely chop. Add the white beans, scallions, cilantro, lemon zest and cumin. Season with salt and pepper. Process until the mixture forms a coarse puree, scraping down the sides. Add the quinoa; pulse to combine until a coarse paste forms. Transfer to a bowl, and stir in the peas and breadcrumbs. Form the mixture into 6 patties, and place them on a piece of wax or parchment paper. Do Ahead: The uncooked burgers can be covered and refrigerated for up to 2 hours before cooking.

In a large cast iron or nonstick skillet, heat the ghee or olive oil over medium-high heat. Add the burgers and cook until golden brown on the bottom, about 4-5 minutes. Flip the burgers, add the remaining tablespoon of ghee or oil and cook until golden on the other side. Transfer the burgers to plates (with or without buns, according to your fancy), and serve warm with the topping(s) of your choice.
Notes
Do Ahead: The uncooked quinoa burger patties can be refrigerated overnight. The cooked burgers can be frozen between sheets of parchment paper for up to 3 months.
Tips:
You can use red, white or multicolored quinoa for these burgers.
You can swap out the white beans for black beans.
You'll need a food processor for this recipe. Start by processing the garlic and aromatics until finely chopped, then pulse in the beans and quinoa.
It's best to cook the burgers in a nonstick skillet or seasoned cast iron skillet so that they're easier to flip. A fish spatula is a great tool for turning the burgers.