These baked oatmeal bars are like a mix between a bowl of oatmeal, a muffin and one of these banana oatcakes. They're portable, golden on the outside, soft in the center and irresistibly sweet. You won't believe they're made without any refined sugars, eggs or dairy! (Check out how I make them in the video below.)

Breakfast
Juniper, our 17-month-old, refuses to use silverware. She had a short relationship with a fork a couple of months ago, but after a few weeks it lost its allure. "Why bother with that thing when I have a perfectly suitable hand?" she seems to tell me (at least that's what I translate from "fah gblgble nooooooooo"). For a while breakfast was a bit of a struggle as we often have oatmeal on weekdays (when the muffin stash runs out), but she was refusing to eat it out of a bowl with a spoon. One day I slopped it onto a plate, and voila! She devoured the entire thing using her fingers. From then on we started serving her oatmeal on a plate, which she eats by the handful. As you can imagine, this isn't the cleanest of eating methods, and we've often sent her off to school with oat-encrusted hair and clothes. A few weeks ago a light bulb went off in my head: what if I converted her morning oatmeal into bar form? And that, my friends, is how this recipe was born.
I basically took Juni's favorite oatmeal, thickened it with extra chia seeds and flax seeds (which also add a good dose of protein and fiber), and baked it. Thank you Miss June-bug, because I am now hooked on these bars. They're a great make-ahead breakfast, as the bars can be refrigerated all week or even frozen for a few months. I flavor them in the same way Juni likes her oatmeal: berries (usually frozen wild blueberries and raspberries, which we always have in the freezer), cinnamon, cardamom, bananas, coconut oil and a touch of maple syrup. I suspect a handful of chopped nuts would be awesome, but my kids have become staunchly "anti-nut" in baked goods (bah!). The bars are fabulous warm or at room temperature. Juni takes hers plain, cut into pieces. James likes his with milk and maple syrup. And Ella… well, for Ella I have to break it up and pretend it's a bowl of oatmeal, because she refuses to eat it in bar form.  Seriously?  Seriously. I guess you could call it one win and one loss, but I'm going to concentrate on the win. 😉
As for me, I prefer to heat up the bars in the toaster oven until crispy around the edges to eat as an afternoon snack with a cup of tea. I've also been known to eat them with a scoop of ice cream, but please, please don't tell my kids.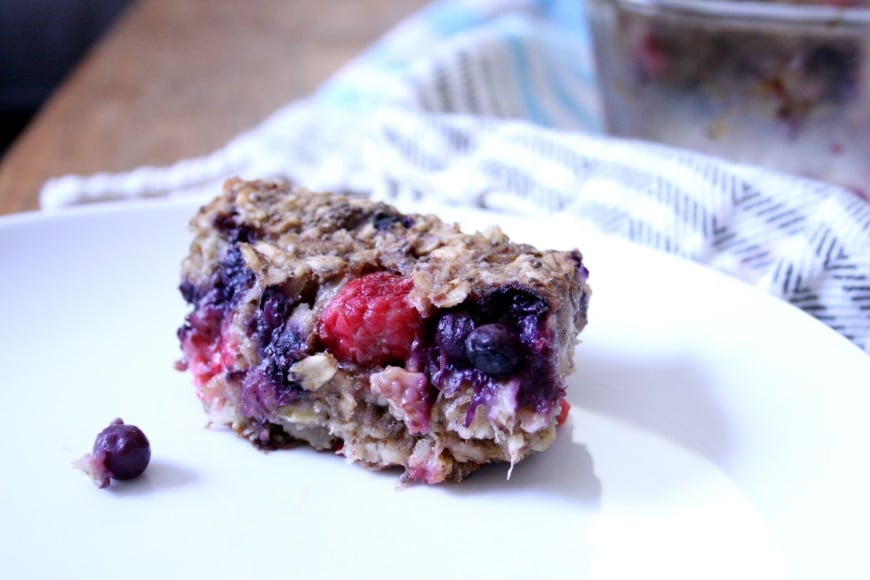 The Video
The Recipe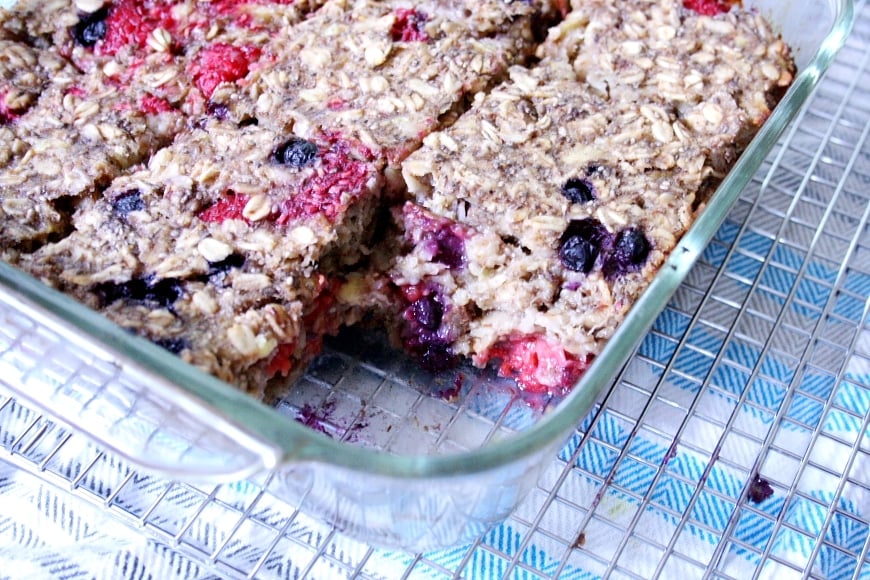 Baked Oatmeal Bars (Vegan, Gluten-Free)
These baked oatmeal bars, which are made without eggs, dairy or refined sugars, are like a mix between a bowl of oatmeal, a muffin and a banana oatcake. They're portable, golden on the outside, soft in the center and irresistibly sweet. You can eat them on their own, or you can serve them in a bowl with milk and a drizzle of maple syrup or honey. The bars are a great make-ahead breakfast, as you can bake them on the weekend then eat them all week long. Chopped nuts would be a delicious addition.
Ingredients
2

tablespoons

extra virgin

(unrefined) coconut oil, plus more for greasing

3

cups

(9.6 ounces) old-fashioned rolled oats

3

tablespoons

(1.1 ounces) chia seeds

3

tablespoons

(0.7 ounce) ground flax seeds (flaxseed meal)

1

teaspoon

cinnamon

¼

teaspoon

cardamom

1 ¼

teaspoons

kosher salt

2

medium ripe bananas

, peeled

¼

cup

(3.1 ounces) maple syrup

1

– 1 ¼ cups fresh or frozen wild blueberries and/or raspberries
Instructions
Preheat the oven to 425˚F. Grease an 8x8-inch baking dish generously with coconut oil.

Bring 2 cups of water to a boil.

In a heatproof bowl combine the oats, chia seeds, ground flax seeds, cinnamon, cardamom and salt. Stir to combine. Plop in 2 tablespoons of coconut oil. Pour the boiling water over the mixture and stir well. Cover with plastic wrap and let sit 5-10 minutes.

Meanwhile, in a separate bowl, mash the bananas using a fork until mostly smooth. Stir in the maple syrup.

Pour the banana mixture over the oats (which will be quite clumpy at this point) and stir well to combine. Fold in the berries.

Transfer the mixture to the greased baking dish and bake 30 minutes, or until golden on top and around the edges. Let cool 5-10 minutes (the longer it cools, the easier it will be to cut). Cut into squares and serve warm or at room temperature. Do Ahead: The cooled bars can be covered and refrigerated for up to 5 days, or they can be individually wrapped in wax paper or plastic wrap and frozen in a ziptop bag or airtight container for up to 2 months. Reheat the bars in a toaster oven or microwave.