I'm a sucker for foods that can be eaten with a spoon. From pudding, to porridge, to ice cream, there's something luxurious about curling up with a bowl and a single utensil. Maybe that's why I've always eaten my smoothies with a spoon. It's just more fun that way, taking something that's nutritious suspiciously close to ice cream territory. These days, I'm not the only one who eats her smoothies with a spoon. Smoothie bowls are currently a thing—I see a new one practically every day in my Instagram feed (I'm at @SizemoreNicki, btw). A smoothie bowl is a thick smoothie served in a bowl and topped with assorted tidbits for texture, from coconut flakes, to toasted nuts, to granola or even cocoa nibs. I have to admit; this is one fad-wagon that I'm happy to jump on.
Now that the weather is warming, smoothies are making their way back into our family meal routine, either for breakfast or as an after-school snack. My girls LOVE them, and I love that I can slip a whole bunch of good-for-you stuff in them, and no one's the wiser. This blueberry spinach smoothie bowl is one of our current favorites. You'd never know that it's stuffed with nutritional superstars such as spinach, chia and hemp seeds (for protein and fiber) and a touch of coconut oil (for good-for-you fat). The bowls are topped with buckwheat clusters, which are sweet, salty, nutty and crunchy—the perfect counterpoint to the sweet smoothie.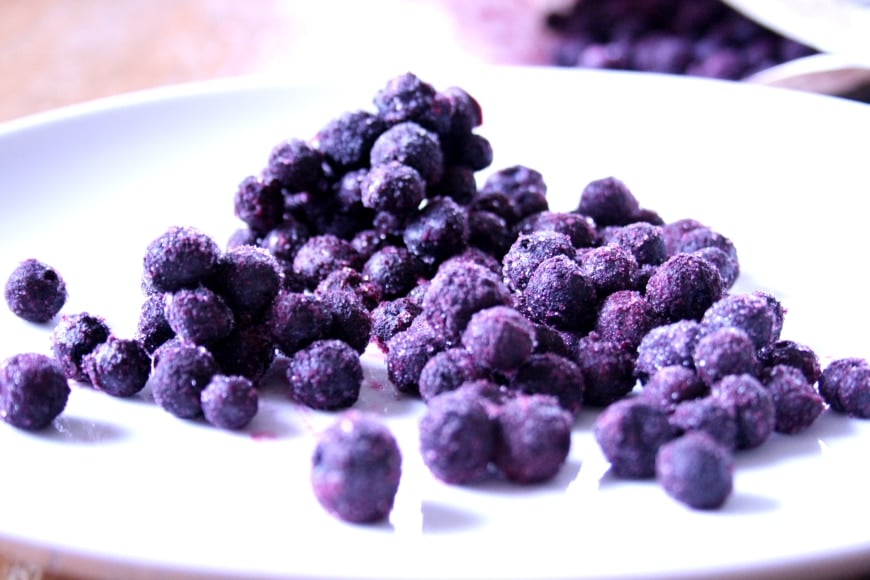 Frozen wild blueberries and raspberries provide the base for the smoothie bowls, as well as a frozen banana for sweetness and creaminess (no sugar or dairy needed). The great thing about using frozen fruit, as opposed to fresh, is that it provides a thick texture without having to add ice (plus, it's often cheaper than fresh, especially at this time of year). As far as the bananas go, whenever I have bananas leftover at the end of the week, or if they start to get over-ripe, I peel them then pop them into a large zip-top bag that I keep in my freezer. That way I always have a stash of frozen bananas at the ready (as an added bonus, they can be defrosted and used in baked goods such as banana bread or muffins).
By the way, I feature another family favorite—my Superfood Smoothie Bowl, made with mixed berries, Goji berries, cacao powder, nut butter, seeds and more deliciousness—in my Craftsy class. If you want to check out that recipe, as well as my favorite Green Smoothie and a whole bunch of other non-smoothie recipes, I have a link for 50% off the class for you! (Just click here). And thank you to the student who inspired this post by begging me for another recipe. You know who you are!
Finally, I just posted my second From Scratch Fast tip on my You Tube Channel! Check it out here.  Now go post your smoothie bowls on Instagram and tag me. I want to see them!
Blueberry Spinach Smoothie Bowl with Maple Buckwheat Clusters (Vegan, Gluten-Free)
These smoothie bowls are packed with good-for-you ingredients, but you'd never know it! The sweet, salty, crunchy and nutty maple toasted buckwheat clusters are the perfect counterpoint to the creamy smoothie. To freeze bananas, peel them then toss them into a large zip-top bag and store in the freezer for up to 2 months.
Ingredients
1

cup

unsweetened nut or seed milk

(such as almond or hemp milk)

1

frozen banana

, broken into thirds

1

cup

frozen wild blueberries

½

cup

frozen raspberries

2

cups

tightly packed baby spinach leaves

1

tablespoon

extra virgin

(unrefined) coconut oil

1

tablespoon

chia seeds

1

tablespoon

hemp seeds

¼

teaspoon

cinnamon

Pinch salt

Maple Toasted Buckwheat Clusters

(see below)
Instructions
In a blender add the nut or seed milk, followed by the remaining ingredients. Blend on high, stopping and scraping the mixture towards the blades, or using the tamper to stir, if you have a Vitamix. Divide the smoothie into bowls and sprinkle with Maple Toasted Buckwheat Clusters. Serve immediately.
Maple Buckwheat Clusters (Vegan, Gluten-Free)
Warning: these crunchy, nutty, sweet and salty clusters are so addicting that you might end up finishing them off before they make it to your smoothie bowl! Have the cinnamon, salt and maple syrup ready to go once the buckwheat starts toasting, as the process goes quickly. The clusters are also delicious over yogurt or ice cream.
Ingredients
¼

cup

buckwheat groats

¼

teaspoon

cinnamon

1/8

teaspoon

salt

, plus additional for seasoning

1

teaspoon

maple syrup
Instructions
Line a plate with parchment paper.

Place the buckwheat in a medium nonstick skillet over medium heat. Cook, stirring often, until light golden brown, about 2-3 minutes. Add the cinnamon, salt and maple syrup. Cook, stirring, until the buckwheat is dark golden and the pan looks dry, about 10-15 seconds longer. Transfer to the parchment-lined plate and sprinkle with a touch more salt. Cool completely. Do Ahead: The buckwheat clusters can be stored in an airtight container at room temperature for up to 5 days.