This sweet and creamy berry smoothie bowl is brimming with nutritional superfoods, including raw cacao powder, goji berries, chia and hemp seeds, nut butter and berries. It's my go-to breakfast when I need to recharge or reboot, and it's my foolproof way of slipping serious nutrition into my kids (because, spoiler alert, eating a smoothie bowl FEELS LIKE YOU'RE EATING ICE CREAM FOR BREAKFAST!). (Video below!)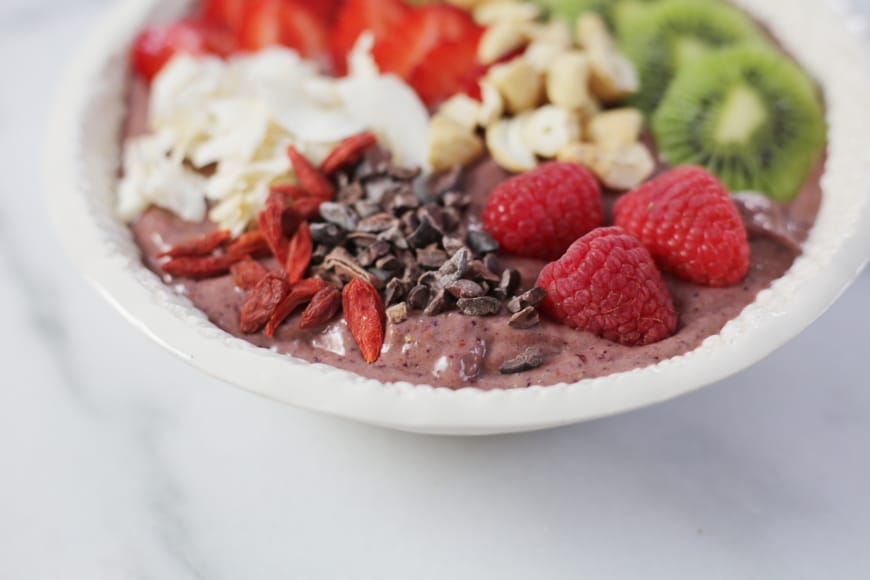 Berry smoothie bowl = ice cream for breakfast!
I've always been one to eat my smoothies with a spoon (which you can read all about in my Blueberry Spinach Smoothie Bowl post). Ever since I got a Vitamix several years ago, I've been hooked on making ultra-thick, soft-serve style smoothies and fruit based "ice creams," either for breakfast, as after-school snacks, or for dessert after dinner. They're sweet and delicious and are pumped up with fruits and vegetables with no added sweeteners. Best of all, my kids think they're getting a treat!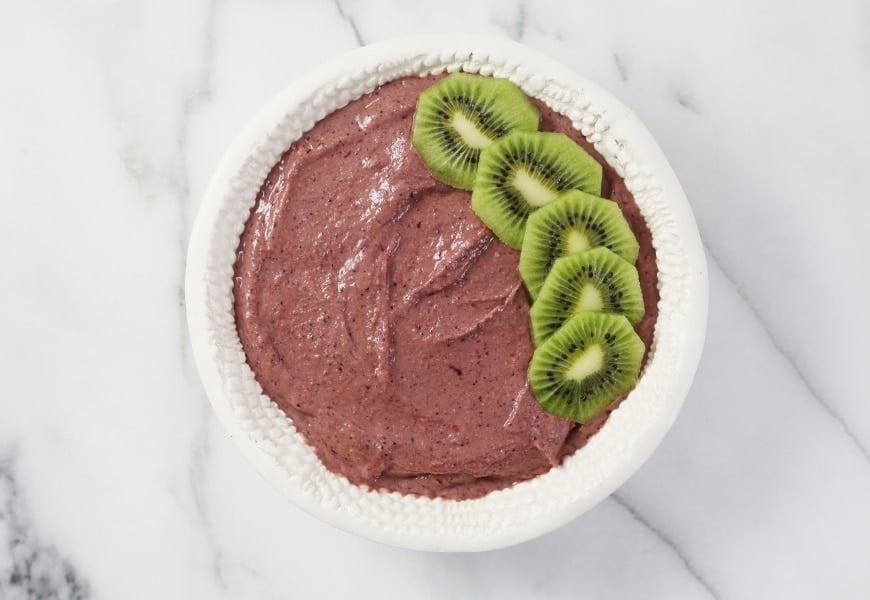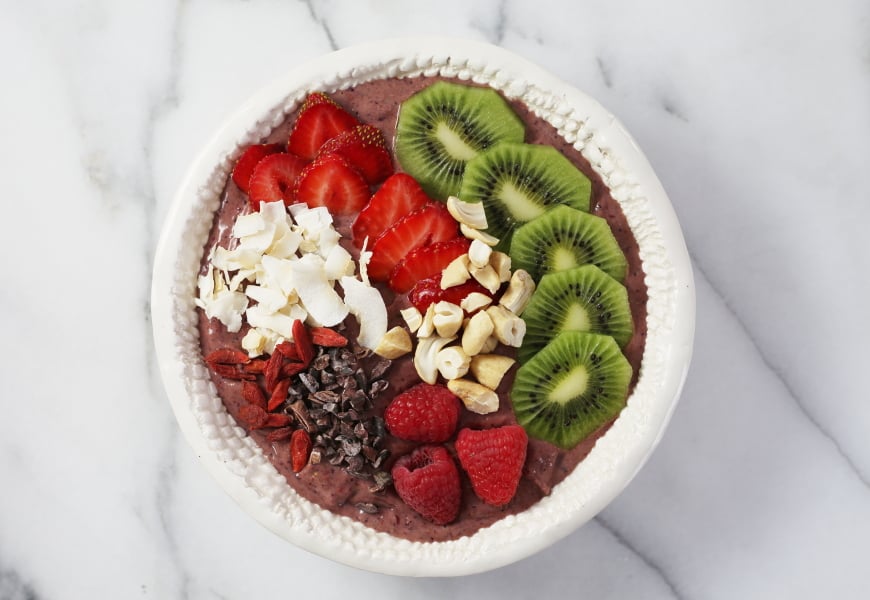 Easy superfood smoothie bowl recipe
This superfood smoothie bowl is one of my favorites. It's brimming with powerhouse ingredients, including: wild berries (antioxidant superstars), goji berries (which have the highest concentration of protein of any fruit and are also high in Vitamin C), raw cacao powder (high in magnesium and iron, but who cares because it tastes like chocolate), nut butter (healthy fats and protein) and hemp, chia or flax seeds (high in fiber and omega-3 fatty acids). Frozen bananas give it a creamy and thick texture without the need for ice. (Tip: At the end of each week I peel any bananas that didn't get eaten and pop them into a ziptop bag that I keep in the freezer—that way I always have a stash of frozen bananas on hand.)


How to make a smoothie bowl
You'll need a high-speed blender such as a Vitamix to make a smoothie bowl, since the mixture will be too thick to circulate in a regular blender. HOWEVER, if you don't have one you could use a food processor instead (or you can simply add about 1/2 cup milk to make a drinkable smoothie in a regular blender!). Here are a few tips for making a smoothie bowl:
Add the liquid first: this will help the food to circulate around the blade. I use nut milk, but you could use any kind of milk you drink. Coconut water is also a good option.
Next add frozen fruit: I love frozen berries, but other options include: frozen mango, pineapple chunks, or cherries. Frozen banana gives the smoothie bowl a rich, creamy texture without the need for added ice.
Follow with more delicate foods: Now's the time to pile in softer foods, such as fresh spinach or kale, if using, as well as nuts and seeds.
Stir with the tamper: If using a Vitamix, stir the smoothie with the tamper while blending, increasing the speed gradually to high, until the mixture is thick and creamy.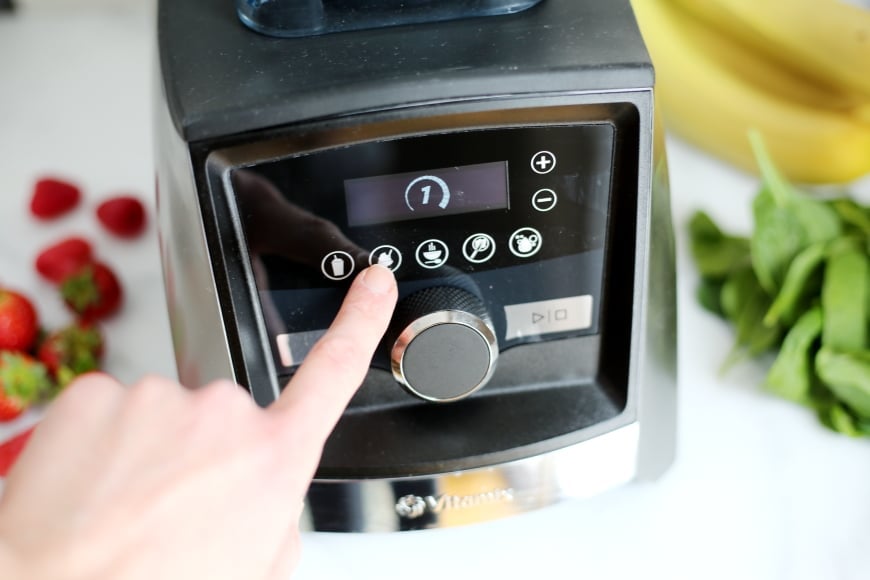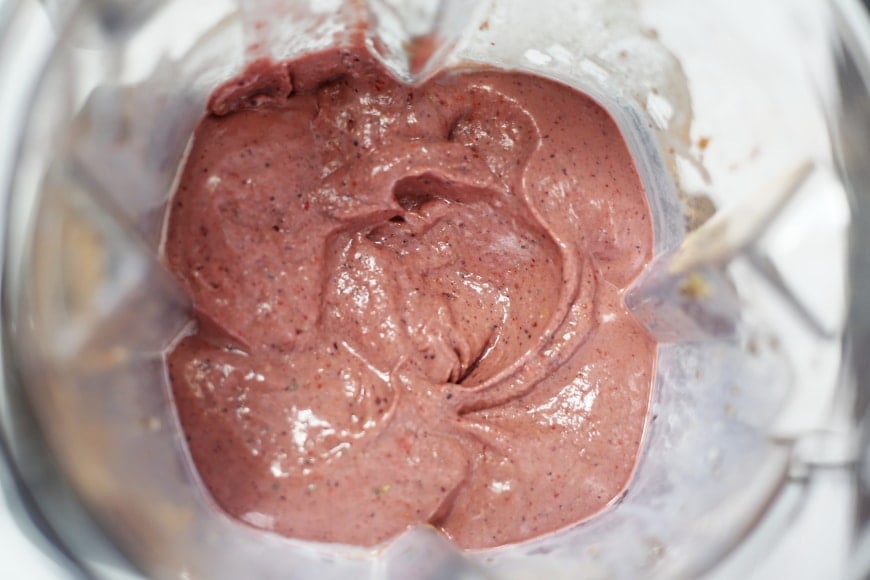 Superman definitely ate smoothies
Now for the fun part: the smoothie gets served in bowls and can be topped with an array of items for texture (LIKE A SUNDAE!!). Fresh fruit, nuts, seeds, granola, coconut flakes and cacao nibs are all delicious (and provide added nutrition). Pow! Bang! Krunch! (Cue 1980s Superman impression.)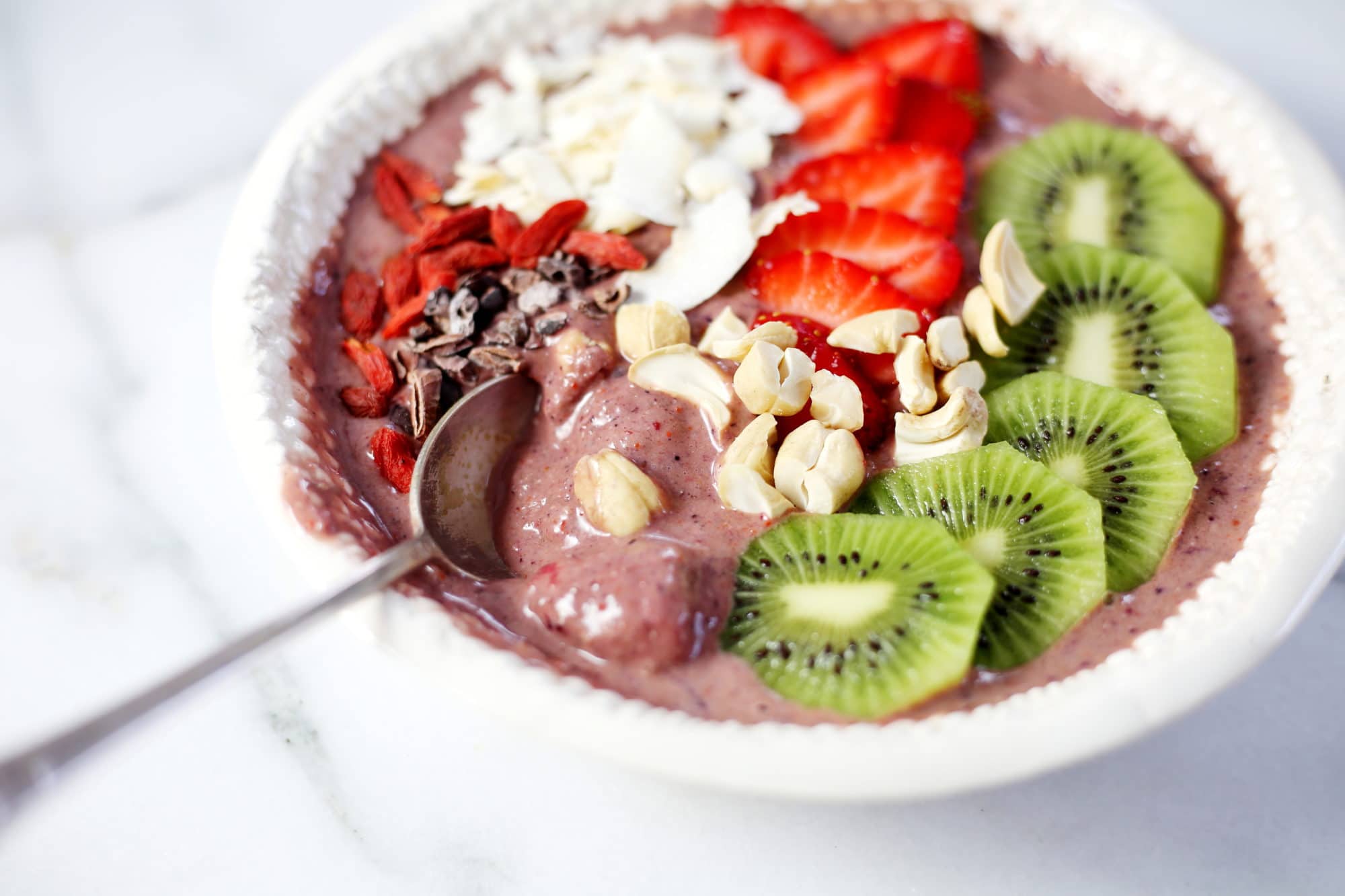 *This post was sponsored by Vitamix. All opinions and recipes are my own! Thank you to all the brands that keep From Scratch Fast rolling!
Watch the video!
Get the recipe!
Superfood Berry Smoothie Bowl
This sweet and creamy smoothie bowl is brimming with nutritional "superfoods," including raw cacao powder, goji berries, seeds, nut butter and berries. It makes for an awesome breakfast and is packed with protein, meaning it will keep you going all morning. I like to top with an assortment of textures and flavors, such as toasted coconut, cacao nibs, fresh berries and chopped nuts or a bit of granola. If you prefer to drink this as a smoothie or if you don't have a high-speed blender, you can use a food processor, or simply add another ¼ - ½ cup of milk or so, until you get a pourable consistency.
Ingredients
Ingredients

1– 1 ½

cups

nut milk (or milk of your choice)

2

frozen bananas, each cut into thirds

1

cup

frozen mixed berries, such as wild blueberries, strawberries, blackberries and/or raspberries

2

tablespoons

raw cacao powder

2

tablespoons

almond butter (or nut butter of your choice)

1-2

tablespoons

goji berries (optional)

1

tablespoon

hemp, chia or flax seeds

¼

teaspoon

cinnamon

Pinch sea salt

Toppings, such as cacao nibs, toasted coconut flakes, chopped toasted nuts, fresh berries or sliced fruit, and/or granola for serving
Instructions
Pour 1 cup of the almond milk into the Vitamix, and add the bananas, followed by the other ingredients.

Blend until smooth, pushing the ingredients towards the blade using the tamper. Depending on the size of your bananas, you might need to add another splash or two of milk if the smoothie is too thick.

Divide the smoothie into bowls, and garnish with the toppings of your choice.
*This post contains affiliate links, which means that if you purchase a product through a link you clicked on here, I receive a portion of the sale (at no cost to you). Thank you for supporting FromScratchFast!!
Stay Connected!
I'd love to hear what you're cooking, and I'm happy to answer any questions! Be sure to tag any photos so that I can share! @FromScratchFast