Every once in a while a recipe just doesn't work out.  Last week I wanted to create a simple and fast fruit dessert using berries and mascarpone for a class I was teaching—I was envisioning a broiled custard-like dish that could be thrown together quickly.  But, long story short, I didn't like the results.  After numerous tests, and a recipe that was getting increasingly complicated, I backed up and changed routes.  I kept the coconut and lime flavors of the original, as well as the broiled fruit, but instead made a quick panna cotta base.  The result was light yet luscious and perfectly suited for warm weather entertaining.  Sometimes it takes a fail to make a hit.
The panna cotta is adapted from Heidi Swanson's Super Natural Cooking.  It uses agar agar, a thickening agent made from algae, instead of gelatin (making this vegetarian friendly).  It uses only five ingredients—coconut milk, milk, sugar, lime zest and agar—and comes together in minutes on the stovetop.  Once the agar dissolves and the mixture coats the back of a spoon, it's strained, poured into ramekins and popped into the fridge to set.  Done.  The result is creamy and delicate with aromas of lime and coconut.

If I'm alone, you might catch me eating the panna cotta by itself straight out of the ramekin—it's a not-too-sweet tidbit to end a meal.  A topping, however, not only amps up the flavor, but also gives the dish visual appeal.  I know it's way too early for berry season (at least here in the Northeast), but I couldn't resist using them here (my spring fever has turned into summer fever).  The flavors of lime and coconut marry wonderfully with broiled blueberries, raspberries and blackberries, which create a syrupy "sauce" that has just the right consistency to drizzle over the panna cotta (it's also a great sauce for ice cream or pancakes).  For a more seasonal approach, however, try stewed rhubarb or a strawberry coulis. Sprinkled with toasted coconut flakes, it's an impressive dessert, and nobody has to know how easy it was. This is definitely going to become a summertime staple!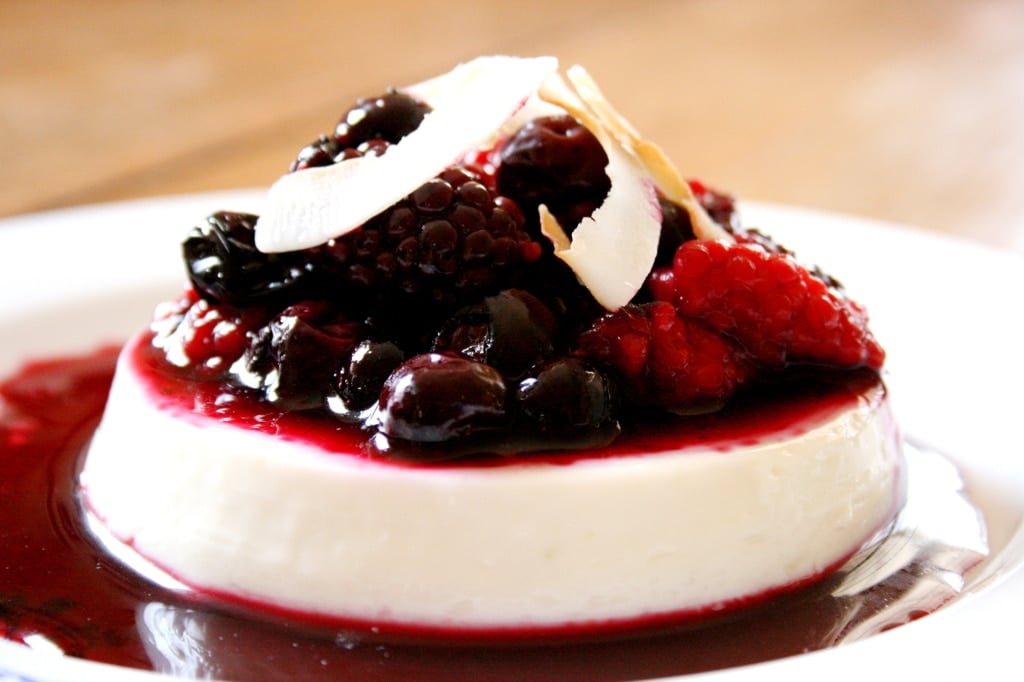 Coconut Lime Panna Cotta with Roasted Berries
Silky and light, this luscious but easy-to-make panna cotta is flavored with coconut and lime, and garnished with roasted berries. It's a simple but elegant dessert that's perfect for spring and summer entertaining. The base for the panna cotta is adapted from Heidi Swanson's Super Natural Cooking.
Ingredients
Panna Cotta
Coconut oil or butter for ramekins

1 14-

ounce

can coconut milk

1 ¼

cups

milk

1/3

cup

natural cane sugar

1

teaspoon

lime zest

1 ½

tablespoons

agar agar flakes*
Berries
4

cups

mixed berries

, such as blueberries, raspberries and blackberries

1

tablespoon

lime juice

1

tablespoon

sugar

(or to taste)

Toasted coconut flakes for serving

(optional)
Instructions
Lightly oil 6 ramekins.

In a small saucepan, combine the coconut milk, milk, sugar, lime zest and agar flakes. Stir to combine with a rubber spatula; let sit 10 minutes to let the agar soften. Over medium heat, slowly bring the mixture to a simmer, stirring often. Cook at a gentle simmer (adjusting the heat as necessary), stirring often, for 4-5 minutes or until the agar is mostly dissolved and the mixture coats the back of a spoon. Pour the mixture through a fine-mesh strainer into a large measuring cup or bowl (something with a spout will make it easy to pour into the ramekins), pressing the agar through (be sure to scrape the bottom of the strainer). Pour the liquid into the prepared ramekins. Chill, uncovered, until set, about 1 hour. Do Ahead: The panna cotta can be made up to 2 days in advance. After the panna cotta has set, cover the ramekins.

Preheat the oven to broil with a rack in the upper third. Toss the berries with the sugar and lime juice. Put the berries in a 9x13-inch baking dish or rimmed baking sheet and spread in one layer. Broil until the fruit starts to darken and pop, about 5-6 minutes. Scrape the berries and any juice into a bowl and let cool. Do Ahead: The berries can be roasted the day before and refrigerated, or roasted 2 hours in advance and left at room temperature.

To serve, run a sharp knife around the edge of a ramekin; invert the ramekin onto a plate; and shake firmly up and down until the panna cotta slides out (you can also serve the panna cottas in the ramekins with the fruit spooned on top). Spoon the roasted berries and their juice over the panna cotta and garnish with toasted coconut flakes.
*Agar is a flavorless gelling agent made from algae.