This soft-serve vegan mango ice cream comes together in just minutes without an ice cream maker and gets served with a crunchy coconut peanut crumble!
Have I mentioned that my seven-year-old daughter Ella has a sweet tooth? Like HUGE. Whereas little Juniper is our salty girl (she's been known to literally steal handfuls of sea salt from the container), Ella hates pretzels, won't tolerate olives, and literally begs for dessert every night (it never ceases to amaze me how two kids from the same parents can be so different). I have a hard time negotiating this, as the effect of sugar on her is instantly transparent (hello, roadrunner), and yet I don't want to create an obsession by forbidding it. I try to fall somewhere in the middle, always making more indulgent desserts on the weekends, and trying (not always successfully) to limit sweets to healthy-ish stuff during the week. The one mid-week treat that Ella and I completely agree on are quick fruit-based "ice creams" like this vegan mango ice cream. It gets buzzed up in minutes right in my Vitamix or food processor using just frozen mangoes, banana, coconut milk, and a touch of maple syrup, cinnamon and cardamom. The result is a soft-serve style treat that will make you feel like a super hero.
Just call me Wonder Woman
If you really want to superpower the situation, you can top the ice cream with a coconut peanut crumble. It's like a healthy version of a Blizzard—the crunchy, slightly salty crumble mixes with the creamy and cool ice cream… oh heavens, is it good (um, I think I know where Ella got her sweet tooth from).
The crumble is an easy affair of shredded unsweetened coconut, almond flour, maple syrup and chopped peanuts. A touch of ground flax seeds binds it together into a cookie-like round, which you bake then break into chunks. On it's own, it's a lovely mid-afternoon snack (I would know, I have a bowl in front of me at this minute).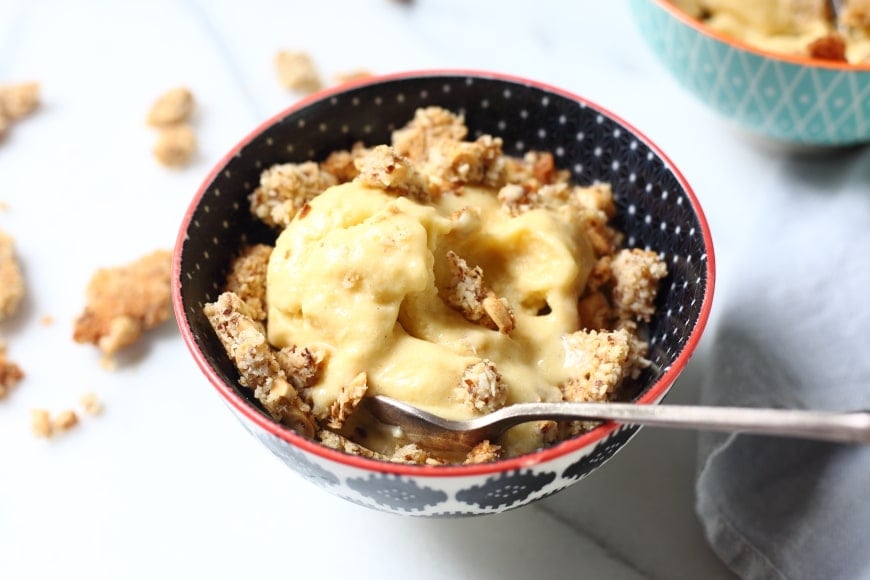 Some of our other favorite fruit "nice" creams are the banana ice cream from my cookbook (spoiler alert, it's made by simply pureeing frozen bananas with milk) and this strawberry frozen yogurt.
So yes, Ella, you can have dessert tonight. But only if you share with me.
What you'll need for this recipe:
Vitamix or Food Processor: Either appliance will work for this ice cream. While these are both investments, they're essential tools in my kitchen, used daily for everything from smoothies and ice creams, to dressings and sauces, to soups and even vegetable prep.
Rubber spatulas: This is kind of a no-brainer, but I couldn't live without a good set of rubber spatulas in multiple sizes.
Watch the video!
Get the recipe!
No-Churn Vegan Mango Ice Cream with Coconut Peanut Crumble
This soft-serve style ice cream gets buzzed up in minutes right in the Vitamix or food processor using just frozen mangoes, half of a frozen banana, coconut milk, and a touch of maple syrup, cinnamon and cardamom. I prefer to serve it right away, when the texture is ultra creamy. While it's delicious as-is, you can take it to superhero status with a sprinkle of coconut peanut crumble, which is slightly crunchy and salty (if you mix it in, you get a Blizzard type of situation—swoon). Take note that you'll need half of a frozen banana for this recipe, so be sure to freeze it before beginning (I keep a stash of frozen, peeled bananas in a ziptop bag in my freezer at all times for ice creams and smoothies).
Ingredients
¾

cup

full fat coconut milk, well stirred, plus more if needed

1

teaspoon

vanilla extract

1 10-

ounce

bag frozen mango chunks

½

frozen banana

2

tablespoons

maple syrup

1/8

teaspoon

cardamom

1/8

teaspoon

cinnamon

Pinch

salt

Coconut Peanut Crumble, for serving (optional, see below)
Instructions
You can make the ice cream in a Vitamix or food processor. Place all of the ingredients (except the crumble) into the Vitamix or food processor. If using the Vitamix, start the machine on speed 1. Using the tamper, press the ingredients into the blade, while slowly increasing to the highest speed. Keep stirring with the tamper until the mixture is thick and smooth. If using the food processor, process until smooth, stopping and scraping the sides occasionally. Either way, if the ice cream is too thick, drizzle in a touch more coconut milk, till you get a consistency close to soft serve.

Serve the ice cream immediately. If you'd like garnish with Coconut Peanut Crumble (yes, please!).
Recipe Notes
Make it Ahead: I prefer to eat this ice cream right away, soft-serve style, but it can be frozen in an airtight container for up to 3 days. It will harden in the freezer, so let it sit at room temperature for about 20 minutes to soften before scooping.
Coconut Peanut Crumble
This naturally sweetened, slightly salty vegan crumble is delicious over ice cream or yogurt, or as a sweet snack all on its own.
Ingredients
½

cup

(48 g) unsweetened shredded coconut

2

tablespoons

(14 g) almond flour

1

tablespoon

(6 g) ground flaxseeds

2

tablespoons

(20 g) roasted unsalted peanuts, finely chopped

¼

teaspoon

kosher salt

Pinch

cinnamon

1

tablespoon

virgin coconut oil, solidified

1

tablespoon

plus 1 teaspoon maple syrup

½

teaspoon

water
Instructions
Preheat the oven to 350˚F. Line a small baking sheet with parchment paper.

In a small bowl, stir together the shredded coconut, almond flour, ground flaxseeds, chopped peanuts, salt and cinnamon. Using your fingers, rub the coconut oil into the mixture until evenly distributed. Stir in the maple syrup and water.

Transfer the crumble mixture onto the prepared baking sheet. Using a spatula, press it into a ¼-inch thick round. Bake until golden brown on top, about 11-12 minutes (keep a close eye on it near the end, as the coconut burns easily). Pull the parchment (with the crumble) off of the baking sheet, and set it on the counter to cool completely (the crumble will harden as it cools). Break it into chunks before serving.
Recipe Notes
Make it Ahead: Once cool, the crumble can be stored in an airtight container for 3 days.
Stay Connected!
I'd love to hear what you're cooking, and I'm happy to answer any questions! #FromScratchFast
Instagram: FromScratchFast
Facebook: FromScratchFast
Pinterest: FromScratchFast
YouTube: FromScratchFast
Snapchat: FromScratchFast
This post contains affiliate links, which means that if you purchase a product through a link you clicked on here, I receive a portion of the sale (at no cost to you). Thank you for supporting FromScratchFast!!