I'd argue that the most direct route to someone's heart (I'm really just talking about my heart) is with a thick slice of ice cream pie. In this easy ice cream pie recipe, a chocolate cookie crust gets layered with a tapestry of different ice creams and a thick layer of soft fudge.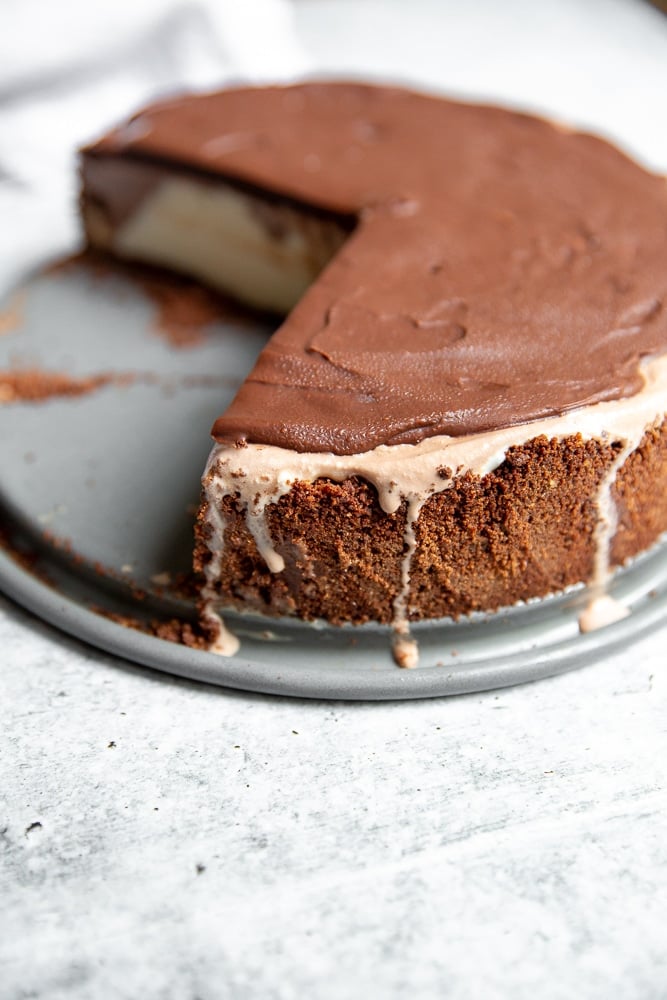 It's an easy dessert, and yet if there is a better crowd pleaser, I've yet to taste it. (And if you think ice cream pie is just for summer, you're mistaken!)
Easy ice cream pie recipe
I have a special love for ice cream pie, dating back to those beloved Baskin Robbins grasshopper pies from my childhood. To this day, ice cream desserts still give me that gleeful, skipping-rope kind of feeling. I must admit that I hadn't made an ice cream pie in, well, ever, until a few years ago when I adapted this recipe from Epicurious. I brought the pie to a dinner party, and I discovered that if you serve a group of adults an ice cream pie, you will hear giggles. Gleeful giggles!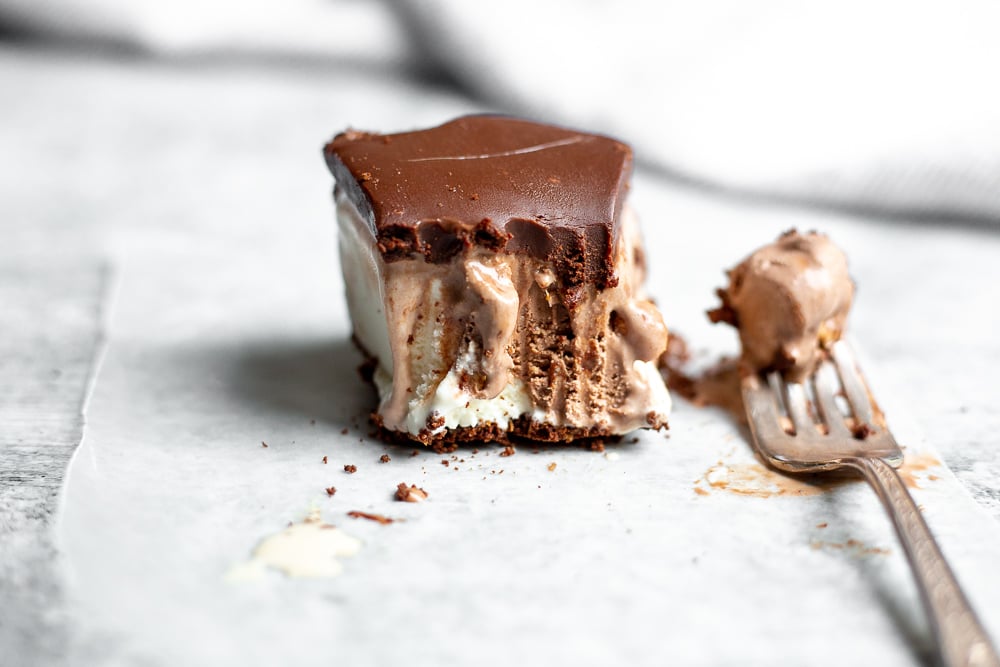 Any occasion ice cream pie
I've since made this easy ice cream pie for countless potlucks and birthday parties, as well as for St. Patrick's Day, a baby shower and even Christmas dinner (that's right—I told you it wasn't just for summer!). Since you can choose nearly any ice cream flavors you want, it's completely adaptable to the occasion and season, perfect for everything from the Fourth of July to Valentine's Day to your kid's birthday.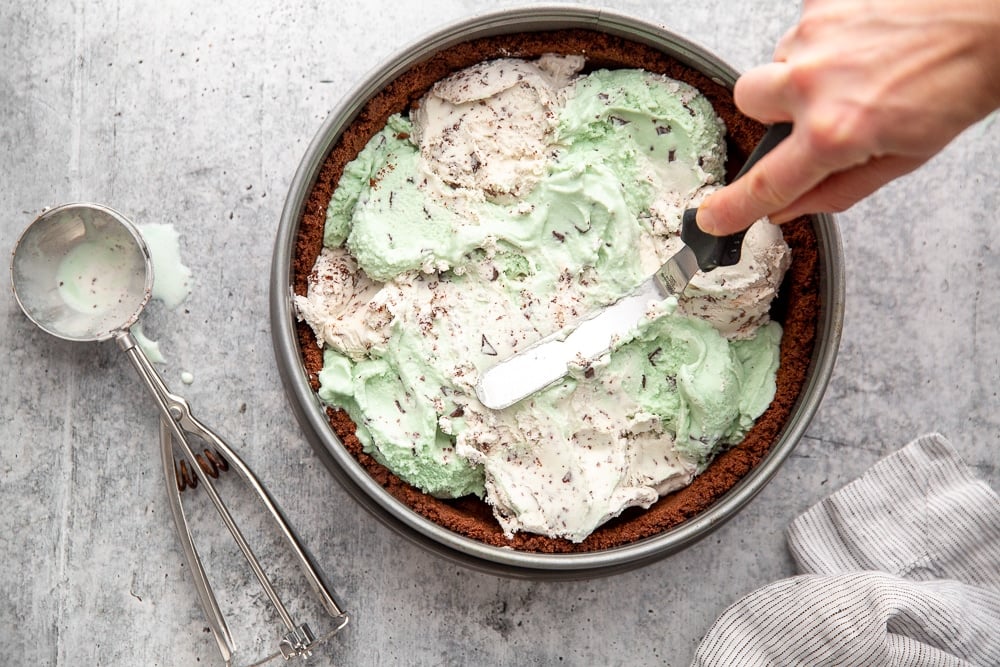 The filling is made with store-bought ice cream, and you can combine different flavors. Here are just a few of my favorite combinations:
Mocha, vanilla and chocolate
Coconut, coffee and chocolate
Oreo and… anything
Strawberry, vanilla and blueberry (think Fourth of July!)
Strawberry, vanilla and strawberry sorbet (think Valentine's Day)
Peppermint bark and chocolate (think Christmas!)
Mint chip and vanilla (think St. Patrick's Day!)
Pumpkin and vanilla (think Thanksgiving!)
A few years ago I made the peppermint bark/chocolate version for Christmas (garnished with some crushed candy canes) and it fueled the most epic dance party my family has ever seen. Just saying.
Gluten free ice cream pie
The crust for this ice cream pie is made with crispy chocolate cookies, either gluten-free or regular. I go for store-bought for ease, but you could totally use homemade cookies if you prefer. As long as they're crispy, they will work. I've had success with chocolate graham crackers, chocolate animal crackers, these gluten free chocolate cookies and even Tate's double chocolate cookies. The chocolate cookie crust is pure heaven with the ice cream and fudge!
Fudge topped ice cream pie
What sets this pie apart is the thick blanket of fudge on top, which stays soft and slightly gooey when frozen. It's kind of like a cross between a piece of fudge and hot fudge sauce (in other words, it's completely nuts!). I'm generous with the salt in the fudge, giving it a salty-sweet edge that works great with the ice cream.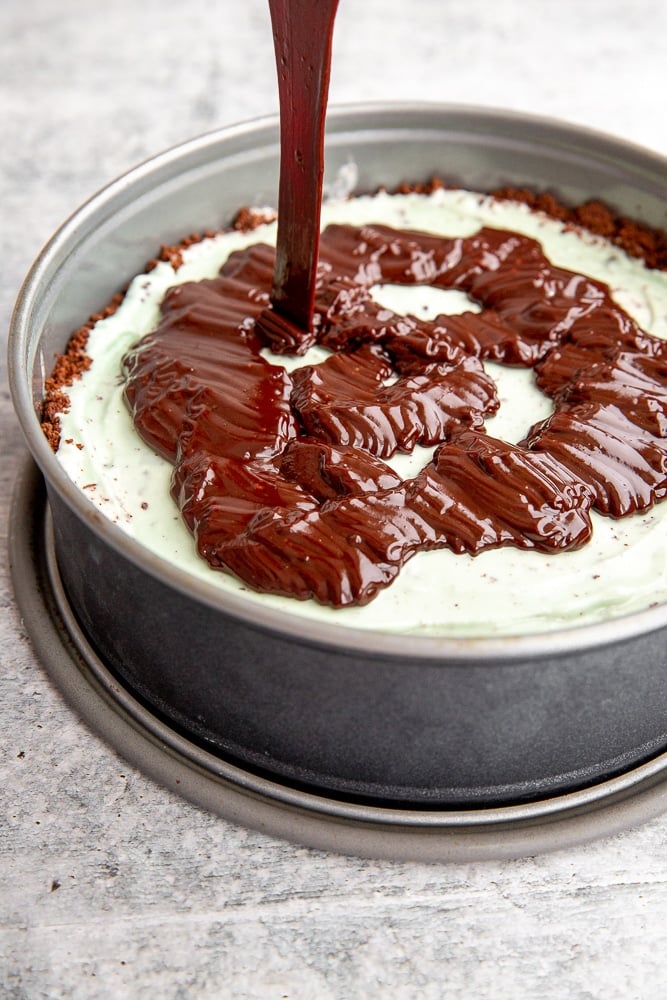 While this cake can be mostly assembled in under an hour, it does require several hours (or better yet, a day or two) of chilling. This breaks my "under an hour" rule, but sometimes rules just have to be broken (I'm such a rebel😉). I usually make it a day or two in advance, giving it plenty of time to harden before and after adding the fudge topping. It's the perfect make-ahead finale to a special meal or party.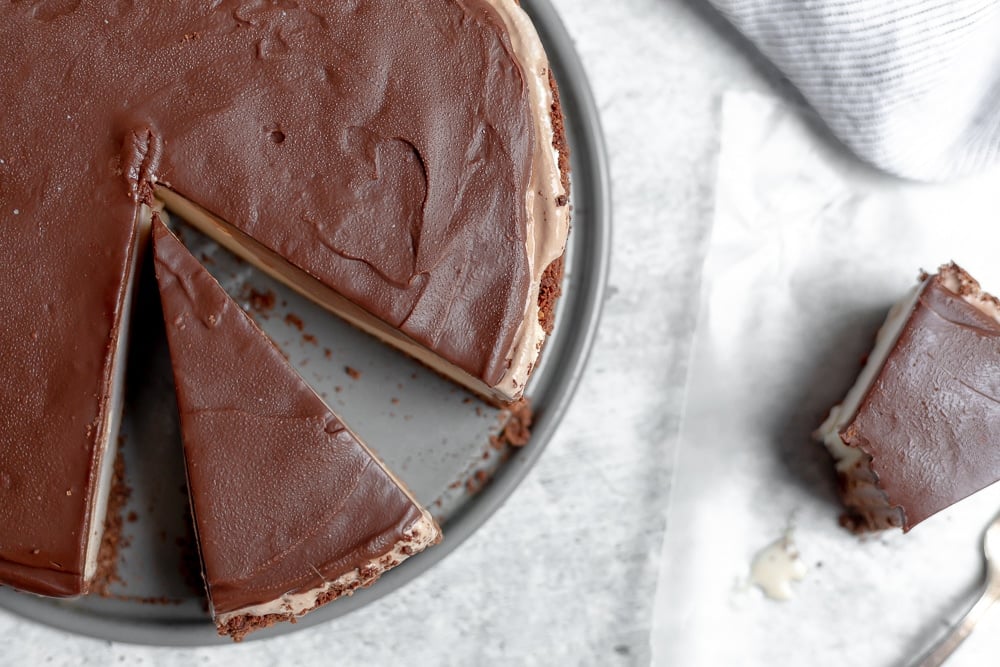 How do you make an easy ice cream pie?
Make the crust: The crust is made from crispy store-bought cookies or chocolate graham crackers. They get blitzed up in a food processor with some melted butter. The cookie crust is pressed directly into a 9-inch springform pan. Using a springform pan allows you to un-mold the pie and easily cut slices. You could use a pie pan instead, but you won't need to use all of the crust mixture nor as much ice cream (2 pints would probably do). The crust gets baked for 10 minutes to set up, then needs to chill (I throw it in the freezer to cool quickly).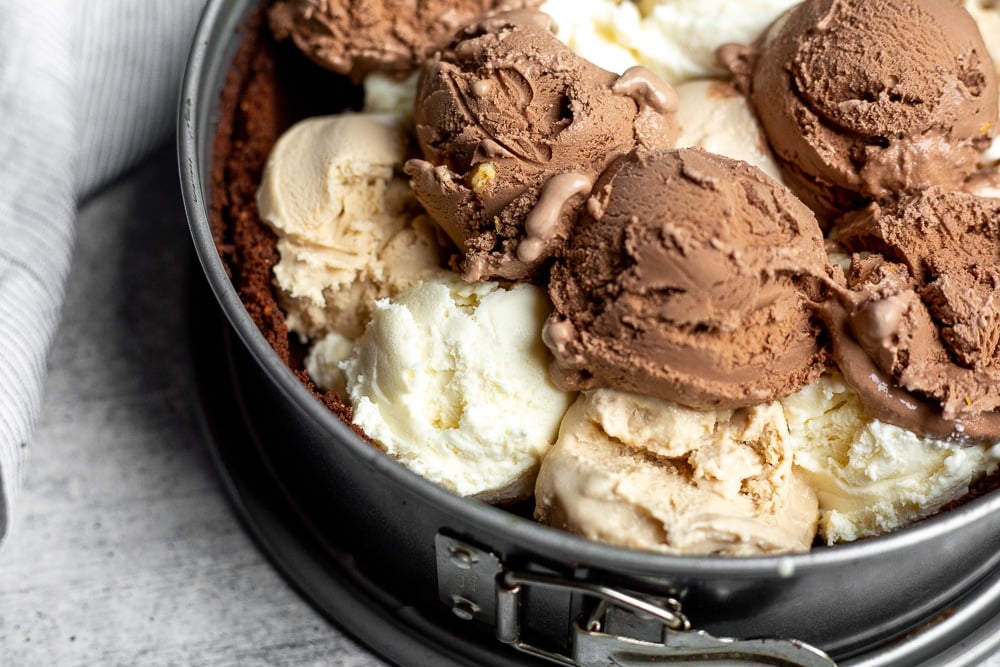 Fill the crust: This is the fun part! You can fill the crust with any ice cream flavors you like. You'll need 2 1/2 to 3 pints of ice cream (I usually squeeze in all 3 pints

😁

). See above for some flavor combination ideas! Let the ice cream sit out for 10-15 minutes to soften slightly before scooping (I suggest using a scoop that releases, like this). I intersperse different flavors so that every slice gets a bit of each (watch the video below to see how I do it). Use a small off-set spatula to press and spread the ice cream into an even layer, then freeze the pie until the ice cream is firm (you can do this several days in advance). If you're using gelato, I suggest freezing the pie for at least 6 hours before adding the fudge topping, as it tends to melt faster.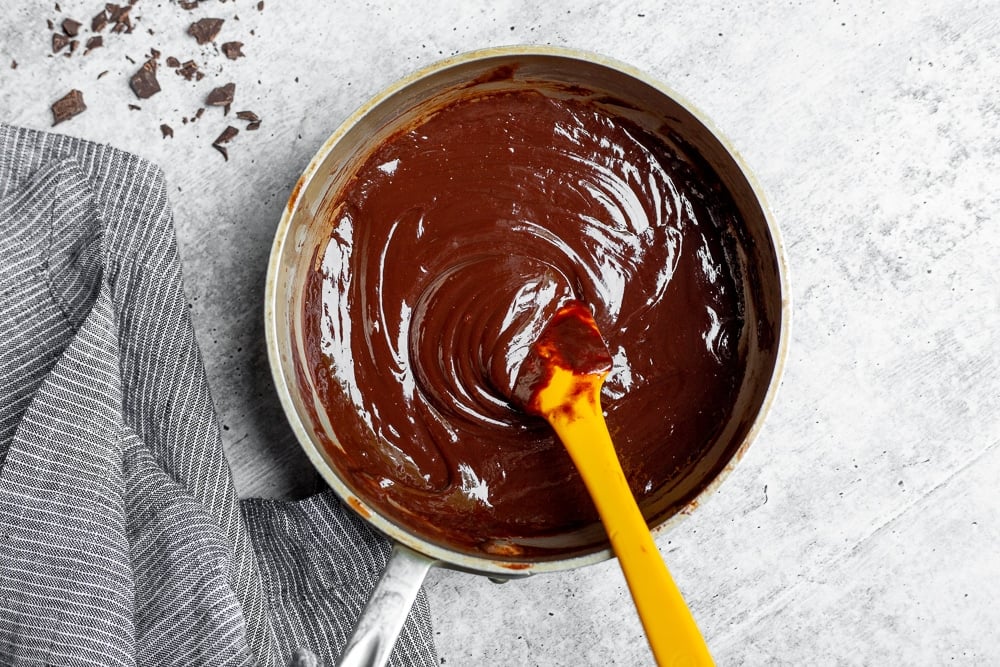 Make the fudge topping: The fudge topping gets made in a small pot on the stovetop. The sauce should cool to room temperature before pouring it over the pie (although it should still drizzle easily). Stir it occasionally as it cools so that it doesn't separate (it will come together when stirred). Once the fudge topping has been spread over the pie, pop the pie back in the freezer to set up. I like to do this the day before if I have time (or in the morning before serving) so that the pie slices easily.
Do it ahead!: Each of the steps above can be knocked out in advance, meaning you can break up the process. Once the ice cream pie is completely assembled, it can also be frozen for up to 3 days before serving, making this a great do-ahead dessert!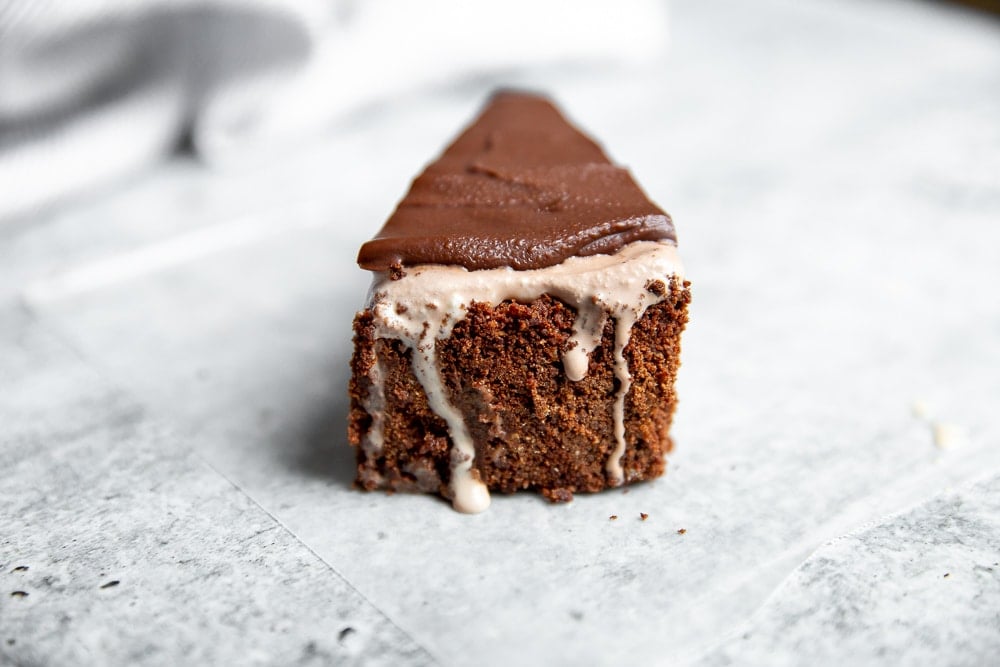 Don't miss one of my other favorite ice cream desserts: naturally gluten-free and vegan ice cream sandwiches!!
Watch the video!
Get the recipe!
Easy Ice Cream Pie Recipe (Gluten-free option)
This is the easiest ice cream pie, and it is ALWAYS a huge crowd pleaser, no matter the season. For the crust, use crispy chocolate cookies or wafers (gluten-free or regular). I've had success with everything from chocolate graham crackers, to chocolate animal crackers to crunchy double chocolate chip cookies. For the ice cream filling, the sky's the limit (see the post above for some ideas)! The slightly salty fudge topping is the real star. This ice cream pie recipe needs to freeze for several hours between steps, so I like to make it the day (or several days) before serving. If using gelato, be sure to give it plenty of time to freeze, as it tends to melt faster.
Ingredients
Cookie crust
Cooking spray

8-12

ounces

crispy chocolate cookies (or chocolate wafers, graham crackers or animal crackers), regular or gluten-free

2

tablespoons

butter, melted
Ice cream filling
2 1/2 -3

pints

ice cream (either one flavor or a mix), softened
Fudge topping
½

tablespoon

butter

¼

cup

plus 2 tablespoons heavy cream

2

tablespoons

light corn syrup

2

tablespoons

packed brown sugar

2

teaspoons

cocoa powder

¼

plus 1/8 teaspoon Diamond Crystal kosher salt (or 1/4 teaspoon Morton kosher salt)

1

teaspoon

vanilla extract

4

ounces

finely chopped dark chocolate or chocolate chips (heaping ¾ cup chopped chocolate or 2/3 cup chocolate chips)
Instructions
Make the cookie crust
Preheat the oven to 375˚Spray a 9-inch springform pan with cooking spray.

Place the chocolate cookies in a food processor and process until finely ground. Add the melted butter and process until the mixture looks damp. Scrape the crumbs into the springform pan and press them firmly over the bottom and about 1 ½ – 2-inches up the sides (a flat-bottomed measuring cup works great for getting into the corners – be sure to check out the video above). Bake for 10 minutes. Transfer to a rack and let cool for 5 minutes, then pop it into the freezer until it's completely chilled, about 15 minutes. Do Ahead: The crust can be made up to 1 week in advance. Wrap the pan tightly with plastic wrap and freeze.
Add the ice cream
Scoop the ice cream into the cooled crust, alternating flavors. Smooth out the top with an offset spatula. Place the pan back in the freezer. Freeze until solid, at least 1 hour (preferably 2-3 hours). Do Ahead: At this point the cake can be frozen for up to 1 week. Wrap it tightly in plastic wrap before freezing.
Make the fudge topping
In a small saucepan, combine the butter, heavy cream, corn syrup, brown sugar, cocoa powder and salt. Bering to a simmer, whisking, and cook until everything has melted and is smooth. Add the vanilla, then remove the pan from the heat and add the chopped chocolate. Stir until melted and shiny. Let cool to room temperature, stirring occasionally, about 20 minutes. Do Ahead: The fudge sauce can refrigerated for up to 1 week. Reheat in the microwave in 30 second stints, stirring between each, until pourable.

Pour the fudge sauce over the cake and spread with an offset spatula to evenly coat. Freeze the cake until the fudge topping is cold and the ice cream is set, about 2-4 hours, or overnight. Do Ahead: The finished cake can wrapped tightly and frozen for up to 3 days. Let it sit at room temperature for 10-15 minutes to soften slightly before slicing.
Notes
Tips:
You can use any crispy store-bought cookies or chocolate graham crackers for the crust (regular or gluten-free).
If you don't have a 9-inch springform pan you can use a pie plate, but you won't need to use all of the crust and will only need about 2 pints of ice cream.
If you have the time, allow the pie to completely freeze (I usually allow at least 2 hours) before adding the fudge topping and before serving. This will allow the ice cream to harden. 
Make sure that the fudge topping cools to room temperature before spreading it over the pie, so that it doesn't melt the ice cream. 
If the pie is frozen overnight (I often make it the day before!), let it sit at room temperature for about 10 minutes to soften before slicing (or use a hot knife!). 
*This post contains affiliate links, which means that if you purchase a product through a link you clicked on here, I receive a portion of the sale (at no cost to you). Thank you for supporting FromScratchFast!!
Stay Connected!
I'd love to hear what you're cooking, and I'm happy to answer any questions! #FromScratchFast