Summer is finally here, and I'm celebrating with a homemade blizzard. You heard me right: a HOMEMADE BLIZZARD! Sorry, I got a little excited there. You're not going to believe how easy this DIY Blizzard is to make, and guess what, you don't even need an ice cream maker!
Homemade blizzard recipe
I love ice cream with a passion that's usually ascribed to three-year-olds with sticky cones and sprinkles. Ice cream is probably my favorite dessert, and, let's be honest, nothing is more nostalgic than a DQ Blizzard, eaten on the curb in the height of summer with traffic zooming by your toes. Ok, I can do without the traffic (and the curb), and I can even do without the DQ soft serve. Because guess what? If you have an ice cream tray and a food processor or Vitamix, you can whip up your own from-scratch, homemade blizzard that's far healthier than the machine-derived stuff, but just as fun.
Do you want to feel like a superhero? If you whip up this DIY homemade blizzard for your family, I guarantee your kids will think you're superwoman/man.
Ice cream in the Vitamix
You're not going to believe how easy this is. All you do is freeze whole milk (or you could use a rich nut milk) in ice cream trays. It might feel strange to freeze milk, but remember, that's essentially the building block of all ice cream. After the milk is frozen, you dump the cubes into a Vitamix or food processor with some more milk, powdered sugar and vanilla paste (one of my secret ingredients—it's far cheaper than fresh vanilla beans, but you still get the robust bean flavor), and then process it until smooth. THAT'S IT. No eggs, no cream, no gums or weird ingredients. It's a light and refreshing creamy treat that's pure heaven on a hot day.
How to make a blizzard
But of course, we're not stopping there. Now for the fun part. You can add in whatever toppings you like to create a homemade blizzard-style treat. Think crumbled cookies, chopped chocolate, graham crackers, granola, or even chopped candy bars!
Lightened-up DQ-style blizzard
I discovered this technique when developing the recipes for my Make the Most of Your Blender Class on Bluprint, where I feature a Chocolate Chunk Vanilla Bean version. My kids have been obsessed with this homemade blizzard ever since (yeah, me too). The ice cream isn't nearly as rich or thick as machine-derived soft serve, but that's part of its charm—it's ultra light and cooling. You can knock back a bowl with pure pleasure, without that resulting stomachache.
I definitely suggest using whole milk here, as low fat milk will be icier. You will also have success with a rich nut milk—I prefer homemade cashew milk (you can also learn how to make that in my class!). The homemade blizzards are meant to be eaten soon after they're made (this isn't an ice cream you'll want to freeze longterm), so go ahead and dive in!
Below are some of my other favorite no-churn ice creams (you can also find more no-churn ice creams in my book, The Food Processor Family Cookbook!):
Mango Ice Cream with Coconut Peanut Crumble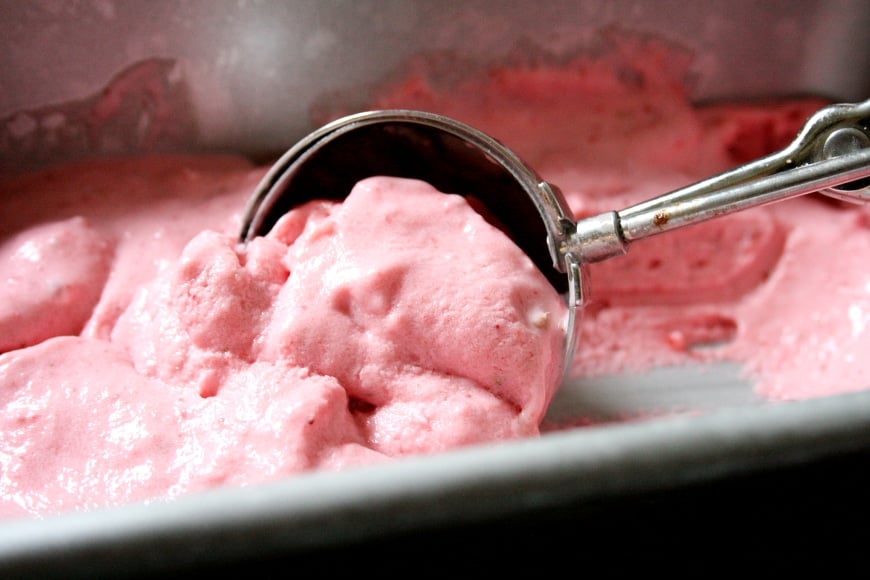 What you'll need for this recipe:
Watch the video!
Get the recipe!
Easiest-Ever Homemade Blizzard (without an ice cream maker!)
Using just three ingredients plus your favorite toppings, you can whip up a from-scratch, blizzard-style treat that's far healthier than the machine-derived stuff but just as fun! All you need are ice cube trays and a Vitamix or food processor. The ice cream base is made simply with milk ice cubes, sugar and vanilla, and from there you can add in your favorite blizzard toppings: think chopped chocolate, cookies, nuts, granola, candy bars…. You name it. Since there are no stabilizers in the ice cream it melts quickly, but that's part of its charm—it's utterly refreshing and light. I definitely suggest using whole milk, as low-fat milk will be icier. A rich nut milk, such as homemade cashew milk, is also delicious. The blizzards should be enjoyed soon after they're made (this isn't an ice cream you'll want to freeze longterm), so eat up!
Ingredients
3 ½

cups

whole milk, divided

½

teaspoon

vanilla paste or vanilla extract

⅔

cup (2.5 ounces)

powdered sugar

½

cup

(or more!) add-ins, such as chopped chocolate, crumbled cookies, crushed graham crackers, granola, chopped candy bars and/or chopped nuts or nut butter
Instructions
Pour 3 cups of the milk into 2 ice cube trays. Freeze until solid, about 2 hours. (Once frozen, the ice cubes can be transferred to a zip-top freezer bag and stored in the freezer for up to 2 days.)

Pour ½ cup of milk into a Vitamix or food processor. Add the vanilla paste and powdered sugar. Blend until combined.

Add the milk ice cubes. If using a Vitamix, slowly increase the speed to high while using the tamper to press the ingredients into the blades; blend until smooth. If using a food processor, process, scraping the sides occasionally, until smooth. Stop and add your add-ins.

Blend again on high, stirring with the tamper (or pulse if using a food processor), until the add-ins are incorporated, about 3-5 seconds. If you can resist not devouring it right away, scrape the ice cream into a metal bowl and freeze it for 15 minutes, stirring halfway through (this will help it set up). Don't freeze for too long, otherwise it will harden. Divide the blizzards into bowls and serve!
Notes
Tips:
You'll need a Vitamix or food processor to make these Blizzards. I use both almost daily, not only for quick no-churn ice creams and smoothies, but also for sauces, soups, and to help with my prep work!
Vanilla paste is an affordable alternative to fresh vanilla beans. It's made with fresh vanilla seeds that are bound in a syrup, offering a stronger punch of vanilla flavor than extract. It will last forever in your pantry, and you can use it in all your favorite baked goods!
A metal bowl works great for chilling the ice cream quickly.
If, like me, you have an automatic ice cube maker, you might need to invest in some inexpensive ice cube trays.
What are the ingredients in a homemade blizzard?
Milk, powdered sugar, vanilla and your favorite add-ins. THAT'S IT!!
How do you make a blizzard at home?
It's SO EASY! The trick is to freeze whole milk then blend it in a high speed blender or food processor with powdered sugar and vanilla until smooth. Mix in your favorite toppings, and you're done.
What add-ins can you use for a homemade blizzard?
Whatever you like! Some of my favorite add-ins include cookies, chopped chocolate, granola, peanut butter, candy bars, nut butter and/or pretzels.
Stay Connected!
I'd love to hear what you're cooking, and I'm happy to answer any questions! #FromScratchFast
Instagram: FromScratchFast
Facebook: FromScratchFast
Pinterest: FromScratchFast
YouTube: FromScratchFast
*This post contains affiliate links, which means that if you purchase a product through a link you clicked on here, I receive a portion of the sale (at no cost to you). Thank you for supporting FromScratchFast!!