Hi.
This is my first blog post, and I'm feeling incredibly shy.  I'm sitting here thinking about what I should write or say, and even though I've been testing recipes for fermented vegetables and amaranth tarts, as my husband, James, says, "You don't win friends with salad" (some sort of Simpsons reference, I'm told).  While I don't agree, he does have a point.  It's much easier to introduce myself with chocolate, whipped cream and strawberries.   Blush.
Anyway…  This pavlova has become one of my all-time favorite desserts.  It's simple, versatile, and incredibly delicious.  The recipe was born in the cold drudges of January, when we were invited at the last minute to a friend's house for dinner, and I offered to bring dessert.  I didn't have time to go to the store so had to make do with what we had in the house, which, as I soon discovered, wasn't much.  Luckily, I found a few eggs hiding in the fridge and decided to make a pavlova (I'll do anything to avoid having to measure flour).  I added a good handful of chopped dark chocolate for flavor and texture, and used oranges for the garnish since, well, that's all we had.  The crispy-chewy chocolate-studded pavlova, cool whipped cream and juicy, sweet oranges made for an unforgettable combination.
I've since made the pavlova half a dozen times, and it's a star every time (I recently taught this recipe in a cooking class and nearly had a woman kiss me—seriously!). Since we've entered springtime, I've swapped out the oranges for strawberries, but any berries or juicy fruit segments would work (think peaches, apricots, nectarines …). Each of the components can be made in advance, making this a fantastic dessert for entertaining (ahem, Dads… Mother's Day is on Sunday…).
Don't be intimidated by the process of making a meringue—it's much easier than it sounds.  First, beat the egg whites to soft peaks.  They should look foamy, and there should be ripples in the bowl made by the beaters.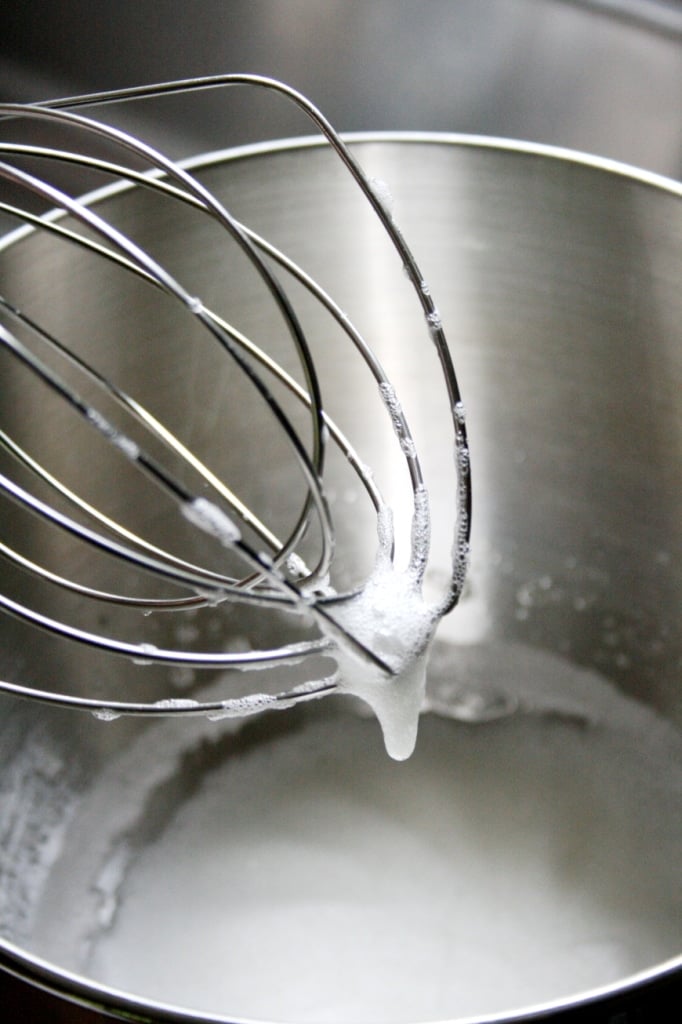 Slowly add in the sugar while beating, and then continue beating on high until the whites form stiff peaks.  This might take a few minutes.  When you remove the beater from the bowl, you should see pointy ridges that don't droop or fall over.

At this point, you'll want to add the vanilla and liquor (the booze is optional, but adds lots of flavor) and beat until just combined, a few seconds or so.  You can stop there, or fold in some chopped chocolate.  It's best to fold in the chocolate by hand, so as to not deflate the whites.  You can then spread the meringue into a circle on a baking sheet to form one large tart, or pipe it into smaller circles to form individual tarts.
Let the meringue bake in a low oven for about an hour, until it's dry and slightly cracked.  Once it's cool, top it with whipped cream and the fruit of your liking.  I also finish it off with some shavings of dark chocolate.  The result is textural heaven (crispy, chewy, creamy, juicy!) with the perfect balance of sweetness.
Thanks for stopping by, and I hope to see you back soon.  Next time maybe I will try to woo you with kale and cucumbers, regardless of what James thinks.  Bon appétit!
Pavlova with Dark Chocolate and Strawberries
This dessert is by far one of my favorites and is always a showstopper! The crispy and chewy chocolate-studded meringue is a perfect base for creamy whipped cream and sweet strawberries. Feel free to swap the strawberries for other seasonal berries or fruits.
Ingredients
3

large egg whites

, room temperature

Pinch salt

¾

cup

plus 1 teaspoon sugar

, divided

2

teaspoons

vanilla extract

, divided

1

teaspoon

bourbon or Cognac

2

ounces

bittersweet chocolate

(70%), about 1/3 cup finely chopped (heaping)

1

cup

heavy cream

1

pound

strawberries

, hulled and sliced

Dark chocolate for shaving
Instructions
Preheat the oven to 300˚F. Draw an 8-inch circle on parchment paper. Invert the paper onto a baking sheet.

Beat the egg whites with a pinch of salt on medium-high speed until soft peaks form. Slowly add ¾ cup sugar and beat on high until the whites are shiny and stiff (they should hold a point when you lift the beater). Add 1 teaspoon of the vanilla along with the bourbon, and beat until just combined. Using a spatula, fold in the chocolate. Scrape the meringue onto the parchment, and spread it into an 8-inch round, using the circle as a guide.

Bake the meringue for 60-70 minutes, or until the surface is dry (it might be lightly cracked). Transfer to a cooling rack (on the baking sheet) and let cool completely. Carefully peel off the parchment paper before serving. Do Ahead: The meringue can sit at room temperature, uncovered, for up to 8 hours.

Beat the heavy cream with the remaining 1 teaspoon of vanilla and the remaining 1 teaspoon of sugar until soft peaks form. Do Ahead: The whipped cream can be covered and refrigerated for up to 4 hours. Beat lightly with a whisk before serving.

Assemble the pavlova right before serving. Spread the whipped cream over the top of the meringue. Arrange the strawberry slices in concentric circles around the whipped cream. Shave a good amount of dark chocolate over the whole thing. Serve immediately.