What happens when you sandwich homemade gluten free double-chocolate cookies around store-bought ice cream? You get an incredibly easy but downright AMAZING gluten free ice cream sandwich! This gluten free and vegan ice cream cookie sandwich recipe is a staple in my kitchen, and I hope you'll love it too. [Video below]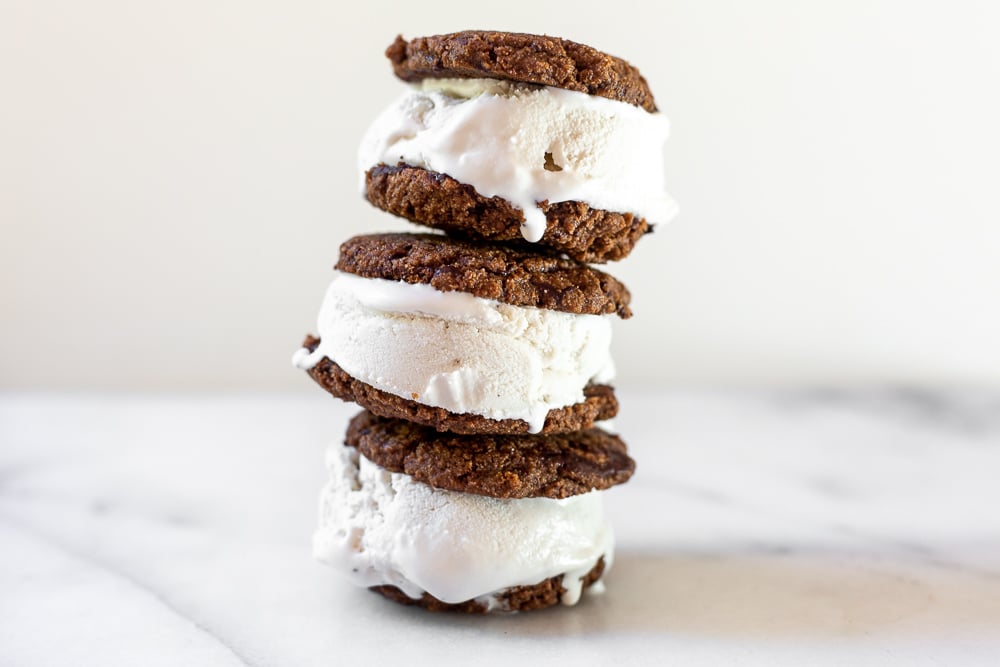 Ice cream cookie sandwich recipe
I first made these ice cream cookie sandwiches for a Fourth of July party we hosted several years ago. I have no idea what we made for dinner (except for the fact that Ella, who was four at the time, ate an entire watermelon!), but I'll never forget dessert.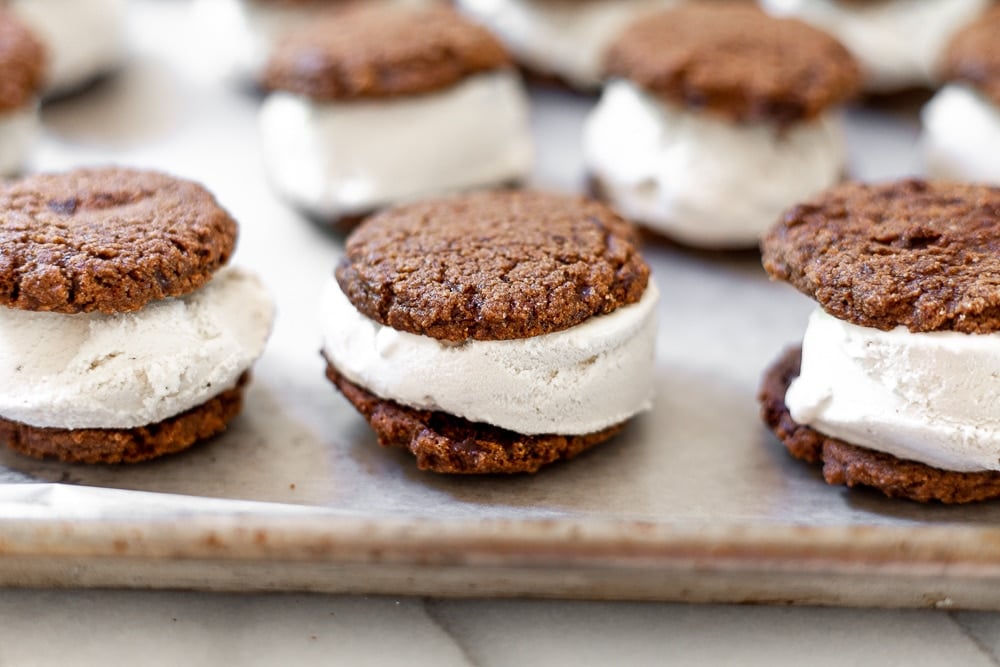 I served up something fancy for the adults and distributed these homemade ice cream sandwiches to the kids. Big mistake. The adults couldn't care less about the fancy dessert and kept stealing the ice cream sandwiches from their kids! Lesson learned. My friends now request these ice cream sandwiches EVERY SINGLE SUMMER at our potlucks and parties, and I always make enough for the adults.
Gluten free ice cream cookie sandwiches
The slightly salty (in a good way!) double chocolate coconut cookies are gluten-free, vegan and naturally sweetened. They work perfectly in these ice cream sandwiches, as the cookies stay slightly soft in the freezer.
I adapted the cookie recipe from this gluten-free chocolate chip cookie from Cookie + Kate. The cookies are made with just coconut flour, almond flour, coconut oil, maple syrup, cacao powder, cinnamon, chopped dark chocolate (or chocolate chips) and salt. It's probably the easiest cookie batter you'll ever make, since everything gets dumped into one bowl.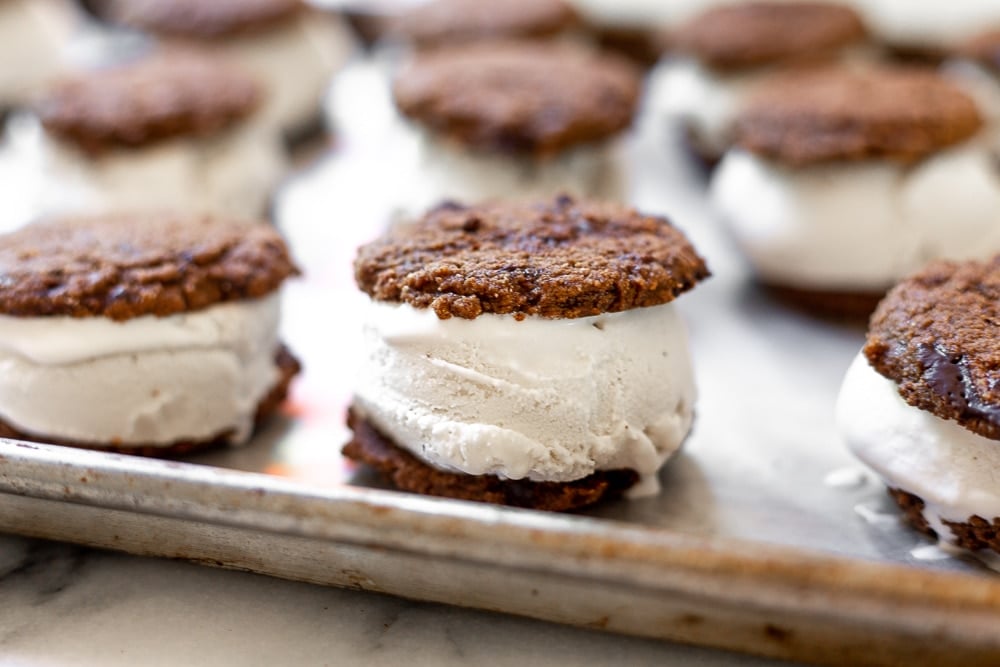 Vegan ice cream cookie sandwiches
While the gluten free cookies are delicious on their own, they're a million times better when sandwiched around ice cream. I love Coconut Bliss brand, which is also vegan, but you could certainly use regular vanilla ice cream instead. Either way, this is one easy, make-ahead dessert that both kids and adults will be clambering for.
FAQs
Is there gluten in ice cream sandwiches?
Many store-bought ice cream sandwiches contain gluten, but you can easily make gluten free ice cream sandwiches at home! Gluten free chocolate coconut cookies are perfect for ice cream sandwiches, as they stay soft in the freezer and are easy to make.
What brands of ice cream are gluten free?
Most ice cream brands make gluten free flavors, such as vanilla, chocolate, caramel, strawberry, etc. Watch out for varieties that contain cookie pieces, graham crackers, brownies or cake chunks, as those usually contain gluten.
What ice cream flavors are best in ice cream sandwiches?
You can use any ice cream flavor you like! I prefer vanilla (any brand) or coconut ice cream (Coconut Bliss brand) in ice cream sandwiches.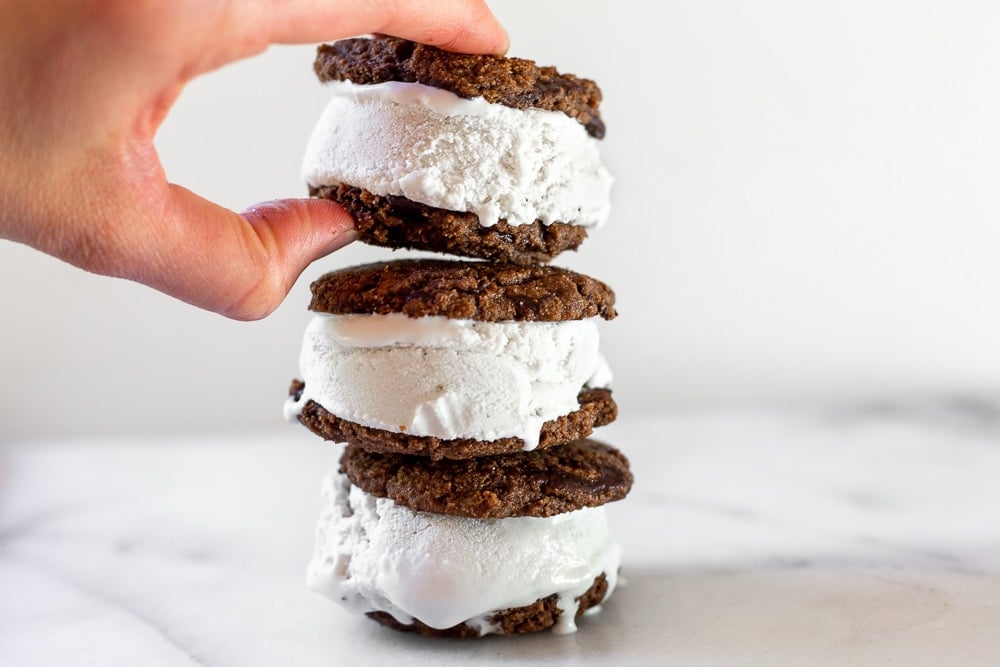 Other easy ice cream desserts to try:
Watch the Video!
Stay connected
I'd love to answer any of your questions and see what you're cooking!! Don't forget to rate this recipe and leave a comment below. Follow along on Instagram, Facebook, YouTube & Pinterest, and be sure to tag @fromscratchfast so that I can share your creations!
Get the Recipe!
Chocolate-Coconut Ice Cream Cookie Sandwiches (Gluten Free & Vegan!)
These might just be the easiest ice cream sandwiches you'll ever make, and you'd never know they're gluten free and vegan! Double chocolate coconut cookies get sandwiched around coconut (or any flavored) ice cream for one of the best desserts EVER. The gluten free cookies are a cinch to make using just one bowl. The cookies are very soft out of the oven but will firm up once cool.
Ingredients
⅔

cup

(85g / 3oz) lightly packed almond flour

⅓

cup

(43g / 1.5oz) lightly packed coconut flour

3

tablespoons

(17g / 0.6oz) raw cacao powder or regular unsweetened cocoa powder

1

teaspoon

baking soda

½

teaspoon

fine sea salt

⅛

teaspoon

cinnamon

½

cup

coconut oil, melted

½

cup

maple syrup

1

teaspoon

vanilla extract

3.5

ounces

dark chocolate, chopped (about ¾ cup chopped), or ¾ cup chocolate chips

1 ½

pints

vegan coconut ice cream (such as Coconut Bliss), or any ice cream you like
Instructions
Preheat the oven to 350˚F. Line 2 large baking sheets with parchment paper.

In a medium bowl, whisk together the almond flour, coconut flour, cacao powder, baking soda, salt and cinnamon. Add the coconut oil, maple syrup and vanilla. Stir well to combine. Fold in the chopped chocolate. Refrigerate the dough for 5 minutes to allow the flour to absorb the liquid.

Using a tablespoon measuring spoon or a small ice cream scoop, scoop heaping tablespoon mounds onto the baking sheets, spacing them 2-3 inches apart.

Bake 5 minutes. Rotate the pans and switch their positions. If the cookies have not flattened (if they still look like little mounds), use the back of a metal spatula and carefully flatten them (wipe the spatula clean as needed to prevent sticking). Bake 6 minutes longer, or until the cookies look dry on top (they will still be very soft). Let the cookies cool on the pans for 5 minutes.

Using a thin spatula, carefully transfer the cookies to a cooling rack. Pop the rack in the freezer for 5 minutes, or until the cookies are completely chilled and firm. Do Ahead: The chilled cookies can be wrapped tightly and frozen for up to 2 months.

Line a work surface with wax or parchment paper (this is just to keep things clean). Place half of the cookies flat side up on the paper. Top each with a scoop of ice cream. Top with the remaining cookies, and press down gently to distribute the ice cream to the edges. You can eat the sandwiches right away, or you can pop them onto a sheet tray and freeze them for 5-10 minutes, until firm. Once frozen, the sandwiches can be individually wrapped in wax paper and stored in an airtight container or a ziptop freezer bag.
Notes
Do Ahead: The ice cream sandwiches can be frozen for up to 1 month (yeah right; like they'll last that long! ?).
Tips:
I always recommend using an inexpensive kitchen scale when baking (especially when using gluten free flours). It makes baking fuss free (no measuring cups needed!) and it's much more accurate.
If the cookies haven't flattened when baking (due to the type and amount of flour used), flatten them with a small spatula halfway through baking.
Be sure to let the cookies cool for 5 minutes before transferring them to a cooling rack. They will be very soft, but they will firm up once chilled.
I love Coconut Bliss ice cream, but you can use any non-dairy or regular ice cream you like!