This is one of my favorite meals. Period. Shrimp and kale are served with a dead-simple coconut sriracha sauce that is irresistibly creamy and a touch spicy (a version of this dish even made it into my book, Build-a-Bowl!). I love to serve them over my easy grits for an easy dinner that is ultra seductive.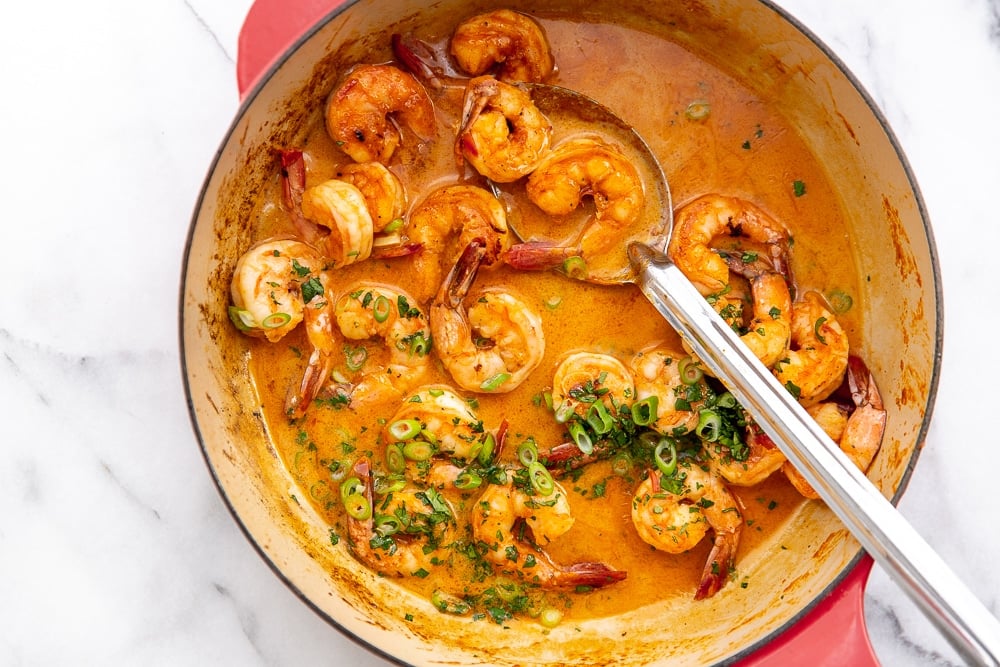 Shrimp and Kale = Happy Marriage
This coconut sriracha shrimp and kale with grits is one of my favorite date-night-in meals. James and I try to have a date night once a week, but that most often means feeding the kids early and letting them watch a movie in the basement while we enjoy a peaceful, candlelit meal in the dining room. Granted there are always interruptions ("Mommy, can I have some water?" "Do we have any popcorn?" "Can you come put on my socks?" Seriously?), but it's a wonderful time to catch up. We don't have to drive anywhere, we get to cook something special, and now that the kids are getting older, we can sit at the table for hours. (Last week we lost track of time, and unbeknownst to us the kids accidentally watched two movies in a row! I have no regrets.)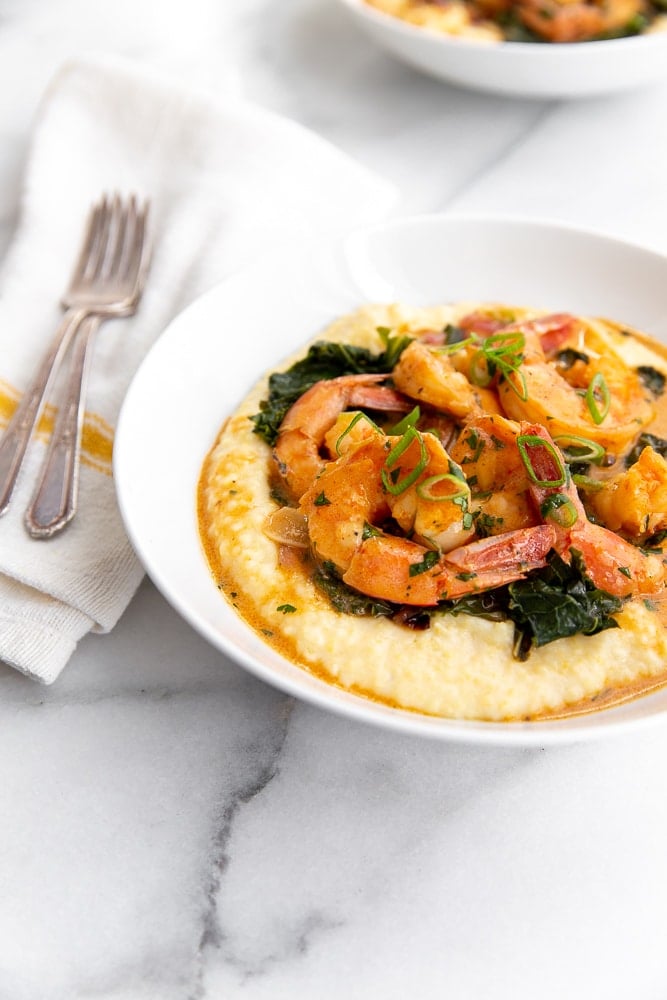 Easy shrimp and grits, redefined
These sriracha-spiked, coconut-bathed shrimp are perfect for such occasions. The shrimp are served with a tangle of garlicky kale, and I love to pile them over the creamiest grits you can imagine (and yes, in case you're wondering, grits are the same thing as polenta). It's an easy but flavor-packed twist on shrimp and grits that I think you're going to love. The kale and grits can be made up to thirty minutes ahead, and then I can finish off the shrimp right before James and I sit to eat. It's comfort food at its sexiest.
How to make coconut sriracha shrimp and kale
Cook the kale: Start by sautéeing red onion and garlic, then add the kale. Drizzling in a few tablespoons of water steams the kale and helps it tenderize. The kale gets finished with a spritz of lime or lemon juice, which wakes up the flavors.
Cook the shrimp: Once the kale is cooked, it gets transferred to a bowl, and you use the same pan to cook the shrimp. I go for peeled and deveined shrimp for ease. When the shrimp are just about cooked through, throw in sliced garlic and sriracha. The garlic turns sweet and the sriracha caramelizes slightly. Scrape the shrimp into a bowl, then use the same pan to cook the sauce.
Make the sauce: This is a loose coconut sauce, kind of like a curry, made with nothing more than coconut milk and a smidge of sugar. The coconut milk is simmered until it's slightly thickened, then the shrimp are scraped back into the pan to warm through. The dish is finished with chopped scallions and cilantro for brightness, and you can always swirl in some more sriracha if you like it spicy.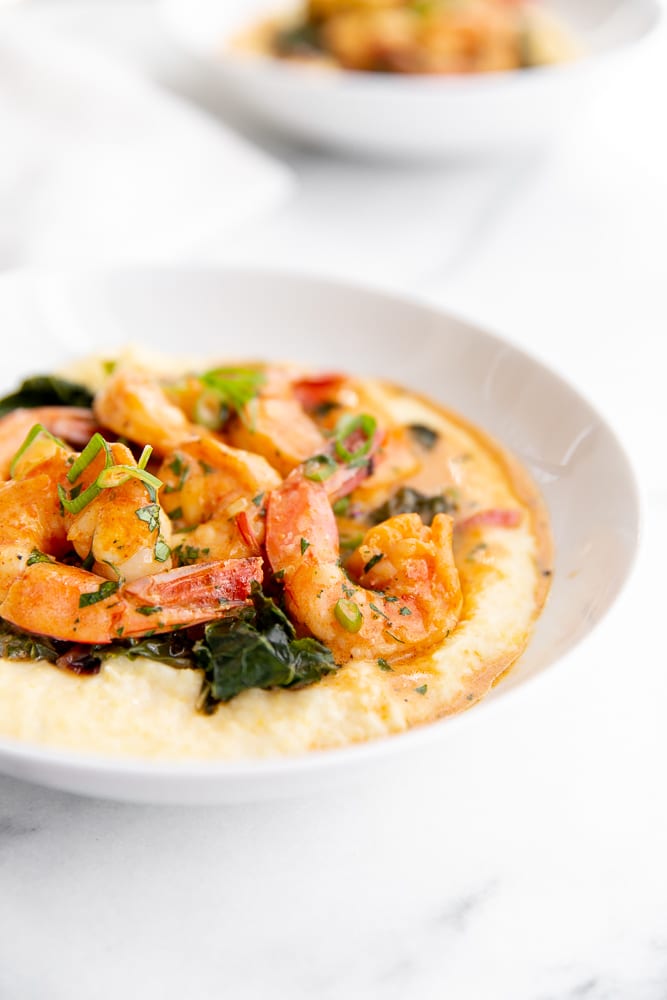 How do you serve the shrimp and kale?
You can serve the shrimp and kale over rice or quinoa, but I personally LOVE it over these creamy homemade grits (check out the video below to see how they come together). The grits are a cinch to make and are the perfect bed for the slightly spicy shrimp. You can make the grits and let them sit while you finish up the shrimp and kale.
Here's to many, many more date nights to come!
Other easy meals you might like:
Don't forget dessert!
How to Make Easy Homemade Grits Video
Get the recipe!
Coconut Sriracha Shrimp and Kale
These sriracha-spiked shrimp, which are cooked in a rich but light coconut milk sauce, are served on a tangle of garlicky, sautéed kale. It's comfort food at its sexiest. I love to serve the shrimp and kale over my creamy grits (click
HERE
for the recipe) for a fresh, healthy take on shrimp and grits. If you're making the grits, start them first, then sauté the kale and prep all of the remaining ingredients. Wait until the last minute to cook the shrimp, as they go quickly. The shrimp and kale are also delicious over rice.
Ingredients
4

tablespoons

unsalted butter, divided

½

medium red onion, thinly sliced

4

large garlic cloves, thinly sliced, divided

Salt and freshly ground black pepper

1

bunch curly kale, stemmed and coarsely chopped

Juice from ½ lime or lemon, or more to taste

1

pound

shelled and deveined shrimp

3

tablespoons

sriracha, or more to taste

1 (13.5-

ounce)

can coconut milk

¼

teaspoon

sugar

1

tablespoon

finely chopped cilantro, plus more for serving

1

tablespoon

thinly sliced scallions, plus more for serving

Grits or rice, for serving
Instructions
Cook the kale
In a large skillet with a lid, melt 2 tablespoons of the butter over medium heat. Add the onion and half of the garlic. Season with salt and pepper. Cook, stirring often, until the onion is softened and starting to lightly brown, about 3-4 minutes.

Add the kale and season with a bit more salt and pepper. Pour in 2 tablespoons of water. Cover and cook, stirring occasionally, until the kale is wilted and tender, adding more water as needed if the skillet starts to look dry, about 7-10 minutes. Stir in the lime or lemon juice. Taste and season with additional salt, pepper or citrus juice, if needed. Transfer to a bowl and cover to keep warm.
Cook the shrimp
Wipe the skillet clean then place it back over medium-high heat. Add the remaining 2 tablespoons of butter. Once melted, add the shrimp and spread them in a single layer. Season with salt and pepper. Cook until pink on the bottom, about 2 to 3 minutes. Flip the shrimp over and cook 1 minute longer. Scatter in the remaining garlic and drizzle in the sriracha. Cook, stirring, until the shrimp are cooked through, about 1 minute longer. Spoon the shrimp mixture onto a plate.
Make the pan sauce
Place the skillet back over medium heat (don't wash), and add the coconut milk and sugar. Bring to a boil and cook, stirring, until slightly thickened around the edges, about 5 minutes. Scrape the shrimp back into the skillet and cook until warmed through. Remove the pan from the heat and season with additional salt, pepper and/or sriracha as desired. Stir in the cilantro and scallions.

To serve, swirl grits into four shallow bowls and divide the kale over top. Spoon the shrimp and sauce over the kale, and garnish with a sprinkle of cilantro and scallions.
*This post contains affiliate links, which means that if you purchase a product through a link you clicked on here, I receive a portion of the sale (at no cost to you). Thank you for supporting FromScratchFast!!
Stay Connected!
I'd love to hear what you're cooking, and I'm happy to answer any questions! #FromScratchFast
Instagram: FromScratchFast
YouTube: FromScratchFast
Facebook: FromScratchFast
Pinterest: FromScratchFast