You're not going to believe how easy it is to make grits from scratch! These ultra creamy grits come together with only 3 ingredients and will ROCK YOUR WORLD.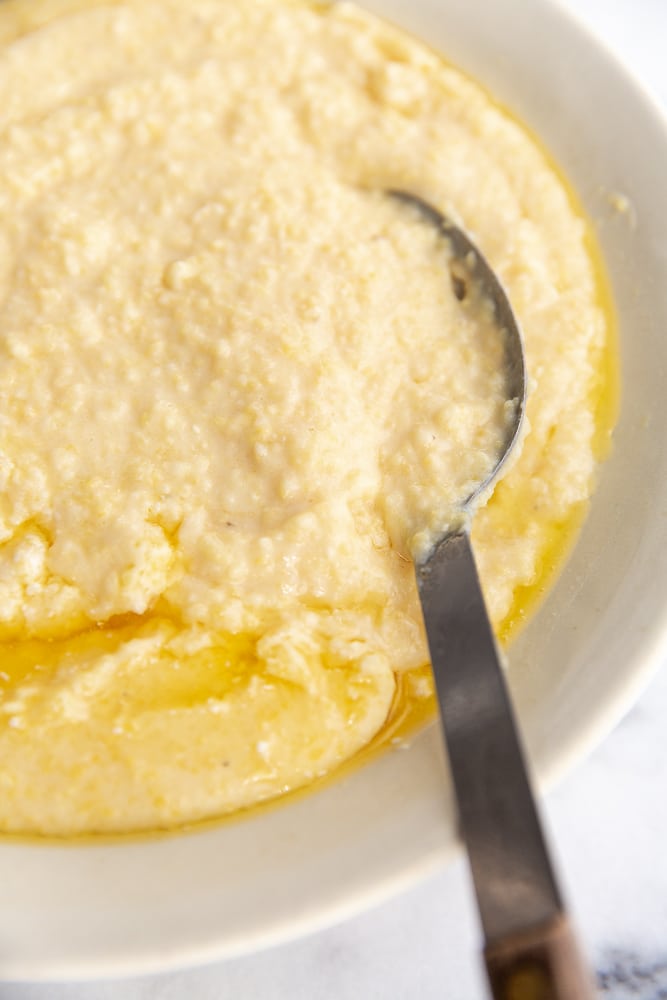 I can't believe it's taken me so long to devote a post to grits. Grits (and polenta, which are essentially the same thing, btw!) are one of my favorite comfort foods. They're so easy to make from scratch, and with the right technique you get the most luxurious, creamy texture, without the need for any heavy cream or for loads of butter!
I'm pretty sure I was in my early twenties before I first tried grits. Cornbread, corn pudding and creamed corn were all part of my childhood in the Midwest, but grits? Nope. But then I fell in love with a Southern boy. James is from Atlanta, and while I don't remember the first time I ate grits, I do remember that it was with him and that they were loaded with cheddar cheese. Just like I fell hard for James, I fell in love with grits. And I've had a deep affection (to both) ever since. [Don't miss the video below!]
What are grits?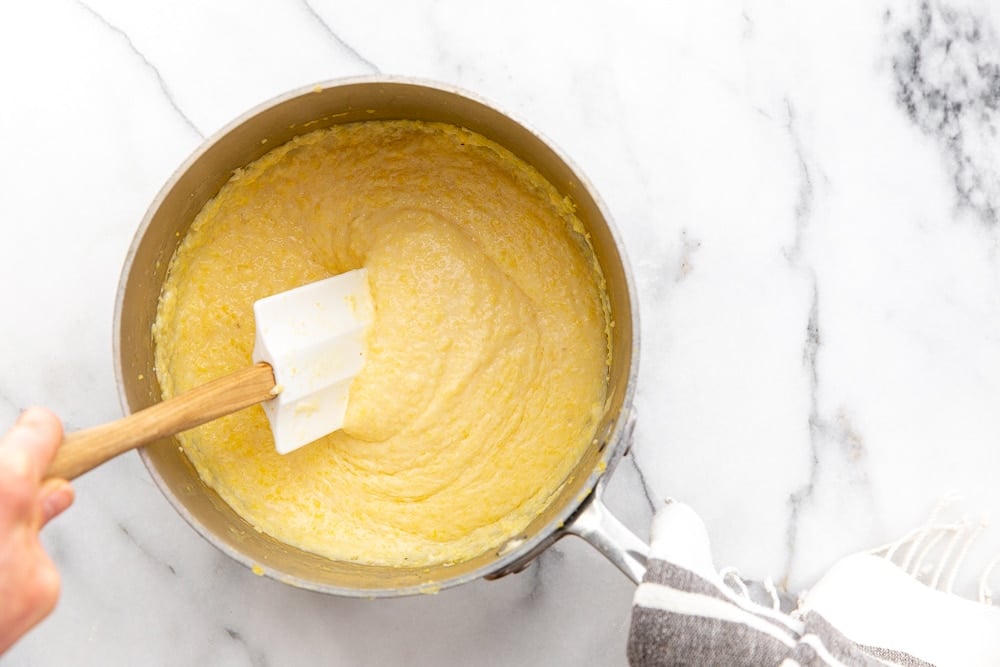 Grits are nothing more than ground dried corn (e.g. coarse cornmeal). They're therefore naturally gluten-free. You can find both white grits and yellow grits, depending on the corn variety (both are delicious!). Stone-ground grits are ground between traditional stone wheels and have a fabulous nutty flavor. You'll want to avoid finely ground cornmeal or instant grits, which won't give you the same naturally sweet flavor and creamy texture.
Easy grits from scratch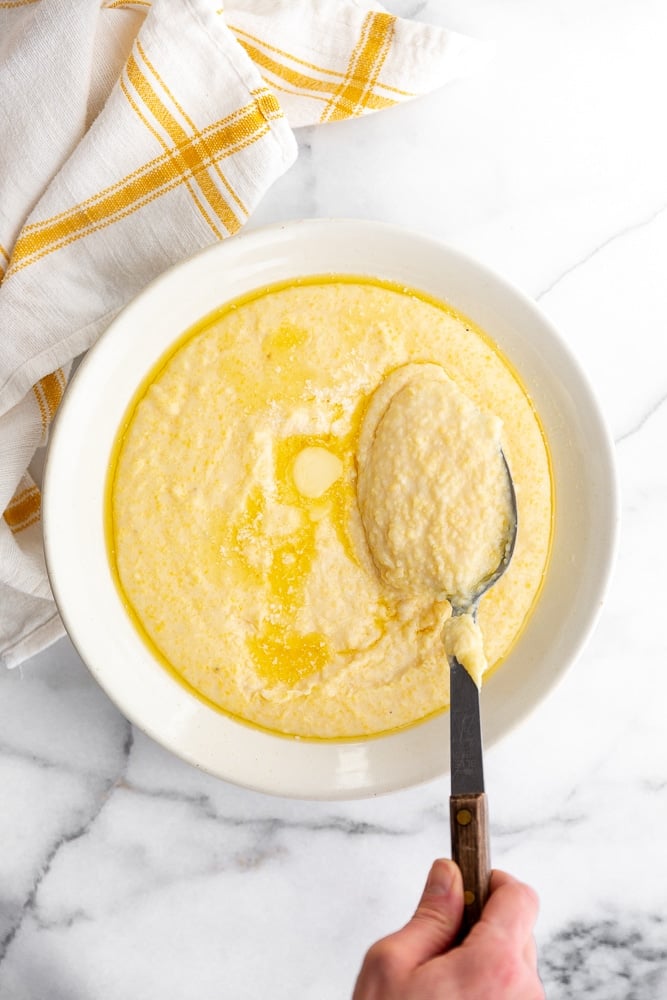 While in the those early days years ago I thought grits and polenta required tons of butter or heavy cream (or even mascarpone!) to make them creamy and rich, I now know that the best grits/polenta require just good-quality coarse cornmeal, water, milk, salt and a bit of time. For awhile I was in the hour-or-more-of-cooking-time camp, but in the last couple of years I've realized that you can achieve the same texture in half the time by partially covering the pot with a lid as the grits cook (woot woot!). Grits are now a regular part of our weekday mealtime routine.
How to serve grits?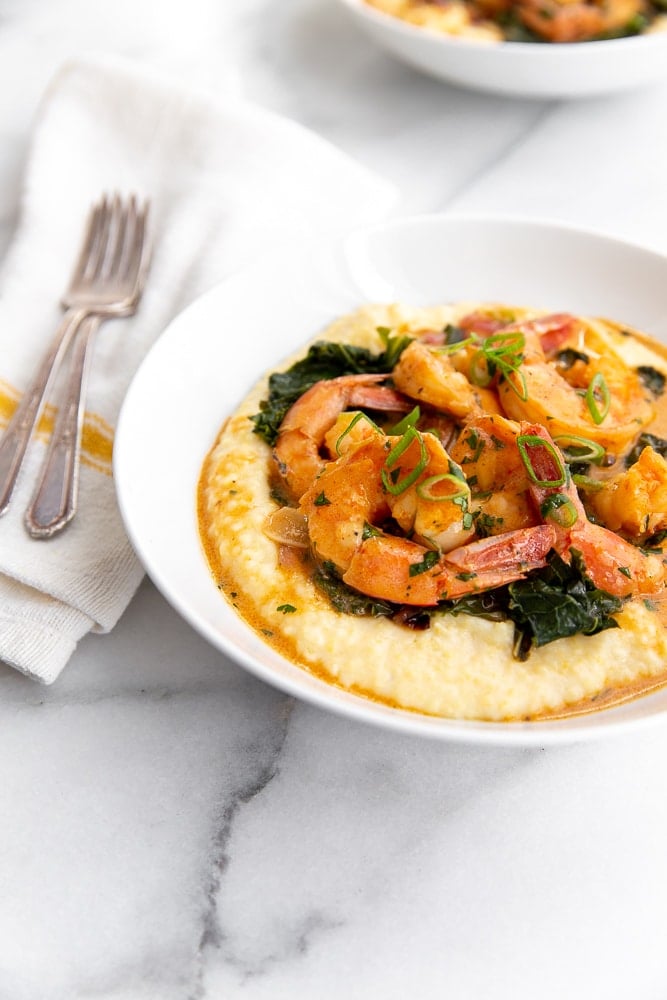 While I could be content with nothing more than a giant bowl and spoon (it's love, people), grits also make for a fantastic side dish! They pair spectacularly with grilled, roasted and braised meats, fish and vegetables. One of my favorite meals of all time is this Coconut Sriracha Shrimp and Kale with Grits, which is like a healthy twist on shrimp and grits. I also often swap out the grains from the recipes in my book, Build-a-Bowl, for grits. Since they're so mild, grits work well with sauces, like this green sauce (pictured below over sliced pork) or this salsa verde.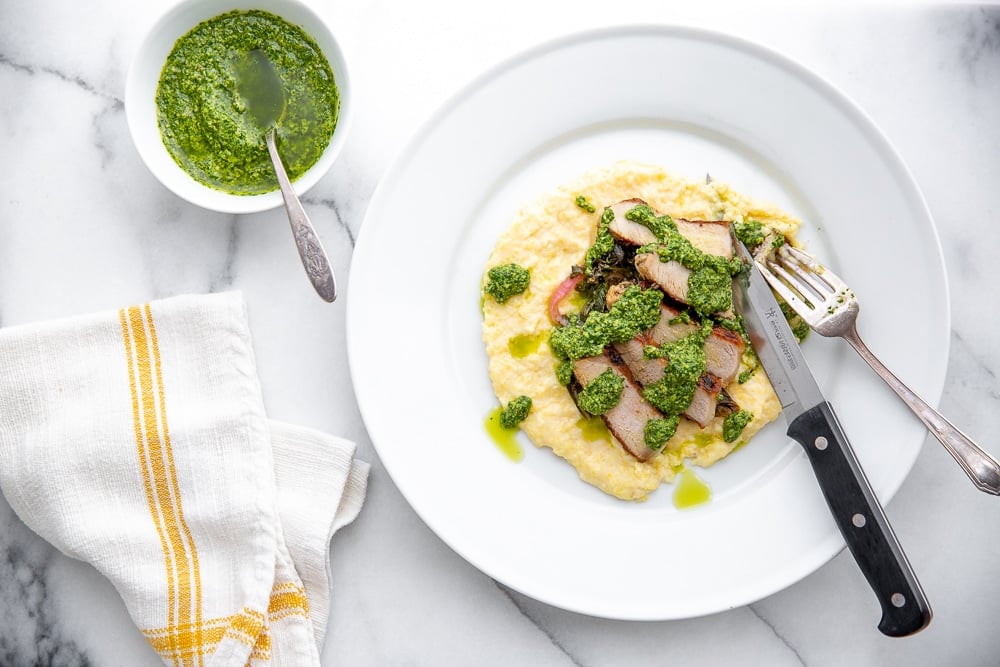 You can also serve grits for breakfast, as is traditional in the South. I love to pair them with sausages, eggs and collard greens (or fried green tomatoes if it's the season) for what has got to be one of the best breakfasts imaginable.
How do you make grits from scratch?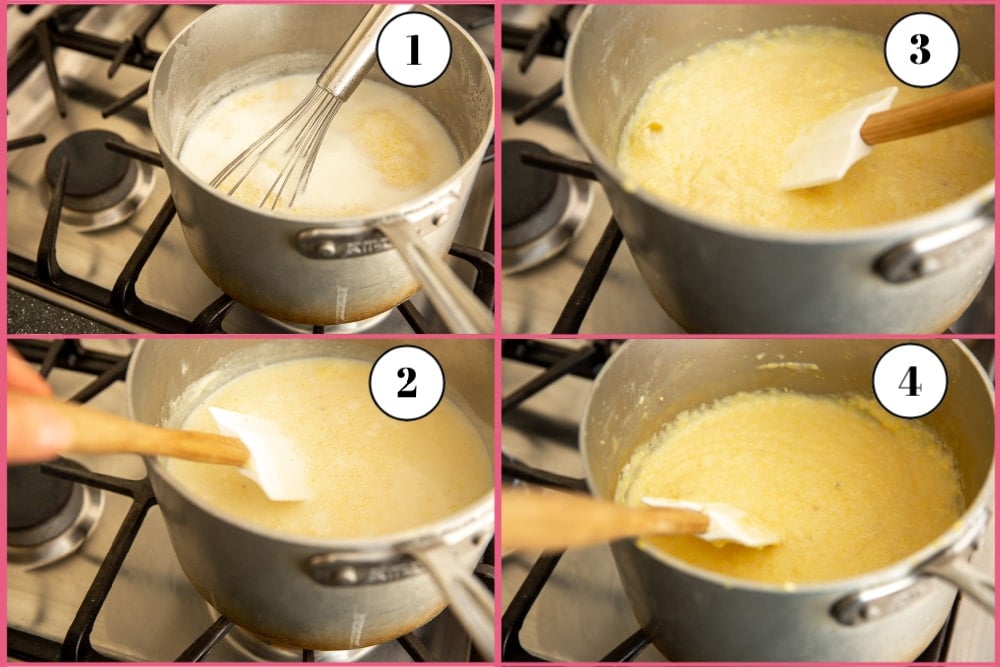 First of all, it's important to buy good-quality grits! Bob's Red Mill is a reliable supermarket brand, but you can also find a slew of stone-ground grits like these online.
To achieve a creamy texture, use 6 cups of liquid to 1 cup of grits. It will seem like way too much liquid at first, but I promise that the cornmeal will absorb it all. Use half water and half milk (regular or low-fat milk, whatever you drink) to achieve a creamy texture. Keep your eye on the liquid as it comes to a boil, since the milk can boil over.
You'll want to use a heavy pot for these grits. Avoid a lightweight aluminum pots, as the bottom can burn.
Start with a whisk, then move to a spatula (watch the video below to see how it comes together). The mixture will be very liquidy at first, but it will start to thicken up. When you stir with the rubber spatula, be sure to scrape the bottom often, as the grits have a tendency to cake up there (which won't affect the flavor, but which will be a pain to clean off later).
Feel free to splash in more milk as needed while the grits cook. They should look creamy and should swirl easily. If they start to look gritty, or if the edges start to look dark, it's a sign you need more milk.
The grits will cook partially covered on your lowest heat. They should be bubbling and burping intermittently. Try to stir the pot every 5-10 minutes if you remember. (It's okay if you don't but you will get that caked on layer of grits on the bottom of the pan…)
Speaking of which, if you do have a stubborn grit layer on the bottom, a scraper like this works wonders for getting it loose. (And call me crazy, but I love to eat that skin layer!)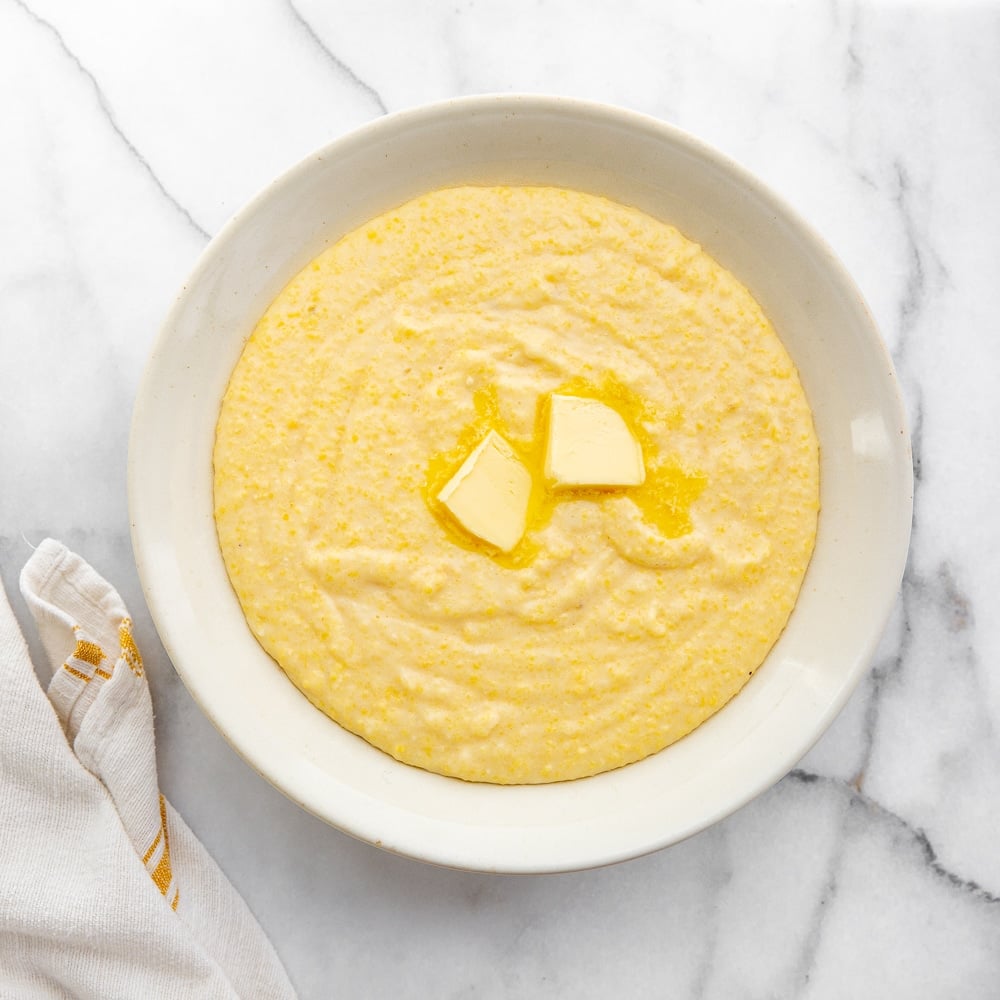 I hope you fall as hard for these grits as I did. (Just stay away from my husband. 😉)
Watch the video!
Get the recipe!
Creamy Grits from Scratch
These ultra creamy and luscious grits (which, by the way, can also be called polenta!) are a fabulous side dish or bed for meats, fish or vegetables (try them with these coconut-sriracha shrimp with kale—click HERE to get the recipe!). They're also a wonderful accompaniment to a traditional Southern-style breakfast. The grits are naturally rich so don't require much butter, but feel free to add more (or less) to taste. You can also throw in a handful or two of shredded cheddar or grated Parmesan to make cheesy grits. Don't miss the tips and video above! Also, be sure to buy whole grain grits or polenta (stoneground, if you can find them), not the instant kind. Bob's Red Mill is a trustworthy supermarket brand.

Ingredients
3

cups

water

3

cups

milk

Salt

1

cup

grits or polenta (not instant)

2

tablespoons

butter
Instructions
In a medium heavy saucepan, combine the water and milk and bring it to a boil (keep an eye on the pot, as the milk can boil over!). Season the liquid generously with salt, then whisk in the grits. Bring the mixture back to a boil while whisking. Continue whisking for 2-3 minutes, or until the grits are slightly thickened (the mixture will still be quite liquidy, and that's okay).

Reduce the heat to low and partially cover the saucepan (there should be a small crack so that some steam can escape). Cook, stirring often with a rubber spatula, until the grits are tender and thickened, about 30-40 minutes (they should feel soft on the tongue, not gritty). Feel free to splash in more milk as needed while cooking if the grits start to look really thick—they should be creamy and should swirl easily. Stir in the butter. Season the grits generously with salt (this is key for flavor—you will need more than you think!).

Remove the saucepan from the heat and cover it until you're ready to serve, up to 30 minutes. If you want to hold the grits for longer, drizzle a bit of milk over the surface before covering (this will help prevent a skin from forming)—they can sit out for up to 1 hour. Before serving, reheat the grits over low, stirring and adding more milk if needed.
Recipe Notes
Storage: The grits can be refrigerated for up to 4 days. They will thicken as they chill and won't be quite as creamy, but they will still taste delicious.
*This post contains affiliate links, which means that if you purchase a product through a link you clicked on here, I receive a portion of the sale (at no cost to you). Thank you for supporting FromScratchFast!!
Stay Connected!
I'd love to hear what you're cooking, and I'm happy to answer any questions! #FromScratchFast
Instagram: FromScratchFast
YouTube: FromScratchFast
Facebook: FromScratchFast
Pinterest: FromScratchFast