Roasted delicata squash is a delicious and easy side dish, as well as a beautiful addition to salads, grain bowls and crostini! It couldn't be easier, and you're going to love this maple Dijon version.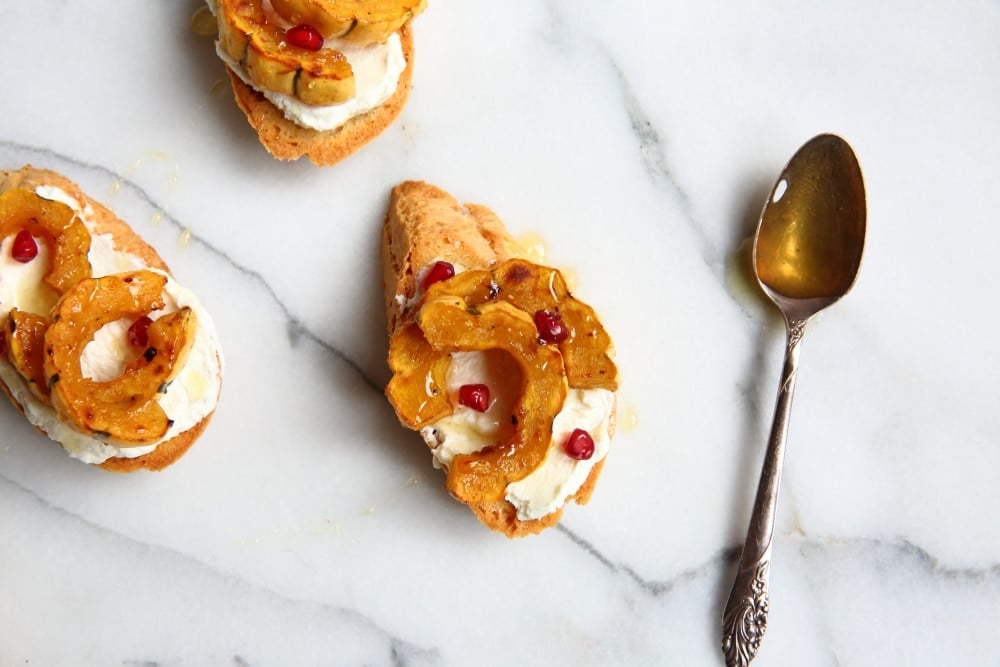 As a kid I was obsessed with geodes. I had a rock collection (most of which were dug up from under my parents' back deck), and I dreamed that one day I would find a humble looking stone that could be smashed open to expose a sparkling crystal inside. I never found my geode (nor was I able to smash open any rocks), but eventually I discovered winter squash, which I think are just as exciting. With their craggy exterior and bright, sweet center, they're the geodes of the vegetable world. While I can't play favorites, when it comes to weeknight cooking, delicata reigns supreme. It has a delicious sweet flavor, but, best of all, it's way easier to handle than other varieties. The small size makes it easy to slice up, and it's thin skin is completely edible, meaning you DON'T NEED TO PEEL IT! Sorry, that part gets me excited. The squash roasts in just over a half hour and is a lovely side dish all on its own, but I also love to add it to salads, grain bowls, tacos and crostini. (New video below!!)
Shopping for squash
Delicata squash is now available and a slew of grocery stores, as well as at farmer's markets. Look for squash that feel slightly heavy for their size, without any soft spots or bruises. You'll want to make sure you wash it before cooking since you'll be eating that skin.
Tips for Roasting Delicata Squash
Use parchment paper to prevent sticking (plus you'll have an easier clean-up!). I'm obsessed with these pre-cut sheets and these sheet pans.
While you could simply roast the squash with olive oil, salt and pepper, I like to amp up the flavor. This version uses maple syrup and Dijon mustard, but you could also try spices and/or herbs (some favorite combos include maple syrup and chili powder; Dijon mustard, honey and sage; honey, cinnamon and cayenne).
Tongs are the best tool for turning the squash, as they're fairly delicate once cooked.

Ideas for serving Roasted Delicata Squash
Serve the roasted squash as a side dish alongside meats or fish.
Layer the squash into salads. I especially love this maple Dijon delicata squash with mixed greens, roasted nuts, pomegranate seeds and goat cheese (get that recipe here).
Pile the delicata squash into grain bowls with other veggies. The version pictured above has steamed kale, roasted cauliflower and a simple garlic yogurt sauce (lemon juice, garlic and plain whole milk yogurt), but you could use any veggies you have on hand. In my book, Build-a-Bowl, I feature a delicata squash bowl with black beans, cauliflower, avocado and a creamy chipotle sauce—YUM!
Arrange the squash over crostini for an elegant appetizer. I like to serve them over whipped goat cheese (mix room temperature goat cheese with milk and mix until smooth) or whipped ricotta (check out these whipped ricotta crostini). They're especially delicious with a drizzle of honey and a sprinkle of sea salt.
Stuff the squash into tacos with black beans and avocado. The creamy chipotle sauce that I mentioned from Build-a-Bowl is especially delicious with those tacos!

Be sure to check out these other recipes that feature delicata squash!
Follow me on Instagram and Facebook for more recipes and tips!
Watch the video!
Get the recipe!
Maple Dijon Roasted Delicata Squash
With sweetness from maple syrup and a slight kick from Dijon, these roasted delicata squash rings are fabulous on their own as a side dish, or as an addition to salads, grain bowls or crostini. You can serve them warm or at room temperature, meaning you can make them in advance. One of my favorite things to do is to layer them in a salad of mixed greens, roasted nuts, goat cheese and pomegranate seeds—you can get that full recipe by searching "delicata squash salad" up in the search bar above. Also, be sure to check out the other serving ideas in the post above!
Ingredients
1 1-1 ½

pound

Delicata squash

1

tablespoon

extra virgin olive oil

1

tablespoon

maple syrup

1

tablespoon

Dijon mustard

Salt and freshly ground black pepper
Instructions
Preheat the oven to 400˚F. Line a large baking sheet with parchment paper.

Cut off both ends of the squash then cut the squash in half lengthwise. Scrape out and discard the seeds. Cut the squash into ½-inch slices and transfer them to a large bowl. Add the olive oil, maple syrup and Dijon mustard, and season with salt and pepper. Toss to coat (I find it's best to use my hands for this!).

Arrange the squash in a single layer on the baking sheet and roast for 15-20 minutes, or until lightly golden on the bottom. Carefully flip the slices over and continue to roast for 5-10 minutes, or until golden around the edges and tender. Nudge each slice gently to ensure that it doesn't stick to the pan (you can leave them on the pan to cool, if desired).

Recipe Notes
The squash can be roasted up to 6 hours ahead and left at room temperature. Leftovers are also delicious the next day!
*This post contains affiliate links, which means that if you purchase a product through a link you clicked on here, I receive a portion of the sale (at no cost to you). Thank you for supporting FromScratchFast!!
Stay Connected!
I'd love to hear what you're cooking, and I'm happy to answer any questions! #FromScratchFast
Instagram: FromScratchFast
Facebook: FromScratchFast
Pinterest: FromScratchFast
YouTube: FromScratchFast