This roasted squash salad is a stunning but simple start to a special occasion meal!
If you've followed me for awhile (or ever been to my house for dinner), you might know that when it comes to entertaining, I'm all about dishes that can be prepped in advance. That's one of the reasons I love this roasted squash salad.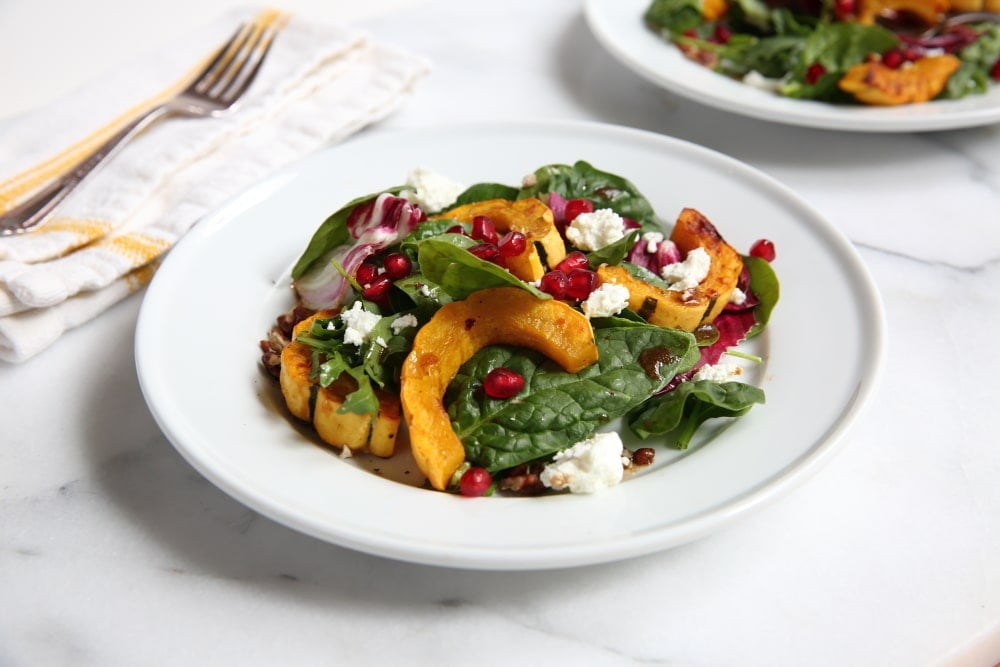 Half moons of delicata squash get tossed with maple syrup and Dijon mustard, and are roasted until caramelized (learn more about roasting delicata squash in this post). They get layered into a salad of mixed greens with roasted nuts, pomegranate seeds, creamy goat cheese, and a maple balsamic dressing. The squash can be roasted several hours in advance, and the dressing can be made days ahead of time, meaning all I have to do once my guests arrive is arrange the salad on serving plates. Voila, things just got fancy up in here.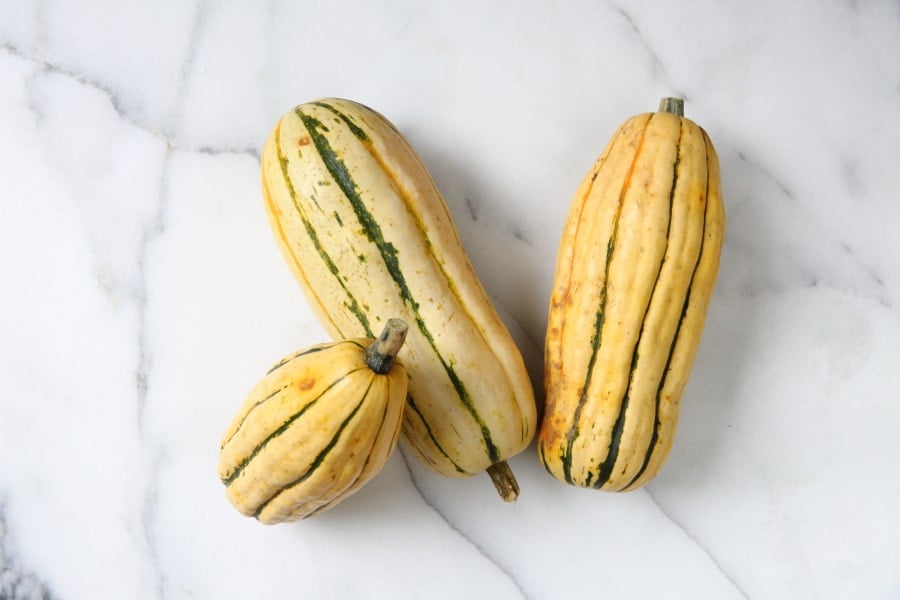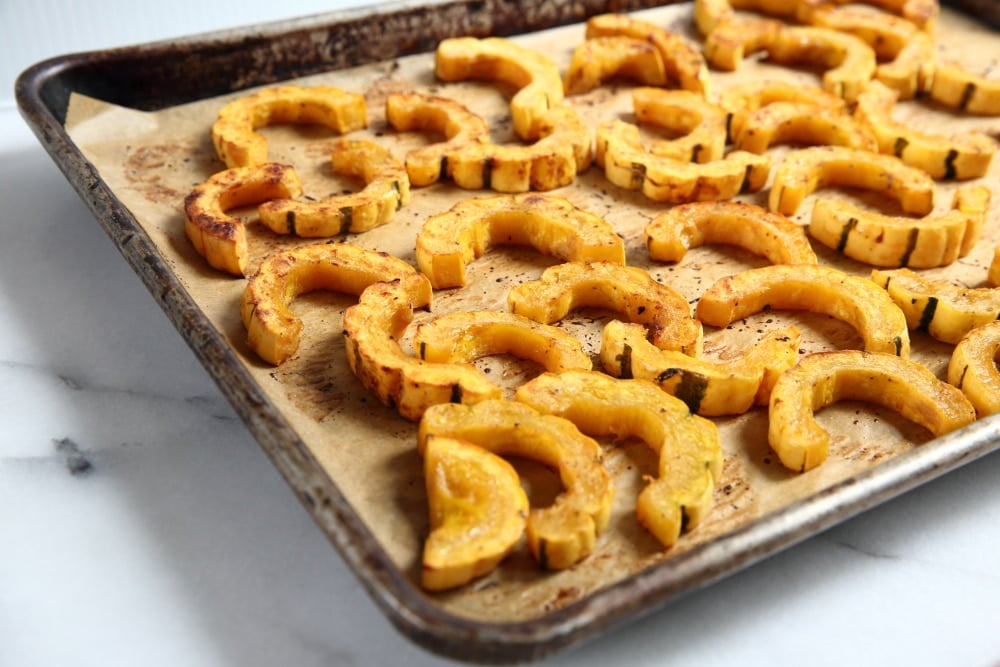 Roasted Squash Salad 101
While I included a recipe below, this salad is as adaptable as they come. Below are some of my tips and swap-out ideas, so feel free to make it your own!
I love delicata squash since it's so easy to work with (plus, the skin is completely edible, meaning no peeling!), and you can learn more about roasting it here (as well as get other ideas for using the squash). However, other winter squash varieties, such as butternut, buttercup or acorn would work great in this salad. You'll need to peel a squash of a similar weight and dice it into about 1 – 1 1/2-inch pieces (or buy it pre-peeled and diced) then proceed as directed. If you use acorn squash, you can skip the peeling step and wedge it like I've done here (you'll also need to increase the cooking time by about 10-20 mintues).  Also, feel free to throw some spices or herbs into the mix! A dash of chili powder would be a fun kick, or toss in some chopped rosemary, thyme or sage.
As far as the greens go, I prefer a mix with something slightly bitter, such as radicchio, arugula and/or baby mustard greens. However, nearly any leafy green thing will do. I've made this roasted squash salad with everything from baby spinach to arugula to thinly sliced lacinato kale leaves.
You can use any roasted nuts you have on hand, but I'm partial to pecans or hazelnuts. Sliced almonds, pepitas or pine nuts would also be delicious. To roast the nuts, spread them on a baking sheet and pop them in a 375 degree oven for about 5-10 minutes, stirring and checking on them occasionally, until they're fragrant and golden (if you're anything like me, you're going to want to set a timer, as I can't count the number of times I've forgotten and burned nuts!). The nuts can be roasted weeks in advance and stored in the fridge or freezer (if you're eating them rather quickly you can store them at room temperature).
I love sweet-tart pomegranate seeds, especially now that they're readily available already seeded. If you have whole pomegranates, however, you can check out my tip for seeding them without any mess in this video I did a few years ago with Fine Cooking Magazine.  However, dried cherries or cranberries would be a lovely swap!
The creaminess of goat cheese plays well against the other textures of the salad, but you could certainly go for feta instead, or switch things up with shaved Parmigiano or Pecorino Romano.

Holidays (dum dudum dummmm)
Ready or not the holidays are going to be here before we know it (eek!!). This roasted squash salad would be a gorgeous addition to a Thanksgiving spread (serve it family style on a large platter) or an elegant first course to a holiday meal. But you don't have to wait until the holidays to make it. I whip it up often on weeknights to accompany a store-bought rotisserie chicken. It's a gorgeous but easy meal that makes any ordinary Wednesday feel special.
Watch the video!
Get the recipe!
Maple-Roasted Delicata Squash Salad with Goat Cheese & Pomegranate Seeds
This easy but stunning salad features half moons of maple-Dijon roasted delicata squash, sweet-tart pomegranate seeds, toasted nuts, creamy goat cheese and bitter greens. A quick maple balsamic dressing ties it all together. It's the perfect mix of flavors and textures and makes for a gorgeous first course to a holiday meal, or a satisfying main course when paired with a rotisserie chicken. If you can't find delicata squash, swap it out for cubed butternut squash. Also, feel free to use shaved Parmigiano or Pecorino in place of the goat cheese (or leave it out altogether!).
Ingredients
Squash
1 1-1 ½

pound

Delicata squash

1

tablespoon

extra virgin olive oil

1

tablespoon

maple syrup

1

tablespoon

Dijon mustard

Salt and freshly ground black pepper
Dressing
1

tablespoon

minced shallot (about ½ small shallot)

1

garlic clove, finely grated

1

teaspoon

Dijon mustard

1

teaspoon

maple syrup

¼

cup

balsamic vinegar

Salt and freshly ground black pepper

¼

cup

extra virgin olive oil
Salad
Mixed greens, such as baby mustard, arugula, spinach, radicchio, escarole, mizuna and/or mache, torn into bite-sized pieces if large

Crumbled goat cheese

Chopped toasted hazelnuts or pecans

Pomegranate seeds
Instructions
Roast the Squash
Preheat the oven to 400˚F. Line a large baking sheet with parchment paper.

Cut off both ends of the squash then cut the squash in half lengthwise. Scrape out and discard the seeds. Cut the squash into ½-inch slices and transfer them to a large bowl. Add the olive oil, maple syrup and Dijon mustard, and season with salt and pepper. Toss to coat (I find it's best to use my hands for this!).

Arrange the squash in a single layer on the baking sheet and roast for 15-20 minutes, or until lightly golden on the bottom. Carefully flip the slices over and continue to roast for 5-10 minutes, or until golden around the edges and tender. Nudge each slice gently to ensure that it doesn't stick to the pan (you can leave them on the pan).

Make the Dressing
Meanwhile, in a small bowl or jar, whisk together the shallots, garlic, Dijon, maple syrup, balsamic vinegar and a pinch of salt and pepper. Let sit 5-10 minutes to let the flavors infuse. Slowly whisk in the extra virgin olive oil (or shake it all up in a jar).
Assemble the Salad
To serve, in a large bowl, toss the greens with just enough dressing to coat (you might not need all of the dressing). Arrange the greens on a large platter or on individual plates. Place the squash slices on top of the greens and drizzle with a bit more dressing. Sprinkle with goat cheese, toasted nuts and pomegranate seeds.
Recipe Notes
The squash can be roasted up to 6 hours ahead and left at room temperature.
The dressing can be refrigerated for up to 2 days.
*This post contains affiliate links, which means that if you purchase a product through a link you clicked on here, I receive a portion of the sale (at no cost to you). Thank you for supporting FromScratchFast!!
Stay Connected!
I'd love to hear what you're cooking, and I'm happy to answer any questions! #FromScratchFast
Instagram: FromScratchFast
Facebook: FromScratchFast
Pinterest: FromScratchFast
YouTube: FromScratchFast