These are the easiest chipotle chicken tacos EVER!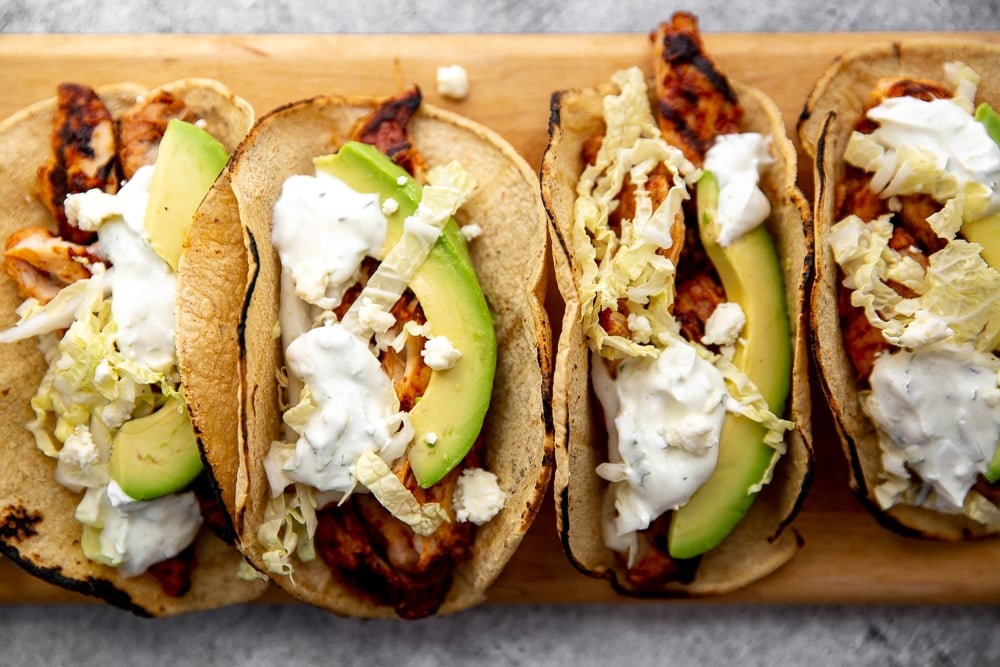 This easy chipotle chicken recipe has been a staple in our house for years and is one of my favorite back-pocket weeknight meals. The recipe is featured in my first book, The Food Processor Family Cookbook, and it couldn't be easier. All you do is puree a can of chipotle peppers with a load of garlic, then pour it over chicken pieces to coat. DONE! After a few hours, or, better yet, the next day, the chicken gets grilled to smoky, spicy, crispy perfection.
Easy chipotle marinade
I've got to thank my mom for this marinade, who came up with the idea a few years ago as a way to use up a leftover can of chipotle chilies. A lot of recipes call for a single chili or two, or even just a teaspoon of the adobo sauce from a can (like this grown up taco salad!), and this marinade is the perfect way to use up the rest of the can.
Grilled chipotle chicken
You can use the chipotle marinade on bone-in chicken pieces or even skirt steak, but I love using boneless, skinless chicken thighs, which cook up quickly and stay juicy on the grill. The chicken is awesome on its own, but we love to shred it and stuff it into tortillas with avocado slices, shredded Napa cabbage and a seriously addicting lime "crema" sauce. It's pure taco nirvana.
I grill the chicken on our outdoor grill to amplify that smokey aroma, but you could use a grill pan or even cast iron skillet inside instead.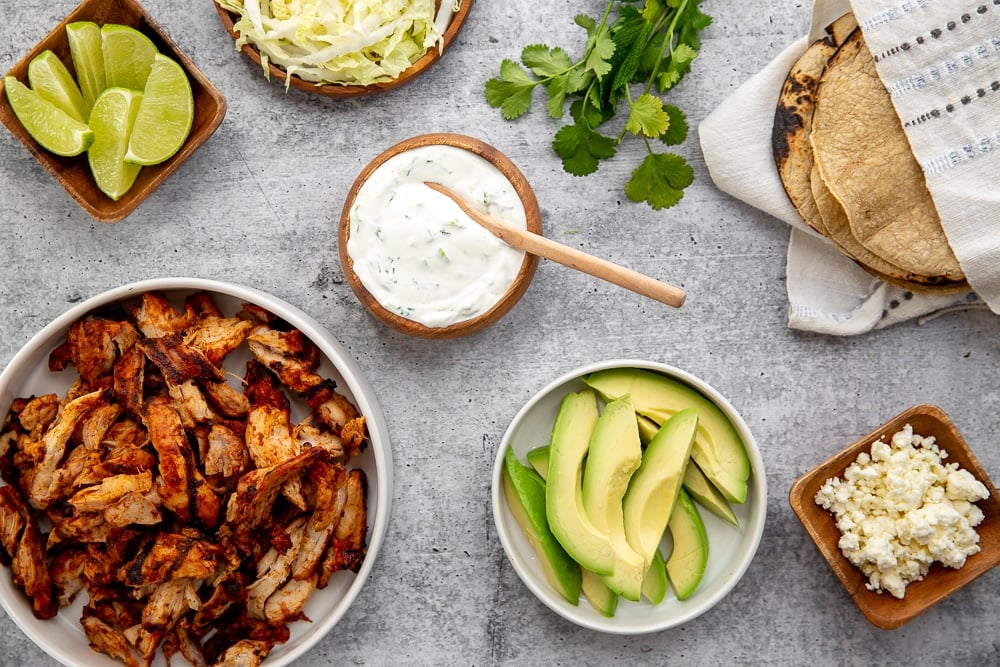 Lime Crema Sauce
I'm on a mission to convince you that sauces don't have to be hard to make or time consuming! This lime crema is made simply with sour cream, lime zest and juice, scallions and mint or cilantro. It's a quick way to instantly take the tacos into gourmet territory.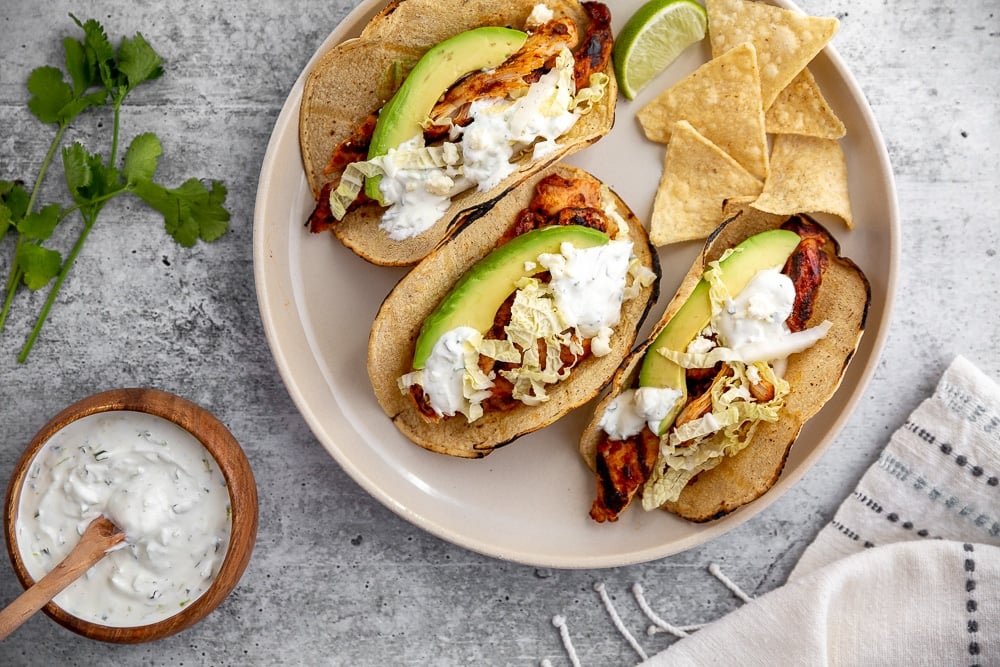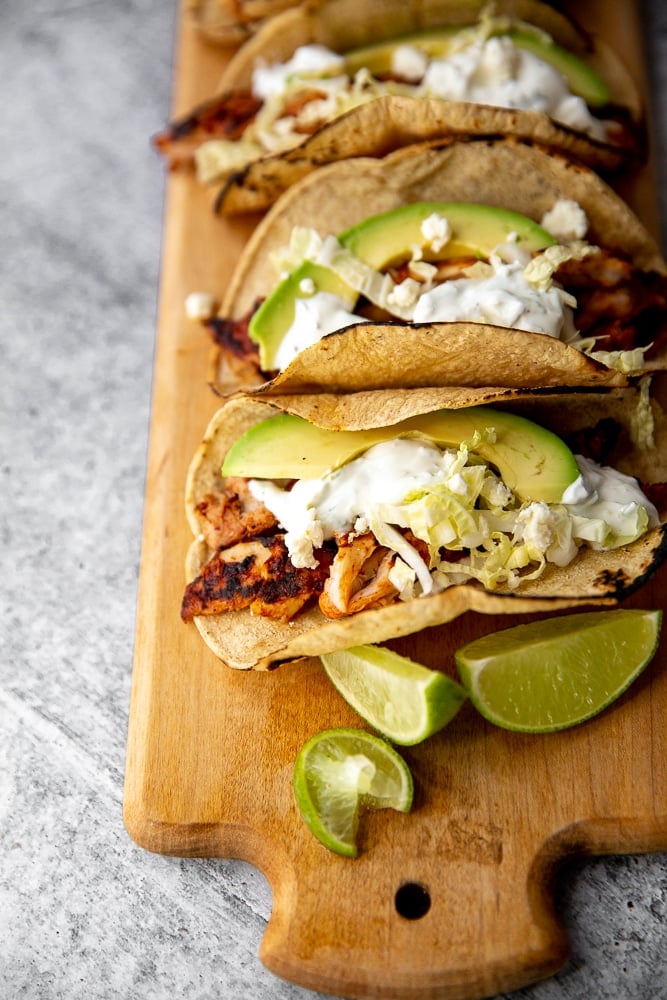 Easy chipotle chicken recipe tips
The chipotle marinade is fantastic not only with boneless chicken thighs but also with bone-in chicken pieces or even skirt steak.
If you don't have an outdoor grill you can use a grill pan (I love this large pan, which does double duty as a griddle), or even just a heavy non-stick or cast iron skillet.
Be sure to preheat the grill and oil the grates before adding the chicken. To oil outdoor grill grates, dampen a paper towel with vegetable oil, then use tongs to rub the oil onto the grates. (If using a pan, coat it lightly in oil). The chicken will release from the grates once it's ready to flip.
Let the chicken rest for at least 5 minutes to allow the juices to redistribute.
If you like these tacos, you're going to love these Steak Burrito Bowls (which can be made with chicken!).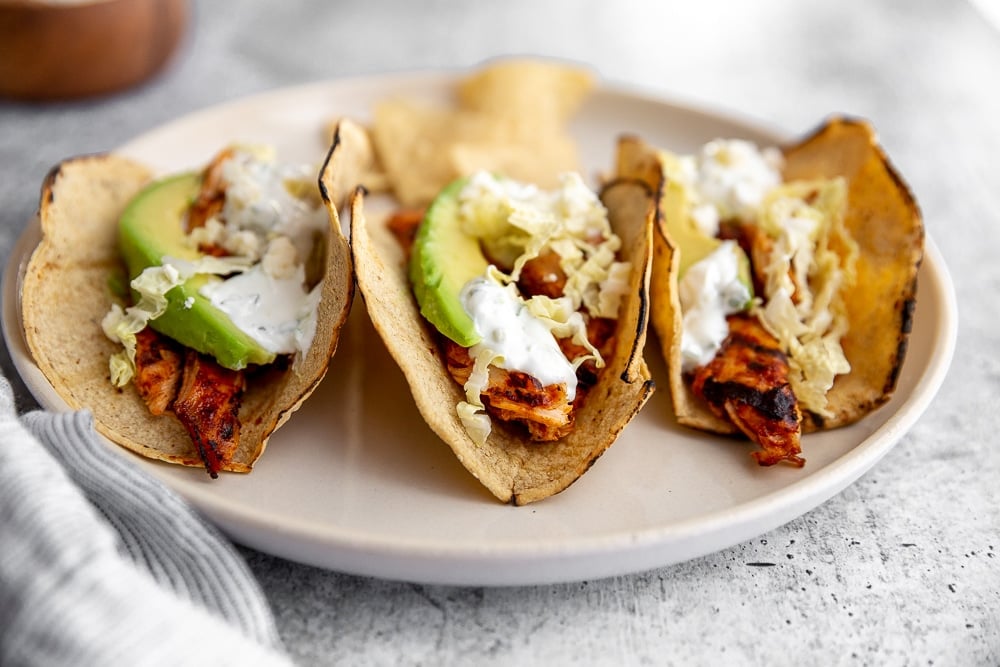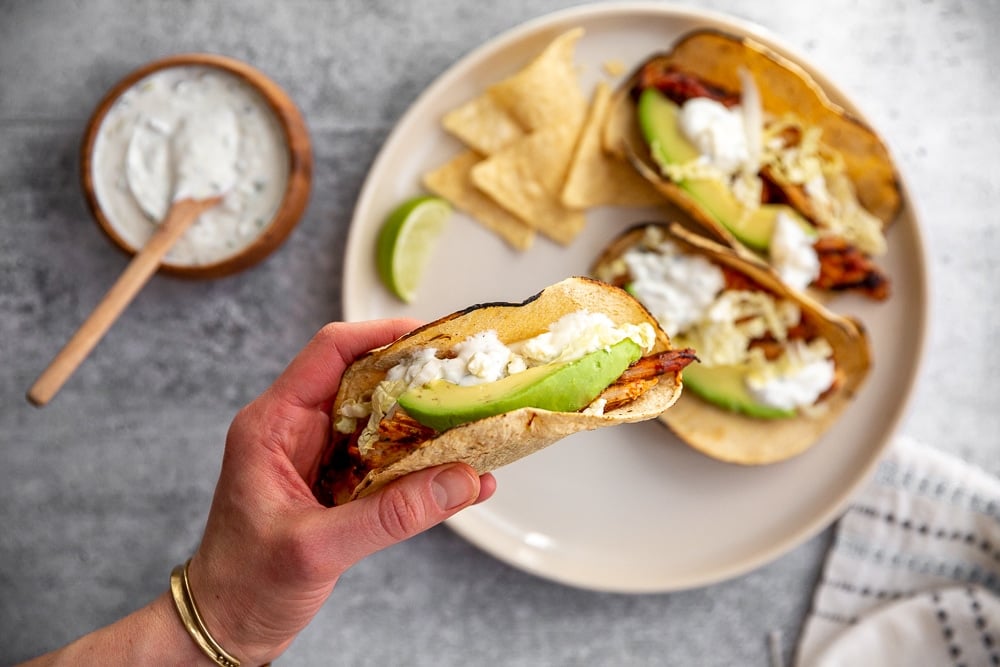 Get the recipe!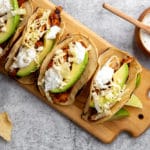 (The Best!) Easy Chipotle Chicken Tacos Recipe
This is an adaptation of the Chipotle-Garlic Grilled Chicken recipe in my book,
The Food Processor Family Cookbook
(Sonoma Press 2016). Canned chipotle peppers and garlic get pureed into a simple but deeply flavorful marinade for chicken (it's delicious on skirt steak!). The spicy chicken is awesome on its own, but we love to shred it and pile it into tortillas with Napa cabbage, avocado slices and a garlicky, mint-spiked lime crema. The recipe makes a big batch of crema, but we end up slathering it over everything on our plates. If you have the time, marinate the chicken in the morning or even the day before for maximum flavor.
Ingredients
Marinade
5

garlic cloves, peeled

1

7-ounce can chipotle peppers in adobo sauce

Salt and freshly ground black pepper

1 ½ - 2

pounds

boneless skinless chicken thighs
Lime crema
1

cup

sour cream

1

small

garlic clove, grated

Zest of 1 lime

Juice of ½ lime

1

tablespoon

thinly sliced scallions

1

tablespoon

chopped mint or cilantro, or a mix of the two
For serving
Oil for grill

Warm tortillas

2

cups

thinly sliced Napa cabbage, for serving

Avocado slices, for serving

Crumbled Cotija or feta cheese, for serving (optional)

Hot sauce, for serving (optional)
Instructions
Marinate the chicken
Put the garlic cloves in a mini food processor, and process until finely chopped. Add the chipotle peppers with their sauce and season with salt and pepper. Process until smooth, stopping and scraping down the sides occasionally.

Season the chicken with salt and pepper, and transfer to a bowl. Add the chipotle marinade, and toss to coat. Let sit at room temperature for 15-45 minutes, or cover and refrigerate for up to 24 hours.
Make the lime crema
Mix together the sour cream, grated garlic, lime zest, lime juice, scallions, and mint or cilantro. Season with salt and pepper.
Grill and serve
Preheat a grill or grill pan to medium-high. If the chicken was refrigerated, let it come to room temperature.

Remove the chicken from the marinade, leaving some of the marinade sticking to the meat. Oil the grill grates, then grill the chicken on both sides until cooked through, about 5 minutes per side. Transfer to a cutting board and let rest 5-10 minutes. Using two forks, coarsely shred the chicken.

Pile the chicken into warmed corn or flour tortillas and top with napa cabbage, avocado slices and the lime crema. If you'd like, sprinkle with a bit of crumbled Cotija or feta cheese. Serve with hot sauce and the remaining crema at the table.
Recipe Notes
Do Ahead: The chicken can be marinated up to 1 day in advance (it gets even tastier the longer it marinates).
*This post contains affiliate links, which means that if you purchase a product through a link you clicked on here, I receive a portion of the sale (at no cost to you). Thank you for supporting FromScratchFast!!
Stay Connected!
I'd love to hear what you're cooking, and I'm happy to answer any questions! #FromScratchFast
Instagram: FromScratchFast
YouTube: FromScratchFast
Facebook: FromScratchFast
Pinterest: FromScratchFast