I traveled to LA earlier this month for the International Association of Culinary Professionals Conference, and when I got home, I couldn't stop thinking about TACOS! These spicy grilled chipotle chicken tacos, topped with slivers of avocado, crunchy Napa cabbage, and a seriously addicting lime "crema" made with sour cream, lime, garlic and herbs, will transport you to the land of palm trees and taco trucks, no matter where you happen to live.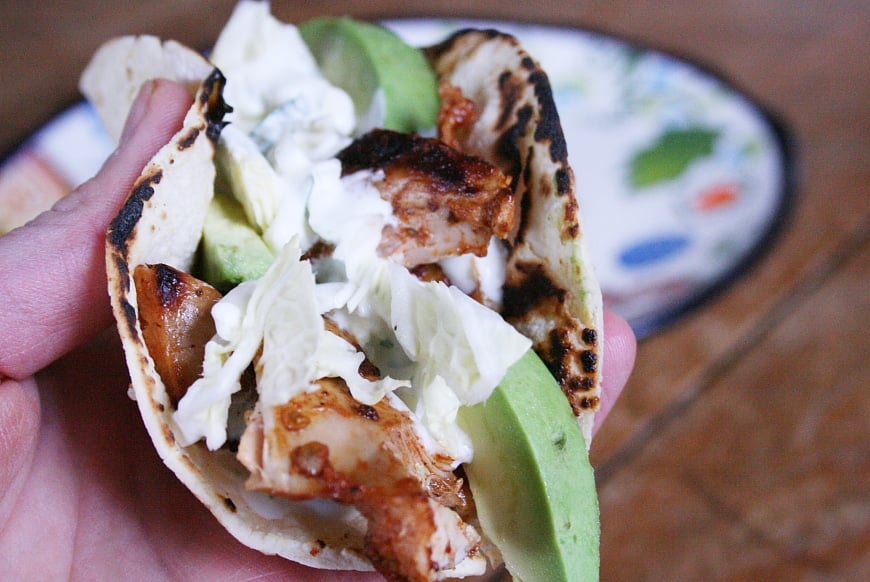 Last month we opened up our grill for the first time all season (it was in hibernation this winter). When James lifted the lid, two mice popped their heads up from inside a nest they had constructed on the grates. While I'd like to say that I calmly commented on the ingenuity of the little fellows (who wouldn't want a home that tasted of pork shoulder and burgers?), in reality I ran screaming into the house like a hyena. I'm petrified of mice. Give me a spider any day, but rodents scare the @#$% out of me. James and Ella found the situation quite entertaining—not only because Mama was acting like a lunatic, but also because apparently Gus-Gus and Jacques (of course James named the damned things) were quite adorable as they scampered away. We realized that we would have to put the grill into regular use to prevent the mice from returning, and we have since been grilling up a storm (after a thorough scrub-down, of course).
One of my favorite grilled chicken recipes comes from my mom and is featured in my book. All you do is puree a can of chipotle peppers in adobo sauce with a load of garlic, then pour it over bone-in chicken pieces to coat. After a few hours, or, better yet, a day, the chicken gets grilled to smoky, spicy, crispy-skinned perfection. A few weeks ago I decided to use the same marinade on some boneless, skinless chicken thighs that I had defrosted from the freezer. Instead of serving them whole, I shredded the meat and tucked it into tortillas with a dollop of mint- and lime-spiked sour cream.  It was taco nirvana.  Who needs LA when you can grill these up in your own backyard?
We'll be making these chipotle chicken tacos again next week for Cinco de Mayo, and I have a feeling that they're going to become a summertime staple.  That is, unless Gus-Gus and Jacques find their way back home. EEEEEK!!!!!!
Chipotle Chicken Tacos
This recipe is adapted from the Chipotle-Garlic Grilled Chicken from my cookbook (The Food Processor Family Cookbook, Sonoma Press 2016), in which canned chipotle peppers and garlic get pureed into a deeply flavorful marinade for bone-in chicken pieces. In this version I use the same marinade for boneless chicken thighs, which get grilled then shredded. The spicy chicken is piled into tacos with shredded Napa cabbage, avocado slices, Cotija cheese and a garlicky, mint-spiked lime crema. The recipe makes a big batch of crema, but I find that we end up slathering it over everything on our plates. If you have the time, marinate the chicken in the morning or even the day before for maximum flavor.
Ingredients
6

garlic cloves

, peeled, divided

1

(7-ounce) can chipotle peppers in adobo sauce

Salt and freshly ground black pepper

1 ½ - 2

pounds

boneless skinless chicken thighs

1

cup

sour cream

Zest of 1 lime

Juice of ½ lime

1

tablespoon

thinly sliced scallions

1

tablespoon

chopped mint or cilantro

(or a mix of the two)

Oil for grill

Corn or flour tortillas

, warmed

2

cups

thinly sliced Napa cabbage

, for serving

Avocado slices

, for serving

Crumbled Cotija or feta cheese

, for serving (optional)

Hot sauce

, for serving (optional)
Instructions
Place 5 of the garlic cloves in a mini food processor, and process until finely chopped. Add the chipotle peppers with their sauce and season with salt and pepper. Process until smooth, stopping and scraping down the sides occasionally.

Place the chicken in a bowl and add the chipotle marinade. Toss to coat. Let sit at room temperature for 15-60 minutes, or cover and refrigerate for up to 24 hours. Do Ahead: The chicken can be marinated up to 1 day in advance (it gets even tastier the longer it marinates).

Preheat a grill or grill pan to medium high. If the chicken was refrigerated, take it out to come to room temperature.

While the grill preheats, make the lime crema. Mix together the sour cream, lime zest, lime juice, scallions and mint or cilantro. Using a microplane, grate in the remaining clove of garlic. Season with salt and pepper.

Transfer the chicken to a plate or tray and season with salt and pepper. Oil the grill grates, then grill the chicken on both sides until cooked through, about 5 minutes per side. Transfer to a cutting board and let sit 5 minutes. Using two forks, coarsely shred the chicken.

Pile the chicken into warmed corn or flour tortillas and top with some napa cabbage, avocado slices and the lime crema. If you'd like, sprinkle with a bit of crumbled Cotija or feta cheese, and garnish with hot sauce. Serve with additional crema at the table.