For an easy but flavor-packed meal that everybody will love, you have to try these slow cooker carnitas! With only 30 minutes of hands-on time, it's slow food at its fastest.
2018 Update: These slow cooker carnitas are a staple in our house, both on weeknights and when entertaining friends. Succulent slow cooked pork is served with pickled red onions, creamy avocado, crumbled cheese and hot sauce for an irresistible take on taco night (my mouth is watering just writing this!). I've recently updated the photos and added some new tips below!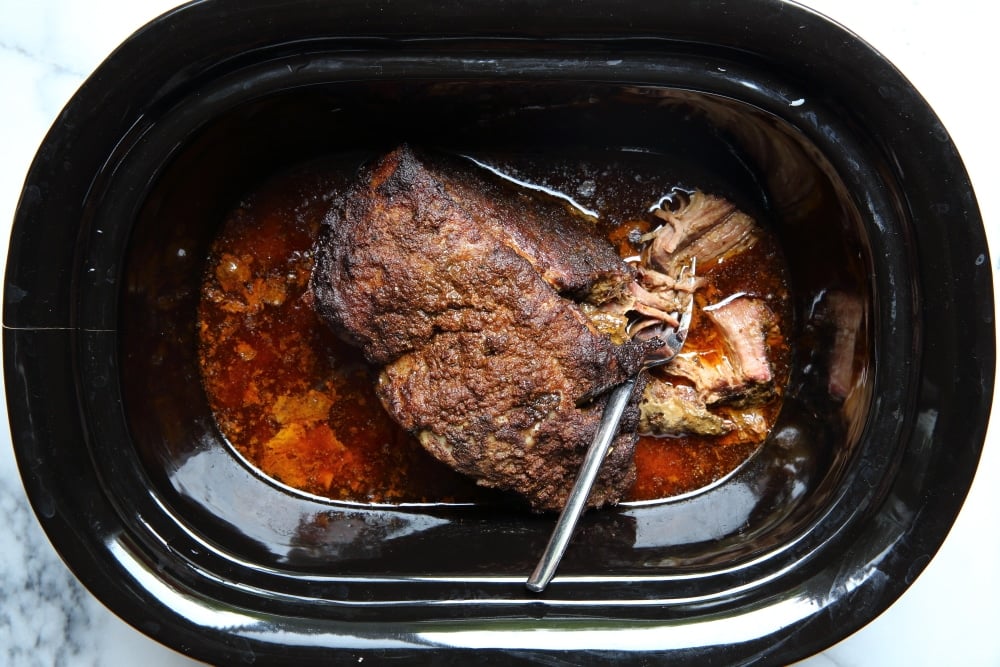 Best carnitas recipe
When it comes to ease of preparation and crowd-pleasing flavors, you can't beat these slow cooker carnitas. A spice-rubbed boneless pork shoulder goes into the slow cooker with a bit of fresh orange juice and slowly cooks all day (while you go about your business!) until irresistibly tender. The shredded meat gets tossed with a quick sauce made from boiling down the cooking liquid, and then is piled into tortillas. I love serving the tacos with quick pickled red onions (the recipe is below), which add a pop of brightness and crunch.
This is the kind of meal that will bring a bit of sunshine to your table, no matter the season. We've devoured it in the height of summer out on the back deck; we've whipped it up on busy back-to-school workdays; we've served it at parties and potlucks; and we've curled up with it in the middle of snowstorms. I hope you'll love it as much as we do.
Slow cooker carnitas cooking tips:
You'll need a 4- to 7-quart slow cooker for these slow cooker carnitas (although see below for an alternative option if you don't have one!). I prefer oval slow cookers, as they have a bigger surface area and can therefore fit larger cuts of meat and whole vegetables. I really like this KitchenAid slow cooker and this All Clad model. Definitely go for one with a removable ceramic insert (I prefer ceramic over metal because it provides a more consistent, even heat).
No slow cooker? No problem! You can also braise the pork in the oven using a dutch oven. I've included the oven instructions down in the recipe.
The recipe calls for a boneless pork shoulder (also called pork butt). You could definitely use a bone-in shoulder if you prefer, but you won't get the same yield of meat and it might take longer. Either way, you'll want to trim off most of the fat before slow cooking (this will make it easier to skim the sauce at the end).
For the best flavor, I recommend rubbing the pork with the spice paste the day before. As a bonus, it makes the morning prep really easy. All you have to do is place the prepped pork in the slow cooker and pour in some fresh orange juice. Go about your day, and when you get home dinner will be almost done!
After cooking, it's important to ladle off the fat from the cooking liquid (there will be quite a bit) before making the sauce. If you cook the carnitas in advance, you can let the roast cool in the liquid (before shredding), then refrigerate it overnight (I pop the whole slow cooker insert in the fridge). The next day you can peel off the hardened fat from the top of the sauce, then reheat the pork and proceed with the recipe.
Traditionally carnitas are cooked over high heat to crisp up. If you prefer those crispy bits, you can spread the carnitas in a baking pan and broil them until browned.
The pickled red onions provide a crunchy, tart counterpoint to the rich braised meat. They're also awesome on sandwiches, burgers and salads!
Leftover carnitas? Try them in crispy cornmeal arepas!! Simply swap out the black bean filling for some of the pork with a bit of shredded cheese.
Slow Cooker Carnitas with Quick Pickled Red Onions
With less than 30 minutes of hands-on time, these succulent slow cooker pork tacos are perfect for both weeknights and parties! You'll need to start the day before by rubbing a pork shoulder (also known as butt) with a spice paste, to let the flavors infuse. The next day the roast goes into a slow cooker with orange juice, and it gently braises all day (unattended!) until the meat is falling apart and tender. After the meat is cooked, the juices are boiled down into a sweet and smoky sauce that gets tossed with the shredded meat. Stuff the pork into tacos with quick pickled red onions, avocado slices, crumbled cheese and hot sauce, for a flavor-packed meal that everybody will love! Be sure to check out my cooking tips above.

Ingredients
Spice paste
2

tablespoons

chili powder

2

teaspoons

ground cumin

2

teaspoons

ground coriander

1

teaspoon

dried oregano

1

teaspoon

cinnamon

2

teaspoons

packed brown sugar

3

garlic cloves, finely grated

1

tablespoon

kosher salt

2

tablespoons

olive oil

1 3-4

pound

boneless skinless pork shoulder roast (also called pork butt), trimmed of excess fat
Slow cooker
¾-1

cup

fresh orange juice, from 2 large navel oranges

½

lime

or more to taste
For serving
Warm corn tortillas

Pickled Red Onions

Cotija or feta cheese

Avocado slices

Cilantro sprigs

Hot sauce
Instructions
Rub the pork
In a small bowl, combine the chili powder, cumin, coriander, oregano, cinnamon, brown sugar, garlic, salt and olive oil. Stir to make a paste. Rub the paste all over the pork shoulder. Put the pork in a covered dish or in a large zip-top bag and refrigerate overnight.
Assemble the slow cooker
Place the pork in a 4- to 7-quart slow cooker, and pour the orange juice around it (not over the top). Cover and cook until the pork is very tender and pulls apart easily with a fork, about 9 to 10 hours on low or 7 to 8 hours on high. (You can also braise the pork in a 325˚F oven. Place the roast in a Dutch oven or heavy pot with a lid. Pour the orange juice around the roast, and add enough water to come halfway up the sides of the meat. Cover and cook in the oven for 3-4 hours, or until the meat is tender.)

Transfer the pork to a cutting board or platter. Pour the liquid from the slow cooker into a medium pot, and allow the fat to settle to the top (alternatively, pour the liquid into a fat separator). Ladle off and discard the fat (there might be quite a lot). Bring the remaining juices to a boil. Cook until slightly syrupy, about 10 to 15 minutes—if you run a spatula along the bottom of the pot, you should be able to see a line. Remove the pot from the heat.

Using 2 forks, shred the pork into bite-sized pieces. Discard any large chunks of fat. Scrape the shredded meat into the pot with the reduced juices, and toss to coat (you can also scrape everything back into the slow cooker to keep warm). Squeeze in the juice from ½ lime and season well with salt and pepper.
Serve
Serve the carnitas in warm corn tortillas with Quick Pickled Red Onions, crumbled cotija or feta cheese, avocado slices, cilantro sprigs, and a drizzle of hot sauce.
Recipe Notes
For the best flavor, rub the pork shoulder with the spice paste and refrigerate it 1-2 days before cooking.
The carnitas can be refrigerated for up to 5 days or frozen for up to 3 months. If needed, add a few splashes of water to moisten.
Traditionally, carnitas are cooked over high heat to crisp up. If you prefer those crispy bits, you can spread the carnitas in a baking pan and broil them until browned.
Quick Pickled Red Onions
These zippy onions provide a crunchy and refreshing contrast to the pork carnitas (use leftovers on burgers, sandwiches or in salads). The longer they sit, the more flavorful they become (they can be refrigerated for up to 2 weeks).
Ingredients
1

large red onion, halved and thinly sliced

1

cup

apple cider vinegar

1 ½

tablespoons

sugar

1 ½

teaspoons

sea salt

1

cinnamon stick

½

teaspoon

black peppercorns

5

allspice berries
Instructions
Rinse the onion slices well under hot water. Shake them dry and put them in a heatproof bowl.

In a small saucepan, bring the apple cider vinegar, sugar, salt, cinnamon stick, peppercorns and allspice berries to a rolling boil over medium heat, stirring to dissolve the sugar and salt. Pour the hot vinegar mixture over the onion slices and toss (the liquid won't initially cover the onions, but that's OK, as the onions will shrink down). Let sit at room temperature, stirring occasionally, for 30-60 minutes, or refrigerate for up to 2 weeks.
*This post contains affiliate links, which means that if you purchase a product through a link you clicked on here, I receive a portion of the sale (at no cost to you). Thank you for supporting FromScratchFast!!
Stay Connected!
I'd love to hear what you're cooking, and I'm happy to answer any questions! #FromScratchFast
Instagram: FromScratchFast
Facebook: FromScratchFast
Pinterest: FromScratchFast
YouTube: FromScratchFast