This slow cooker beef chili is reminiscent of the chilis I devoured growing up in the Midwest, but with an amplified, rich flavor thanks to a slew of secret ingredients. It's sophisticated yet nostalgic—perfect for any crowd or occasion. There's no better meal to snuggle up with on a snow day, game day or plain 'ole Sunday. (Step-by-step VIDEO below!)
Slow cooker chili
When it comes to chili making, the slow cooker is queen. The gentle heat softens and melds the various flavors, coaxing them into a cohesive dish that's way more delicious than the sum of its parts. Even better, you can leave the slow cooker to do her thing—it'll care for your dinner while you spend the day working, skiing, hiking, or cheering on (ahem, or screaming at) your favorite team.
This recipe comes from my new book, Fresh Flavors for the Slow Cooker: Reinvent the Slow Cooked Meal (Storey Publishing, 2019). The book features a slew of vibrant slow cooker meals, from classics like this chili (as well as our favorite vegetarian version!), Beef Mole Tacos, Moroccan Braised Halibut, Vegetable Massaman Curry and so much more!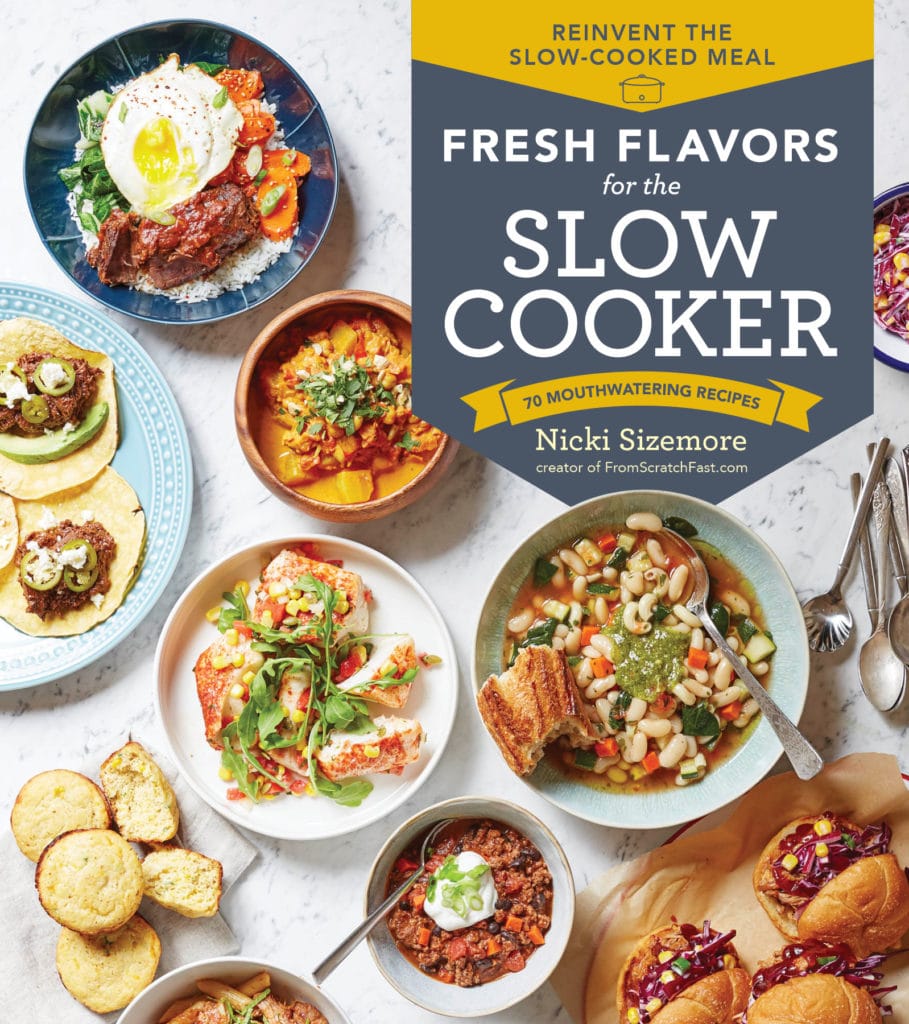 Best crockpot chili recipe
This slow cooker chili recipe gets its incredible flavor thanks to a slew of secret ingredients, most of which are pantry staples. Here's the run-down:
These ingredients are easy-to-find but transform the chili into something seriously special.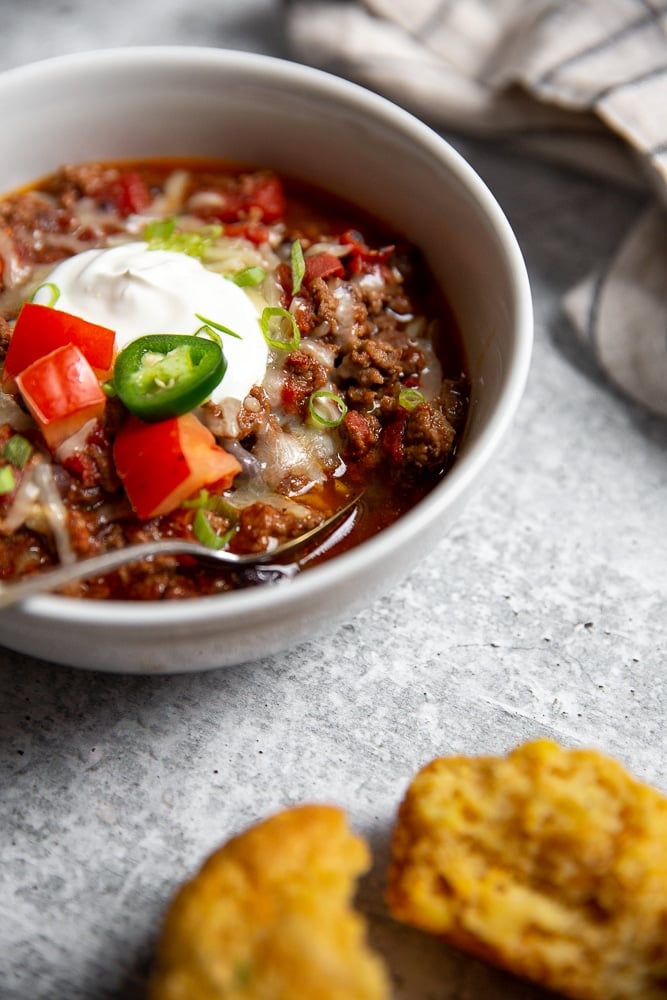 Slow cooker turkey chili
You can absolutely make this chili using ground turkey if you prefer. Just go for dark meat turkey, which is juicier and will stand up better to the bold flavors.
Can you make the chili ahead?
YES! This chili gets even better with time, so go ahead and make it today for tomorrow's party (though that being said, it's also delicious straight out of the slow cooker!)
How do you serve the chili?
I like to arrange several toppings for people to sprinkle over their bowls. Shredded cheddar cheese, sour cream, scallions and pickled jalapeños are just some ideas; you could also go for diced avocado, crushed tortilla chips, hot sauce, or whatever you and your family love. I serve this chili with these Jalapeño Cheddar Cornbread Muffins (which are also in the book!). The slightly sweet and cheesy muffins are PERFECT for sopping up the spiced chili. It's also awesome with this Skillet Cornbread.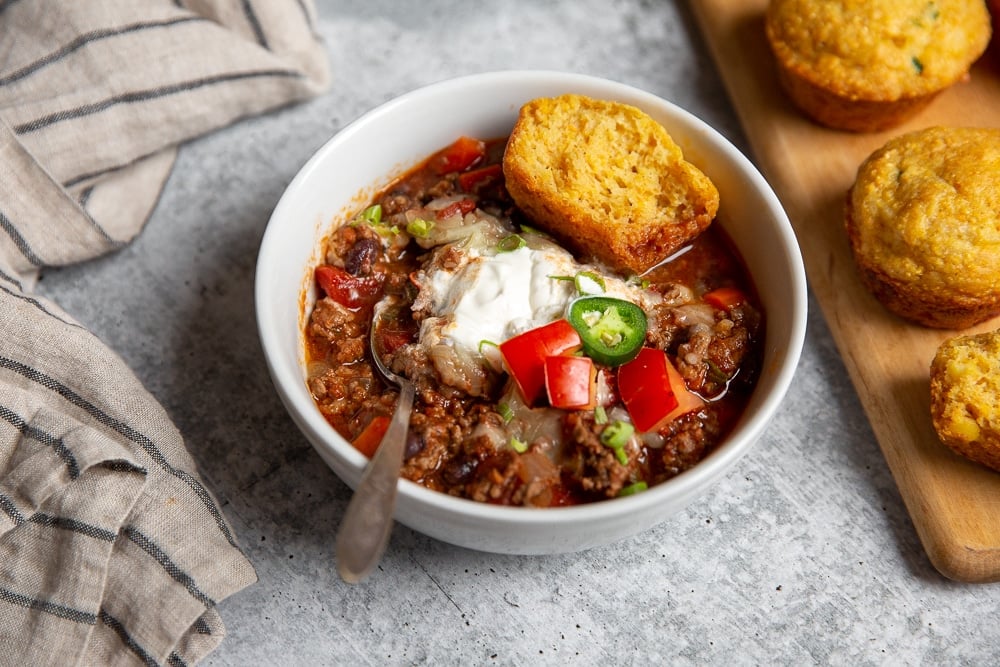 Tips for making crockpot chili:
*This post contains Amazon and other affiliate links to products I use and love (from which I earn income, at no cost to you). Thank you for supporting From Scratch Fast!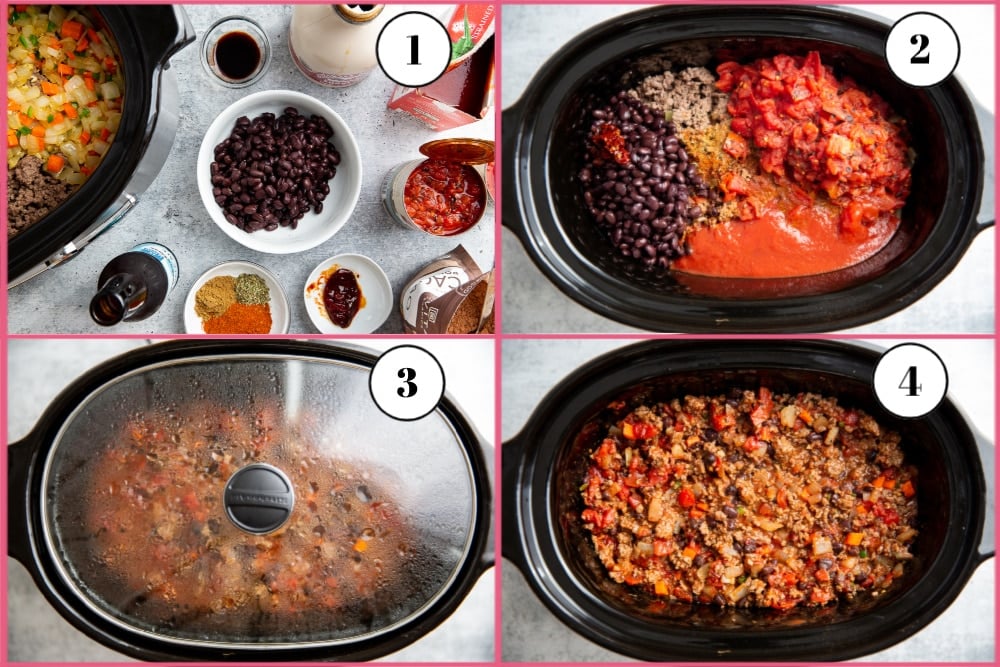 What to serve with chili:
Other slow cooker meals to try:
Watch the video!
I'd love to answer any of your questions and see what you're cooking!! Don't forget to rate this recipe and leave a comment below. Follow along on Instagram, Facebook, YouTube & Pinterest, and be sure to tag @fromscratchfast so that I can share your creations!
Get the recipe!
The BEST Slow Cooker Chili
Adapted from Fresh Flavors for the Slow Cooker: Reinvent the Slow Cooked Meal, by Nicki Sizemore (Storey Publishing, 2019). This is my very favorite beef chili; it's reminiscent of the versions I grew up with in the Midwest but with an amplified, rich flavor that I crave every snow day, game day or plain 'ole Sunday. I know it looks like a lot of ingredients, but they're mostly things you'll have in your pantry and spice cabinet. A chipotle chili gives the chili a kick of spice, maple syrup lends sweetness, tamari imparts savory "umami-ness" and beer's pleasant bitterness balances everything out. The chili is even better the next day. I love to serve it with these with Jalapeño Cheddar Spoonbread Muffins.
Ingredients
Stovetop prep
2

tablespoons

extra virgin olive oil, divided

2

pounds

ground beef

Salt and freshly ground black pepper

1

large onion, finely diced

2

medium carrots, finely diced

4

garlic cloves, minced

1

jalapeño pepper, seeded and minced
Slow cooker
1 28-

ounce

can fire roasted diced tomatoes

1

cup

strained tomatoes (such as Pomi brand)

1

cup

beer (lager or pale ale, gluten-free if needed)

1 15-

ounce

can black beans, drained and rinsed

1

canned chipotle chile, finely chopped

1

tablespoon

tamari or soy sauce

2

tablespoons

maple syrup

2

tablespoons

chili powder

2

teaspoons

ground cumin

1

teaspoon

dried oregano

1

teaspoon

raw cacao powder or unsweetened cocoa powder
For serving
Toppings, such as: chopped tomatoes, sliced scallions, shredded cheddar cheese, sour cream and/or pickled jalapeños

Jalapeño Cheddar Cornbread Muffins (optional)
Instructions
Stovetop prep
Heat 1 tablespoon of the olive oil in a large skillet over medium-high heat. Add the beef, and season with salt and pepper. Cook, breaking up the meat with a wooden spoon, until browned, about 5 to 7 minutes. Drain the meat in a colander or strainer set over a bowl (reserve the skillet).

In the same skillet, heat the remaining tablespoon of olive oil over medium heat. Add the onion and carrots, and season with salt and pepper. Cook, stirring occasionally, until the vegetables start to soften, about 3 to 5 minutes. Add the garlic and jalapeño, and cook 1 minute longer.
Slow cooker
Scrape the vegetables into a 4- to 7-quart slow cooker and add the drained beef, diced tomatoes, strained tomatoes, beer, black beans, chipotle chile, tamari, maple syrup, chile powder, cumin, oregano and cacao powder. Season with salt and pepper, and stir to combine. Cover and cook on low for 6 to 7 hours or on high for 3 to 4 hours. Season with salt and pepper to taste.
Serve
Ladle the chili into bowls and sprinkle with the toppings of your choice. Serve the Jalapeño Cheddar Cornbread Muffins alongside, if you wish.
Notes
Storage: The chili can be refrigerated for up to 5 days or frozen for up to 3 months.
Slow Cooker Jumpstarts:
Up to 1 day ahead: Chop the onions, carrots, garlic and jalapeño and refrigerate separately (or you can go ahead and cook them off).
Tips:
You'll need a 4- to 7-quart slow cooker for this recipe (I recommend this 6-quart model). Different models cook at different rates, so use the times as an approximation (but don't worry; this is a very forgiving chili!).
It's important to sauté the beef first for two reasons. First, it allows you to drain off the fat (otherwise you'd end up with a greasy, heavy chili). Secondly, it helps to build flavor.
The ingredient list might look long, but these are mostly things you'll already have in your pantry and spice cabinet.
If you're gluten-free, be sure to use a gluten-free beer (I use Omission Pale Ale). You can also swap out the beer for chicken broth, if you prefer.
Strained tomatoes give the chili body. I use Pomi brand (which comes in a box). If you can't find strained tomatoes, you can use canned tomato puree instead.
You can swap in ground turkey (preferably dark meat) for the beef.
I serve this chili with these Jalapeño Cheddar Cornbread Muffins or this Skillet Cornbread.
Get a ton of other slow cooker recipes in my book, Fresh Flavors for the Slow Cooker!