This one-dish stew is my go-to dinner whenever anybody in the family starts to get sick. It's warming, a bit spicy and has serious healing powers (well, at least I think so!). Best of all, it has a cooked-all-day taste, but it can be made in just over a half hour. The trick is to finely chop the aromatics—red onion, garlic, jalopeno and ginger—in the food processor until they form a coarse paste. The paste cooks quickly and forms a powerful the base for the stew. From there, garam masala, cumin and coriander, along with canned tomatoes, chickpeas and collard greens are layered into the pot. I love collards in soups and stews (and this is a great time to experiment with them), but you could also use spinach or Swiss chard. To finish things off, the stew is topped with mango chutney and yogurt. Don't forget them—they put everything in balance. The sweetness from the mango chutney tames the spices in the stew, and the yogurt cools everything down to just the right level.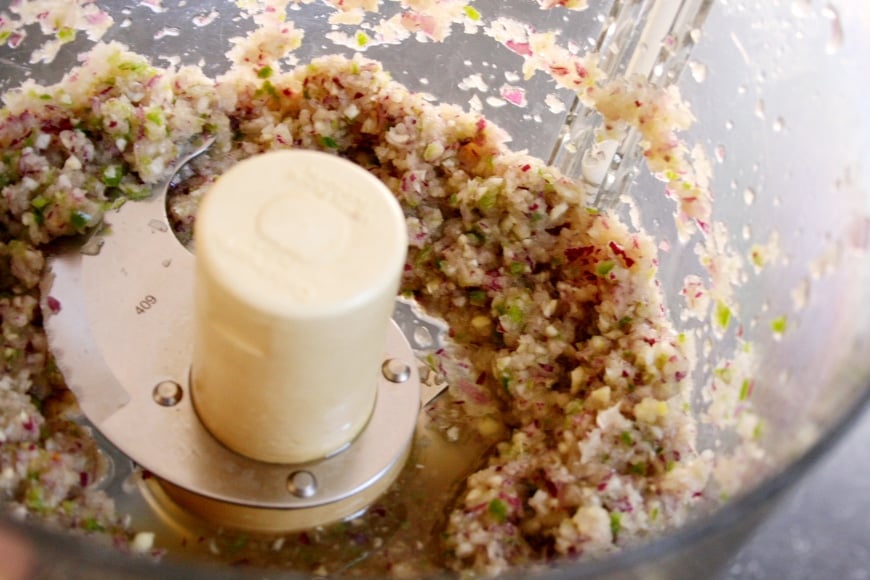 This season Ella has had a cold and I had a short bout of the flu, but with this in my repertoire, I'm determined to fight off any more bugs that come our way!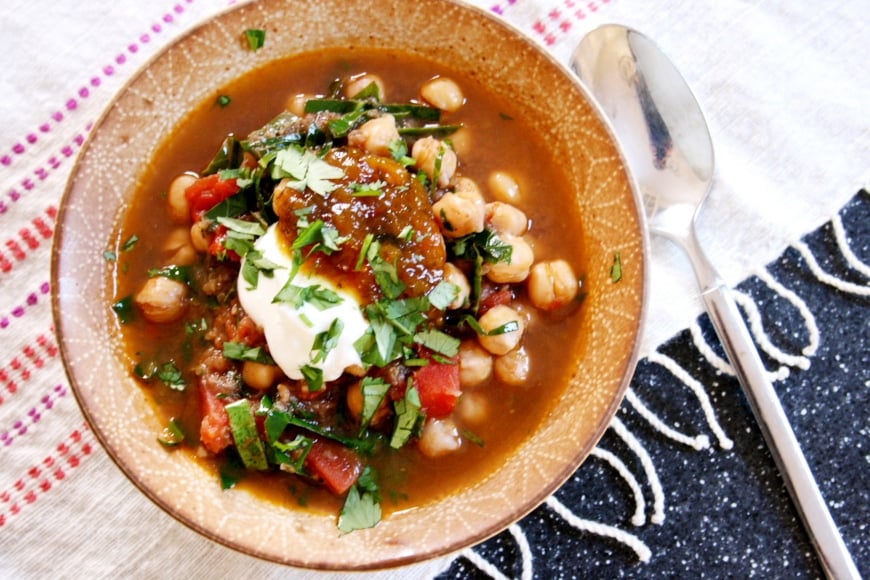 Indian Spiced Chickpea Stew
This warming, slightly spicy stew has a cooked-all-day flavor, but it comes together in just over a half hour. Take note: don't forget the mango chutney and yogurt—they're important elements to the dish and put everything in balance. The chutney adds a bit of sweetness and the yogurt cools things down to just the right level.
Ingredients
1

medium red onion

, coarsely chopped

5

garlic cloves

, peeled

2

jalapeño peppers

, seeds and inner ribs discarded, coarsely chopped

1 2-

inch

piece ginger

, peeled and coarsely chopped

2

tablespoons

grapeseed oil

Salt

1

tablespoon

garam masala

(curry powder also works)

1

teaspoon

ground cumin

1

teaspoon

ground coriander

1 15-

ounce

can diced tomatoes

3

cups

chickpeas

(2 15-ounce cans, drained and rinsed)

2

cups

thinly sliced collard greens

(stems removed and discarded)

½

cup

coarsely chopped cilantro

, plus additional leaves for serving

Yogurt for serving

Mango chutney

Cooked basmati rice for serving
Instructions
In a food processor, combine the onion, garlic, jalapeño and ginger. Process to a coarse paste, scraping down the sides occasionally.

Heat the oil in a large straight-sided skillet over medium heat. Add the mixture from the food processor with a pinch of salt and cook, stirring often, until the onions are light golden and tender, about 5-8 minutes. Stir in the garam masala, cumin and coriander and cook 30 seconds. Add the tomatoes (with their liquid), 2 cups of water, the chickpeas and a large pinch of salt. Bring to a simmer and cook 10 minutes, or until slightly thickened, stirring occasionally. Add the collard greens and cook 3-5 minutes, or until tender. Stir in the chopped cilantro. Taste and add additional salt as needed (sometimes I'll also add a small pinch of sugar, especially if I use curry powder which can be more bitter than garam masala). Do Ahead: The stew can be made up to 2 hours ahead and left covered at room temperature. Reheat gently before serving. I think it's best the day it's made, but it also makes for a delicious lunch the following day.

Serve the stew over basmati rice with a dollop of yogurt, a spoonful of mango chutney and a few cilantro leaves on top.