Warning: this elote dip is so freaking delicious that I've been known to eat half a pan before my guests even arrive (I have no regrets). Served warm with tortilla chips, it's a creamy but light Mexican street corn dip that is always a HUGE crowd pleaser. Plus, it can be made with fresh OR frozen corn, meaning it's perfect anytime of year!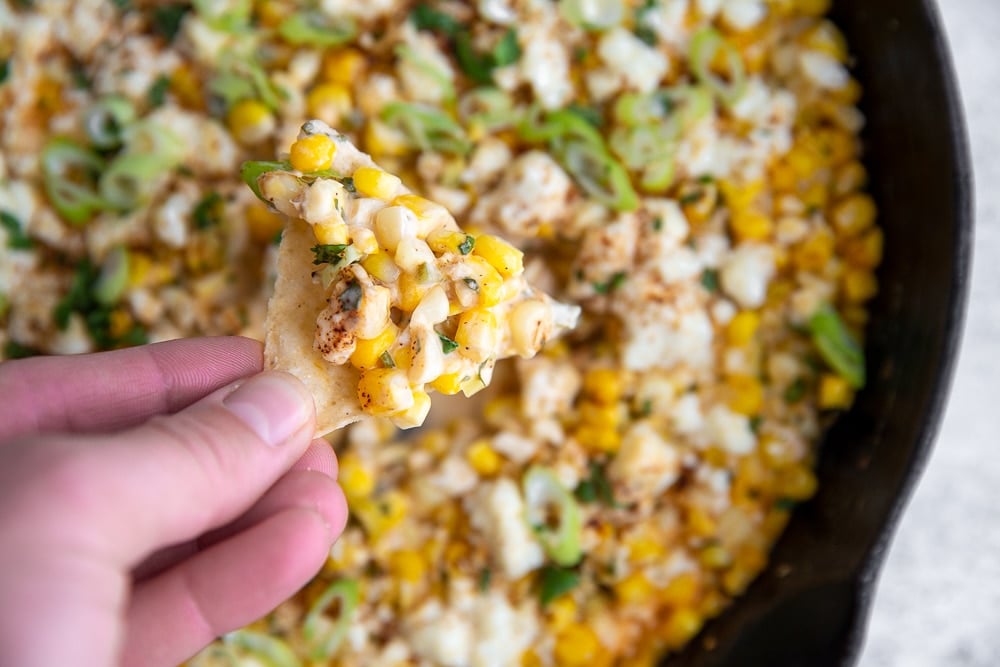 Warm corn dip
As a Midwestern girl at heart, I have two big obsessions: sweet corn and Mexican-style dips. "Mexican" dips were a staple of my childhood in Illinois, usually involving seven layers, or taco seasoning, or tons of melted cheese, or gobs of mayonnaise, or all of the above (in other words, they weren't Mexican at all). In high school I even gained a reputation of sorts for my refried bean-spicy sour cream-avocado-cheddar cheese-iceberg lettuce stratified concoction that I'd cart to parties (I'm not ashamed to admit that I used food to make friends). While I don't have a craving for that dip anymore (nor for the Bud Light that usually accompanied it), I do have a huge appetite for this warm corn dip.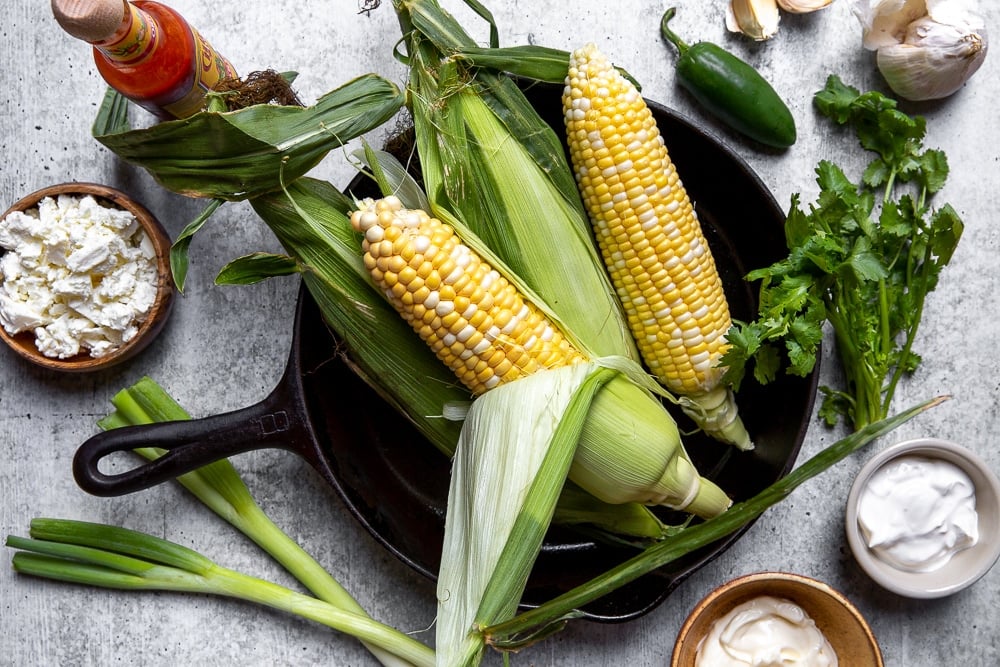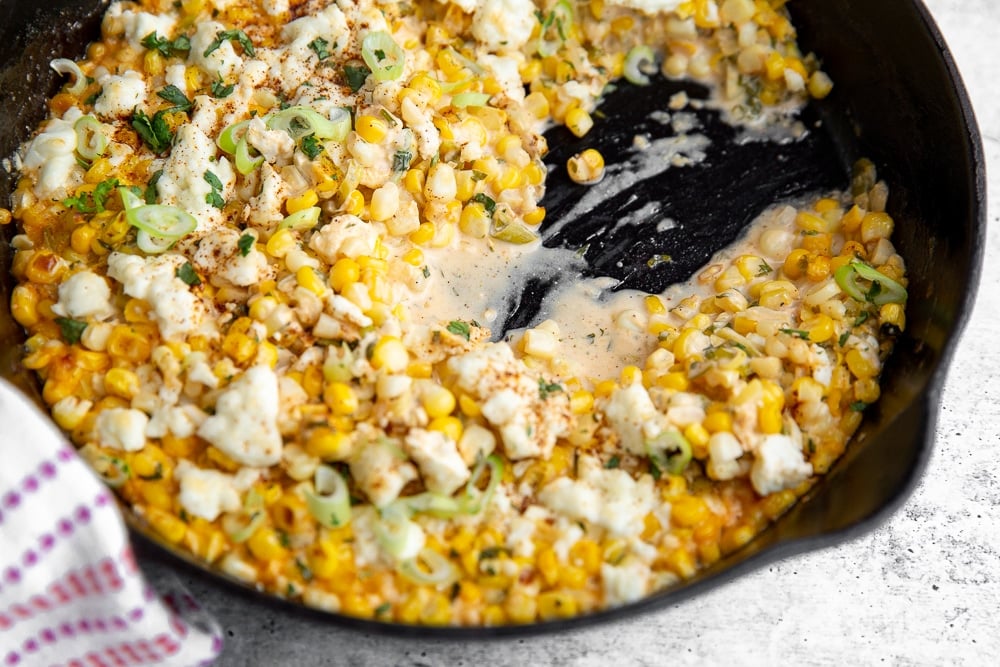 Elote dip
This warm corn dip is inspired by elote, or grilled Mexican street corn. It's bound loosely with mayonnaise and sour cream and is seasoned with lime juice, garlic, jalapeño, hot sauce, and cilantro. I top it with creamy feta (although you could use queso fresco instead) then broil the dip until it's lightly toasted and bubbling. It's simple but totally crave-worthy—the type of thing that I can put out at parties and watch disappear in minutes (or stand over the stove and devour myself).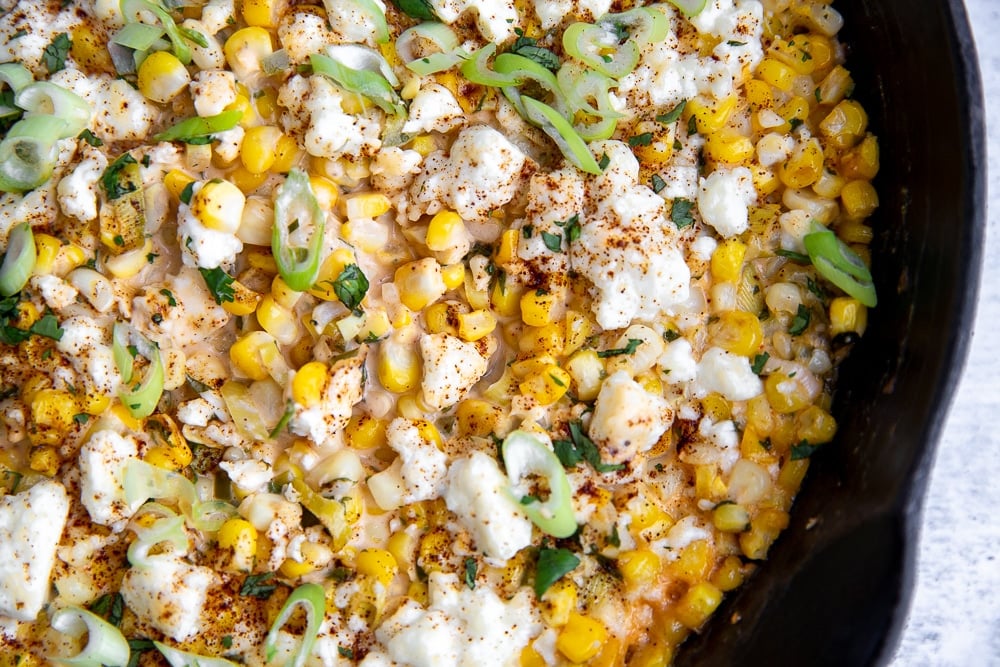 While you can grill the corn, I streamline things by cooking corn kernels directly in a cast iron skillet before scraping in the other ingredients (you can also use leftover cooked corn—simply omit the sautéing step).
How do you serve Mexican street corn dip?
This Mexican street corn dip gets served straight out of the skillet with tortilla chips for scooping. The combination of the warm, sweet dip with the crunchy chips might just start a new obsession. I'd be happy to bring it to your next party. ?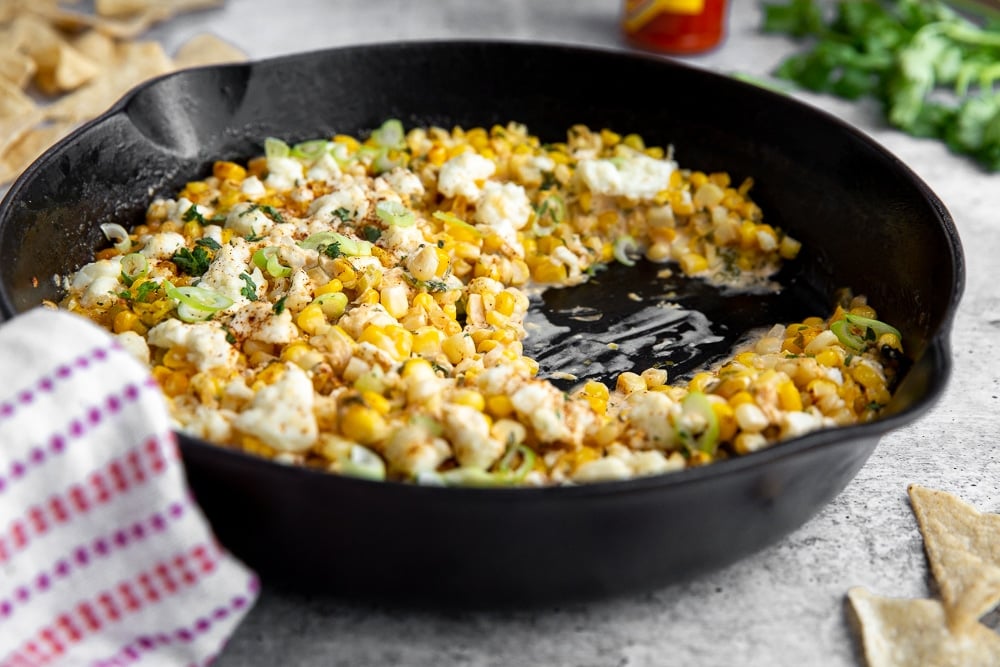 How do you make elote dip?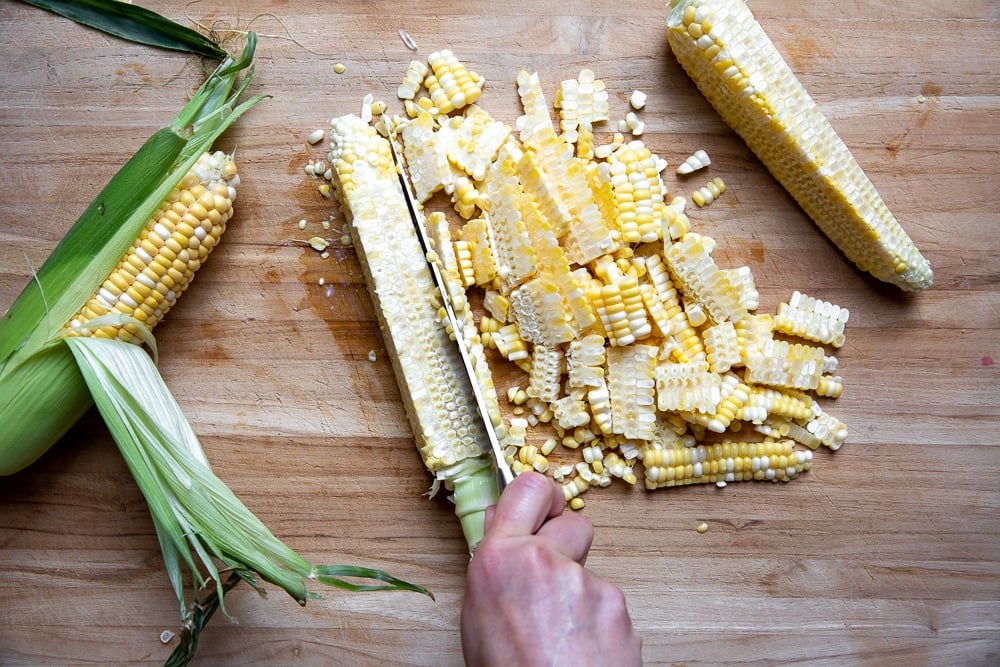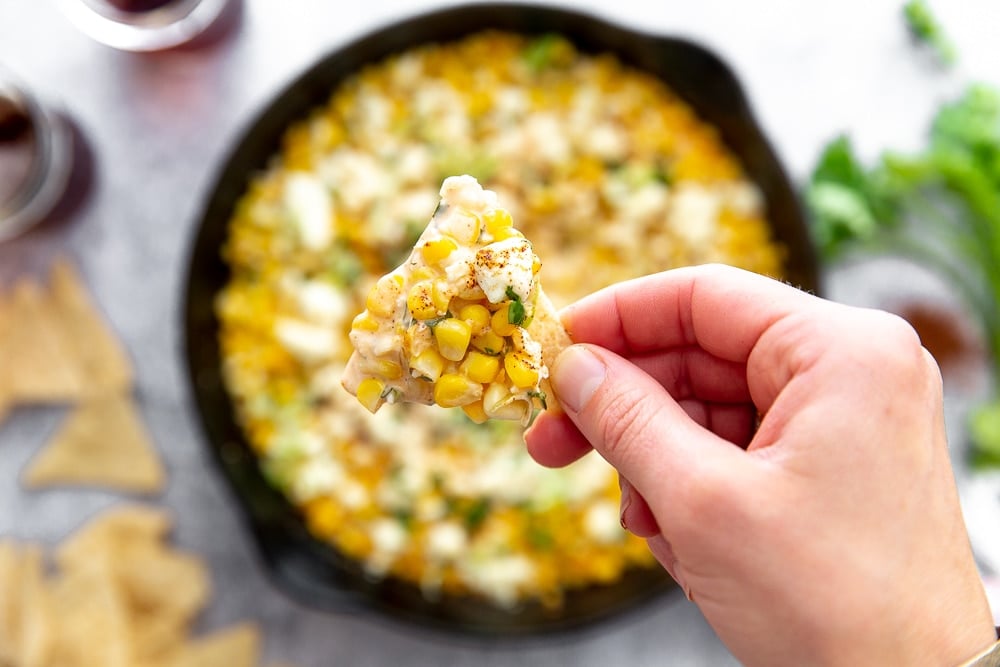 Other corn recipes to try:
Other dips you might like:
Watch the video!
Get the recipe!
Warm Corn Dip with Jalapeños and Feta
This warm corn dip is flavored with garlic, jalapeños, cilantro, green onions and a toasty layer of feta cheese, and it gets served straight out of a cast iron skillet with tortilla chips for scooping. It's sweet, salty, a touch spicy, creamy and crunchy. In other words, it's the perfect way to kick off your next party. It can even be made ahead and then reheated when your guests arrive. Feel free to add more jalapeño peppers and/or keep their seeds in if you like things spicy. Also, instead of sautéing the corn, you can grill it first on the cob, then cut off the kernels and omit the sautéing step. You'll want to use hearty tortilla chips here, nothing too thin or delicate, as they'll break.
Ingredients
1

tablespoon

butter

4

cups

corn kernels (from 4-5 cobs, or thawed if frozen)

Salt and freshly ground black pepper

1

large garlic clove, minced

1

small or ½ large jalapeño, seeded and minced (keep the seeds in if you like it spicy!)

2

scallions, thinly sliced, plus more for serving

¼

cup

plus 2 tablespoons low-sodium chicken or vegetable broth

2

tablespoons

fresh lime juice

⅓

cup

mayonnaise

¼

cup

sour cream (full fat)

1

tablespoon

hot sauce, preferably Cholula brand

2

heaping tablespoons finely chopped cilantro, plus more for serving

¾

cup

crumbled feta cheese

Ancho chile powder, for serving (optional)

Sturdy tortilla chips, for serving
Instructions
Melt the butter in a 10-inch skillet, preferably cast iron, over medium-high heat. Add the corn, and season with salt and pepper. Cook, stirring occasionally, until bright yellow and lightly toasted in spots, about 5 minutes.

Add the garlic, jalapeño and scallions, and season with salt and pepper. Cook, stirring, until fragrant, about 30 seconds. Reduce the heat to low and add the broth, lime juice, mayonnaise, sour cream and hot sauce. Cook until slightly thickened. Remove the pan from the heat, stir in the cilantro, and season with a bit more salt and pepper as needed. Sprinkle the feta over top.

Preheat the broiler.

Slide the dip into the oven on the top shelf under the heating element. Broil until lightly browned on top, about 3-5 minutes. Let cool 5 minutes. Dust with ancho chile powder, if you'd like, and garnish with a sprinkle of cilantro and scallions. Serve warm with tortilla chips.
Notes
Make it Ahead: The dip can be left at room temperature for up to 1 hour, or refrigerated for up to 8 hours. Reheat gently on the stovetop before proceeding.
Tips:
The dip gets made and served in a 10-inch cast iron skillet. If you don't have one, use a regular 10-inch skillet instead.
You can use fresh corn kernels straight off the cob, grilled corn (just skip the sautéing step) or even defrosted frozen corn! It's a fantastic year-round dip, just as perfect at a summer barbecue as it is on a game day in the winter. Here's a tip for cutting corn kernels off cobs (without them bouncing around!): place a cob flat on your cutting board and use a large butcher knife to slice straight down along the side, removing the kernels. Flip the cob to the flat side, and repeat. Keep working your way around the cob until all of the kernels have been removed.
Instead of using all mayonnaise to bind the dip, I add in sour cream, which creates a creamier, lighter texture.
Feel free to add more chiles or hot sauce if you like it spicy! I prefer Cholula hot sauce in this dip, but any brand will work.
I use easy-to-find feta cheese in this dip, but you could use queso fresco instead.
Stay Connected!
I'd love to hear what you're cooking, and I'm happy to answer any questions! #FromScratchFast
Instagram: FromScratchFast
Facebook: FromScratchFast
Pinterest: FromScratchFast
YouTube: FromScratchFast
Snapchat: FromScratchFast
This post contains affiliate links, which means that if you purchase a product through a link you clicked on here, I receive a portion of the sale (at no cost to you). Thank you for supporting FromScratchFast!!