You know how sometimes you taste something and it makes you dance? (Or maybe that's just me?) This is one of those times! This crispy, sweet, giant butternut squash "latke" cake is my new favorite appetizer (or breakfast, lunch or dinner). It's flavored with ginger and cinnamon, cooked until caramelized, and then cut into wedges. It's served with a creamy garlic-lime yogurt sauce, spicy watercress and chopped pecans. Cue the dance music!!
A lot easier than individual latkes
I had the holidays in mind when I set out to create this recipe. I often get asked for easy appetizer ideas (check out my super simple ricotta crostini from last week), and I was envisioning little butternut squash cakes, similar to latkes in form. When I started to actually cook, however, I realized that I didn't want to mess with making multiple batches of little patties. The holidays are no time for finicky, time-consuming steps. I really ought to have known better, as the exact same thing happened when I was developing a potato latke recipe for my cookbook. I initially set out to make individual latkes, but Juni was teething at the time, and the thought of standing at the stove flipping latkes for twenty minutes with a screaming baby in my arms sounded about as much fun as Christmas shopping on black Friday. Nooooo thank you (and thank god for online shopping). Instead, I made one large "cake," which freed me up from the stove. The result blew me away—it had a crisp, caramelized exterior and a tender center (almost like a giant, glorious hash brown).   It's now my go-to latke recipe.
Back to the squash. I spread my butternut squash mixture, which was seasoned with warming spices and thickened with chickpea flour and eggs, into a large nonstick skillet and cooked it until it was browned on the bottom. I then slid it out onto a plate, flipped it over by placing another plate on top (sounds scary, but it's not), and slid it back into the pan. After a few more minutes, it was ready to cut into wedges and serve.
I ate half the cake.  Oops.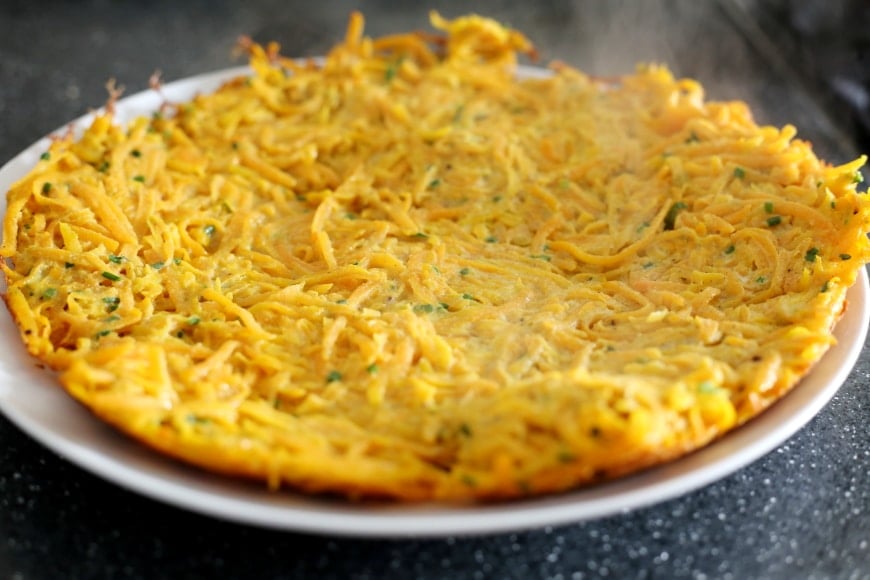 Easy appetizer – or breakfast, lunch or dinner
While it's delicious on its own, the cake is even better when gussied up with a dollop of garlicky lime yogurt, a few watercress or arugula leaves for bitterness and chopped pecans for crunch. Just writing this is making me shimmy in my chair. The latke cake would be a wonderful addition to a cocktail party buffet, or as an appetizer or first course to a sit-down dinner. It's a delicious vegetarian lunch, and good lord, just try it with fried eggs and bacon for breakfast! Oh, and if you are a more patient human being than me, you can certainly make individual latkes using the same batter. 🙂
I'm checking out for a week or two to spend time with my family during the holidays and to regroup for 2017. I'm wishing you a peaceful, delicious, and dance-filled New Year.
Get the recipe!
Butternut Squash "Latke" Cake
This crispy butternut squash cake is flavored with ginger and cinnamon, cooked until caramelized, then cut into wedges and served with a creamy garlic-lime yogurt sauce, spicy watercress leaves and chopped pecans. It's sweet and crunchy and creamy, and it has been known to make me dance. The cake is way easier to make than having to tend to individual patties, although you can certainly go that route if you prefer. The easiest way to shred the butternut squash (peeled first) is in the food processor using the shredding disk, but you could also shred it by hand using a box grater.
Ingredients
3

cups

packed shredded butternut squash

(from a small squash)

2

large eggs

, lightly beaten

¼

cup

chickpea flour

4

tablespoons

thinly sliced chives

, divided

¾

teaspoon

grated fresh ginger

¼

teaspoon

ground cinnamon

Pinch cayenne

Salt and freshly ground black pepper

2

tablespoons

extra virgin olive oil

2

tablespoons

butter

¾

cup

Greek yogurt

1

small garlic clove

½

teaspoon

lime zest

1

teaspoon

fresh lime juice

½

teaspoon

honey

1

cup

watercress or baby arugula

¼

cup

toasted pecans

, coarsely chopped
Instructions
In a large bowl, combine the shredded butternut squash, eggs, chickpea flour, 3 tablespoons of the chives, ginger, cinnamon and cayenne. Season with salt and pepper.

Heat the olive oil and butter in a 12-inch nonstick skillet over medium heat. Once the butter is melted, add the squash and press it firmly into an even layer. Reduce the heat to medium-low, cover, and cook until browned on the bottom, about 10 minutes. Slide a rubber spatula along the edges and bottom of the cake to loosen.

Slide the cake out onto a plate. Place another plate on top, and flip the cake onto the second plate, so that the cooked side is now on top. Place the pan back over medium-low heat, and add the remaining tablespoon of olive oil. When hot, slide the cake back into the pan, cooked-side up. Cook over medium-low heat, uncovered, until the bottom is browned, about 6-8 minutes. Slide the cake out onto a cutting board and season with salt. Do Ahead: The fritter can sit at room temperature for up to 30 minutes.

While the cake cooks, make the yogurt sauce. Whisk together the yogurt, garlic, remaining 1 tablespoon of chives, lime zest, lime juice and honey. Season with salt and pepper. Do Ahead: The sauce can be made up to 1 day in advance; refrigerate.

Cut the butternut squash latke cake into wedges. Top each with a dollop of the yogurt sauce, a few watercress or arugula leaves, and a sprinkle of chopped pecans.