Dear December, please slow down for me so that I can savor every bite.
The holidays are upon us.  We bought our Christmas tree the day after our plane landed home from Thanksgiving.  Ella has been singing jingle bells ("oh what fun it is to ride in one slush over sleighhhh!"), we've been eating advent calendar chocolates first thing in the morning, shopping for gifts (online), and trying to pack in all of our work before we take some much needed time off.  I love December.  But man, it's a busy month. We've had friends stay over the last two weekends (one of which resulted in a Jacob's ladder chain of the stomach flu, but that's a different story), and it got me thinking about entertaining.  I love having friends at my table.  I used to prepare elaborate, multi-course, sit-down affairs, but several years ago ("hello, Ella"), I burned out.  The meals became stressful, tiring and not that much fun for me.  Since then, I've simplified.  If we're having a dinner party, I choose menus that can be prepped almost entirely ahead of time.  The food is not complicated, but it's satisfying. I've found that people like to pitch in, and that a glass of good bourbon or Cognac always helps with the clean up.  It's casual, but it's fun.
This Fig & Walnut Jam is just the kind of recipe I love.  It can be made several days ahead of time and is an easy and elegant way to elevate cocktail hour.  Simply put the jam in a pretty little jar or bowl and serve it alongside a good wedge or two of cheese (think an Alpine-style hard cheese or a runny washed rind) with crackers or a baguette.  Ho, ho, ho appetizers are served.  If you have overnight guests, repurpose the jam for a French-inspired breakfast the next morning.  Lay out a spread of fruit, mild cheese, thick yogurt, the jam and fresh bread.  Très sophisticated.
We're soon off to visit my family, where there are now 8 grandkids under the age of five.  I'm cooking for the troops on the 23rd, and you can bet I'll be making something that can be prepped ahead of time (that, or those kids had better learn how to use a chef's knife).
Wishing you a joyful and delicious holiday! xoxo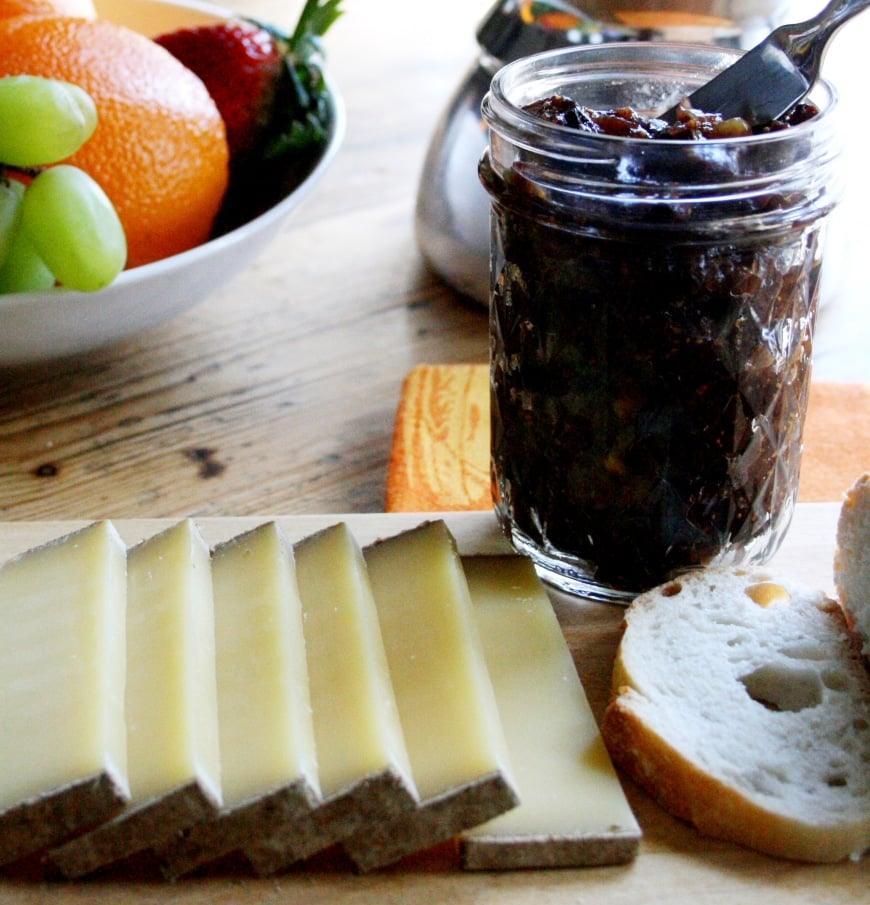 Fig & Walnut Jam
This jam is a fabulous addition to cheese platters or cheese plates and pairs especially nicely with cheeses such as Gruyère, Comté, Manchego, Istara (Ossau-Iraty), Parmigiano, Pecorino and even Brie. It's also excellent with roasted turkey or pork (as well as on turkey and pork burgers!) and makes a killer grilled cheese with Taleggio and arugula.
Ingredients
1 ½

cups

dried Black Mission figs

(about 8-9 ounces), stems removed

1

cup

ruby port

½

cup

water

2

tablespoons

maple syrup

(preferably Grade B)

1/8

teaspoon

kosher salt

1 2-3-

inch

strip orange zest

(removed with a vegetable peeler)

½

star anise

(break a whole star anise in half)

1 2-3-

inch

cinnamon stick

½

bay leaf

1/4

cup

toasted walnuts

, chopped

Special Equipment: cheesecloth

, butcher's twine
Instructions
Coarsely chop the figs. In a small saucepan, combine the figs, port, water, maple syrup and salt. Place the orange zest, star anise, cinnamon stick and bay leaf in the center of a 5-inch square of cheesecloth; pull up the sides and tie with butcher's twine to make a little packet (if you don't have cheesecloth you can simply throw the spices in the pot, but it's tough to fish everything out at the end). Put the packet in the saucepan. Bring to a boil over medium heat then reduce the heat to a simmer. Cook 30-35 minutes, stirring occasionally and breaking up the figs with the back of a spoon, until thickened (it should be the consistency of a loose jam). Remove the packet of spices. Smash the figs a bit more with the back of the spoon. Turn off the heat and stir in the walnuts. Let cool. Do Ahead: The jam can be stored in the refrigerator (covered) for up to a week. Bring to room temperature before serving.