This easy pasta with corn and bacon is a STUNNER. Spaghetti gets twirled around a dead-simple sauce of bacon, sweet corn, garlic and shallots, and is then sprinkled with a healthy dose of Parmesan cheese, chives and a drizzle of lime juice (which might sound surprising, but it acts like an Instagram filter, brightening everything up). My daughter has asked me to make it almost every week since corn came in season, and since I'm an awesome mom, I've almost always obliged.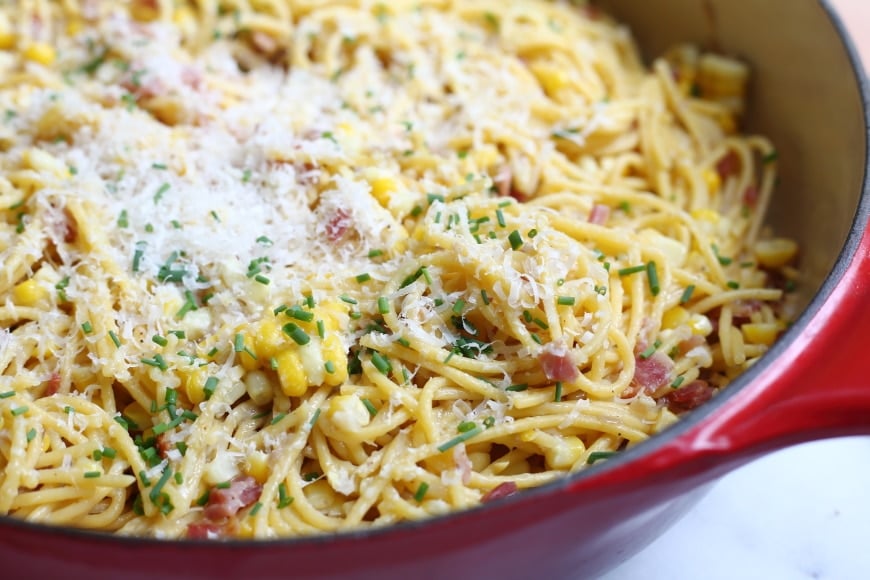 Pasta with corn and bacon = true love
Ok; it actually has nothing to do with being a good mom—I just happen to like this pasta with corn and bacon as much as she does. This pasta is straightforward and easy to make, but it hits all the right notes, with saltiness from the bacon, sweetness from the corn and an umami kick from the Parmesan. Pair it with a plate of sliced tomatoes, and oh baby, life just got really, really good.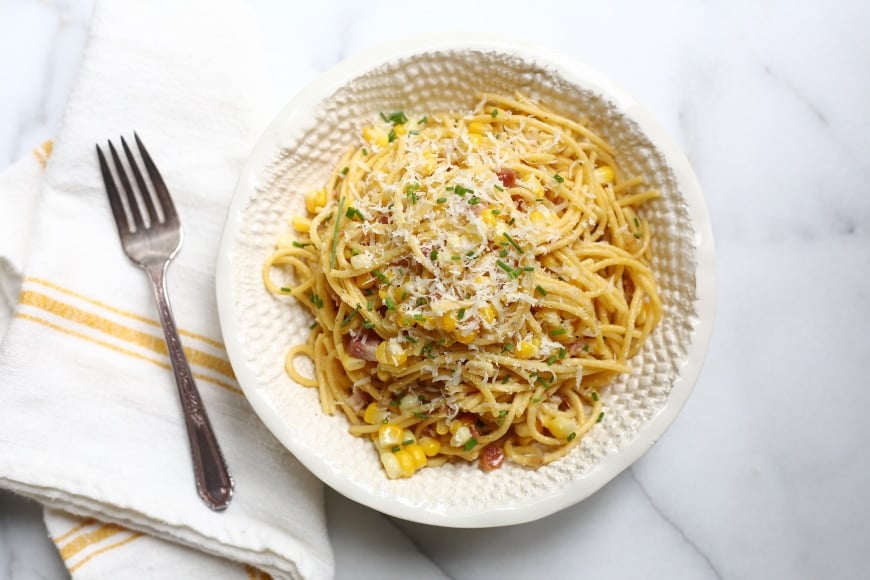 Sweet corn pasta recipe
When sweet corn is in season, we look for any and every way to gobble it up! In this recipe, the kernels from three cobs get cooked right in the same pot as the pasta. When the spaghetti is just about done cooking the kernels get added to the pot (since they only cook for a minute, they retain their bright color and pop of sweetness). The spaghetti and corn are then drained and tossed with a warm bacon, garlic and shallot mixture. Some of the reserved pasta water ties everything together and creates a glossy sauce.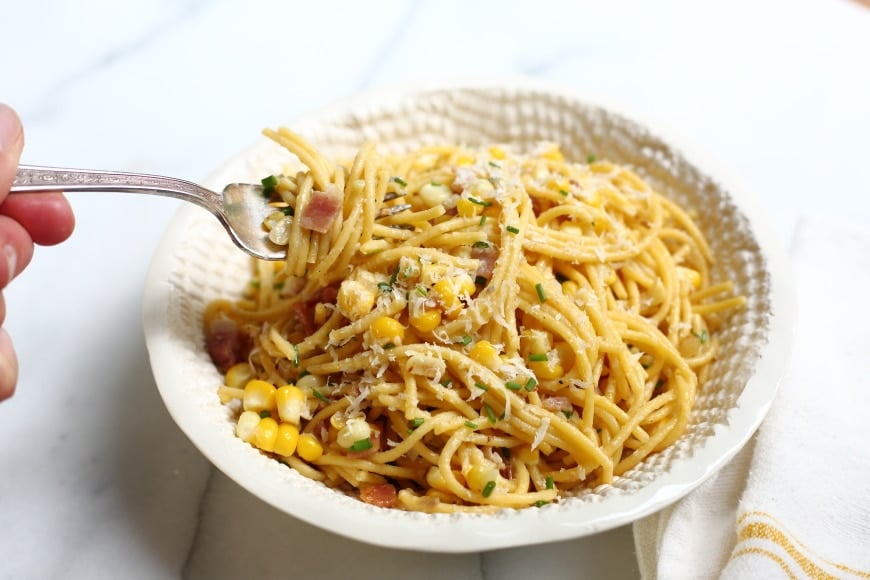 Spaghetti with corn and bacon = lightened up carbonara
This spaghetti with corn and bacon tastes like a lightened-up version of carbonara (no heavy egg sauce!). A shower of parmesan cheese and a sprinkle of chives is all you need for garnish.
School starts next week, which means summer is rapidly coming to an end (nooo!!!!). With our busy back-to-school schedules kicking in, I've no doubt this pasta with corn and bacon will remain in high rotation until corn season ends. You know, since I'm such a kick-ass mom and all that.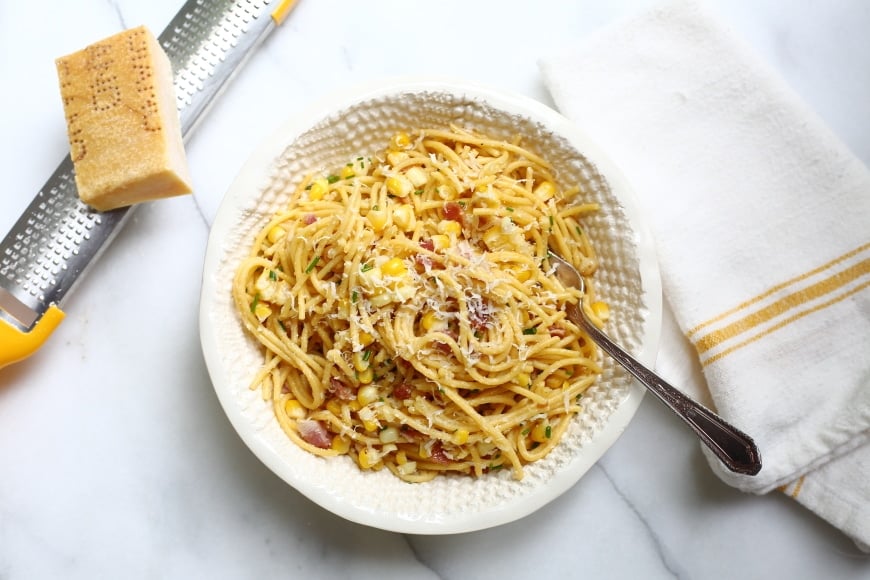 Other corn recipes to try:
Other recipes you might like:
Get the recipe!
Pasta with Corn & Bacon
This straightforward pasta is simple but utterly satisfying. Spaghetti gets twirled around a dead-simple sauce of bacon, sweet corn, garlic and shallots, and is then sprinkled with a healthy dose of Parmesan cheese and a drizzle of lime juice (which brightens everything up). The sweetness from the corn is the perfect counterpoint to the salty bacon and cheese. If your bacon is really fatty, feel free to drain off some fat before adding the shallots and garlic—you're aiming for about 2 tablespoons of fat in the pan.
Ingredients
4

ounces

meaty bacon, finely chopped

1

medium shallot, finely chopped

2

large garlic cloves, finely chopped

Salt and freshly ground black pepper

12

ounces

spaghetti (regular or gluten-free)

Kernels from 3 ears of corn

Juice of ½ lime

¼

cup

freshly grated Parmesan cheese, plus more for serving

2

tablespoons

minced chives, plus more for serving

Extra virgin olive oil, for drizzling
Instructions
Bring a large pot of water to a boil.

Put the bacon in a large skillet (the largest you've got!) and place it over medium heat. Cook, stirring occasionally, until the bacon is crisp.

Add the shallot and garlic, and season with salt and pepper. Cook, stirring often, until tender, about 2 minutes. Set the skillet aside.

Season the boiling water with salt, and add the spaghetti. Set a timer for 1 minute before the package directions for al dente. When the timer goes off, add the corn kernels. Cook until the pasta is al dente. Reserve 1 cup of the cooking water, then drain.

Slide the drained pasta and corn into the skillet with the bacon and turn the heat to medium. Add about half of the reserved cooking water (or more as needed), stirring, until the pasta is coated and looks glossy. Season generously with salt and pepper (this is key—you will need more than you think). Remove the pan from the heat and add the lime juice, Parmesan and chives. Drizzle in a tablespoon or two of olive oil. Taste and season with additional salt, pepper and/or lime juice, as needed.

Twirl the spaghetti into bowls and garnish with more Parmesan and chives.
Notes
Tips:
I love this dish with spaghetti, but you can use any long noodle shape.
I prefer the smokiness of bacon with the sweet corn, but you could use pancetta instead.
Be sure to reserve some of the pasta cooking water, which will help to bind all of the ingredients together and create a glossy sauce.
Use your best quality olive oil for drizzling over the pasta - this is the time to pull out the good stuff!
If you can't find chives you can use other herbs instead! Think chopped parsley, basil or scallions.
For another summer pasta recipe, try this quick and easy Fresh Tomato Pesto Pasta!