This sweet and smoky corn salad with arugula, radishes, cotija cheese and a creamy lime dressing is like a lightened-up version of Mexican street corn!
Corn. Corn. Corn. Corn. It's August, and that means CORN! As I've mentioned in years past, I'm an Illinois native, and corn runs in my blood. I love the stuff, especially since I only have a month or two to gorge on it each year. Corn season began a couple of weeks ago in the Hudson Valley, and we've been eating it every weekend slathered with butter and sea salt, straight off the cob. I've even trained Ella in the art (read: "chore") of shucking corn, which she happily (read: "naively") finds entertaining. While I love steamed and boiled corn, grilled corn is especially appealing right now, since it requires no stovetop action and imparts a fabulous smoky flavor.
Grill your corn
The method I use to grill corn is one I learned while working with Fine Cooking magazine. You remove the outer husks; peel back the inner husks (leaving them attached) and remove the silk; then wrap the inner husks back around the corn. The inner husks act as a natural protector on the grill, preventing the kernels from drying out, but allowing plenty of smoky flavor to seep through. Click HERE to see how I do it (and if my five-year-old can master this, so can you!).
Corn salad
I always make a few extra cobs so that I can use the kernels later in the week in dishes such as salads, tacos, polenta and/or pasta. This corn salad is a great use for leftover corn, but it's also reason enough to cook it in the first place. Sweet kernels get tossed with a slightly smoky and creamy lime dressing, along with a few handfuls of arugula, radishes and crumbled feta or cotija cheese. The dish was inspired by Mexican street corn but feels lighter and more vibrant, with a range of textures and tastes. The corn salad is fantastic alongside grilled meats or fish, or piled over pounded chicken breasts (it's like a Mexican take on chicken paillard). I also love it as a main course when topped with shrimp.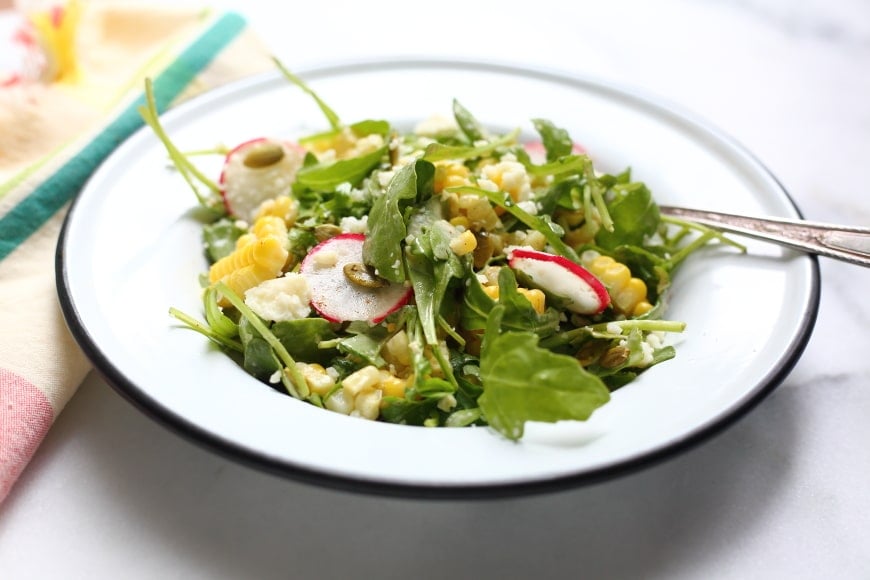 Now that we've had our fill of corn on the cob, it's time for corn pudding, cornbread, corncakes, corn muffins, and more corn, corn, CORN! Happy August to you, my friends (and if come September you show me one more ear of corn, I'll have your head.)
Sweet & Smoky Corn Salad with Arugula, Radishes & Cotija
This is a spectacular showcase for sweet summer corn. You can use boiled or steamed corn, but grilled corn is especially delicious here. Serve the salad with anything grilled—think skirt steak, fish, shrimp, chicken or burgers.
Ingredients
½

teaspoon

lime zest

1

tablespoon

lime juice

1

garlic clove

, grated on a microplane

1/3

cup

mayonnaise

1/4

teaspoon

ancho chile powder

1/8

teaspoon

smoked paprika

2

tablespoons

extra virgin olive oil

Salt and freshly ground black pepper

4

ears of cooked corn

, kernels cut off and cobs discarded (4 cups cooked corn kernels)

3

handfuls baby arugula

4-5

radishes

, thinly sliced

¼

cup

coarsely chopped cilantro

½

cup

crumbled feta or cotija cheese

2

tablespoons

toasted pumpkin seeds

(optional)
Instructions
In a small bowl, combine the lime zest, lime juice and grated garlic clove. Whisk in the mayonnaise, ancho chile powder, smoked paprika and extra virgin olive oil. Season with salt and pepper to taste. Do Ahead: The dressing can be made up to 1 day in advance.

In a large bowl, toss the corn kernels with the arugula, radishes and cilantro. Add just enough dressing to coat (you might not need it all). Season with salt and pepper. Sprinkle with the feta or cotija cheese and the pumpkin seeds (if using); serve it up!