This cassava tortilla recipe is a cinch to make and results in tender, delicious flatbreads that you can eat like tortillas or wraps, or serve with dips! The batter comes together in minutes in the blender, and you don't even need a tortilla press or rolling pin. Don't miss the VIDEO below.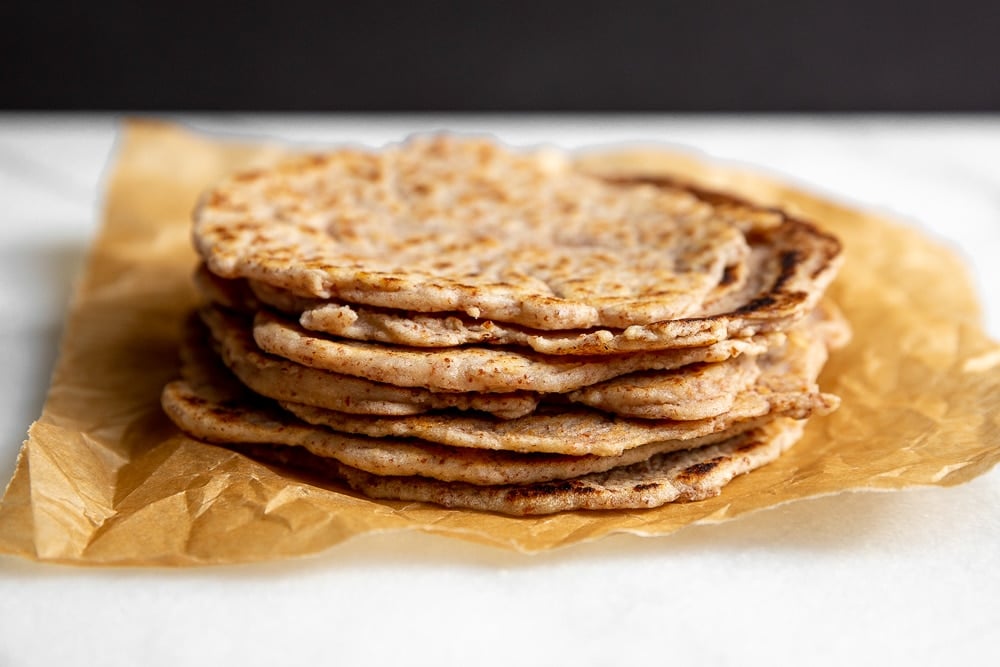 Cassava tortilla recipe
Cassava flour is a naturally gluten-free and paleo flour made from the cassava root (you can read more about it in this cassava cookie bars post). I had read how it works perfectly in tortillas because of its neutral flavor and high starch content, but after testing batch after batch (after batch, after batch), I still wasn't happy. No matter how much I adjusted the ratio of flour-to-water, or changed up the cooking methods, the tortillas turned kept turning out too gummy or bland. So, I announced I was done.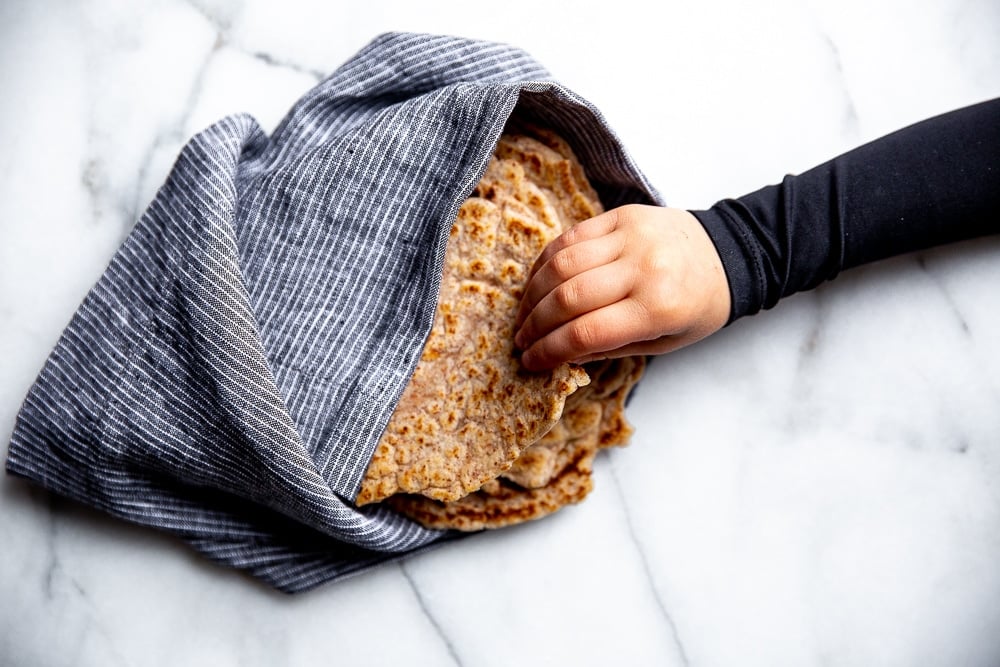 But as I was cleaning up the kitchen, I had a lightbulb moment. What if I cut back on the cassava flour and swapped in almond flour? The tender, crumbly texture of the almond flour could offset the stretchy texture of the cassava flour. After a few more tries I managed to get exactly what I was looking for—a pliable cassava tortilla that's also tender. As a bonus, the slight sweetness of the almond flour, partnered with a touch of granulated garlic, gives the tortillas a far better flavor than traditional cassava tortillas! My whole family loves them.
Ingredients
In addition to almond and cassava flour, all you need for this recipe is water, salt, granulated garlic (which gives the tortillas a delicious savor flavor) and neutral vegetable oil.
How to make cassava tortillas
This batter is much easier to make than other recipes. All of the ingredients are simply combined in a blender and processed until smooth.
Even better, instead of rolling the dough into balls, then pressing it in a tortilla press, this batter could is scooped directly onto a hot griddle, then spread into a circle with a small off-set spatula. Be sure to watch my video below to see how it's done!
How to serve this recipe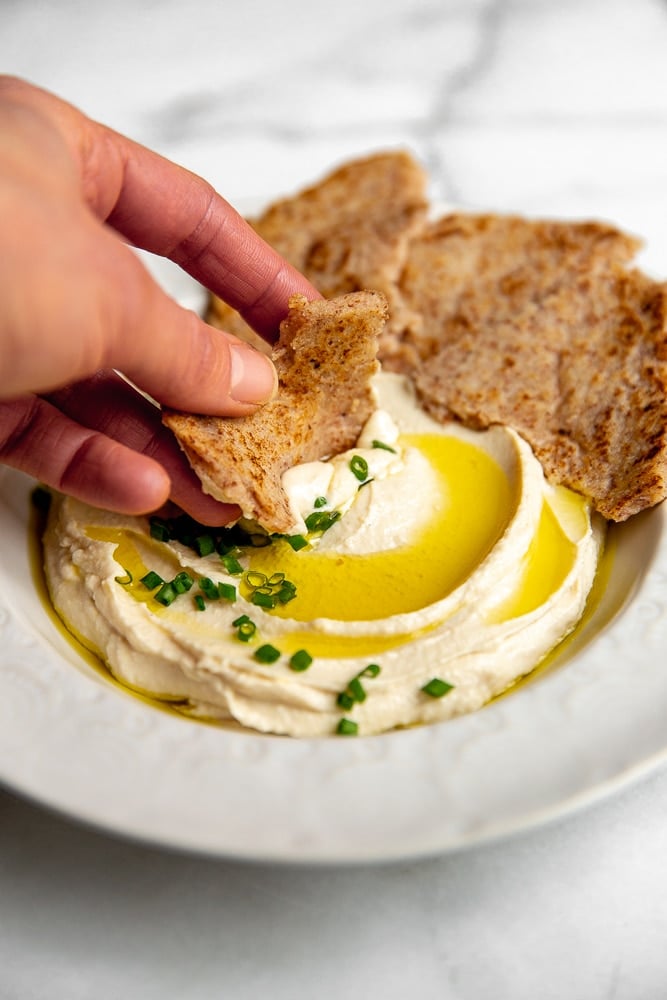 While these cassava tortillas are delicious enough to eat straight-up on their own (I dare you not to eat one directly off the cooling rack!) they make for superb tacos with your favorite fillings, and they're fabulous as flatbreads. You can wrap them around vegetables or these falafel, or serve them with your favorite dips. I particularly love them with hummus and babaganoush.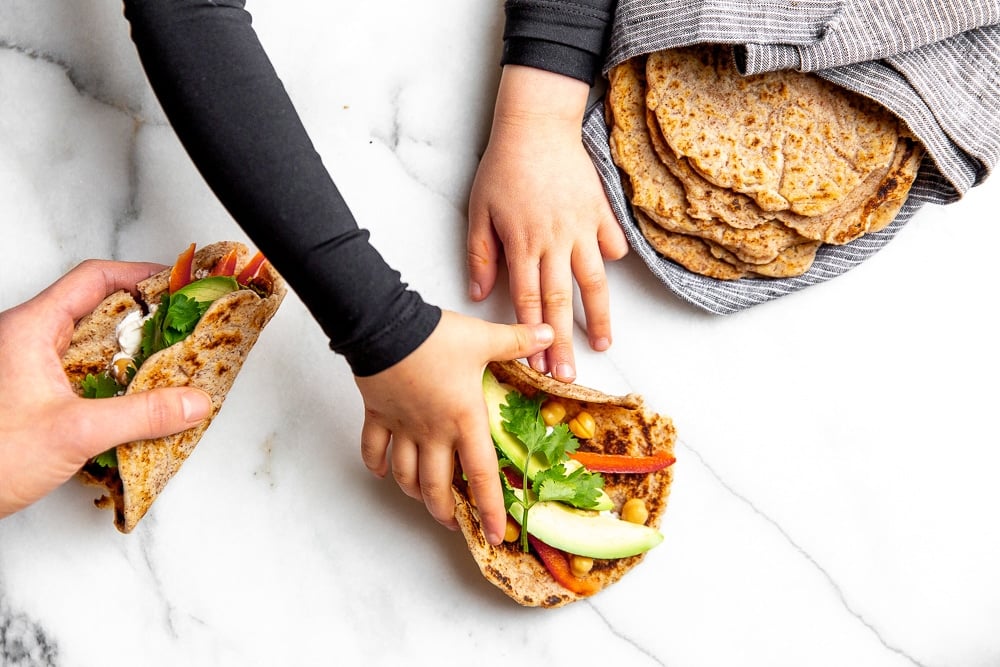 Cassava tortilla tips:
*This post contains Amazon and other affiliate links to products I use and love (from which I earn income, at no cost to you). Thank you or supporting From Scratch Fast!
Other paleo recipes to try:
Watch the video!
Stay connected
I'd love to answer any of your questions and see what you're cooking!! Don't forget to rate this recipe and leave a comment below. Follow along on Instagram, Facebook, YouTube & Pinterest, and be sure to tag @fromscratchfast so that I can share your creations!
Get the recipe!
Easy Almond & Cassava Tortillas (Paleo)
This easy cassava tortilla recipe comes together in minutes in the blender, and you don't even need a tortilla press or rolling pin! Almond flour lends the tortillas a tender texture and slight sweetness, while the cassava flour makes them pliable. A touch of granulated garlic provides savory complexity. The tortillas are fantastic on their own (I dare you not to eat one off the cooking rack!), but they also make for fabulous wraps. Stuff them with your favorite fillings (think traditional taco fillings such as these
chipotle chicken tacos
, or these
pan-fried falafel
), or you can serve them as flatbreads with your favorite dips! I absolutely love them with hummus. Be sure to check out my video above to see how to spread the batter on the griddle!
Ingredients
1 ¼

cups

water

¼

cup

neutral vegetable oil (such as grapeseed, safflower or avocado), plus more for pan

1

cup

(110 g) almond flour

1

cup

(130 g) cassava flour (I use Bob's Red Mill brand)

½

plus ⅛ teaspoon teaspoons fine sea salt

⅛

teaspoon

granulated garlic

Cooking spray or oil, for pan
Instructions
In a blender, combine all of the ingredients. Blend on low until smooth.

Preheat a large griddle or cast iron skillet over medium heat (give it several minutes to thoroughly preheat, otherwise your first batch will be too light). Spray the pan with cooking spray or coat it lightly with oil.

Working in batches, scoop about ¼ cup of the batter onto the pan (I use an ice cream scoop for this). Spray a small offset spatula (or the back of a spoon) with cooking spray (or rub it lightly with oil). Use the spatula to gently spread the batter into a ¼-inch-thick circle—the batter might want to slide around and crack, but just be patient and patch it back up as needed (check out my video above to see how I do it, and remember, it doesn't have to be perfect!). Cook the tortilla until it's golden brown on the bottom, about 2-3 minutes. Flip and cook until lightly browned on the other side, about 2-3 minutes longer—the surface of the tortilla should feel dry, not tacky. Transfer the tortilla to a cooling rack and let cool. Repeat with the remaining batter, oiling the pan and spatula, and adjusting the heat as needed.

Serve the cassava tortillas on their own as flatbreads, or wrap them around your favorite fillings!
Notes
Do Ahead: The cooled tortillas can be stored in an airtight container at room temperature for up to 2 days or frozen for up to 3 months.
Tips:
I cook the tortillas on a large cast-iron griddle; however, you could use a regular cast-iron skillet.
The batter gets scooped directly onto the pan. An ice cream scoop works great for this.
A small off-set spatula is the perfect tool for spreading the batter into a thin circle, although you could use the back of a spoon. The tortilla will slide around and crack, but just be patient and keep spreading and patching it up (be sure to check out the video above!). Spraying the spatula with a touch of cooking spray also helps (I use grapeseed oil spray). If you don't have an off-set spatula, try this fantastic tip from a reader: Place a piece of parchment paper on top of the dough ball on the griddle and then spread it into a circle using a spoon or your hands.
After a couple of minutes the parchment paper peels right off and the wrap is ready for flipping.
Use up any leftover cassava flour in these chocolate chip cassava cookie bars! They're buttery and fluffy and a cinch to throw together.
For another flatbread variation, try these Gluten Free Vegan Flatbreads!