Brimming with fresh vegetables and loaded with flavor, this easy ratatouille is the perfect side dish or appetizer!
Ratatouille is one of my favorite foods and is one of the best ways I know to use up a bounty of garden produce. This easy ratatouille recipe will revolutionize how you think about the dish.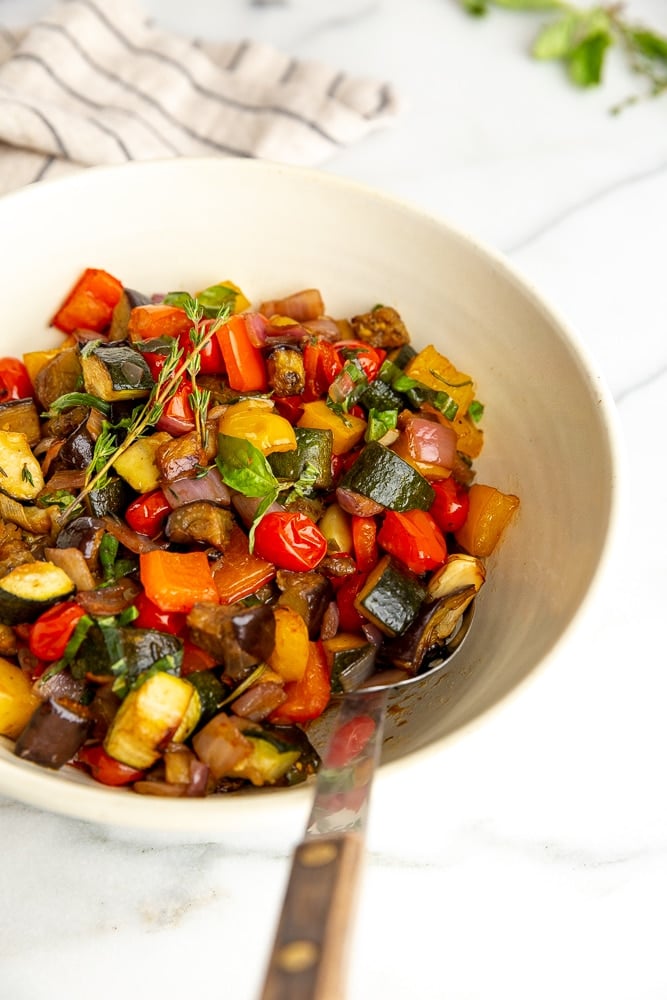 Easy ratatouille recipe
I first learned how to make ratatouille back in culinary school. We prepared it the traditional way, by slowly sautéing each vegetable separately, then combining them all at the end. It was delicious, and it also took a gazillion years to make. These days, I don't have time for that! In this simple ratatouille recipe, I've streamlined things, combining all of the ingredients onto just one sheet pan and baking the ratatouille instead of cooking it on the stove. The result is just as delicious, but it's much more practical for our busy schedules.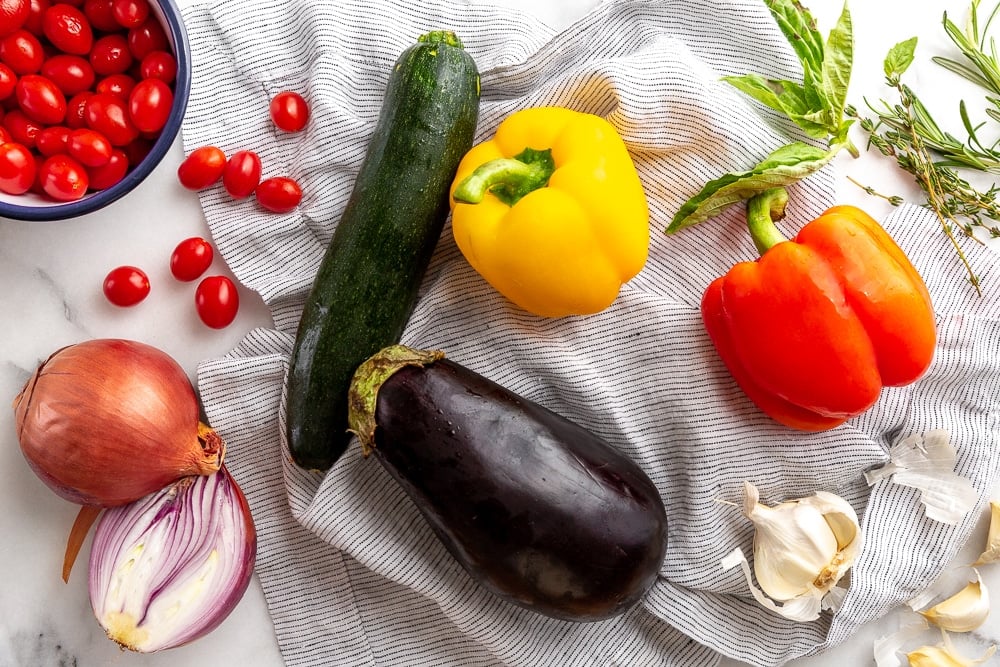 Simple healthy ratatouille recipe
I use a mix of classic vegetables for this easy ratatouille recipe—onion, tomatoes, bell peppers, zucchini, eggplant and garlic (see below for an eggplant swap). Instead of using large tomatoes (which we had to blanch and peel back in school, groan!), I opt for grape tomatoes, which hold their shape and provide juiciness without watering things down. I also veer from tradition by adding a drizzle of balsamic vinegar, which provides a touch of sweetness and acid, balancing the other flavors.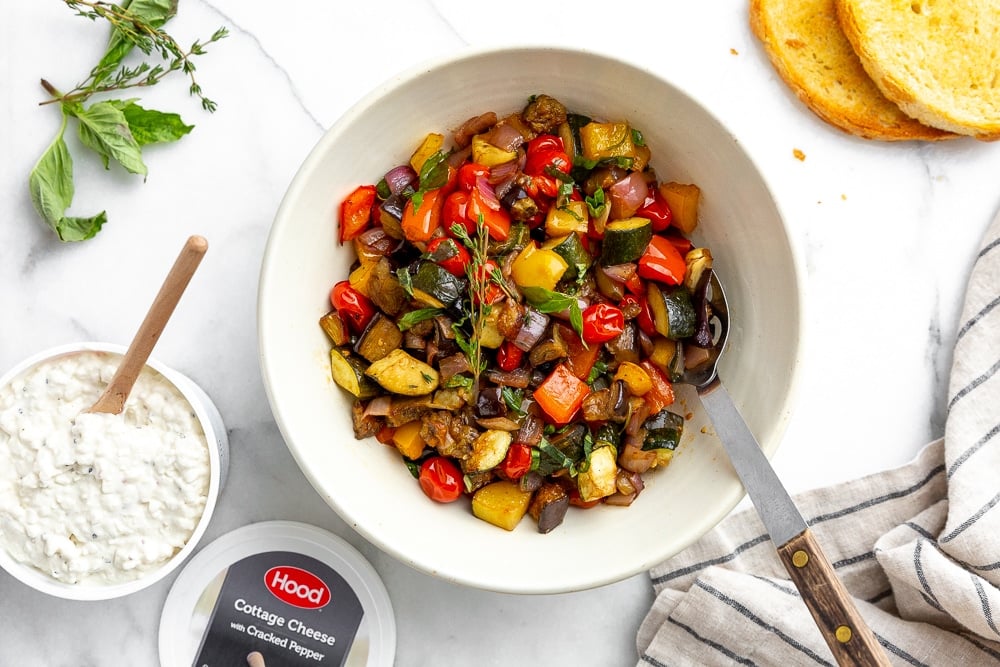 Baked ratatouille recipe
After the vegetables are soft and tender, they get scraped into a large bowl with more olive oil and balsamic. The vegetables marinate together, becoming even more delicious with time, making this a great do-ahead dish.
How to serve ratatouille
There are million ways you can serve this easy ratatouille—on its own as a side dish, spooned over these grits (watch this video to see how I serve it with the grits), on top of grilled chicken or white fish, or tossed with pasta. But one of my favorite summertime meals is to pile the ratatouille over grilled or toasted slices of bread with cottage cheese. The creamy and cool cottage cheese, paired with the crunchy toast and succulent vegetables is nirvana.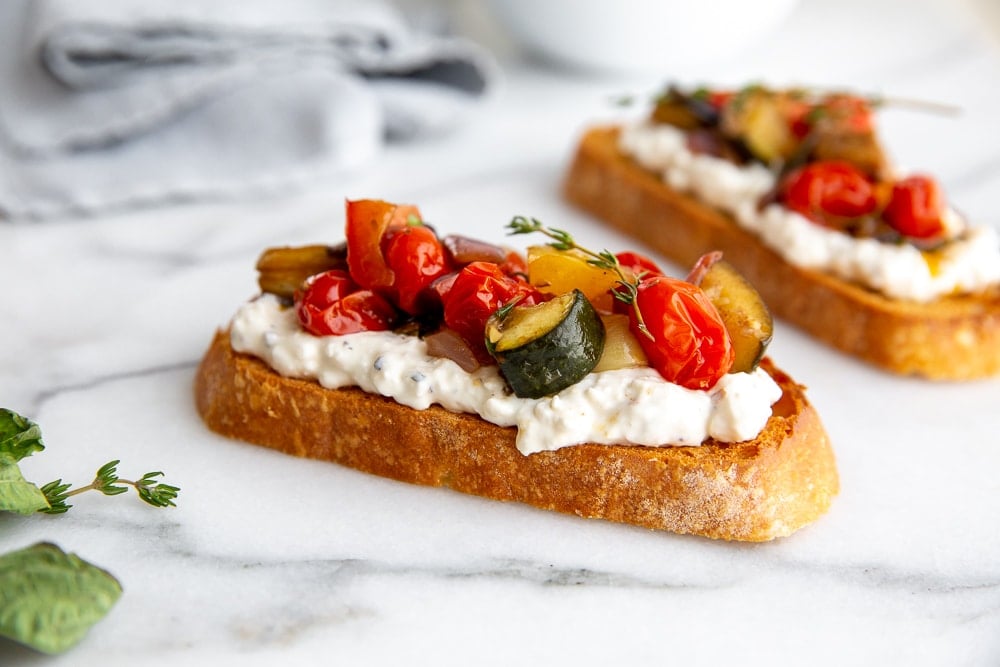 It's one of my favorite summertime meals (especially since the ratatouille can be made in advance), and it also makes for a lovely first course or appetizer when we have friends over. Arrange toasted bread or crostini on a platter with the ratatouille and cottage cheese (or you can make this quick whipped ricotta cheese), and let people build their own toasts.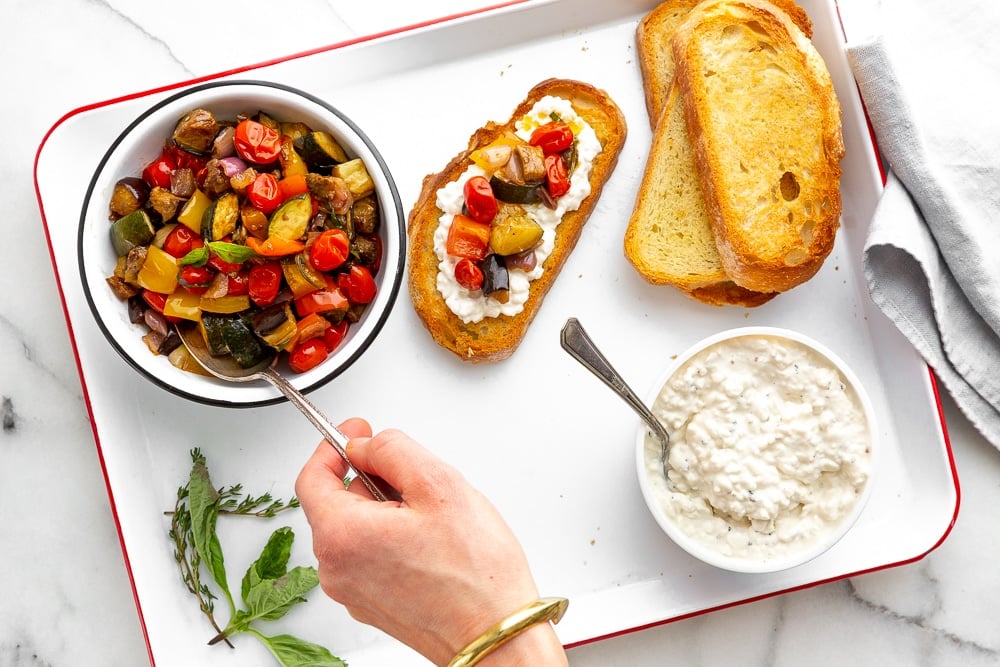 To amp up the flavors even more, I use Hood Cottage Cheese with Cracked Pepper. It's ultra creamy with a fabulous hint of spice in the finish from the pepper (it's also delicious in this breakfast strata recipe or in lasagna!). Thank you to Hood Cottage Cheese for partnering with me on this post! I love their cottage cheeses, which are perfect for snacking or cooking.
Ratatouille recipe without eggplant
If you wish, you can omit the eggplant in this recipe and swap in an additional zucchini and a yellow summer squash.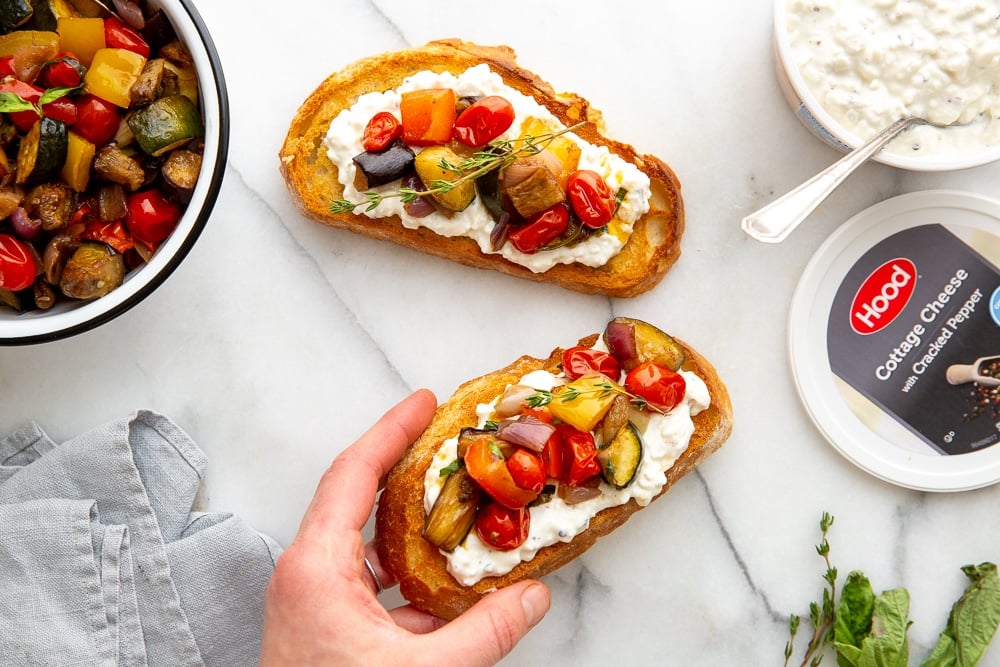 How to make roasted ratatouille
Chop all of the vegetables into similarly sized pieces. That way they will cook evenly and at the same rate.
The vegetables get baked on a large baking sheet. My 18×13-inch baking sheets are the workhorses of my kitchen, and I recommend owning at least one (I have 5!). I line the baking sheet first with parchment paper (these pre-cut parchment sheets, which I store on top of my fridge, are a great timesaver).
Typically when you roast vegetables you want to spread them out in an even layer, leaving a bit of space between each so that they can caramelize. However, in this case we want the vegetables to steam slightly, so that they turn succulent and soft. That means it's okay if they're overlapping and touching.
I use whole sprigs of rosemary and thyme in this ratatouille recipe, which gently infuse the vegetables with flavor. Once the vegetable are out of the oven, I add fresh basil, which adds brightness (if you add the basil at the beginning, it loses its flavor).
Once the vegetables come out of the oven, scrape them into a large bowl and add more olive oil and balsamic vinegar. The olive oil will help draw out the flavors, allowing the vegetables to marinate and meld. The ratatouille is even better a few hours or even a day after it's cooked!
Thank you to Hood Cottage Cheese for sponsoring this post! I was compensated for this post, but all opinions and recipes are mine alone.
Watch the video!
Get the recipe!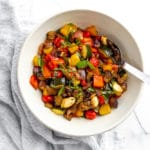 Easy Ratatouille Recipe
This easy ratatouille recipe is one of my favorite ways to use up a bounty of summer produce. All of the vegetables go straight onto the same baking pan and right into the oven, where they cook until succulent and tender. Tossing the vegetables with more olive oil once they come out of the oven allows them to marinate and meld, and a touch of balsamic vinegar provides sweetness and acid. This easy ratatouille can be served as a side dish, or it can be spooned over fish, chicken, pasta or grits (click HERE to get my creamy grits recipe!). One of my very favorite summer meals is to brush slices of country bread (or baguette slices) with olive oil, toast or grill them until crisp, rub them with garlic, then top them with creamy cottage cheese and the ratatouille. It's a fabulous appetizer or a healthy build-your-own lunch or dinner!
Ingredients
Ratatouille
1

medium red onion, diced

1

medium red bell pepper, seeded and diced

1

medium yellow bell pepper, seeded and diced

1

small eggplant (about 8 ounces), diced

1

medium zucchini, diced

1

pint

grape tomatoes

6

garlic cloves, lightly smashed and peeled

2

sprigs fresh thyme

1

sprig fresh rosemary

Salt and freshly ground black pepper

1/4

cup

plus 2 tablespoons extra virgin olive oil

1

tablespoon

plus 1 teaspoon balsamic vinegar

1/4

cup

chopped fresh basil
For serving (optional)
Toasted or grilled bread

Hood Cottage Cheese with Cracked Pepper
Instructions
Preheat the oven to 400 degrees Fahrenheit (200 degrees Celsius). Line a large rimmed baking sheet with parchment paper (if you don't have an 18×13-inch baking sheet, use 2 pans).

Put the onion, bell peppers, eggplant, zucchini, grape tomatoes, garlic cloves, thyme sprigs and rosemary sprigs on the prepared baking sheet, and season with salt and pepper. Drizzle with 1/4 cup of the olive oil and 1 tablespoon of the balsamic vinegar. Toss well to coat. Spread the veggies in an even layer (it's okay if the vegetables are touching and overlapping). Roast until the vegetables are tender and the tomatoes have popped, stirring twice during cooking, about 35-40 minutes.

Transfer the vegetables (and any liquid on the pan) to a large bowl. Add the remaining 2 tablespoons of olive oil, the remaining 1 teaspoon of balsamic vinegar and the basil. Season with salt and pepper to taste. The ratatouille can be served warm or at room temperature. For a delicious meal or appetizer, grill or toast bread, spoon on cottage cheese, then pile the ratatouille over top (watch the video above to see how I do it!). YUM!
Recipe Notes
Do Ahead: The ratatouille can be refrigerated for up to 5 days.
*This post contains affiliate links, which means that if you purchase a product through a link you clicked on here, I receive a portion of the sale (at no cost to you). Thank you for supporting FromScratchFast!!
Stay Connected!
I'd love to hear what you're cooking, and I'm happy to answer any questions! Be sure to tag any photos so that I can share! @FromScratchFast