These roasted Brussels sprouts with mushrooms and crispy fried shallots are a stunning side dish on a special occasion or holiday table!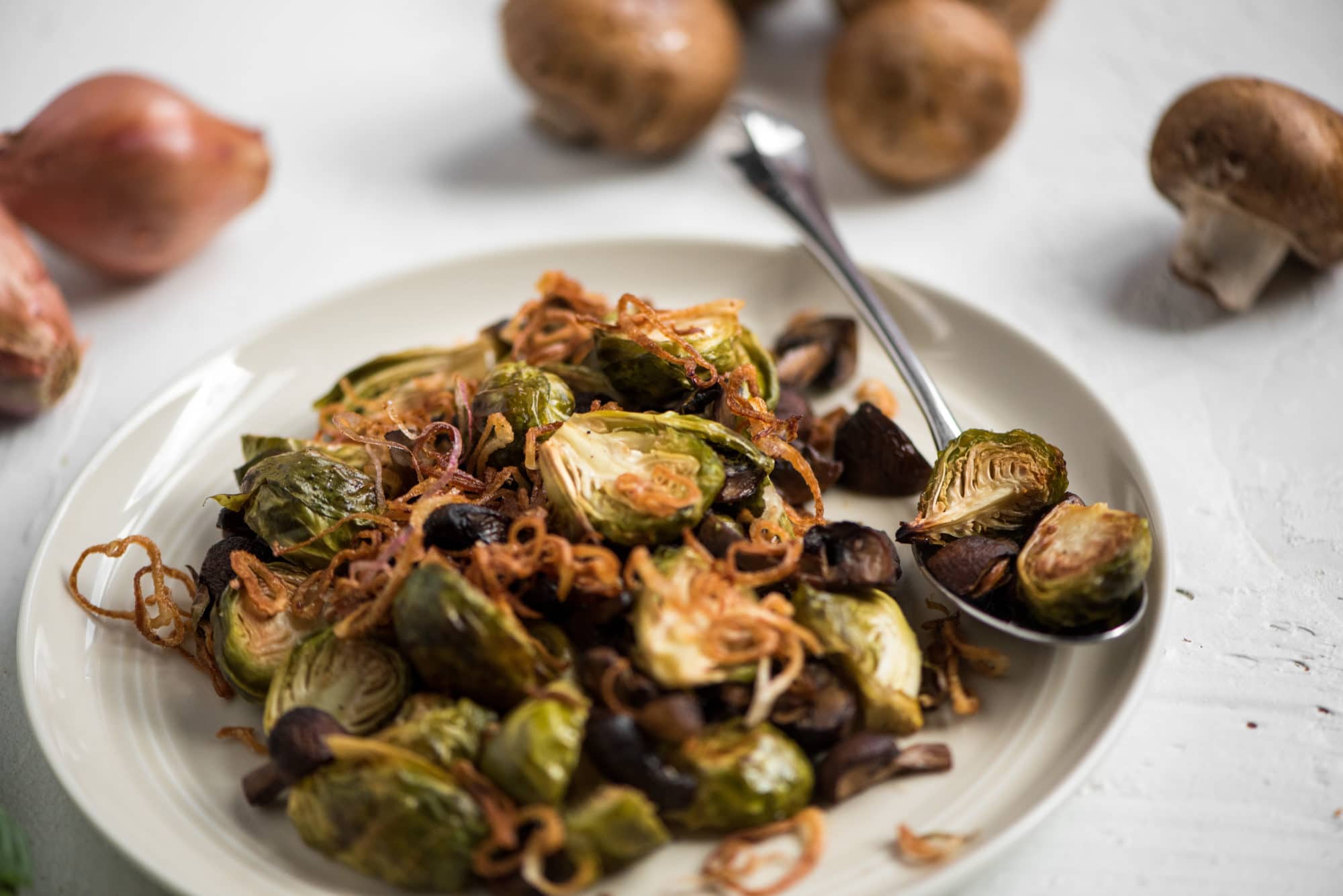 Ever since I moved from Illinois to Colorado for college, and then to New York, I've traveled for the holidays, either to visit my family, or to visit James's family after we were married. This is the first year in well over a decade that I'll be staying put. While I know it's going to be tough to be away from family, it's also a relief, at eight months pregnant with a stomach the size of a Canadian goose, not to have to deal with airport security lines and crowded terminals. Plus, I'm hosting my first-ever friendsgiving, and I'm as excited about the food as a kid before Christmas. I'm lucky to be great friends with some serious cooks, and we've divided the menu, from the cocktails and appetizers, to the turkey, sides and dessert. There are three families, and each is bringing an appetizer (pre-dinner football nibbles) and some side dishes for the main event. I'm cooking the turkey breast while my gal Kelley is confiting the legs and thighs. For dessert, I'm doing a pumpkin pie while Amanda is making a carrot cake.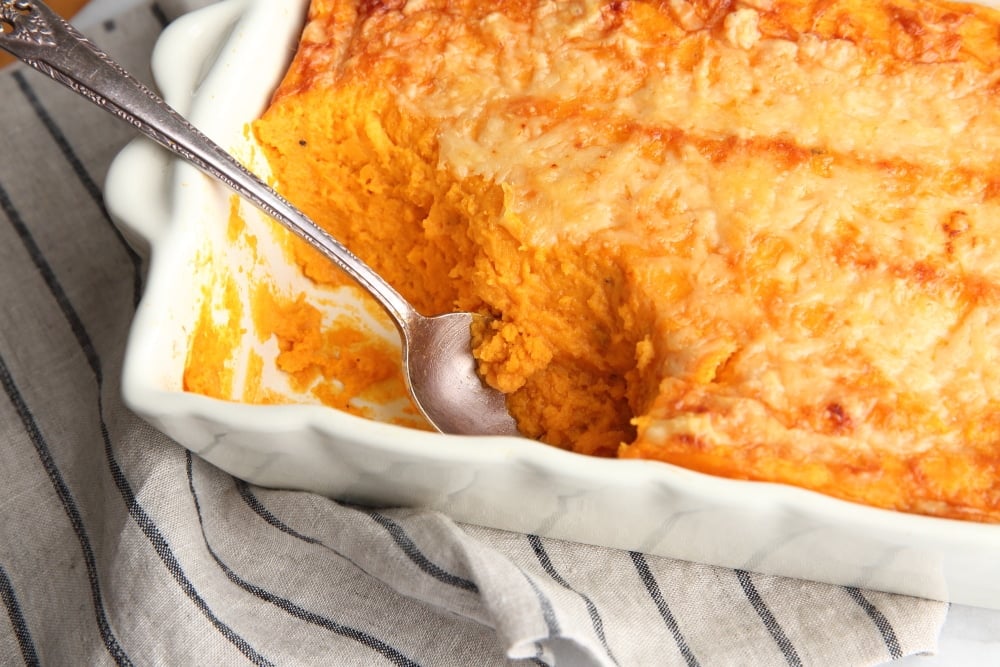 As far as the sides go, I'll be making my Easy Potato Souffle, which I can assemble the day before, mashed potatoes (using this technique) and my mother-in-law's lovely Cranberry Walnut Sauce, the recipe for which I've included below (and which can also be made ahead of time).
Roasted Brussels Sprouts with Mushrooms and Crispy Shallots
While I'm not on Brussels sprouts duty—that goes to Jeff—I thought I'd share this recipe for roasted Brussels sprouts with mushrooms and crispy fried shallots, as it's a longtime favorite (and a fabulous stand-in for green bean casserole!). Brussels sprouts are roasted with chestnuts (which add sweetness) until caramelized, then topped with balsamic roasted mushrooms and crispy fried shallots (those are an homage to those fried onions on top of green bean casserole, but much, much tastier!). It's actually three recipes in one—the Brussels sprouts, mushrooms and fried shallots are all awesome on their own, but when combined, they're way more than the sum of their parts.  The recipe takes a bit of prep but can be broken down into parts.  Fry the shallots the day before,  and on the day of, roast the sprouts and mushrooms several hours in advance (you can do this before the turkey goes in), then reheat them before serving (while the turkey rests).
It's going to be a table of classic and new flavors this year, combining three families' traditions. And at the end of it all, I'll have my own bed to crawl into—me and my growing (and undoubtedly slightly fatter) goose.  Wishing you a wonderful Thanksgiving!
Roasted Brussels Sprouts with Mushrooms & Crispy Fried Shallots
Roasted, caramelized Brussels sprouts and slightly sweet balsamic roasted mushrooms are combined then topped with crispy fried shallots for a fantastic seasonal side dish. You can think of this as three recipes in one—the mushrooms and Brussels sprouts are also fabulous on their own, and the fried shallots are delicious on anything from steak to curries to gratins.
Ingredients
Roasted mushrooms
10

ounces

cremini mushrooms

, trimmed and quartered (or cut into sixths, if large)

2

tablespoons

minced shallots

2

garlic cloves

, minced

2

tablespoons

olive oil

2

teaspoons

balsamic vinegar

Salt and freshly ground black pepper
Roasted Brussels sprouts
2

pounds

Brussels sprouts

, trimmed and halved (or quartered, if large)

3

tablespoons

olive oil

1

tablespoon

balsamic vinegar

Salt and freshly ground black pepper

½

cup

chestnuts

(from jar, drained and rinsed), coarsely chopped

½

lemon
Fried shallots
½

pound

shallots

(about 6 whole), peeled and very thinly sliced on mandoline or with sharp knife

1

cup

grapeseed or safflower oil

Salt
Instructions
Roast the mushrooms & Brussels sprouts:
Preheat the oven to 425˚F. Line 2 large baking sheets with aluminum foil.

Place the mushrooms on one of the baking sheets, and toss with the shallots, garlic, olive oil, balsamic vinegar and a pinch of salt and pepper. Toss everything around to coat, then spread in 1 tight layer (don't spread too thin otherwise the garlic could burn). Cook, stirring occasionally, until the mushrooms are tender and lightly browned and the liquid has evaporated, about 18-20 minutes. Sprinkle with a bit more salt and pepper.

Place the Brussels sprouts on the other baking sheet and toss with the olive oil and balsamic vinegar. Season with salt and pepper. Bake in a single layer for 10 minutes. Add the chopped chestnuts and stir. Bake an additional 15-20 minutes, stirring occasionally, until the sprouts are caramelized and tender. Squeeze the juice from ½ lemon over the sprouts, then cover tightly with foil and let steam for 10 minutes. Do Ahead: The mushrooms and Brussels sprouts can be roasted up to 4 hours in advance. Cover with foil (separately) and store at room temperature. Reheat in a hot oven before serving.
Meanwhile, make the fried shallots:
Line a large plate with paper towels. Place a strainer over a bowl. Heat the oil in a 10-inch skillet over medium-high heat until it begins to shimmer and just barely smoke (you can add one shallot slice to test the temperature—the oil should start to gurgle but the shallot shouldn't immediately blacken). Add all of the shallots and cook, stirring often, until golden brown, about 6-8 minutes. Strain the shallots over the bowl (discard the oil or save it for another use). Immediately transfer the shallots to the paper towel-lined plate (if the paper towels get saturated with oil, switch them out for clean towels). Sprinkle with salt. Do Ahead: The fried shallots can be made 1 day in advance and stored at room temperature in a covered container lined with paper towels.
Finally, assemble:
Transfer the Brussels sprouts to a serving platter, and arrange the mushrooms over top. Sprinkle with the fried shallots.
Cranberry Walnut Sauce
Ingredients
1

pound

fresh or frozen and thawed cranberries

1

cup

cherry preserves

¾-1

cup

organic cane sugar

¼

cup

maple syrup

Pinch cinnamon

Pinch salt

1

cup

water

1

cup

coarsely chopped walnuts

½

teaspoon

orange zest
Instructions
In a medium saucepan, combine the cranberries, cherry preserves, ¾ cup sugar, maple syrup, pinch cinnamon, pinch salt and water. Bring to a boil. Reduce to a simmer and cook 30 minutes, or until most of the cranberries are popped but a few whole ones remain. Remove from heat. Stir in the walnuts and orange zest. Give it a taste. I prefer a tart sauce, but if you like it sweeter, add the remaining ¼ cup sugar (stir to dissolve). Cool completely before serving. Do Ahead: The Cranberry Walnut Sauce can be made up to 3 days in advance and stored in a covered container in the refrigerator.