These ultra tender, fluffy and easy shortcakes can be eaten with berries and whipped cream for dessert, OR they can be enjoyed on their own as scones!

It's my birthday and I'll sing if I want to, sing if I want to, sing if I want… Oh, hi. Didn't see you there. As my friends and family know, I have the voice of a gibbon monkey (oh the irony that I married a musician), so I apologize for that. However, my lack of vocal control has never stopped me from trilling away, and this week I'm crooning (croaking) about my birthday (which happened last week) and these almond shortcakes, which might just be my new favorite dessert/breakfast/brunch/snack ever. (Recipe below!)
My birthday usually comes and goes without much fanfare, but this year was heavenly, featuring a night out with my girlfriends, an overnight in NYC with James (thank you to our awesome friends for taking the kids!) and a lovely home-cooked dinner with my girls. It was three for the price of one, and I gobbled it all up. I also ate up nearly all of these almond shortcakes, which are featured in my new Brunch Baking with Bob's Red Mill class on Craftsy. The class features four of my favorite make-ahead brunch recipes (all of which would be PERFECT for Mother's Day), including these shortcakes/scones, along with buttermilk biscuits, lemon pudding cakes and a caramelized shallot, mushroom and spinach tart. (Check out my other Craftsy classes here!)
Easy Scone Recipe
You won't believe how easy the scone/shortcake dough is to make. The trick is to grate the butter into the dry ingredients, which creates lovely little pockets of steam as the scones bake, resulting in an ultra tender, moist texture. You can serve them on their own with butter and jam for a scrumptious breakfast, brunch or tea that will will have you feeling just like Mary Berry (I can't help but declare "just scrummy!" in my best English accent every time I take a bite).
Easy Shortcake Recipe
Or you can cut them in half and stuff them with berries and whipped cream for a swoon-worthy dessert. I especially like to serve the shortcakes with syrupy roasted strawberries, which are shown here (grab that recipe below!).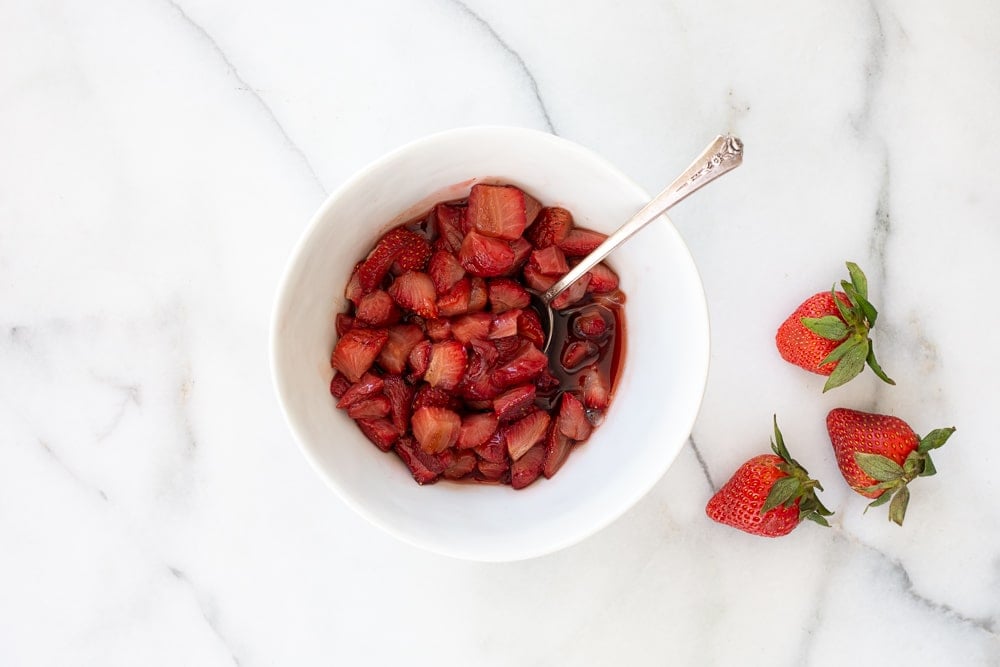 Lucky for me, the almond shortcakes/scones can be made with a gluten-free flour blend (I recommend Bob's Red Mill 1-to-1 Gluten Free Baking Flour), thus becoming gluten-free. They also freeze beautifully, meaning I was able to make them ahead and nosh on them all throughout my birthday weekend. It was a little birthday gift to myself, and that, my friends, makes me want to sing.
Get the recipe!
Easy Almond Shortcakes/Scones with Roasted Strawberries
These ultra tender almond scones are delicious as-is, or they can be turned into a sumptuous dessert with roasted strawberries (or you can use fresh berries) and whipped cream. You can make them gluten-free by using a gluten-free flour blend (I recommend Bob's Red Mill Gluten-Free 1-to-1 Baking Flour).
Ingredients
2

cups

(272 g) all-purpose flour OR 2 cups (296 g) Bob's Red Mill Gluten Free 1-to-1 Baking Flour, plus more as needed

¼

cup

(28 g) almond flour

1

tablespoon

baking powder

½

teaspoon

fine sea salt

6

tablespoons

cold unsalted butter

2

large eggs, divided

1/3

cup

sugar

2/3

cup

whole milk

½

teaspoon

almond extract

1

tablespoon

turbinado sugar

2

tablespoons

sliced almonds

Roasted Strawberries, for serving (optional)

Lightly sweetened whipped cream, for serving (optional)
Instructions
Preheat the oven to 400˚F. Line a large baking sheet with parchment paper.

In a large bowl, whisk together the all-purpose flour (or gluten-free flour), almond flour, baking powder and salt. Using the large holes of a cheese grater, grate the butter over the top of the dry mixture (alternatively, use a box grater to grate the butter onto a piece of wax or parchment paper, then transfer the butter to the bowl). Place the bowl in the freezer for 10 minutes to chill.

In a small bowl, whisk one of the eggs with 1 teaspoon of water. Set aside (this will be the egg wash for later).

In a separate bowl, whisk the remaining egg with the sugar, milk and almond extract until smooth.

Take the bowl out of the freezer, and, using your fingers, toss the butter with the flour mixture until evenly incorporated. Make a well in the center, and pour in the wet ingredients. Slowly work the dry ingredients into the wet ingredients until incorporated, being careful not to overwork the dough.

Turn out the dough onto a lightly floured surface. Using lightly floured hands, gently press the dough into a 1-inch thick square (about 6 ½ inches wide). Cut the dough into 9 square scones, and transfer them to the baking sheet.


Brush the scones lightly with the egg wash (you won't need it all), and sprinkle them with the turbinado sugar and sliced almonds. Bake until golden brown, about 15-17 minutes. Let cool. Serve the scones as they are, or transform them into shortcakes by slicing them in half horizontally and filling them with a spoonful of Roasted Strawberries (or fresh berries) and a dollop of whipped cream.
Notes
The uncooked scones can be wrapped in wax paper and frozen (in a single layer) in an airtight container or ziptop bag. When ready to bake, proceed as directed—don't defrost.
The baked shortcakes can be cooled completely then stored in an airtight container at room temperature for up to 2 days, or they can be frozen for up to 2 months.
Roasted Strawberries
Roasting strawberries creates a beautiful syrup and results in a sweet, caramelized flavor that's delicious over the almond shortcakes, as well as on pound cake, ice cream or yogurt.
Ingredients
3

tablespoons

maple syrup

1

tablespoon

packed light brown sugar

1

teaspoon

vanilla extract

Pinch

salt

3

cups

diced strawberries
Instructions
Preheat the oven to 400˚F. Line a large baking sheet with parchment paper.


In a large bowl, combine the maple syrup, brown sugar, vanilla and salt. Stir until smooth.

Add the strawberries, and toss gently to coat. Scrape the berries onto the prepared baking sheet, and spread in a single layer. Roast 25-30 minutes, stirring gently halfway through, or until the berries are tender and the juices have released and look slightly syrupy. Immediately transfer the strawberries and syrup to a bowl.
Notes
The roasted berries can be refrigerated for up to 5 days. Reheat or serve cold.
Stay Connected!
I'd love to hear what you're cooking, and I'm happy to answer any questions! #FromScratchFast
Instagram: FromScratchFast
Facebook: FromScratchFast
Pinterest: FromScratchFast
YouTube: FromScratchFast
*This post contains affiliate links, which means that if you purchase a product through a link you clicked on here, I receive a portion of the sale (at no cost to you). Thank you for supporting FromScratchFast!!