Forget about fussing with piecrust, pastry cream or gelatin, this gorgeous gluten free berry tart looks impressive, tastes even better, and couldn't be easier to make! In other words, it's the perfect summertime dessert. [Video below!]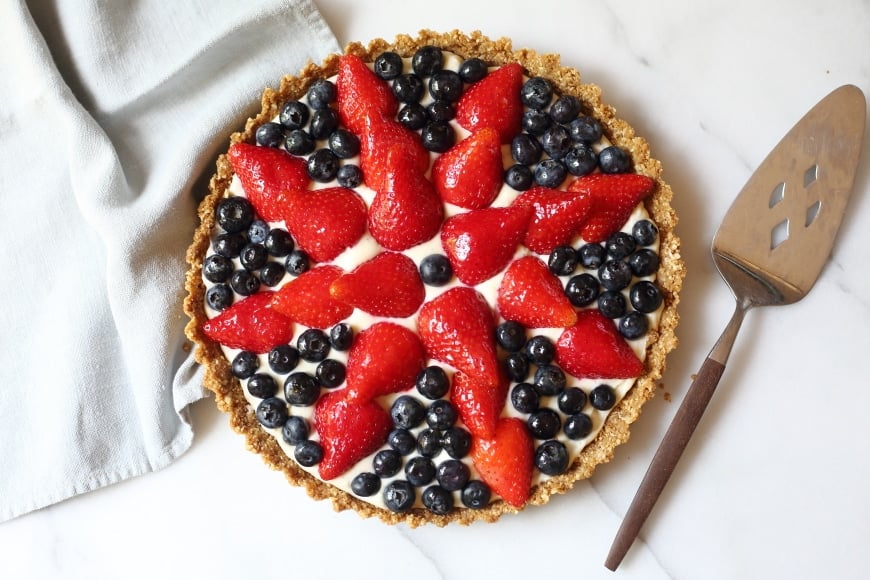 Easy berry tart
This gluten free berry tart is the best kind of nostalgia. In high school I experimented with pies, crisps and crumbles, but it wasn't until college that I made my first tart. It was a simple affair of graham crackers, cream cheese and strawberries, but man did I glow as I slid that tart out of its ring (it held together!) and served the glistening dessert to my friends.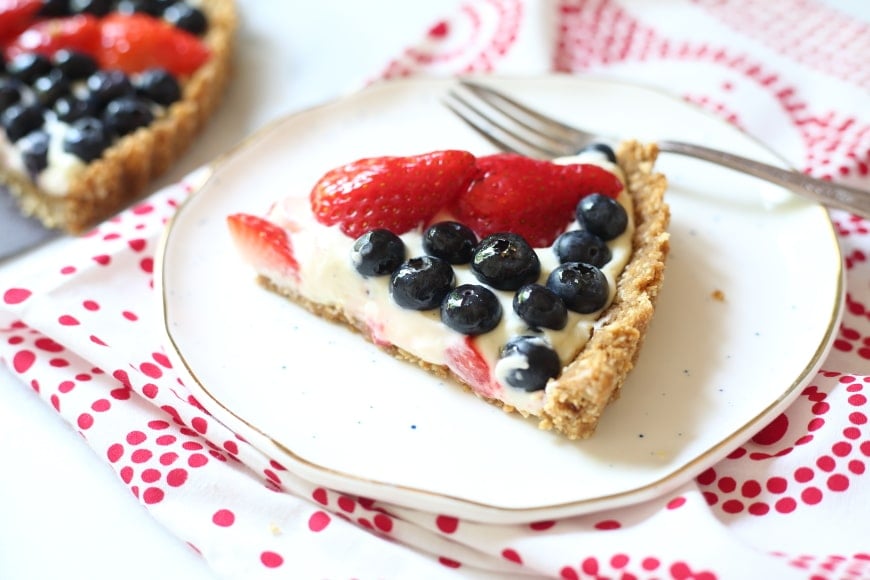 Gluten free berry tart
This beauty takes me right back to those days, but it tastes way better than the original. It's an updated gluten free berry tart that's sophisticated but easy. There's no gelatin, no pastry cream, not even pastry dough (in other words, nothing I later learned in culinary school). This is old-school baking at its very best.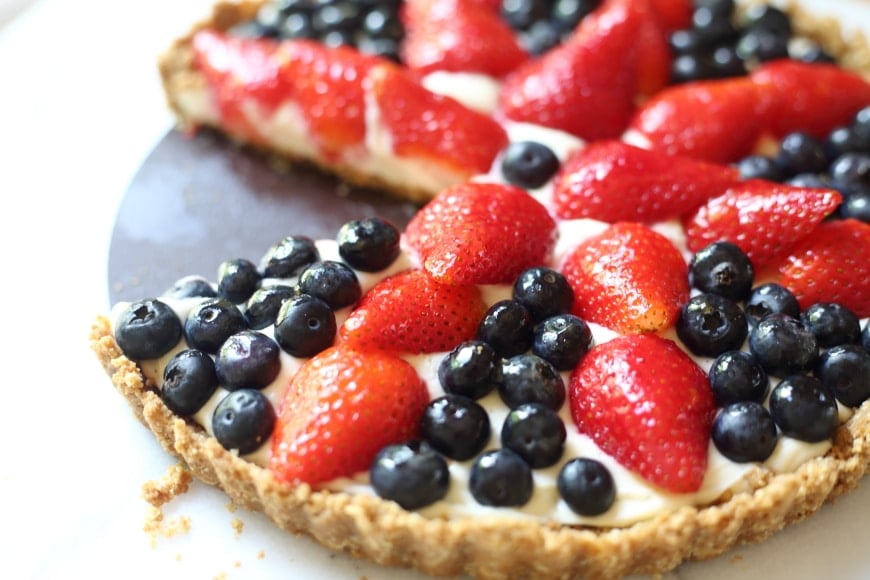 Gluten free almond tart crust
I kept the graham cracker crust (using gluten-free graham crackers), because there's no easier tart crust on the planet (and seriously, it's hard to beat), but I added in cinnamon and almonds for flavor and texture.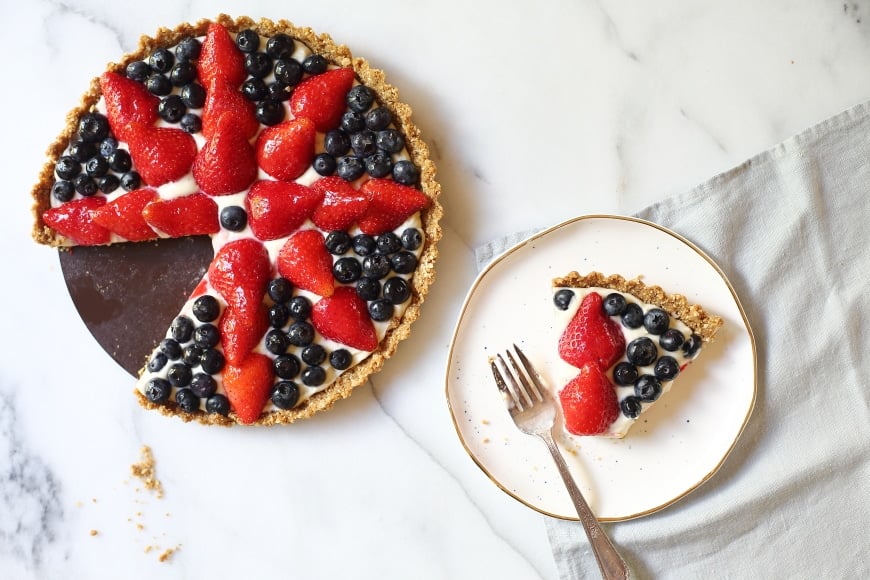 Cream cheese tart filling
The filling is made with softened cream cheese and crème fraiche, which creates a lighter, creamier texture. Fresh vanilla bean seeds (or you can use vanilla paste or extract) and almond extract give it an irresistible flavor.
How to make a gluten free fruit tart
You can use any fresh berries you like for the topping, although I love strawberries and blueberries. You can watch how I make the red, white and blue firecracker design in the video below (it's perfect for the Fourth of July!). Brushing a bit of apricot jam over the berries makes them glisten just like a fancy French tarte aux fruits.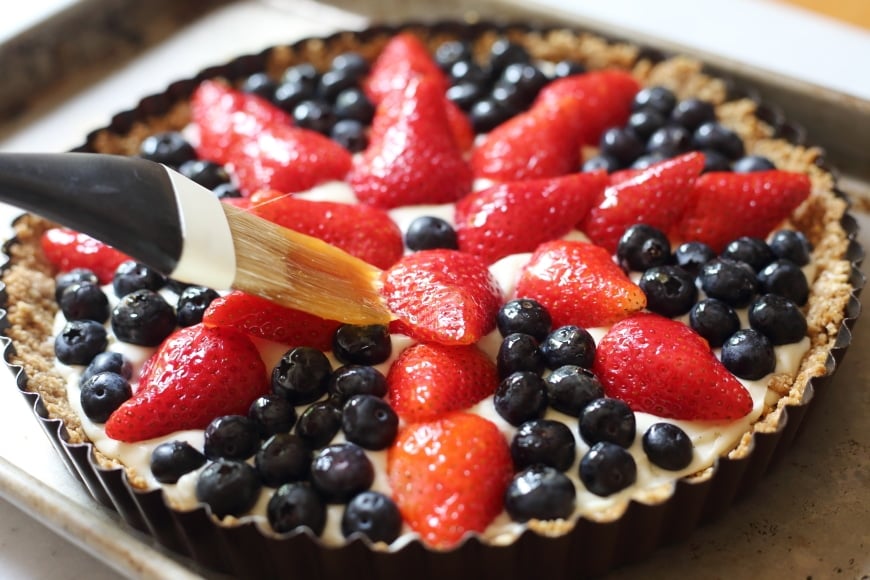 While it might look awfully refined, this gluten free berry tart pure is nostalgia at heart. It's the perfect dessert for potlucks and parties, but it's easy enough to throw together as as a special mid-week treat. Check out the web story for this recipe!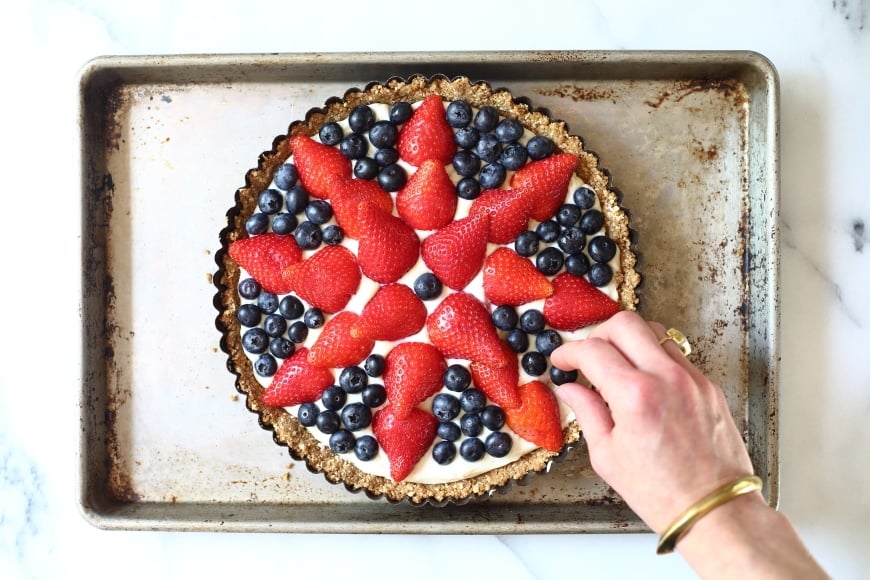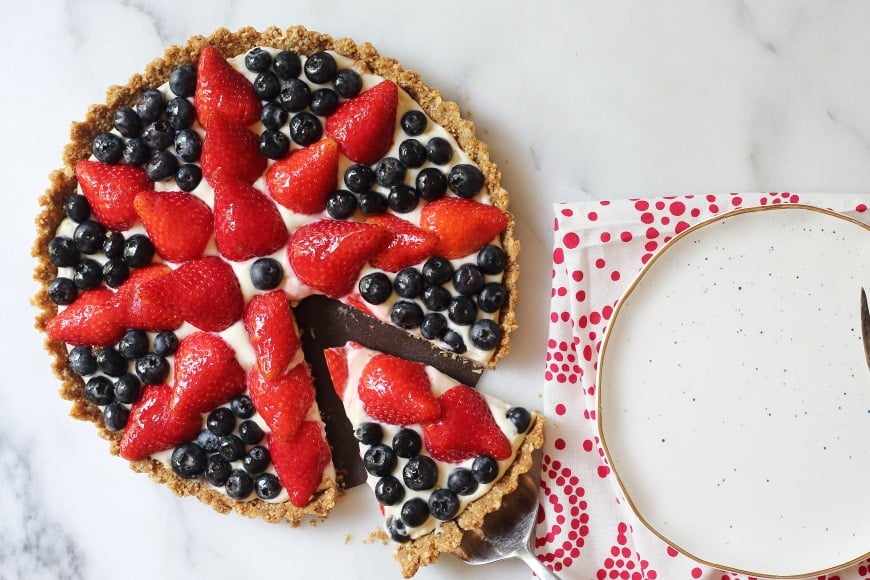 FAQs
What fruits are best for a fruit tart?
Fresh berries work best in fruit tarts, as they don't give off too much liquid (think strawberries, raspberries, blueberries and/or blackberries). Pitted cherries and kiwis are also delicious! Avoid peaches and nectarines, which are too juicy and will brown.
How do you make a fruit tart without a tart pan?
If you don't have a tart pan you can use a 9-inch pie plate! Press the crust about halfway up the sides of the plate.
How do you make a gluten free tart crust?
For a super easy gluten free tart crust, use gluten free graham crackers. Grind them in a food processor with melted butter and sugar (I also add almonds and cinnamon for more flavor).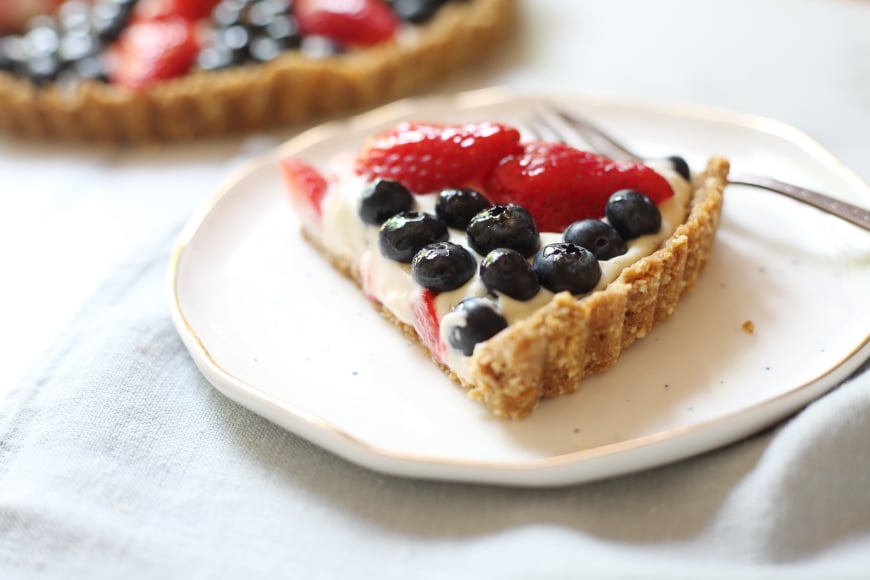 Here's what you'll need for the tart recipe:
*This post contains Amazon and other affiliate links to products I use and love (from which I earn income, at no cost to you). Thank you or supporting From Scratch Fast!
Watch the video!
Stay connected!
I'd love to answer any of your questions and see what you're cooking!! Don't forget to rate this recipe and leave a comment below. Follow along on Instagram, Facebook, YouTube & Pinterest, and be sure to tag @fromscratchfast so that I can share your creations!
Get the recipe!
Easy Gluten Free Berry Tart
Forget fussing with piecrust, pastry cream or gelatin, this gorgeous berry tart looks impressive, tastes even better, and couldn't be easier to make! In other words, it's the perfect summertime dessert. Be sure to take the cream cheese out of the fridge at least an hour or two (or up to 8 hours) before beginning. If you forget (like I always do), place it in a bowl on the stovetop while the oven preheats and the crust bakes. Creme fraiche makes the filling light and creamy, but if you can't find it you can use whole milk Greek yogurt instead. It's best to let the tart cool in the fridge for at least an hour before serving, as it will make it easier to slice.
Ingredients
For the crust:
⅔

cup

sliced almonds

1

cup

graham cracker crumbs, gluten-free or regular

2

tablespoons

sugar

4

tablespoons

melted butter, cooled slightly

⅛

teaspoon

ground cinnamon
For the filling:
½

vanilla bean (or ½ teaspoon vanilla paste or extract)

⅔

cup

(about 5 ounces) cream cheese, at room temperature

¼

teaspoon

almond extract

¼

cup

sugar

Pinch salt

⅓

cup

crème fraiche

1 ½

quarts

strawberries, hulled and halved

1

cup

blueberries

2

tablespoons

apricot jam
Instructions
For the crust:
Preheat the oven to 350˚F.

Spread the almonds on a baking sheet and toast, stirring once or twice, until light golden and fragrant, about 5 minutes. Let cool (keep the oven on). Transfer the nuts to the food processor, and process until finely ground. Transfer to a bowl. Add the graham cracker crumbs, sugar, butter and cinnamon, and stir to combine.

Spray a 9-inch round tart pan with a removable bottom with cooking spray. Press the crust into the bottom and ¾-inch up the sides of the pan. Bake until lightly browned, about 8-10 minutes. Transfer to a rack and let cool (you can pop it in the fridge to cool it faster).
For the filling:
Cut the vanilla bean in half lengthwise and scrape out the seeds using the back of a small knife. Add the vanilla seeds to the cream cheese along with the almond extract, and beat until smooth. Add the sugar and salt, and beat again until the sugar is dissolved. Add the crème fraiche and beat until creamy and smooth.

Scrape the filling into the tart shell and spread in an even layer.

Arrange the strawberries and blueberries over top (you can watch how I do it in the video above!).

Thin the apricot jam with about 1 teaspoon of water and heat on the stovetop or microwave until runny. Carefully brush the glaze over the fruit on the tart (try not to get it on the filling). Refrigerate the tart until ready to serve.

Notes
Notes:
To make the graham cracker crumbs, simply blitz graham crackers (regular or gluten-free) in a food processor until finely ground.
The crust can be made up to 1 day in advance. Cover and store it at room temperature. The finished tart is best the day it's made, but it can be covered and refrigerated for up to 1 day.
The tart can also be made in an 8-inch square pan or 9-inch pie plate.
A vanilla bean is a bit of an extravagance, but the flavor is unparalleled, especially in a dessert as simple as this one. However, you can go for vanilla paste or extract instead!
You can use any berries you like to decorate the top. If using strawberries, try to buy ones that are evenly sized. Also, make sure the berries are completely dry before arranging them on the tart.
While I usually include weight measurements in my recipes, this recipe is so simple that I didn't even add them (you can literally eyeball everything and it will be okay!).