Roasted salmon is one of my favorite mid-week meals. It feels so elegant and sophisticated, even though it's dead simple to make. It makes me feel French, in that flippant but perfect pas grand chose kind of way. Roasting is by far the most foolproof and mess-free to cook salmon (not to mention aroma-free, if you know what I mean). Throw a few fillets in a hot oven, and in the time it will take you to set the table and pour a glass of wine, dinner is served.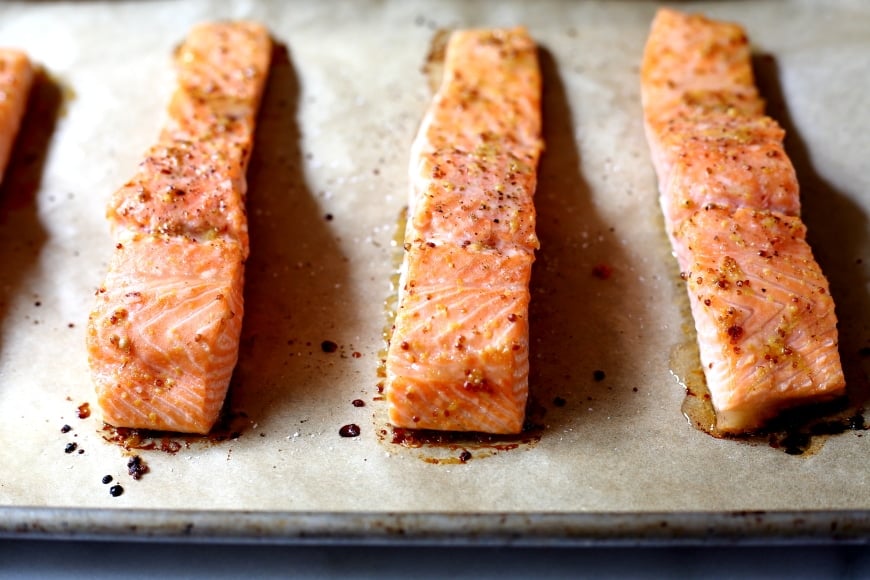 It's salmon season!
Did you know that wild salmon has a season? Fresh wild salmon is best from late spring (that means now!) until early fall. Wild salmon is more flavorful and nutritious than farmed, and it's worth investing in. Here the salmon gets brushed with a touch of maple syrup and grainy mustard before going in the oven, creating a light glaze. It's delicious all on its own, but downright gorgeous when served with a sweet pea pesto. You can read all about the pesto in this post, which I recently updated (I've also included a video below!). The pesto can be made ahead, or while the salmon cooks.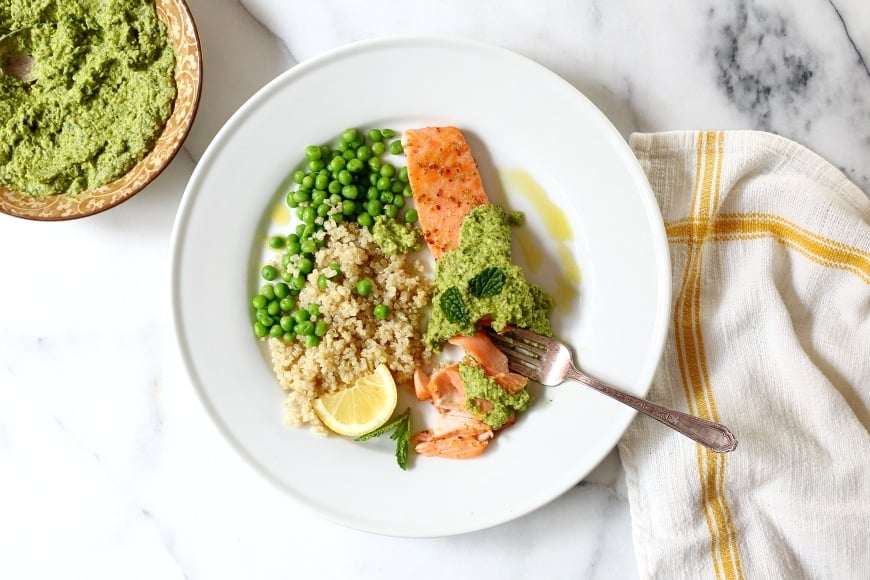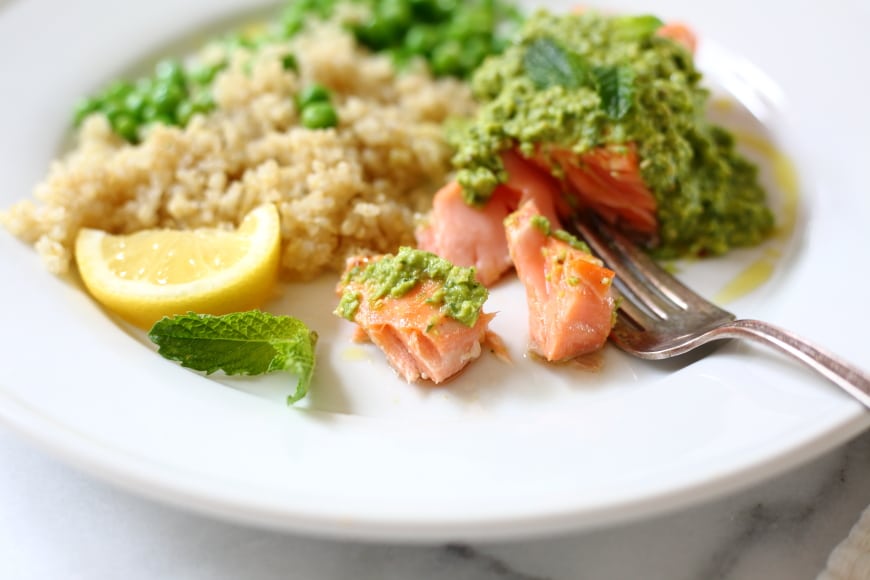 There are several different varieties of wild salmon (I've bulleted them out below), which each have different thicknesses and fat contents. When roasting, you'll therefore want to start checking your salmon early, as different varieties cook at different rates (in my opinion, nothing's worse than dry, chalky salmon). You'll know it's ready when the fat has turned white along the sides and the fish flakes easily but is still rosy pink in the middle (poke a small knife through the thickest portion to check, or use a meat thermometer to take the temperature—it should read 120˚F for medium-rare). The salmon will continue cooking once it comes out of the oven and rests. Of course, texture is entirely subjective, so while I prefer my salmon medium rare, you can feel free to cook it a few minutes longer to your liking. Also, roast the salmon skin-on, which helps to keep it moist. The skin can be easily removed after cooking.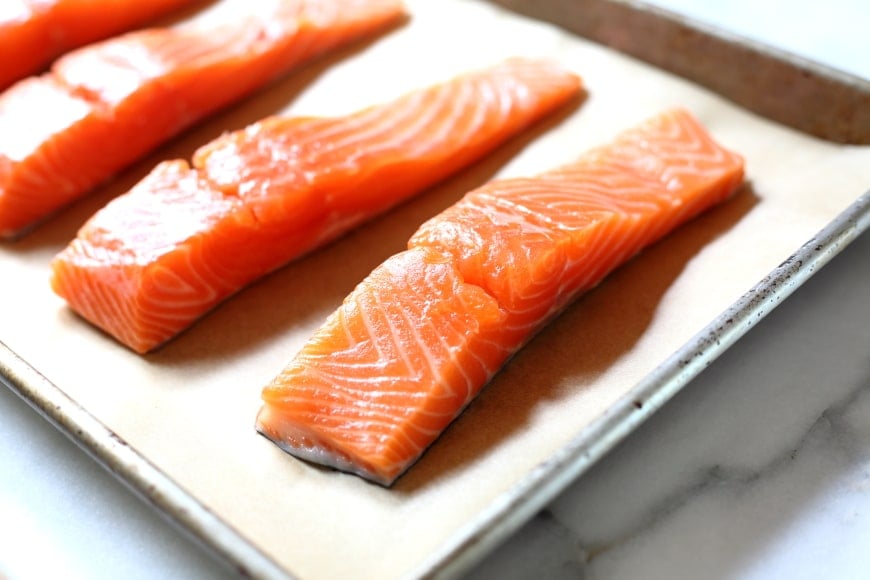 There are several different varieties of wild salmon, which I've broken down for you below. They're all delicious, with slightly different flavors and textures.
King/Chinook: High oil content, rich flavor.
Sockeye: Distinguished by deep red flesh. Firm, meaty texture.
Coho: Milder flavor, firm texture that flakes well. Often smoked.
Keta/Chum: Pale orange or pink flesh, lower oil content.
Pink: Rosy pink flesh, delicate flavor. Lean and mild.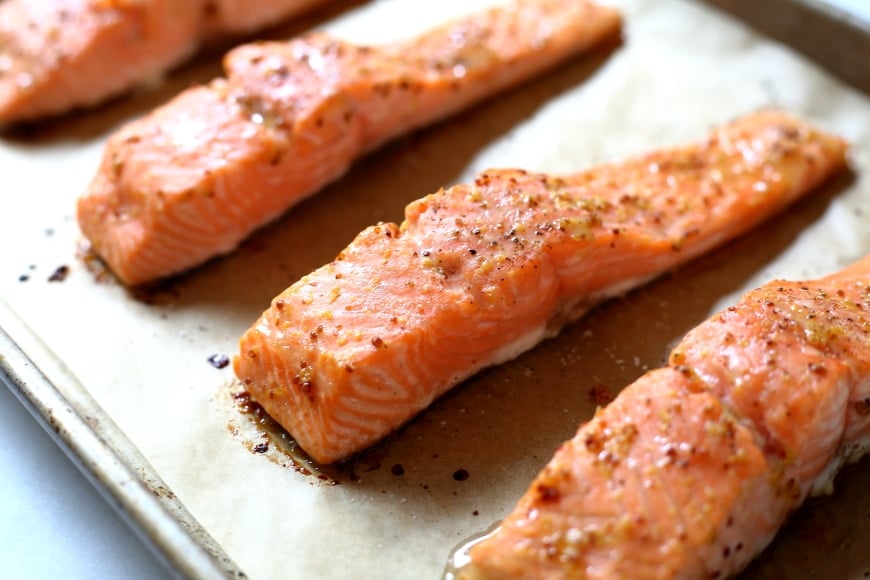 When it comes to roasting fish (or anything, for that matter), you don't need much, but these tools are essential: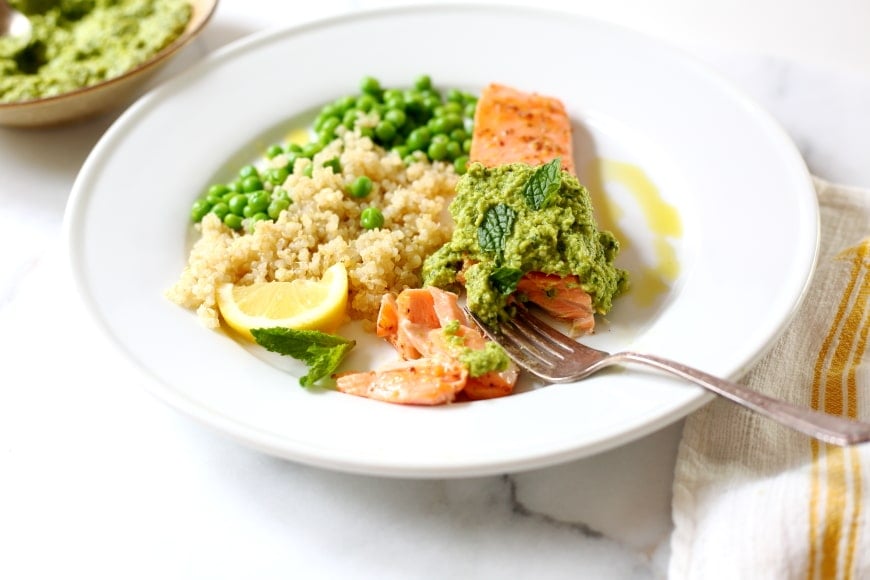 Other salmon recipes to try:
Healthy meals you might like:
Watch the Pea Pesto Video!
Get the recipe!
Maple Roasted Salmon with Sweet Pea Pesto
Roasting is by far the easiest and most foolproof way to cook salmon. In this recipe, wild salmon gets brushed with maple syrup, grainy mustard and lemon juice, forming a light glaze. It's delicious on its own but especially gorgeous with this
sweet pea pesto
. Different salmon varieties will cook at different rates, depending on their thicknesses and oil contents. You'll know it's done when the fat has turned white along the sides and it flakes easily but the inside is still rosy pink. I prefer to roast the salmon with the skin on, which helps to prevent it from drying out (the skin easily slides off after it's cooked). Serve the roasted salmon with peas and quinoa for a quick, healthy meal that feels downright fancy.
Ingredients
4

6-ounce

wild salmon fillets, skin-on (1 ½ pounds total)

2

teaspoons

maple syrup

2

teaspoons

grainy mustard

1

teaspoon

fresh lemon juice

, plus lemon wedges for garnish

Salt & freshly ground black pepper

Sweet Pea Pesto
Instructions
Preheat the oven to 425˚F.

Place the salmon filets on a small parchment-lined baking sheet, and let sit at room temperature for 15 minutes. Mix together the maple syrup, grainy mustard and lemon juice. Brush each fillet with the maple mixture, and season with salt and pepper.

Roast the salmon for 8-12 minutes, or until it pulls apart easily but is still rosy pink in the middle (the internal temperature should read 120˚F for medium-rare—let cook a bit longer if you prefer medium). Let sit 5 minutes.

Slide a thin spatula between the fish and the skin and transfer the salmon to a platter or plates, leaving the skin behind. Spoon the mint pesto over top, and garnish with lemon wedges.
Stay Connected!
I'd love to hear what you're cooking, and I'm happy to answer any questions! #FromScratchFast
Instagram: FromScratchFast
Facebook: FromScratchFast
Pinterest: FromScratchFast
YouTube: FromScratchFast
Snapchat: FromScratchFast
This post contains affiliate links, which means that if you purchase a product through a link you clicked on here, I receive a portion of the sale (at no cost to you). Thank you for supporting FromScratchFast!!