Fluffy sweet potato souffle
You guys, if there is a vegetable dish that makes me sigh with pleasure Every-Single-Time-I-Eat-It, it's this easy sweet potato souffle (video below!). With a luscious, creamy center and a melted cheese topping, it's one of my all-time favorite holiday side dishes. But it's also a fabulous vegetarian anytime dinner when paired with a salad. Best of all, it's really easy to prepare, and it can be made in advance. (It's also naturally gluten-free, of course!)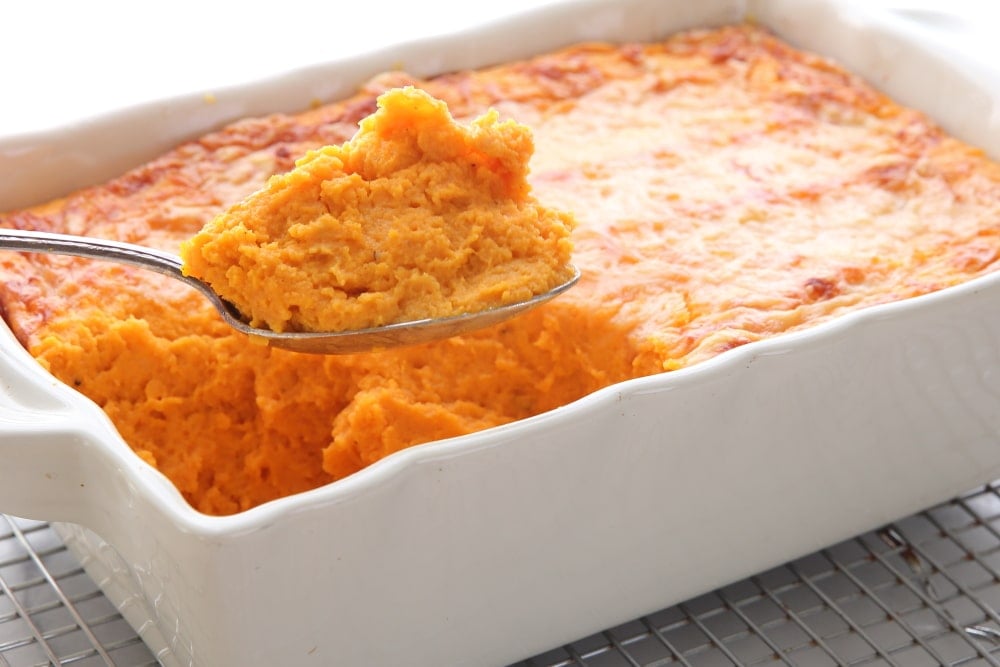 Easy Sweet Potato Souffle
Unlike traditional souffles, there's no separating of eggs or beating of whites in this recipe—instead everything gets buzzed up right in the food processor. Boiled sweet potatoes are combined with nutty Comté cheese (you could go for a mild Gruyere instead), eggs, half-and-half, cinnamon, nutmeg and a hint of brown sugar for an irresistible sweet-and-savory flavor. Sigh. (Told you.)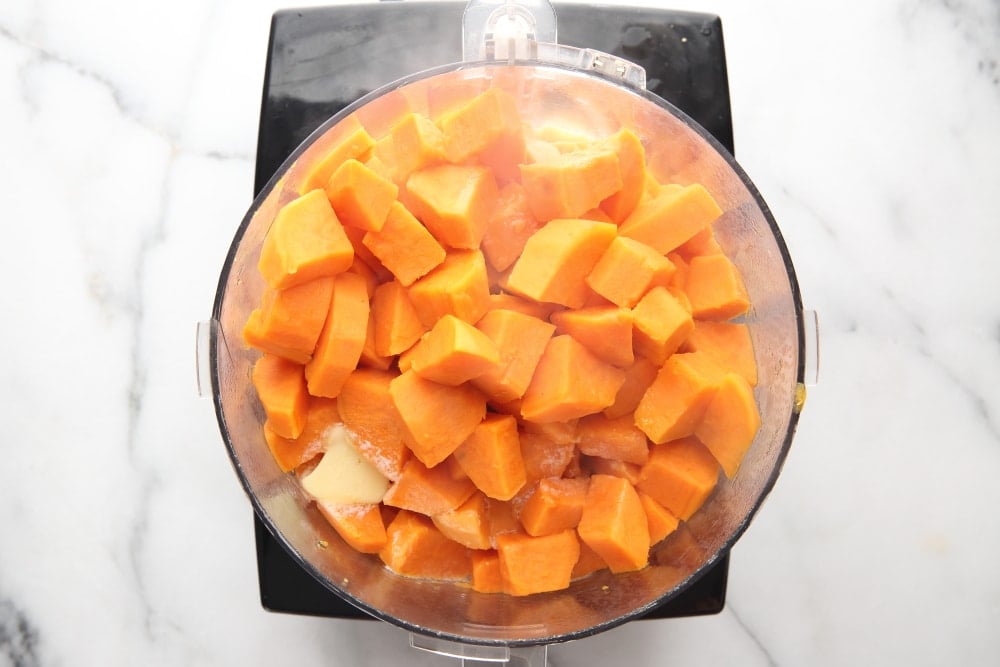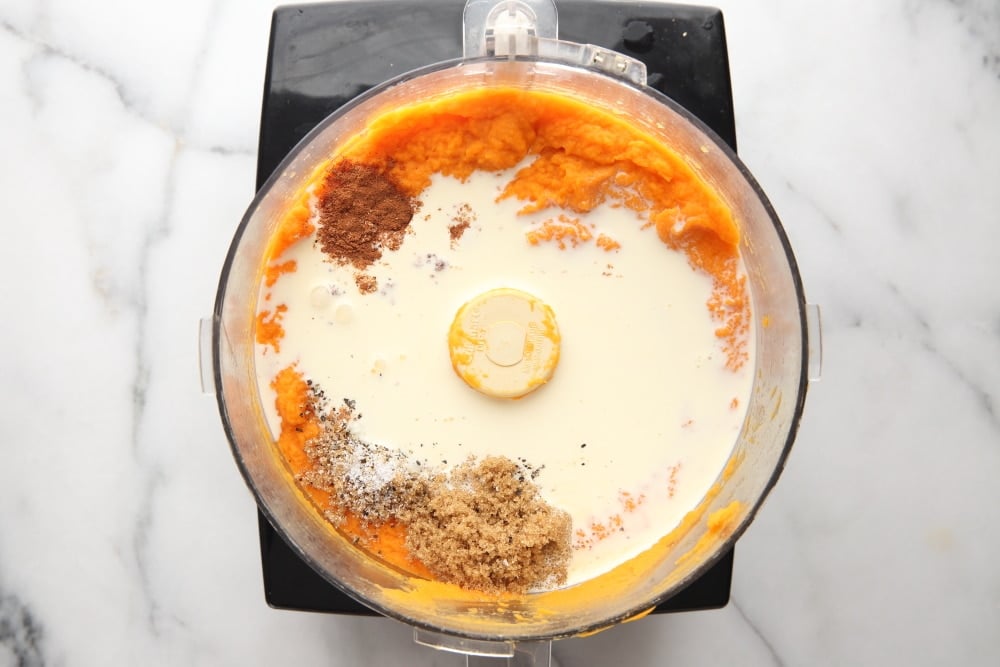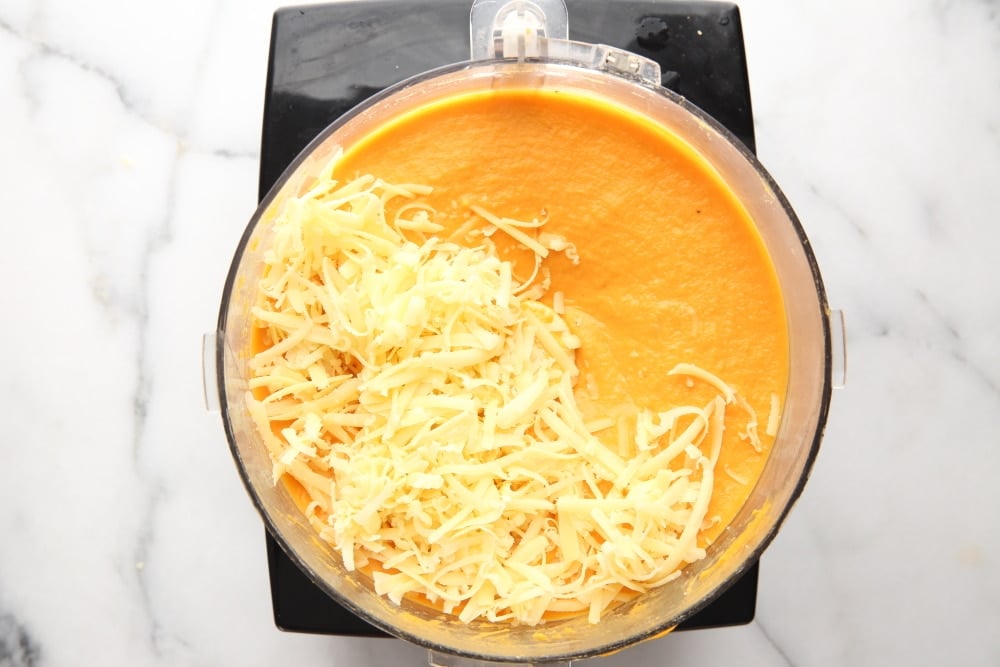 Can you make the sweet potato souffle ahead of time?
Yes! This sweet potato souffle is perfect for the holidays or for busy weeknights, as it can be completely assembled the day before. It's a staple on my Thanksgiving table, and I love that I can make it on Wednesday, then bake it off on Thursday when the turkey comes out of the oven (woohoo!!). It's hefty enough to be a main course for vegetarians, but it's also a lovely side dish alongside roasted meats.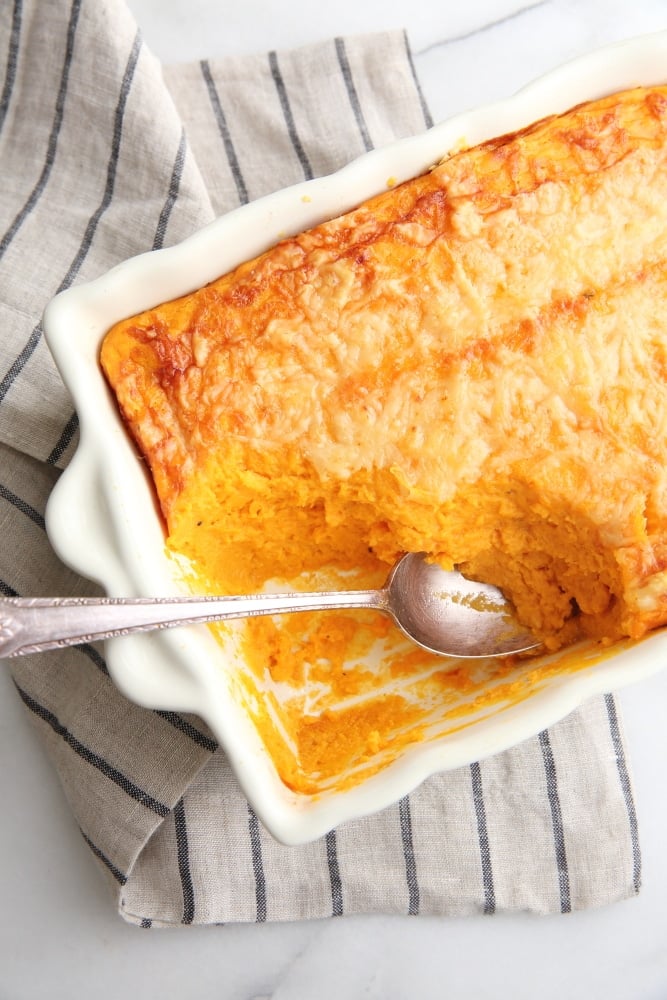 Savory Sweet Potato Souffle Cooking Tips:
You'll need a food processor for this recipe. I recommend this 14-cup Cuisinart, which is a total workhorse (it's the model I feature in my book, The Food Processor Family Cookbook!).
I bake the souffle in a 2-quart baking dish. You could use a classic round souffle dish or any deep casserole dish (the one I used was given to me as a gift years ago, but I also love this Emile Henry 2-quart baking dish).
The souffle can be completely assembled in advance. Spread it in the baking dish, add the cheese, then cover it with plastic wrap and refrigerate it overnight. Just be sure to let it sit at room temperature for 30-60 minutes to come to room temperature before baking.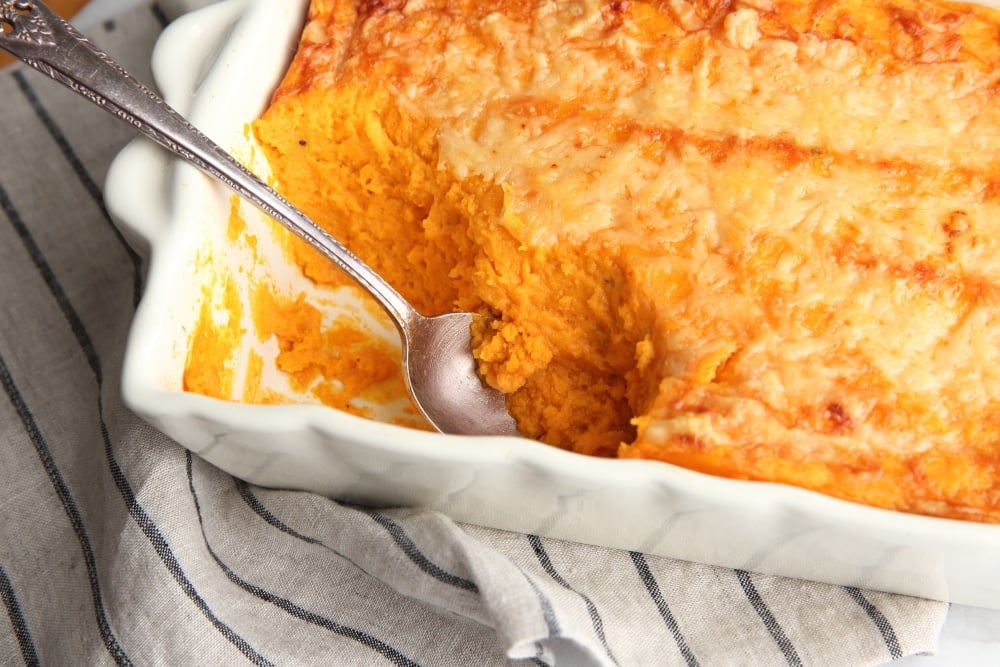 Other holiday dishes to try:
How to make sweet potato souffle VIDEO!
Get the recipe!
Sweet Potato Souffle Casserole
This luscious and creamy sweet potato souffle is the perfect special occasion side dish or vegetarian main course. With a luscious, creamy center and a melted cheese topping, it's one of my all time favorite holiday side dishes, and it's also a fabulous vegetarian anytime dinner when paired with a salad (it's one of my husband's favorite weeknight dinners). Best of all, it's really easy to prepare, and it can be made in advance!! The soufflé gets whipped up right in the food processor using boiled sweet potatoes, nutty Comté cheese (you could go for a mild Gruyere instead), eggs, half-and-half, cinnamon, nutmeg and a hint of brown sugar. It has an irresistible sweet-and-savory flavor. You can use a classic round soufflé dish or any 2-quart baking dish.
Ingredients
Butter or oil for baking dish

3

pounds

sweet potatoes (about 3 large potatoes), peeled and cut into 1-inch chunks

1

tablespoon

plus 1 teaspoon kosher salt, divided

4

tablespoons

butter, cut into pieces

¼

teaspoon

ground cinnamon

⅛

teaspoon

ground nutmeg

2

tablespoons

brown sugar

¼

teaspoon

pepper

½

cup

half-and-half

3

large eggs

4

ounces

Comté or Gruyère, shredded (2 scant cups shredded)
Instructions
Preheat the oven to 425˚F. Butter or oil a 2-quart baking dish.

Place the potatoes in a large pot, and cover them with an inch or two of cold water. Add 1 tablespoon of the salt. Cover and bring to a boil. Reduce the heat to a simmer and cook, uncovered, until the potatoes are tender, about 8-10 minutes.

Drain the potatoes, and immediately transfer them to a food processor. Add the butter, and process until smooth. Add the cinnamon, nutmeg, brown sugar, pepper, half-and-half and remaining 1 teaspoon of salt. Process until combined. Let the mixture cool slightly, then add the eggs. Process until light and fluffy. Add half of the Comté and pulse until combined.

Transfer the mixture to the prepared baking dish, and smooth out the top with a spatula. Sprinkle with the remaining Comté. Bake 25 to 30 minutes, or until slightly puffed and golden on top. Serve warm.
Notes
Do Ahead: The souffle can be assembled and refrigerated overnight. Bring it to room temperature before baking.
Tips:
*This post contains affiliate links, which means that if you purchase a product through a link you clicked on here, I receive a portion of the sale (at no cost to you). Thank you for supporting FromScratchFast!!
Stay Connected!
I'd love to hear what you're cooking, and I'm happy to answer any questions! #FromScratchFast
Instagram: FromScratchFast
Facebook: FromScratchFast
Pinterest: FromScratchFast
YouTube: FromScratchFast