These quinoa, apple and spinach stuffed honeynut squash are topped with a melted layer of cheese and are completely irresistible. They're a stunning vegetarian side dish or a delicious main course. Don't miss the step-by-step video below!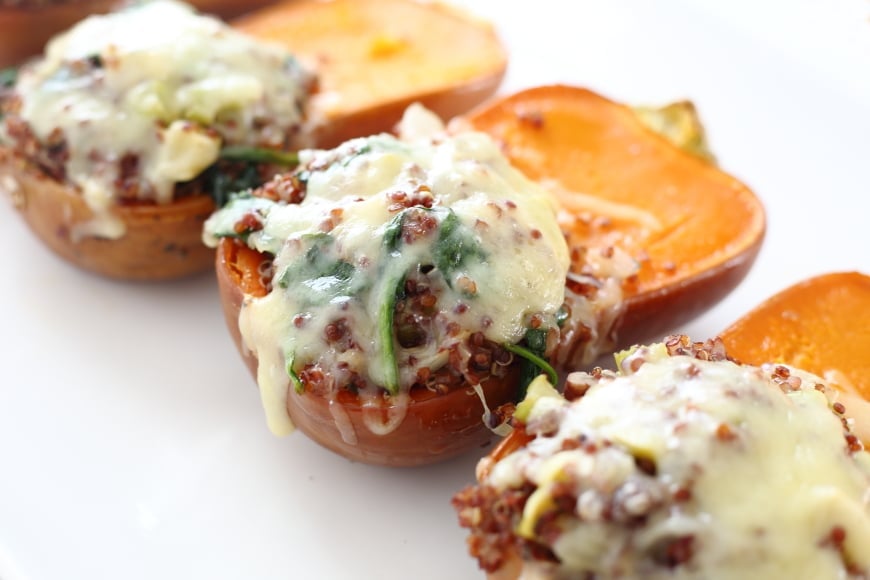 Stuffed honeynut squash recipe
Honeynut squash first appeared at our market a few years ago, and I've been smitten ever since. In this recipe, they're roasted until tender, then are stuffed with a cinnamon-spiked quinoa, apple and spinach stuffing. A layer of oozy melted cheese takes them over the top.The stuffed honeynut squash make for a gorgeous vegetarian side dish (or main course) on a holiday table, but are easy enough for any average Wednesday.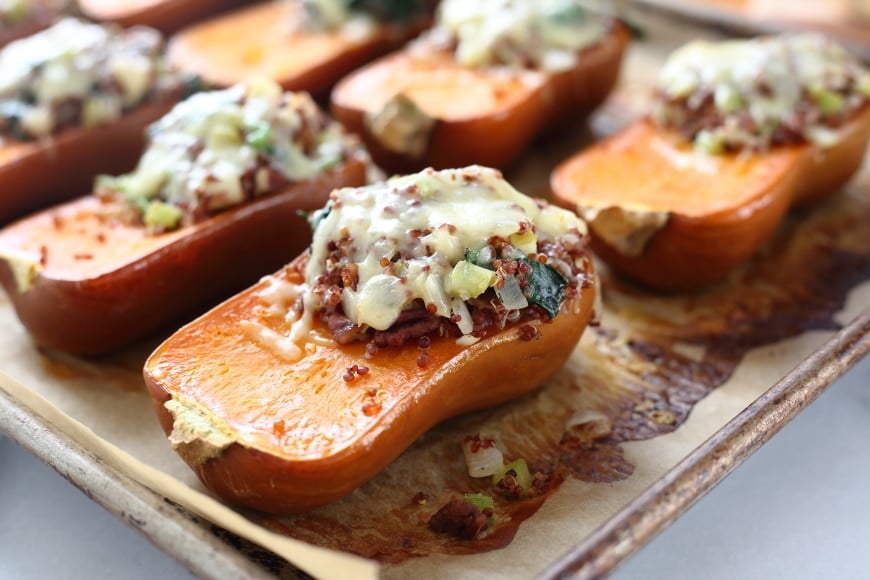 What is honeynut squash?
A honeynut squash looks like a minuscule butternut, but it has a richer, sweeter flesh. It's absolutely delicious and is worth seeking out, but if you can't find it you can use acorn squash in this recipe instead.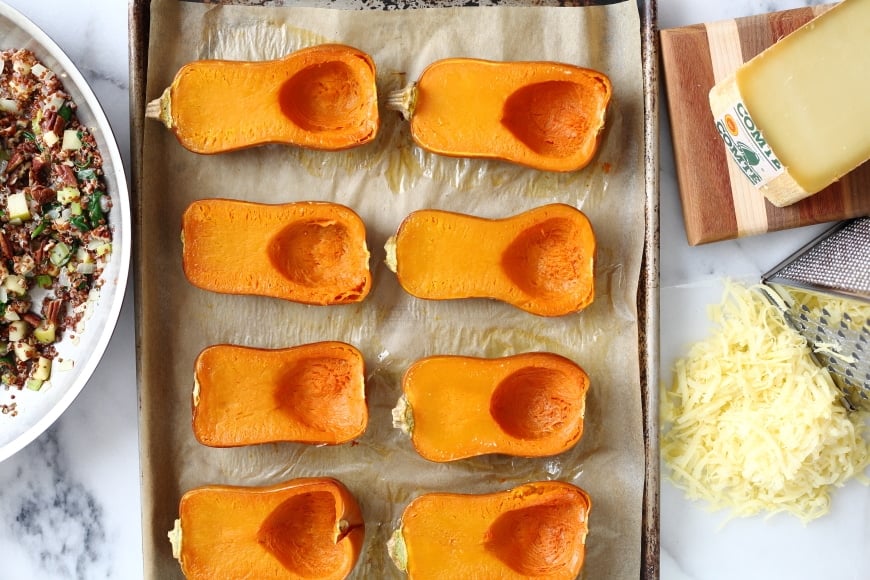 Stuffed squash filling
The quinoa filling was loosely inspired by my favorite stuffing recipe, which features onions, celery, apples, rosemary and thyme as the base. I also added a pinch of cinnamon to provide sweetness and warmth, as well as spinach, quinoa and pecans for substance. The stuffing gets piled into the squash cavities, and is then sprinkled with nutty Comté cheese (or you could use Gruyere). After a brief stint in a hot oven, they emerge with a golden, melted cap.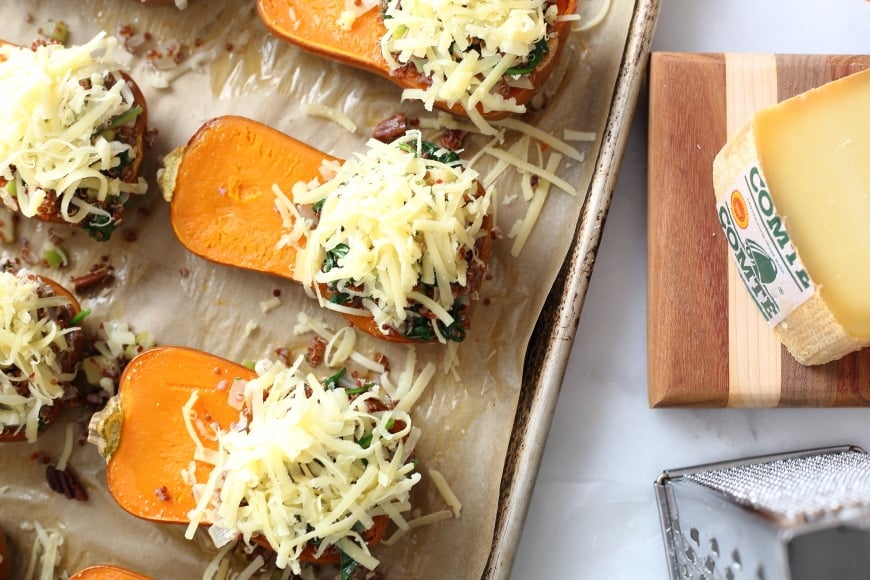 Can you use other squash varieties in this recipe?
Yes! You can swap out the honeynuts for acorn squashes. Since acorn squash isn't as sweet or rich as honeynut, I suggest adding a touch of butter and maple syrup to each squash half before stuffing.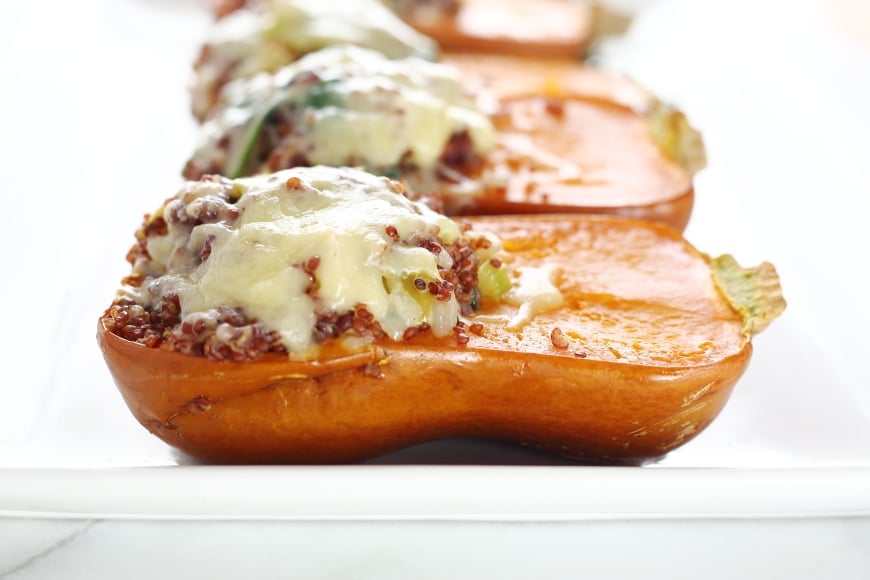 Vegan stuffed squash recipe
For a vegan version, swap out the butter for olive oil (or vegan butter) and use a vegan cheese.
Can you make the stuffed squash ahead?
Yes! The stuffed squash (without the cheese) can be refrigerated overnight. Before serving, sprinkle the squash with the cheese and bake until warmed through.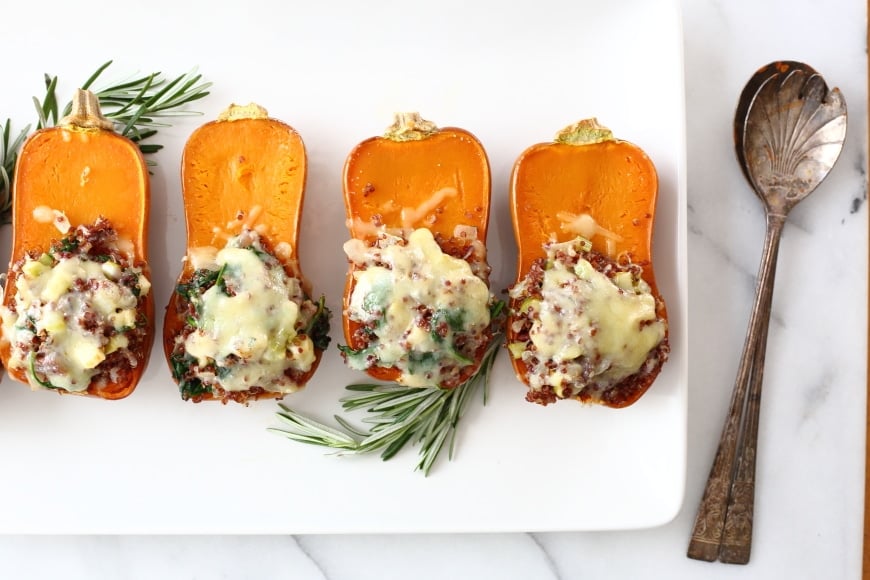 For another variation, try this Moroccan Lamb Stuffed Honeynut Squash Recipe (see below)!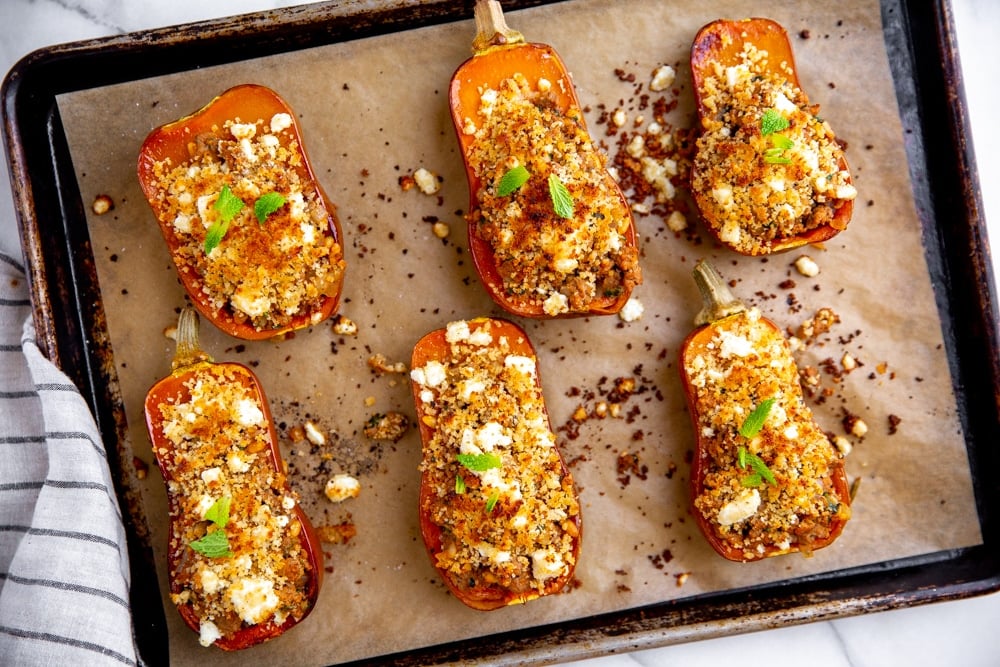 Tips for making this recipe:
*This post contains Amazon and other affiliate links to products I use and love (from which I earn income, at no cost to you). Thank you or supporting From Scratch Fast!
Other squash recipes you might like:
Watch the video!
Stay connected
I'd love to answer any of your questions and see what you're cooking!! Don't forget to rate this recipe and leave a comment below. Follow along on Instagram, Facebook, YouTube & Pinterest, and be sure to tag @fromscratchfast so that I can share your creations!
Get the recipe!
Quinoa, Apple & Spinach Stuffed Honeynut Squash
These vegetarian bombshells are a delicious main course or a stunning side dish! Honeynut squash halves are stuffed with a fragrant filling of quinoa, celery, apples, rosemary, thyme, spinach and pecans, and are capped with melted nutty Comté cheese. It's the perfect dish for fall and winter and is a beautiful addition to the holiday table. Honeynut squashes look like mini butternuts but have a sweeter, richer flesh. If you can't find them, you can use acorn squashes instead (if that's the case, I like to add a touch of butter and maple syrup as noted in the recipe below, as the flesh isn't quite as sweet as honeynuts). You'll need cooked quinoa for this recipe (see note below), which can be made ahead. *For a vegan version, swap out the butter for olive oil and use a vegan cheese.
Ingredients
4

small or 3 medium honeynut squashes or 2 acorn squashes, halved lengthwise, seeds scraped out and discarded

2

tablespoons

unsalted butter

½

medium onion, finely diced

1

celery stalk, finely diced

Salt and freshly ground black pepper

1

large garlic clove, minced

½

green apple, finely diced

1

teaspoon

finely chopped rosemary

1

teaspoon

finely chopped thyme

⅛

teaspoon

cinnamon

3

cups

baby spinach

2

cups

cooked red quinoa, see notes below

½

cup

low sodium vegetable or chicken broth

1

teaspoon

apple cider vinegar

¼

cup

coarsely chopped toasted pecans

1

cup

shredded Comté cheese (or you could use Gruyere)
Instructions
Preheat the oven to 400˚F. Line a large baking sheet with parchment paper.

Place the squash halves, cut side down, on the baking sheet. Roast until tender, 25-30 minutes for honeynut squash, or 40-50 minutes for acorn squash. Remove the pan from the oven and flip each squash over so that the cut side is facing up. Set aside (if there's a lot of liquid on the pan, transfer the squash halves to a clean parchment-lined pan). Increase the oven temperature to 550˚F.

While the squash bakes, make the filling. In a large skillet, melt the butter over medium heat. Add the onion and celery, and season with salt and pepper. Cook, stirring occasionally, until the vegetables start to soften, about 3 minutes. Add the garlic, apple, rosemary, thyme and cinnamon. Cook, stirring, until the vegetables and apples are tender, about 2-3 minutes longer. Pile in the spinach, and cook, stirring, until wilted.

Stir in the quinoa, and season with salt and pepper. Pour in the broth and cook, stirring, until mostly absorbed. Remove the skillet from the heat and add the apple cider vinegar and pecans. Season with more salt and pepper as needed.

Season the squash halves with salt and pepper (if using acorn squash, I like to dot the top of the squash with a few small pieces of butter and drizzle them with a little maple syrup, as acorn squash isn't quite as rich and sweet as honeynut). Scoop the filling into each squash cavity (an ice cream scoop works great for this), mounding it firmly. Pile the cheese over the filling.

Roast the stuffed squash in the 550˚F oven until the cheese is lightly toasted, about 4-6 minutes.
Notes
Do Ahead:
The squash can be roasted up to 8 hours in advance. Leave it at room temperature.
The stuffed squash without the cheese can sit at room temperature for up to 2 hours or can be refrigerated for up to 1 day (bring to room temperature before proceeding). Add the cheese before baking.
Tips:
You'll need to start with ¾ cup of dry quinoa to yield at least 2 cups of cooked quinoa. Rinse the quinoa well, then place it in a small saucepan with 1 ½ cups of water and a pinch of salt. Bring the water to a boil, then reduce the heat to a simmer. Cover and cook 15 minutes, or until the water is absorbed. Remove the pot from the heat and let sit 10 minutes, covered, to steam. Fluff the quinoa with a fork. Measure out 2 cups for the recipe (you'll have leftover quinoa, which you can toss is salads or use in grain bowls).
A grapefruit spoon is a great tool for scraping out the seeds of winter squashes!
Roasting the squash on parchment paper prevents sticking (I love these pre-cut sheets). You can use aluminum foil, but be sure to spray it with cooking spray or brush it with oil.
Don't miss these Moroccan Lamb Stuffed Honeynut Squashes!