Have you ever woken up from a seemingly bizarre dream thinking, "where in the world did that come from?," but realize that your subconscious was picking up on moments from real life (aha, the drug smuggling mermaid was a subliminal combination of Ella's mermaid doll with last night's episode of Orange is the New Black!). Like a weird dream, sometimes recipes are created from seemingly diverse experiences or cravings. When James asked me where I got the idea for these hazelnut peach crisps, I initially had no idea. But when I thought about it, I realized that the components had been simmering under the surface; it was just a matter of stirring them together.
We get unbelievable organic peaches every week from our farmer's market. They're grown by a short, elderly woman who's straight out of a fairy tale: long wispy hair, missing teeth and gnarled hands, surrounded by jars of hand-poured raw honey and homemade tinctures (she'd be the wise old woman living inside the tree trunk mixing magic concoctions from foraged weeds and bark). Her peaches are perfection—plump, insanely juicy and screaming PEACH! (I do admit that sometimes when I take the first bite I fear I'm going to fall into an eternal sleep). While it's somewhat blasphemous to eat them in any way except for dripping down the chin, after the fifth consecutive week of peaches my chef-y instincts began to percolate. "Hmm, what can I make with these beauties that would still let the peach flavor shine…?"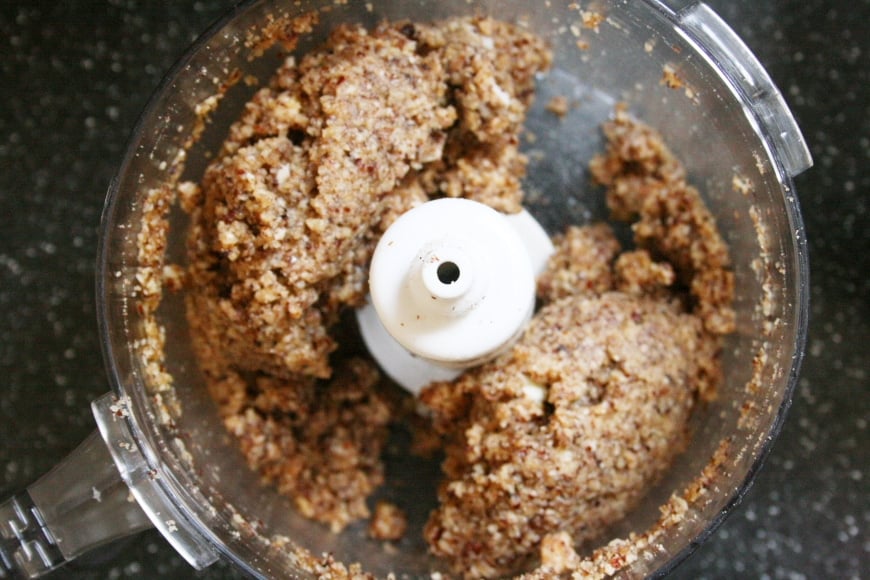 That was the first layer in the pot. Then, my friend Sam posted a recipe for gorgeous hazelnut thumbprint cookies on her blog, and I remembered that I had a bag of unopened hazelnut flour stashed in my pantry. Second layer.
After that, my friend Kelley mentioned off-hand last weekend that she was going to make a peach pie. See how food chatter sticks with me? Peaches. In. My. Brain.
And finally, I've had a wicked sweet tooth lately and was craving some sort of cake or cookie, but not really a cake or cookie, something easy, maybe something fruity, and oh look, we have four peaches left from the farmer's market, and OH that bag of hazelnut flour is in the pantry, and DING DING (or bam?)! And hence I wrote this recipe.
Whew, that was a terrifying look inside my brain.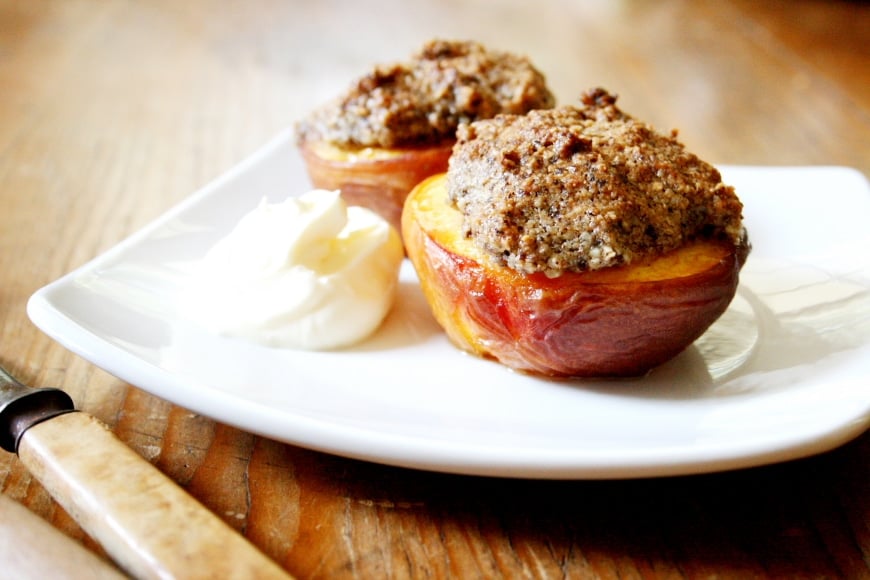 Before jumping to conclusions about my mental state, I implore you to try this recipe. Hazelnut flour gets quickly pulsed with a touch of cinnamon, brown sugar, butter and an egg to form a sticky dough that gets pressed onto peach halves. After a stint in the oven, the topping transforms into a nutty, moist yet crisp cookie-ish topping that tastes phenomenal with the juicy peaches underneath. It's a simple, easy-to-make dessert that lets the flavor of the peaches shine.

While this recipe can serve eight I warn you that you'll want to eat two. I like to serve the peaches with a dollop of crème fraiche, whipped cream or ice cream alongside. They can even be eaten out of hand over the sink.
Tonight I'm hoping for dreams of peaches. As long as they don't get mangled subconsciously with that last episode of Game of Thrones…
Hazelnut Peach Crisps (GF)
Ripe peaches get topped with a nutty, rich hazelnut topping that is spectacular with the sweetness of the peaches underneath. The topping comes together in minutes in the food processor. I like to serve these with a dollop of crème fraiche, whipped cream or ice cream alongside.
Ingredients
Butter for dish

4

large ripe peaches

, halved and pitted

1

cup

(3.5 oz) hazelnut meal/flour

¼

teaspoon

fine sea salt

½

teaspoon

cinnamon

¼

cup

(1.3 oz) lightly packed light brown sugar

4

tablespoons

(2 oz) cold butter, cut into ½ inch pieces

1

large egg

Crème fraiche

, whipped cream or ice cream for serving (optional)
Instructions
Preheat the oven to 400˚F. Butter a 9-inch (or approximate) baking dish.

Slice a thin piece off the bottom of each peach half so that it lies flat. Arrange the peaches, cut side up, in the baking dish, leaving some space in between each peach.

In the bowl of a small food processor, combine the hazelnut flour, sea salt, cinnamon and brown sugar. Pulse to combine. Add the butter and pulse until crumbly (there should still be little bits of butter). Crack in the egg and pulse until the dough comes together and sticks to the side of the bowl.

Pinch off pieces of the dough (about 2 tablespoons worth for each peach) and press the dough on top of the peaches.

Bake the peaches until they're soft and the topping is golden and firm to the touch, about 35-45 minutes, depending on how ripe your peaches are. Let the peaches cool for about 10 minutes. Serve them with a dollop of crème fraiche, whipped cream or ice cream, if you'd like.