As I've mentioned, I've been experimenting with wheat-alternative flours lately and have fallen for the nutty and unique flavor of amaranth flour. It's gluten free, high in fiber and really easy to work with. I've found it pairs marvelously with coconut oil, inspiring this vegetable tart which is brimming with caramelized onions and summer vegetables and seasoned with Jamaican-inspired spices, including cinnamon, allspice and cumin. The tart is also dairy-free and can become vegan by swapping the egg wash for olive oil. Who knew a tart could be so healthy and still utterly delicious?
This is by far the easiest crust recipe you'll ever make. The flour and coconut oil get buzzed together in the food processor until crumbly, and cold water is then added until the mixture forms a ball. Done! The coconut oil gives the dough a natural sweetness that tastes great with the nuttiness of the flour. To keep things simple, I make a rustic crostada instead of fussing with a tart pan. The bonus in making a crostada is that the bottom gets crisp and cooked through, which is important since I use only amaranth flour instead of a mix of lighter flours.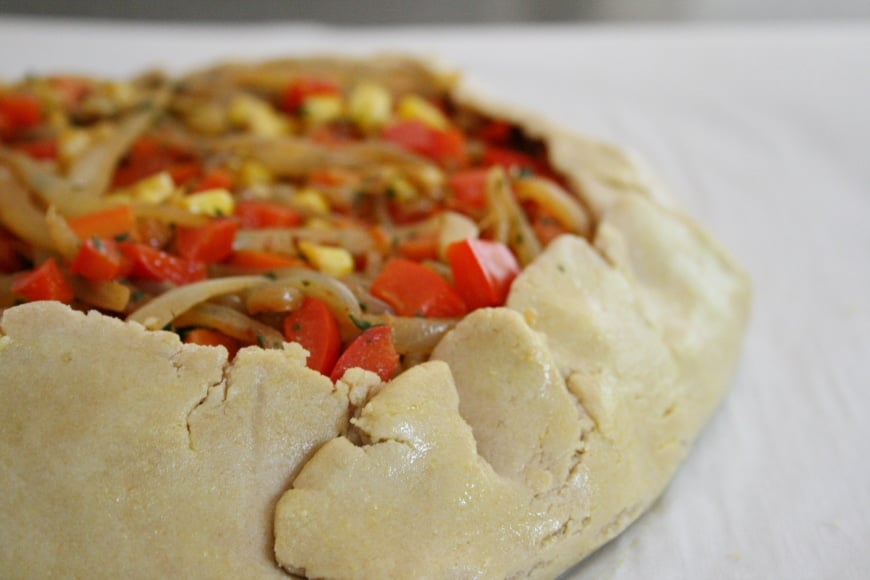 This isn't a meal to start at 6 PM with a hungry family in the ranks since it takes a bit of prep, but I promise you that none of it is hard! The trick is in doing what you can in advance. The tart dough can be made a day or two ahead of time, as can the filling. For the filling, the step that takes the longest is caramelizing the onions, so I'll often cook a large batch of onions the night before and use half for a dish that night (such as in a quinoa salad or over steak) and use the other half in the tart the following night. Just throw the cooked onions in a pan with a touch more oil and continue with the recipe.
The result is a flavorful, feel-good meal for summer.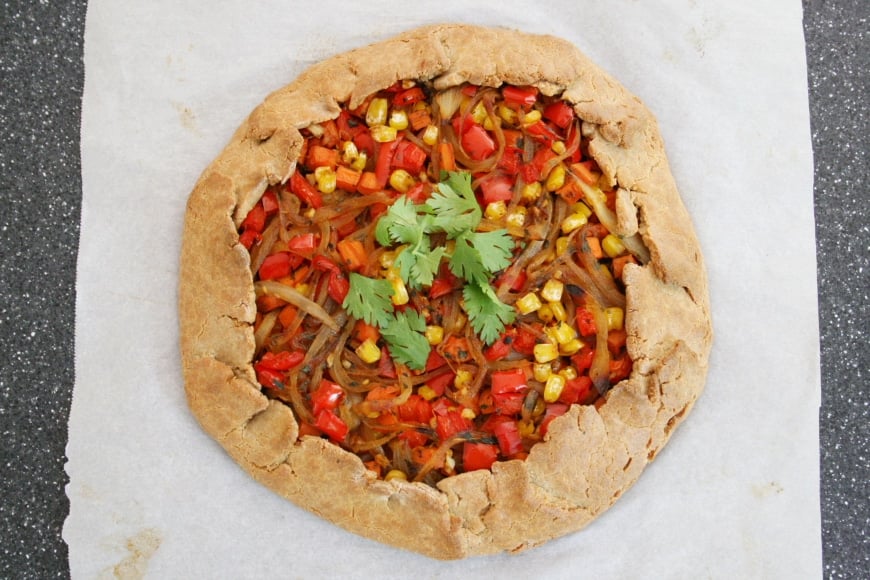 Amaranth Crust
This is the easiest tart crust you'll ever make! Make sure that your coconut oil is either at room temperature (solid) or chilled.
Ingredients
2

cups

/7oz amaranth flour

, plus additional for dusting

1

teaspoon

sea salt

4

tablespoons

organic

, unrefined (extra virgin) coconut oil (cold or at room temperature, not melted)

½

cup

ice water
Instructions
In a food processor, pulse together the amaranth flour and sea salt. Add the coconut oil and pulse until crumbly. With the blade running, drizzle in the water until the dough forms a rough ball.

Remove the dough from the bowl and place on a piece of wax paper. Press into a disk. Cover tightly with plastic wrap, and refrigerate at least 20 minutes, or up to 24 hours. Do Ahead: The dough can be refrigerated overnight. Let sit at room temperature 30 minutes before rolling.
Vegetable Tart in an Amaranth Crust
Ingredients
1

tablespoon

organic

, unrefined (extra virgin) coconut oil

1

large onion

, thinly sliced

Sea salt

2

medium carrots

, finely diced

1

red bell pepper

, finely diced

½

cup

fresh or frozen corn

2

cloves

garlic

, minced

½

teaspoon

cumin

⅛

teaspoon

ground cinnamon

⅛

teaspoon

allspice

Pinch cayenne

(optional)

Juice from a quarter lemon

2

tablespoons

coarsely chopped cilantro

, plus additional for garnish

1

egg

(for a vegan alternative use olive oil instead)
Instructions
Melt the coconut oil in a large skillet over medium-high heat. Add the onions and a pinch of salt. Stir to combine. Reduce heat to medium-low and cook, stirring occasionally, until onions are golden and soft, about 20-30 minutes. While the onions cook, prep the rest of the ingredients.

Once the onions are ready, stir in the carrots and peppers. Add 1 tablespoon water and increase the heat to medium. Cover and cook, stirring occasionally, until tender, about 6-8 minutes. Add the corn and garlic and cook, stirring, 1-2 minutes. Add the cumin, cinnamon, allspice and cayenne cook 1 minute. Remove from heat. Stir in the lemon juice and cilantro. Season to taste with sea salt. Spread the filling out on a plate and let cool (feel free to stick it in the fridge to cool it faster). Do Ahead: The filling can be refrigerated in a sealed container overnight.

Preheat the oven to 400˚F. Line a large baking sheet with parchment paper.

In a small bowl, whisk the egg with 1 teaspoon of water to make an egg wash.

Roll out the dough on a piece of wax paper, using amaranth flour for dusting as needed, to a 12-inch round. Flip onto the baking sheet and peel off the wax paper. Brush with egg wash. Spread the vegetable filling in the center, leaving a 1-2-inch border. Fold and pinch the sides of the dough over the filling to make a rustic crostada. The dough will crack a bit as you fold it; just pinch and patch it back together as needed. Brush the outside with egg wash. Do Ahead: At this point the tart can be refrigerated, uncovered, for up to 1 hour.

Bake 28-30 minutes, or until the crust is lightly golden. Sprinkle with additional cilantro before serving. The tart can be served warm or at room temperature. Do Ahead: The tart can be made up to 8 hours in advance and left at room temperature.