I don't play favorites when it comes to salads, but this grilled panzanella salad has my heart. It's a damn fine one-bowl meal in its own right, or a stunning side dish to just about anything.
What is panzanella?
Panzanella is a bread salad that's traditionally made with day-old bread, ripe tomatoes and a simple vinaigrette. The bread soaks up the juices from the tomatoes and the dressing, turning soft and succulent in the middle while staying crunchy around the edges.
Grilled panzanella salad recipe
In this version, a slew of grilled vegetables and fresh mozzarella turn the salad into a main course or hearty side dish. A zippy Italian vinaigrette brightens everything up. It's crunchy, soft, creamy and vibrant—in other words, it's one of the best salads ever!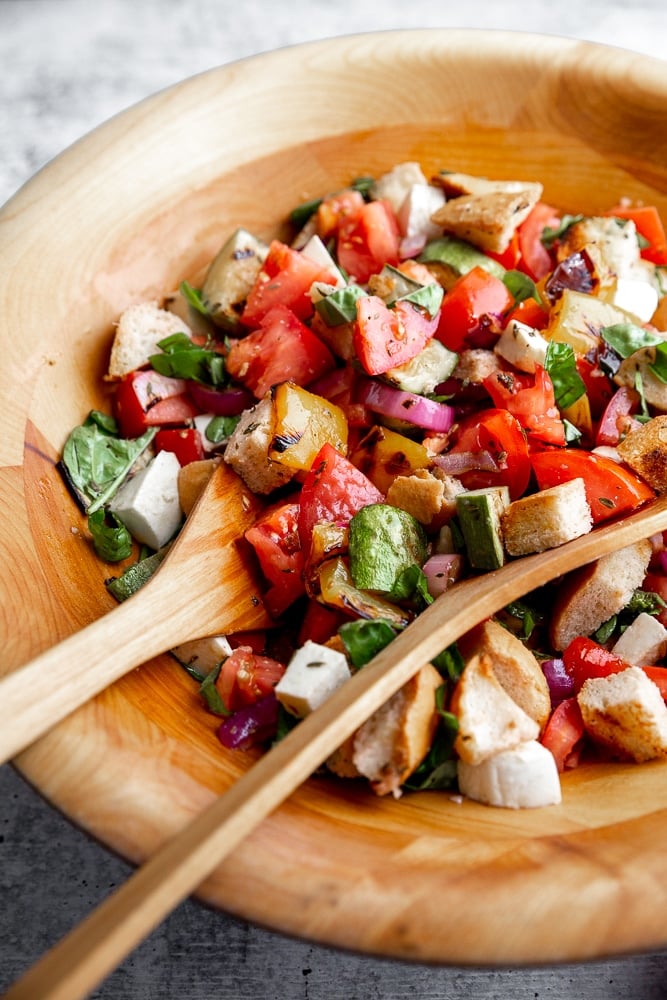 As a kid, I used to dip Wonder Bread into bottled Italian dressing as an afternoon snack (oh, to be a child of the '80's!). It's no wonder that when I first tasted panzanella salad in my early twenties, I fell fast in love. The bread—which was a much upgraded Italian loaf—had soaked up the (homemade) dressing and the juices from ripe summer tomatoes. Heaven.
Healthy panzanella salad
I've been making big panzanella salads as one-bowl dinners ever since. I now use a gluten-free baguette (you can use regular bread if you're not GF), and every version is slightly different according to what we have on hand. This one was born after I tossed in a bunch of leftover grilled vegetables. The smoky vegetables with the sweet tomatoes was a perfect match. I eventually cut back on the bread (thanks to the veggies you don't need as much), and I added fresh mozzarella cheese for protein. It's a healthy dinner that's become a staple.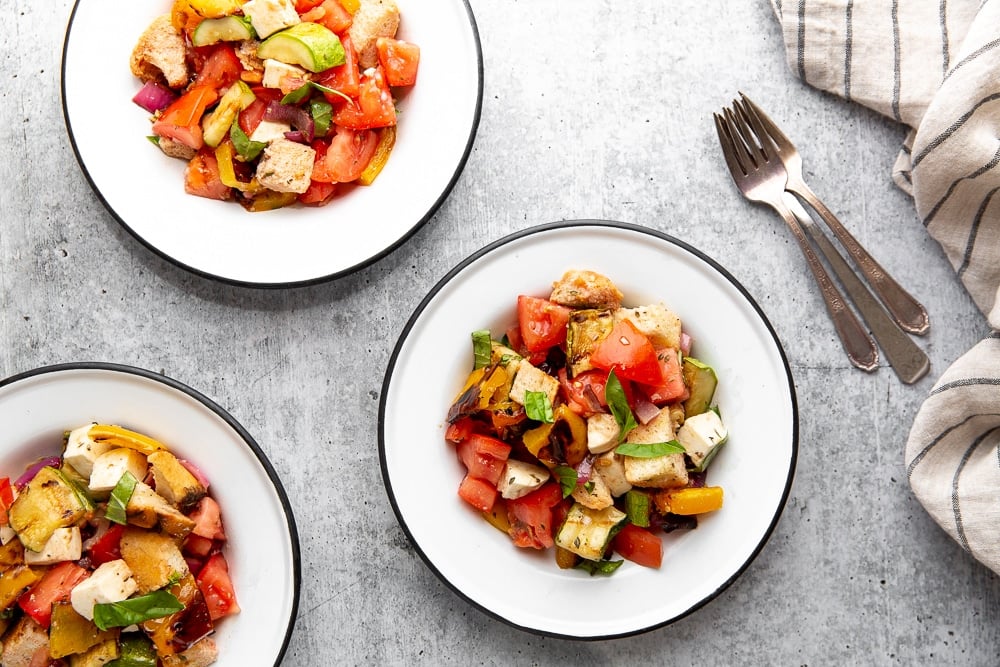 Simple panzanella salad recipe
Instead of using day-old bread in this recipe (as is traditional), the bread is grilled instead. The grill dries out the bread slightly, helping it to soak up all the flavors. The vegetables are also grilled (meaning no hot kitchen!). The cooked vegetables and bread are chopped then mixed with ripe tomatoes, mozzarella, fresh basil and a homemade dressing.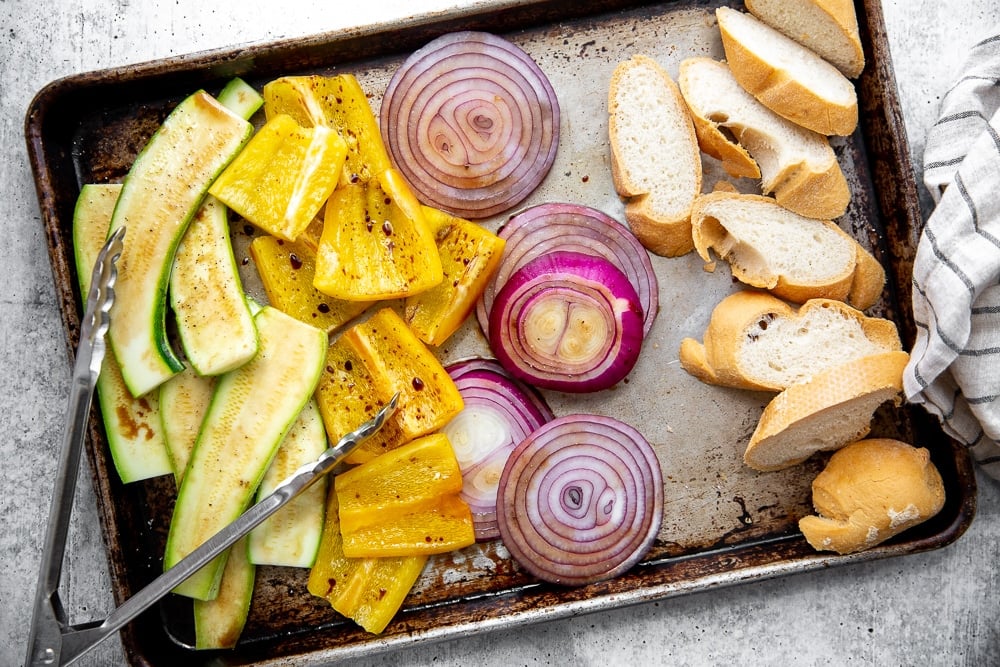 Panzanella salad dressing
Speaking of which… The dressing for this panzanella salad recipe is a bracing Italian vinaigrette made with red wine vinegar, garlic, shallot, dried oregano and an anchovy. The anchovy adds depth and complexity but you won't taste it (you can omit it for a vegetarian version). I use equal parts vinegar and olive oil so that the dressing has a bit of an edge, allowing it to cut through the richness of the bread and vegetables.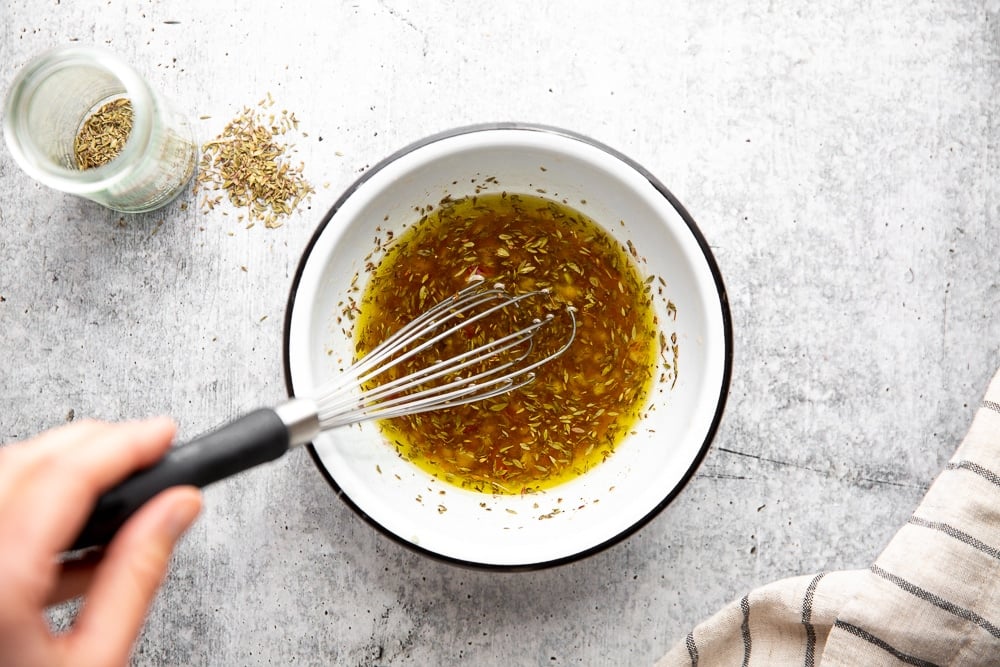 Versatile panzanella salad
You can tailor this recipe according to what you have on hand or what you like. Feel free to use other grilled vegetables, such as eggplant, mushrooms, corn or asparagus. You can also swap out the mozzarella for other forms of protein, such as grilled chicken, canned white beans, feta cheese or good quality jarred tuna. Sometimes I like to add in a handful or two of grated parmesan (in addition to the mozzarella) simply because parm makes everything better (am I right?).
How to grill vegetables for panzanella salad
In the summer we often grill off a big batch of vegetables, which we eat as a side dish or toss into salads like this. It's easy to do, and the grilled vegetables can be made a few days in advance.
What to serve with panzanella
This panzanella salad is delicious on its own as a healthy main course, but it's also a fabulous side dish to grilled fish, chicken or steak. I love to spoon it over grilled sea bass or halibut, or to pile it on top of pounded grilled chicken breasts. The salad is also perfect for potlucks, especially since it can be made ahead of time (pair it with this Avocado Chicken Salad for the ultimate picnic!).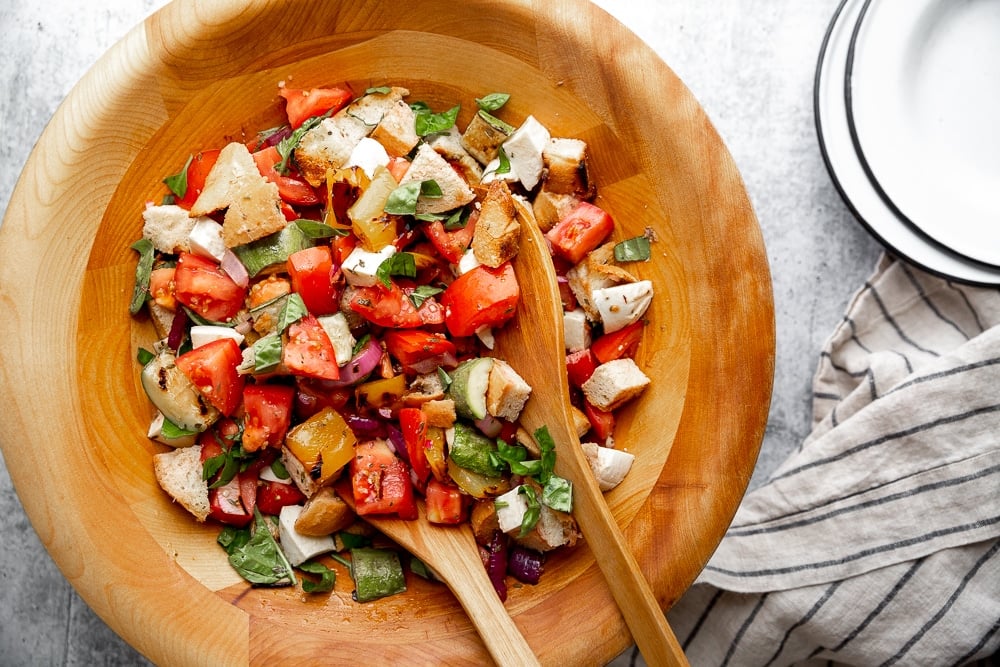 Grilled panzanella tips:
Other healthy one-bowl meals to try:
Easy summer desserts:
Get the recipe!
Healthy Grilled Panzanella Salad (gluten-free friendly!)
This grilled panzanella salad incorporates a bounty of summer vegetables into one of the BEST SALADS EVER. With creamy mozzarella, grilled bread and a garlicky red wine vinaigrette, it's a healthy meal or side dish that's packed with flavor and texture. Feel free to use other vegetables according to what you have or like (such as eggplant, mushrooms, corn or asparagus). Also, you can swap out the mozzarella for other sources of protein, such as grilled chicken, canned white beans, feta cheese or good quality jarred tuna. I often add grated parmesan as well (simply because I love it). The anchovy in the dressing adds depth and complexity to the vinaigrette, but you won't taste it. However, you can omit it for a vegetarian version.
Ingredients
Vinaigrette
¼

cup

red wine vinegar

1

large clove garlic, grated on a microplane

1

tablespoon

minced shallot (about ½ small shallot)

1

teaspoon

dried oregano

1

anchovy, rinsed and finely chopped (optional)

Salt and freshly ground pepper

¼

cup

extra virgin olive oil
Salad
2

medium zucchini, trimmed, cut lengthwise into ½-inch-thick slabs

2

medium yellow bell peppers, cored and seeded, cut into 2-inch pieces

1

medium red onion, cut into ¼-inch thick rings

2

tablespoons

extra virgin olive oil

1

tablespoon

balsamic vinegar

½

loaf Italian bread or 1 small gluten-free baguette* (see notes), cut into 1-inch thick slices

2

pounds

ripe tomatoes, cored and coarsely chopped

½

cup

coarsely chopped fresh basil

½

pound

fresh mozzarella, cut into ½-inch pieces
Instructions
Make the vinaigrette
In a small bowl, combine the red wine vinegar, grated garlic, shallot, oregano and anchovy (if using). Season with salt and pepper. Whisk in the olive oil. Do Ahead: The vinaigrette can be refrigerated for up to 1 week
Grill the veggies and assemble the salad
Preheat a grill or grill pan to medium-high heat.

Put the zucchini, peppers and red onion slices on a large baking sheet. Drizzle with the olive oil and the balsamic vinegar. Season with salt and pepper. Toss gently to coat. Grill the vegetables, flipping once, until they're crisp-tender with grill marks on both sides, about 2 minutes per side for the zucchini and 3-4 minutes per side for the onion and peppers. Transfer the vegetables back to the baking sheet, and let cool. Do Ahead: The grilled vegetables can refrigerated for up 4 days before using.

Grill the slices of bread until toasted with grill marks on both sides, about 1-3 minutes total.

Cut the vegetables and bread into 1-inch pieces, and place them in a large bowl. Add the tomatoes, basil, and mozzarella. Pour the dressing over the salad and toss to combine. Season with salt and pepper to taste. Let the salad sit at room temperature for 10 minutes to allow the flavors to meld. Before serving, toss the salad and taste it again—add more salt and pepper if needed, and if the salad tastes a bit flat, drizzle in a bit more red wine vinegar (the flavors will mute as it rests). Enjoy!
Notes
Do Ahead: The salad can be assembled (without the dressing) up to 1 hour in advance. Pile the vegetables, tomatoes and cheese into the bottom of a salad bowl and sprinkle the bread over top. 10-20 minutes before serving, toss the salad with the dressing. Leftovers make for a delicious lunch the next day!
Tips:
If you don't have an outdoor grill, you can use a grill pan like this. Or, you can roast the vegetables instead. Chop the vegetables into 1-inch pieces, toss them on a large baking sheet with the a bit of olive oil and balsamic vinegar, and roast them at 400 degrees until tender, about 20 minutes.
I use one small Udi's Gluten-Free French Baguette (half a package) for this recipe, but you can half a loaf of Italian bread or half of a regular baguette instead. Instead of grilling the bread, you can toast it in a 400 degree F oven until crisp, about 5-10 minutes.
FAQ
Is panzanella the same as bread salad?
Yes! Panzanella is an Italian bread salad traditionally made with day-old bread and tomatoes.
What vegetables are best in a grilled panzanella salad?
Zucchini, bell peppers and onions work well in a grilled panzanella salad, but you can use any other grilled vegetables you like or have. Other good options include: grilled eggplant, asparagus and/or summer squash.
What tomatoes should you use in panzanella?
Whatever is ripest! In the height of summer go for a mix of juicy heirloom tomatoes. If vine tomatoes aren't in season, mixed sweet cherry tomatoes are a good bet.
*This post contains Amazon and other affiliate links to products I use and love (from which I earn income, at no cost to you). Thank you for supporting From Scratch Fast!
I'd love to answer any of your questions and see what you're cooking!! Don't forget to rate this recipe and leave a comment below. Follow along on Instagram, Facebook, YouTube & Pinterest, and be sure to tag @fromscratchfast so that I can share your creations!