This (healthy!) gluten free strawberry crisp is one of my favorite desserts, especially come spring and summer when fresh berries start hitting our market. It has an irresistible oat, pecan and vanilla topping that pairs perfectly with the juicy berries, and it's easy enough to whip up for any occasion. Top it with a dollop of whipped cream or ice cream, and ahhhhhhh (yeah, that's me singing).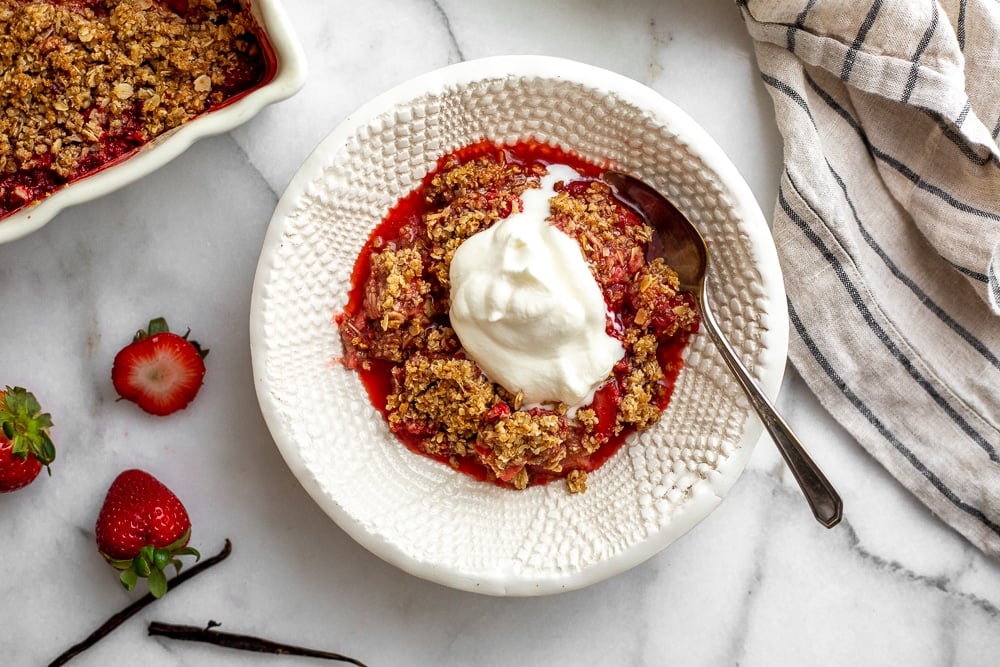 Gluten free strawberry crumble
We wait all year for strawberry season here in the Hudson Valley. It's one of the first signs that warm weather is here to stay (at least for a few months!). While we eat as many berries as we can straight out of hand (Ella and Juni can easily polish off a quart in a day or two), I also love to incorporate strawberries into desserts. I roast them with rhubarb as a topping for these paleo shortcakes, layer them over this gorgeous berry tart and freeze them for these smoothie bowls.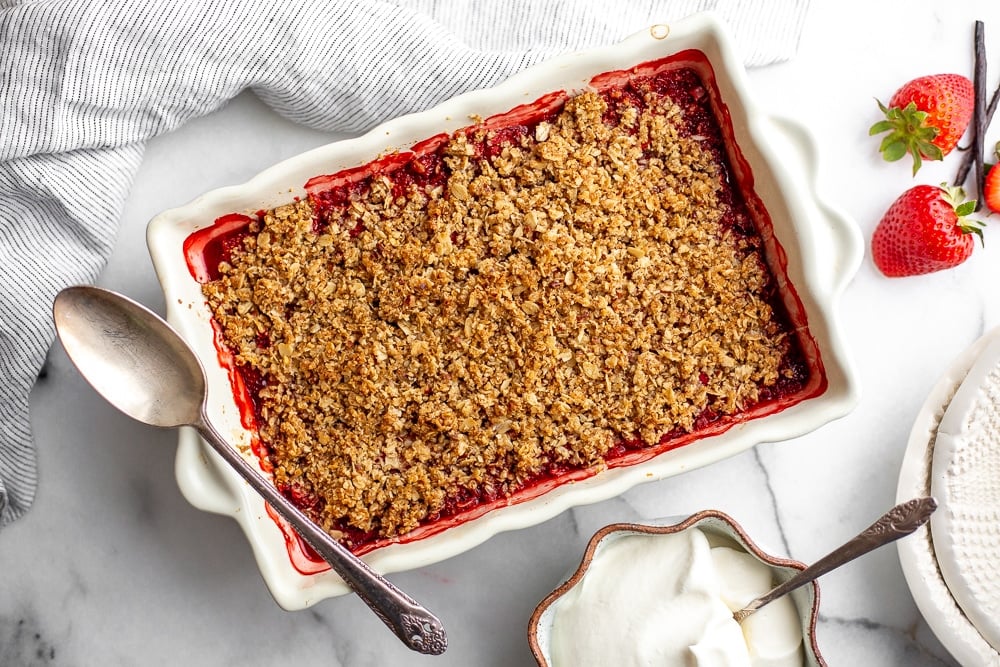 But one of my favorite ways to eat them is in this healthy gluten free crisp. It's simple but stunning, as fitting for a Father's Day dessert or Fourth of July potluck as it is for a Tuesday night treat (or, I'm not gonna lie, Saturday morning breakfast).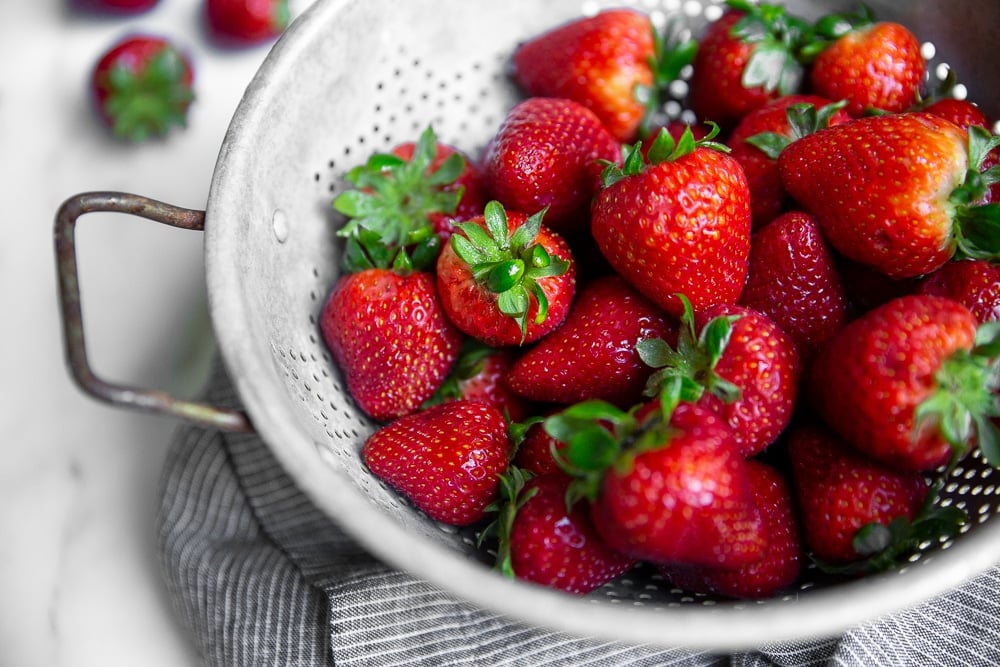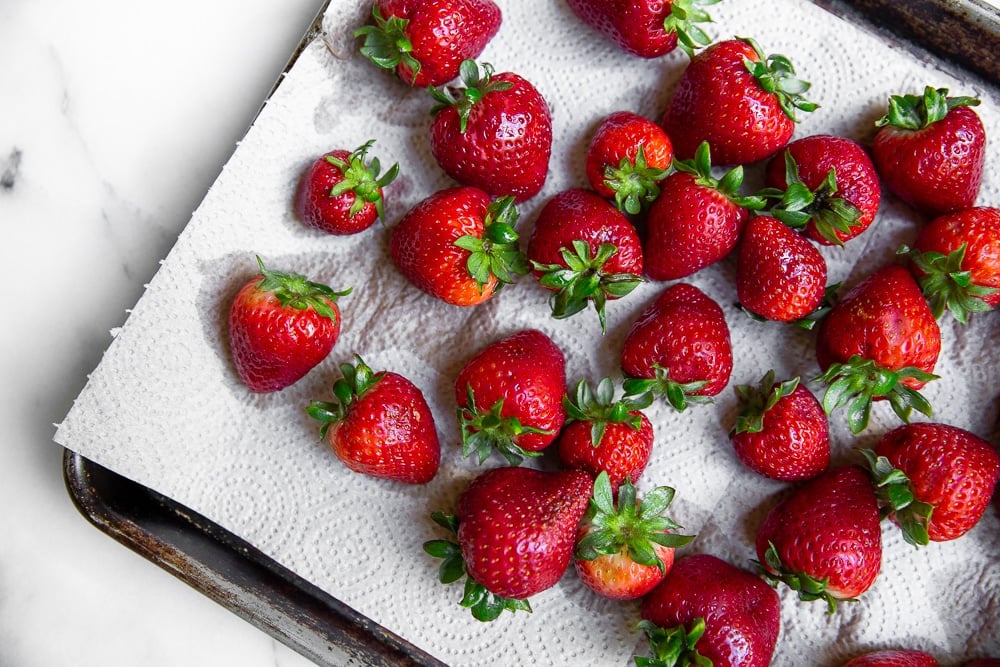 An easy gluten free crisp
I adapted this recipe from my Apple-Pecan Crisp. I'm slightly obsessed with the crunchy oat-and-nut topping, which is made right in a food processor with whole oats, spices, pecans and butter (see below for a vegan version). It makes everything it touches ten times more delicious.
Here the naturally gluten-free topping gets sprinkled over vanilla- and cardamom-flecked strawberries. The cardamom is optional but elevates the flavors without being overly powerful. The crisp gets baked until the berries are bubbling and the topping is crispy and nutty. Topped with Cardamom Whipped Cream or ice cream, I promise it will make you very, very happy.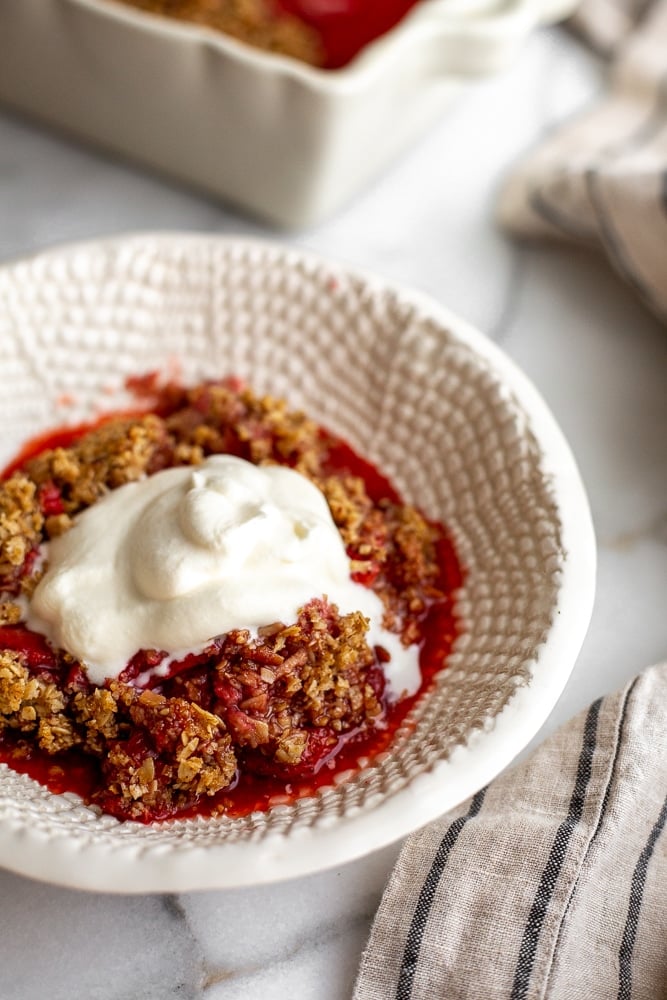 Vegan Strawberry Crisp
This strawberry crisp can easily be made vegan by using coconut oil in place of the butter (in fact, the coconut oil lends a subtle but delicious flavor). Instead of topping the crisp with whipped cream or ice cream, use a whipped coconut cream or a vegan coconut ice cream instead. It's a healthy, crowd-pleasing dessert that will please everybody at the table!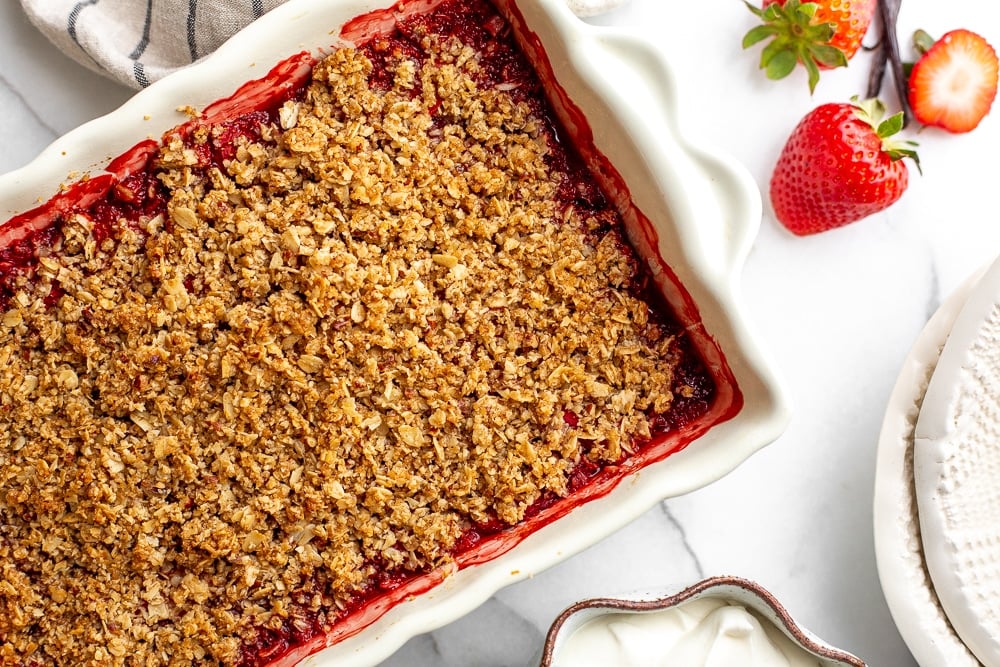 How do you make a gluten-free crisp?
The gluten-free crisp topping gets made right in a mini food processor. Whole oats are ground to a flour, which binds the crisp together. It's flavored with cinnamon, nutmeg, salt, pecans (or you could use almond or walnuts) and brown sugar (or you could use coconut sugar). More whole oats are added at the end for texture.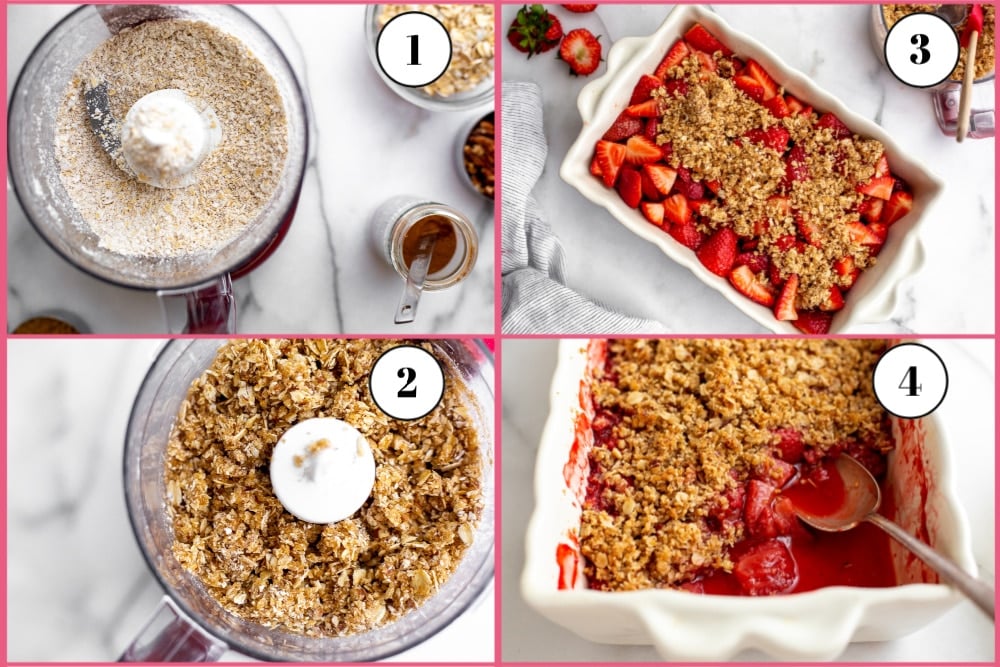 You'll need 2 pounds (2 quarts) of strawberries for this crisp. Always wash fresh berries right before using them (I spread them out on paper towels to dry). I flavor the berries with fresh vanilla bean seeds, which lend an incredible aroma, although you could use a teaspoon of vanilla extract instead. I also add a touch of cardamom, which lends sweet complexity (try it!). A touch of cornstarch thickens the juices as the crisp bakes.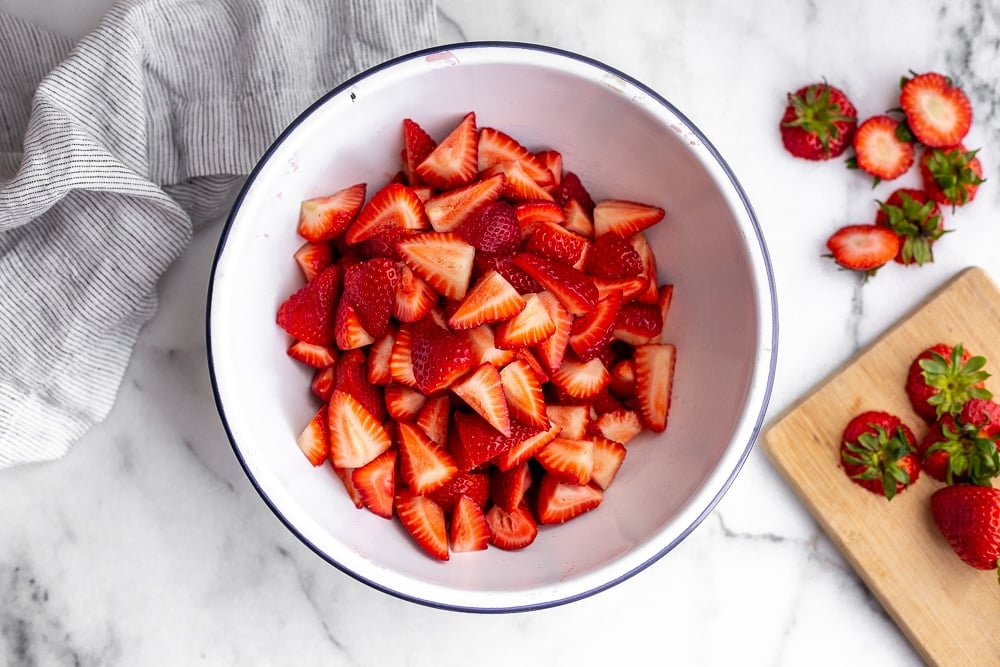 You can cook the crisp in an 8x8-inch baking dish, or any similarly sized dish. Bake it in the upper third of the oven, which will help brown the topping.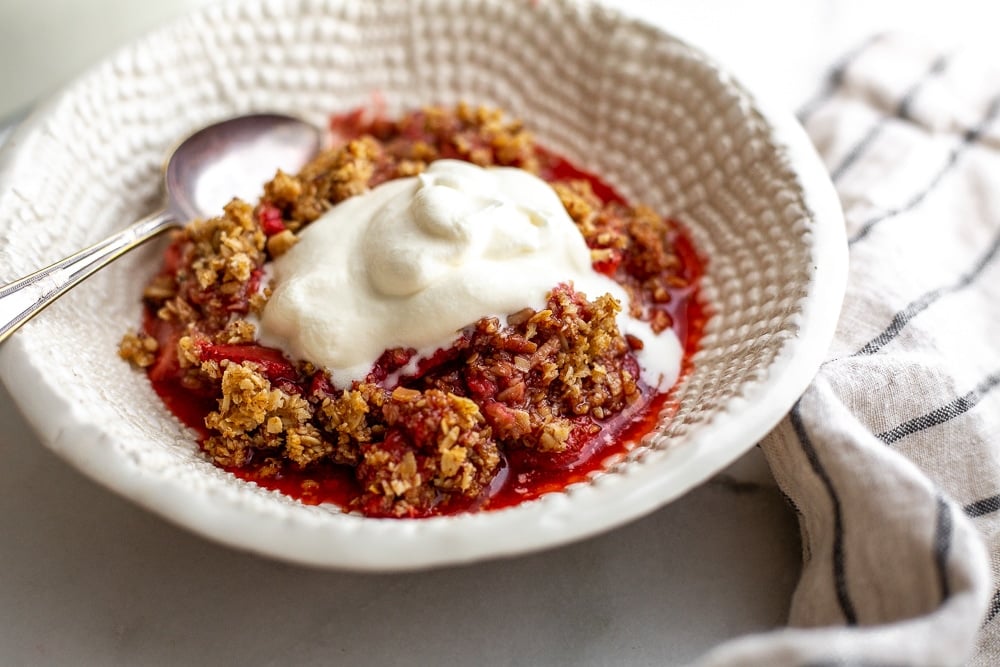 For another summertime variation, don't miss my Cardamom Peach Crisp recipe (see below)!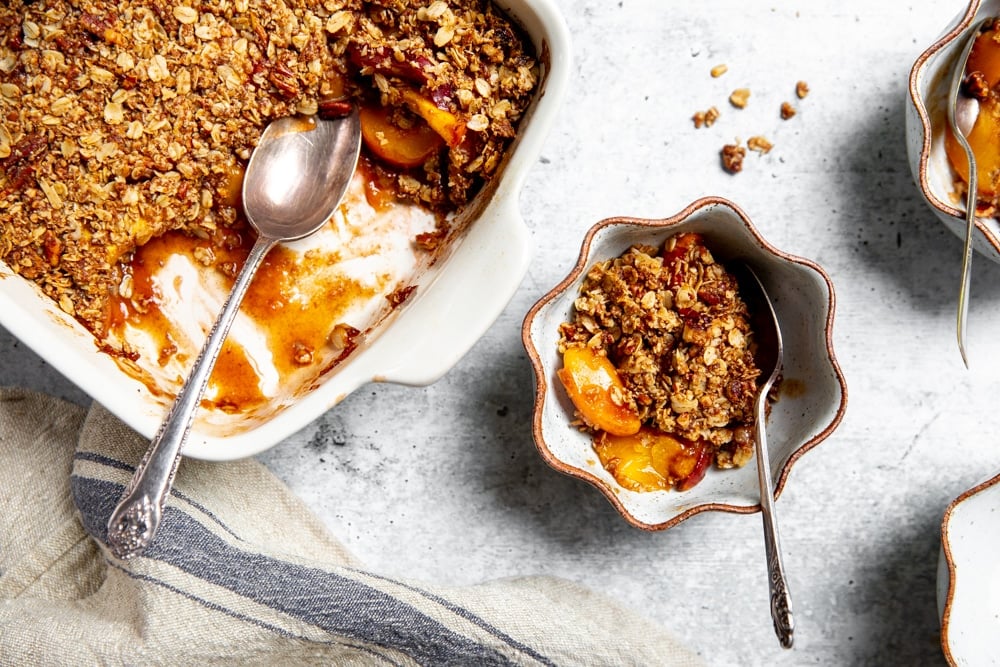 Other desserts to try:
Watch the video!
Get the Recipe!
Gluten-Free Strawberry Crisp (Vegan option)
This is an easy but absolutely irresistible strawberry crisp! The naturally gluten-free topping is made right in the food processor with whole oats, spices, nuts, and butter or coconut oil (for a vegan version). It gets sprinkled on top of vanilla-laced strawberries. A touch of cardamom is optional, but it gives the crisp a beautiful aroma (try it!). Feel free to swap out the strawberries for other summer berries (or do a mix of several!), such as blueberries, raspberries and/or blackberries. It's important to let the crisp cool slightly before serving to allow the juices to thicken. Serve it with a dollop of whipped cream (or coconut cream) or ice cream for a dessert that will make you swoon! The crisp also makes for a fabulous breakfast when topped with plain yogurt. Don't miss the video above!
Ingredients
Crisp topping
1

cup

old-fashioned rolled oats, divided

¼

cup

packed light brown sugar

¼

teaspoon

ground cinnamon

Pinch

freshly ground nutmeg

⅛

teaspoon

kosher salt

⅓

cup

pecans (or walnuts, almonds or hazelnuts)

4

tablespoons

unsalted butter or coconut oil, melted
Strawberry filling
2

pounds

strawberries, hulled and quartered (or halved if small)

½

vanilla bean or 1 teaspoon vanilla extract

¼

teaspoon

ground cardamom (optional)

3

tablespoons

packed light brown sugar

2

tablespoons

cornstarch
For serving
Whipped cream or vanilla ice cream (optional)
Instructions
Make the crisp topping
Preheat the oven to 375˚F (190˚C) and position a rack in the upper third. Butter an 8-by-8-inch or similar sized baking dish (or spray it with cooking spray).

Put ½ cup of the oats in a mini food processor, and process to the texture of a coarse flour. Add the brown sugar, cinnamon, nutmeg and salt. Process to combine. Add the pecans and pulse until coarsely chopped. Add the remaining ½ cup of oats and pulse 2-3 times to combine.

Pour the melted butter over the mixture in the processor. Pulse until the butter is distributed and the mixture looks damp, about 2-3 pulses.
Make the filling
Place the strawberries in a large bowl. Cut the vanilla bean in half lengthwise and scrape out the seeds using the back of a knife. Add the vanilla seeds to the bowl with the strawberries, along with the cardamom (if using), brown sugar and cornstarch. Toss well to combine.

Transfer the strawberries to the prepared dish and sprinkle the crisp topping evenly over top. Bake in the upper third of the oven until the berries are bubbling and the topping is golden brown, about 40 minutes. Let cool at least 10 minutes before serving.
Serve
Serve the strawberry crisp warm or at room temperature, topped with whipped cream or vanilla ice cream, if you wish.
Notes
Do Ahead: The crisp can be stored at room temperature for up to 6 hours. Store any leftovers in the fridge for breakfast!
Tips:
For a vegan version, use coconut oil in the topping instead of butter, and serve the crisp on its own or with a coconut-based or other dairy-free ice cream.
If you don't have a mini food processor you can use a regular sized food processor for the topping.
You can use any nuts you like in the topping, such as pecans, almonds, hazelnuts or walnuts.
Feel free to use other summer berries, or a mix!
Let the crisp cool slightly before serving to allow the juices to thicken.
*This post contains affiliate links, which means that if you purchase a product through a link you clicked on here, I receive a portion of the sale (at no cost to you). Thank you for supporting FromScratchFast!!
Stay Connected!
I'd love to hear what you're cooking, and I'm happy to answer any questions! Be sure to tag any photos so that I can share! @FromScratchFast