These 4-ingredient savory chickpea waffles are insanely easy and are naturally gluten-free and paleo!
These chickpea waffles are light and crispy, and are irresistible as a side dish or as the base for savory toppings.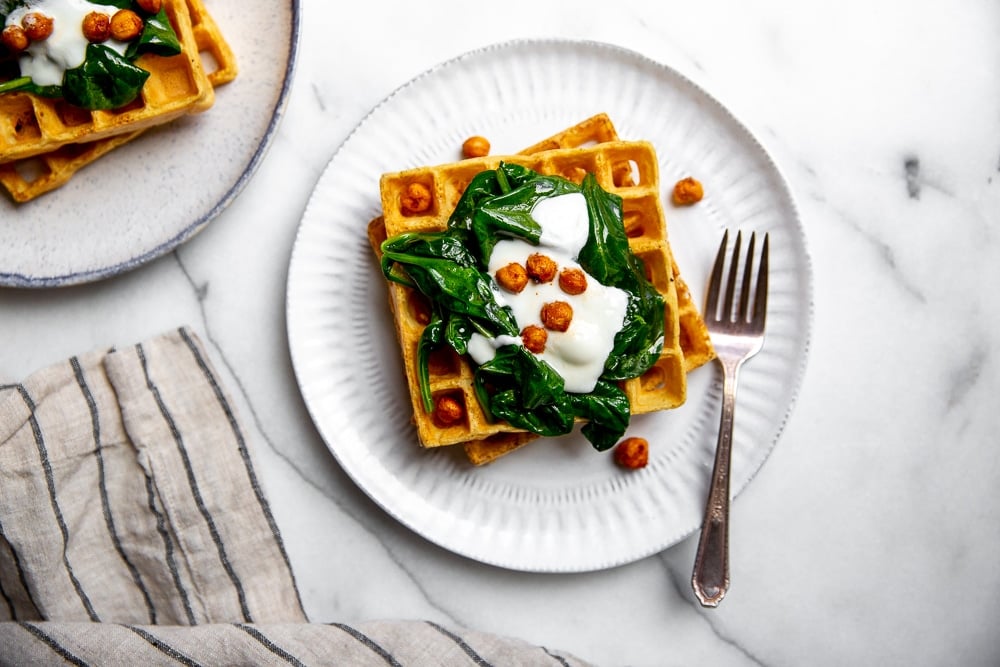 My family is waffle obsessed. James is the breakfast maker in our house, and for the past couple of years, Ella has asked for waffles every single Sunday. Not just any waffles, but the waffles from the Joy of Cooking, which, I'm told, are perfectly buttery and crispy. How would I know? The suckers are gluten-filled, and even though we've tried to make them gluten-free, the kids can taste the difference and beg (i.e. whine like hell) for the original. We usually give in, and I'm left pulling something out of the freezer if I'm lucky, or resorting to a bowl of granola or a smoothie bowl.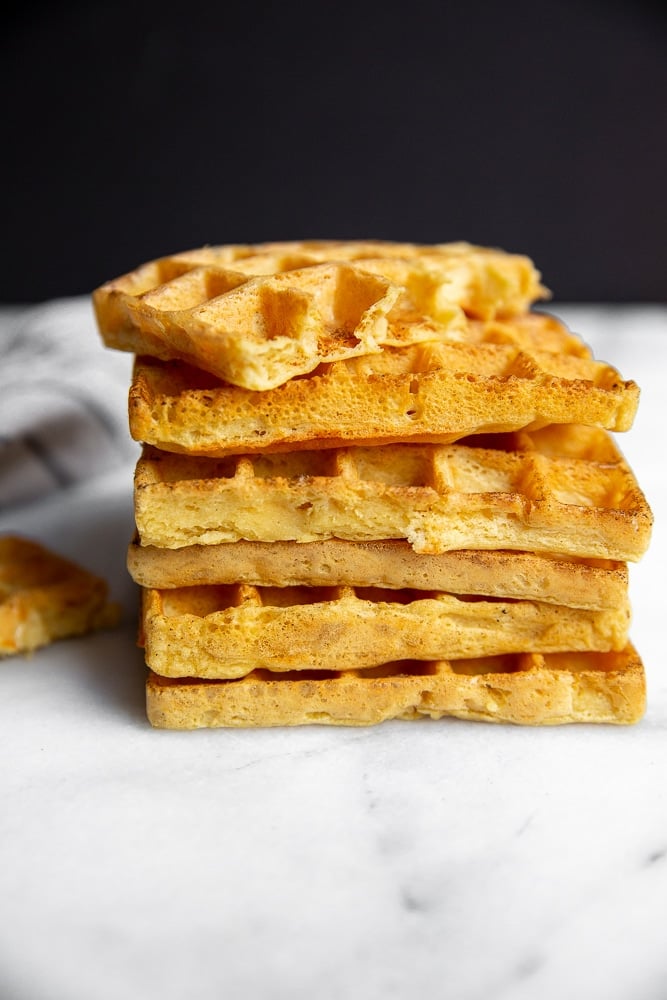 Chickpea flour makes for light and fluffy waffles
I will give them breakfast, but there's no way they're getting dinner too—I've reclaimed my waffle prerogative at supper. Instead of the sweet waffles of morning, in the evening I want something savory and satisfying. Enter chickpea waffles. I first started making chickpea socca, which is a thin, crispy flatbread made with water, olive oil and chickpea flour (also called garbanzo bean flour, which is nothing more than ground, dried chickpeas), a couple of years ago. We'd enjoy it as an appetizer, paired with a crisp glass of wine or a cocktail. Then I became obsessed with these chickpea fries (panelle) which, trust me, will change your life. From there I came across a recipe for socca waffles and became instantly hooked.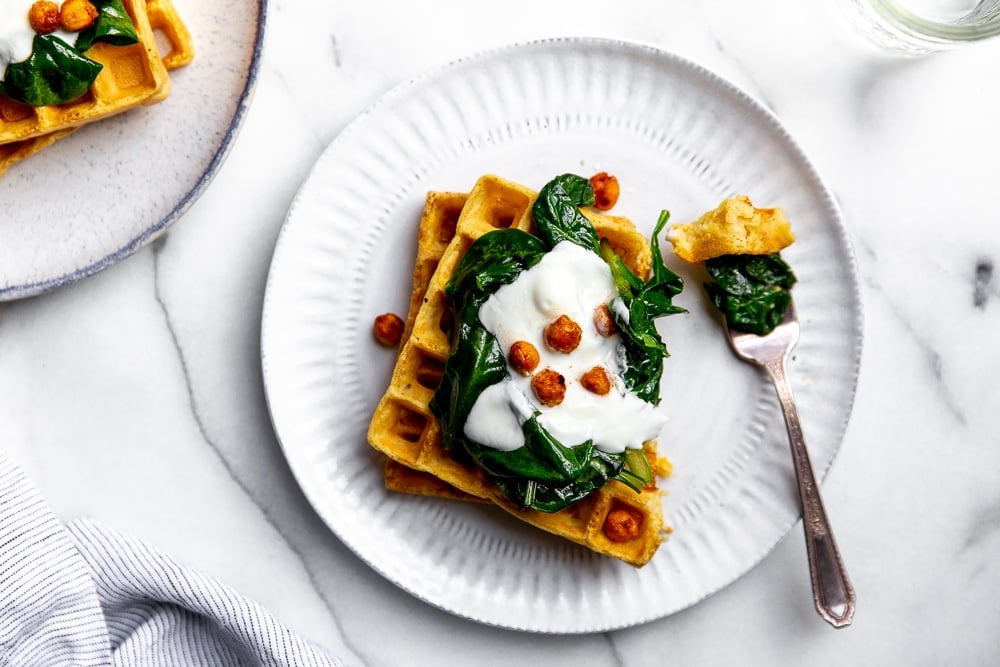 Easy garbanzo flour waffles
These are the easiest waffles you will ever make, consisting of a mere 4 ingredients, with a batter that comes together in seconds. While it's definitely a fast recipe, it does require a bit of advance planning, as the batter needs to sit for an hour to allow the flour to absorb the liquid. However, it can sit out all day, so I whisk up the batter in the morning after breakfast; leave it on the counter; and it's ready for me come dinnertime.
How do you serve chickpea waffles?
While it's hard to resist eating the chickpea waffles on their own straight out of the waffle maker, I prefer to turn them into a meal by piling them with savory toppings such as sautéed vegetables, fried or poached eggs (bacon optional), or even a mix of leftovers. If I'm short on time, one of my favorite variations is to top the waffles with sautéed spinach, a dollop of plain yogurt, some flaky sea salt and a smattering of chopped pistachios. If I have more time, I'll gussy things up with a mix of sautéed vegetables (any will do, but right now I'm into leeks, asparagus and peas), a drizzle of mint-flecked yogurt, and roasted chickpeas. The sweet-and-smoky chickpeas (recipe below!) are a staple around here, and we eat them on salads or as a snack straight off the pan. They're delicious with the waffles, and I get a strange satisfaction out of the fact that I'm serving chickpeas two ways (probably because it allows me to say, "it's double the fun!" much to the eye rolling of my family).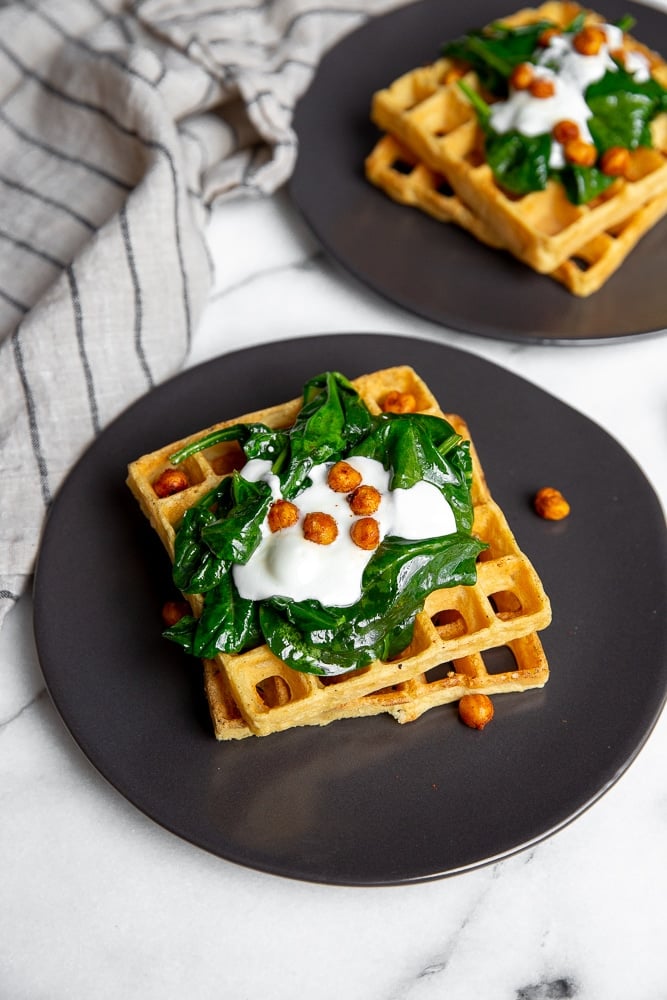 So what if I can't have waffles at breakfast? I like them better at dinner anyway.
How do you make chickpea waffles?
The batter couldn't be easier (it's just chickpea flour, water, olive oil, salt and an optional pinch of sugar!), but it needs time to rest—at least 1 hour or longer. I usually whisk it together in the morning so that it's ready and waiting for me come lunch or dinnertime.
I prefer cooking with Diamond Crystal Kosher Salt, which has a fine texture and mild flavor. If you use Morton Kosher Salt, be sure to cut back on the quantity as indicated in the recipe, otherwise the waffles will be to salty.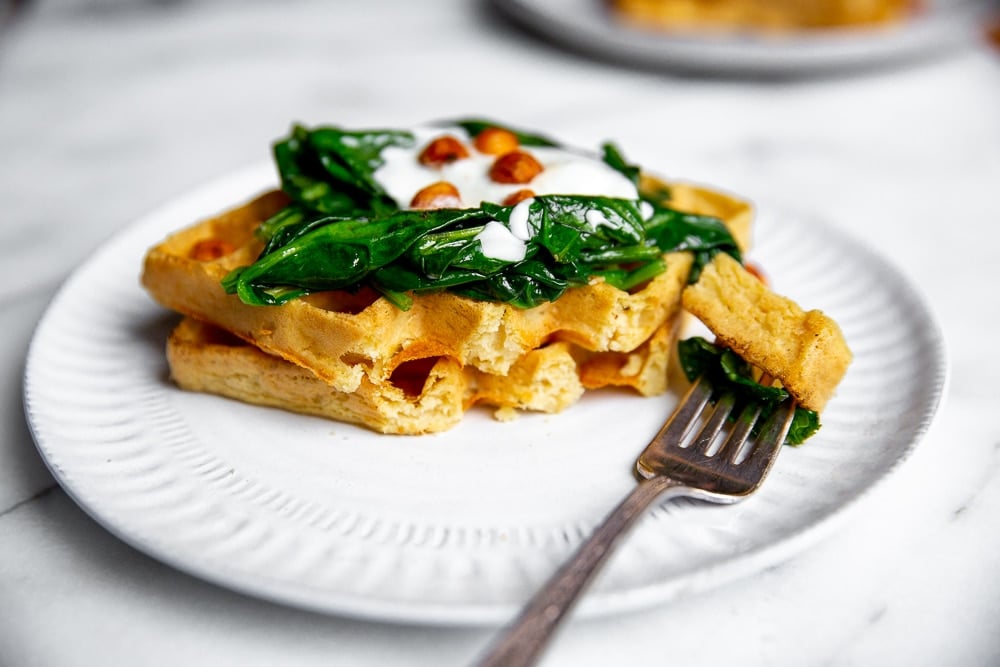 Be sure to preheat your waffle iron and to spray it with cooking spray (or brush it lightly with oil) before adding the batter. You can use a regular waffle iron or a Belgian waffle iron to make these waffles. I LOVE this Cuisinart Belgian Waffle Maker, since it makes 4 waffles at once (no waiting around for individual waffles to cook!).
The waffles are the crunchiest straight out of the waffle maker. You can also make them ahead and let them cool, then freeze them in an airtight container or ziptop bag. Reheat the waffles in a toaster oven until crisp (they're a perfect lunch or easy side dish!).
Watch the video!
Get the recipe!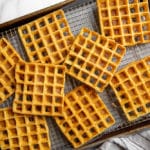 Chickpea Waffles (Gluten-Free, Vegan)
These crispy chickpea waffles are a delicious side dish or base for savory toppings! It's definitely a fast recipe (the waffle batter uses only 4 ingredients and takes less than 5 minutes to make), but it needs to sit at room temperature for at least an hour (or up to 9 hours). I usually whisk the batter together in the morning after breakfast—that way it's waiting for me come dinnertime. The sugar is optional but helps balance the flavors. The crispy, nutty waffles are awesome on their own, or they can be turned into a full meal by topping them with things such as grilled, roasted or sautéed vegetables and/or eggs. One of my favorite ways to eat them is with sautéed spinach, a dollop of plain yogurt, and a sprinkle of roasted chickpeas (get the roasted chickpeas recipe below!). This recipe is adapted from Nicholas Day's socca waffles on Food 52.
Ingredients
2

cups

(7oz/200g) chickpea flour (also called garbanzo bean flour)

2

cups

water

2

tablespoons

extra virgin olive oil, plus more for waffle iron

1 ½

teaspoons

Diamond Crystal kosher salt (1 teaspoon if using Morton brand kosher salt)

¼

teaspoon

sugar, optional
Instructions
In a large bowl, whisk together the chickpea flour, water, olive oil, salt and sugar (if using) until smooth (the batter will be quite thin). Cover and let sit at room temperature at least 1 hour, or up to 9 hours. Do Ahead: The batter can be made up to 9 hours in advance. Store at room temperature.

Preheat a waffle iron to medium-high.

Brush the waffle iron with a bit of olive oil or spray it with cooking spray. Working in batches, cook the waffles until golden and crisp. Serve immediately. Do Ahead: The waffles can be kept warm in a 200˚F oven for 15 minutes. Once cooled, the waffles can be stored between layers of parchment or wax paper and frozen for up to 2 months. Reheat in a toaster oven.
Roasted Chickpeas
These roasted chickpeas are awesome on their own as a snack, or you can sprinkle them over salads or chickpea waffles! Be sure to pat the chickpeas dry before roasting to help them crisp up.
Ingredients
1

15-oz can

chickpeas, drained, rinsed and patted dry with paper towels

½

teaspoon

smoked paprika

½

teaspoon

granulated garlic (or garlic powder)

¼

teaspoon

sugar

Salt and freshly ground black pepper

1

tablespoon

extra virgin olive oil
Instructions
Preheat the oven to 450˚Line a baking sheet with parchment paper.

Spread the chickpeas on the baking sheet and sprinkle with the smoked paprika, granulated garlic and sugar. Season with salt and pepper. Drizzle with the olive oil, and toss well to coat. Roast 15 minutes, shaking the pan twice during cooking, or until the chickpeas are crisp and are starting to split. As soon as they come out of the oven, season them with more salt and pepper. Do Ahead: The roasted chickpeas can be made up to 2 hours in advance. Store uncovered at room temperature.
*This post contains affiliate links, which means that if you purchase a product through a link you clicked on here, I receive a portion of the sale (at no cost to you). Thank you for supporting FromScratchFast!!
Stay Connected!
I'd love to hear what you're cooking, and I'm happy to answer any questions! Be sure to tag any photos so that I can share! @FromScratchFast