Having a batch of these chickpea flatbreads in the fridge will become your new lunchtime savior! The healthy flatbreads are a cinch to make using chickpea flour and spinach, and they have a deliciously savory flavor and tender texture. You can eat them on their own, or top them with a quick buttermilk Greek salad for a DELICIOUS meal. (Watch the video!)
Chickpea flatbread
Like so many good ideas in my life, this recipe was inspired by my good friend Jess (who also helped spawn this awesome pasta recipe and my favorite chilaquiles recipe). We were chatting a few months ago about life, kids and food (it always comes back to food), and she mentioned that she had been making socca wraps for lunch, which she'd fill with a quick Greek salad. BRILLIANT!
What is socca?
Socca is a quick and easy flatbread made with chickpea flour, water and olive oil. While we often make these chickpea waffles for dinner, I had never thought to transform the batter into wraps.
Chickpea wraps in the Vitamix
I started tinkering with my go-to batter, slipping in some spinach and fresh lemon juice for added nutrition and flavor. Everything goes right into the Vitamix or blender, and is then cooked like crepes in a skillet. It's the easiest (and arguably healthiest) flatbread you'll ever make!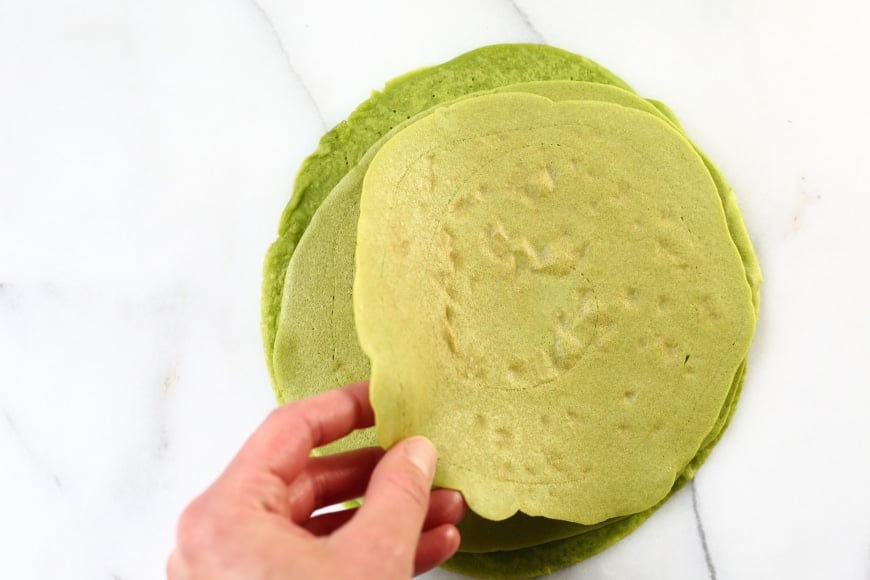 How to serve chickpea wraps
I take Jess's lead and pile the breads with avocado, diced tomatoes and cucumbers, with a smattering of arugula and feta. A creamy buttermilk herb dressing ties everything together (for a vegan version, omit the feta, and drizzle the salad with your favorite vinaigrette).
Buttermilk Greek salad
That buttermilk dressing, by the way, is from my first cookbook, and it converted Ella into a solid salad lover years ago. The first time she ate it she refused to eat dinner until I served her more salad. If you were to know my then vegetable-adverse little girl, you would understand how miraculous this dressing is. You can make the dressing in a Vitamix blending cup or mini food processor.
Can you make the wraps ahead?
Yes! While the chickpea flatbreads are the most pliant when just cooked, you can refrigerate them for up to 3 days (they will get a bit more delicate but will still taste delicious). I love to tear off pieces off the bread and use them to grab the salad, much like you'd eat Indian food with naan bread (because eating with your hands always makes food taste better!).
What you'll need for this recipe:
Nonstick skillet: I've said it before and I'll say it again, but I'm in love with my Scanpan. It's the best nonstick skillet out there, and it's made without Teflon, which is a huge plus for the environment and our health.
Vitamix or blender: I use my Vitamix almost daily for smoothies, batters and soups. Their new blending cups fit on the Ascent base and are perfect for single-serve smoothies and dressings.
Small offset spatula: A small offset spatula is super handy for loosening the flatbread from the pan before flipping it (as well as for frosting cupcakes, transferring cookies and a slew of other random tasks!).
Other Vitamix recipes to try:
*Thank you to Vitamix for sponsoring this post! I was compensated for this post, but all opinions and recipes are my own and are not endorsed by Vitamix.
Watch the Video!!
Get the recipe!
Green Chickpea Flatbreads with Buttermilk Greek Salad (Gluten-Free, Vegan Variation)
These are the easiest flatbreads ever, made simply with chickpea flour, water, spinach, lemon juice, olive oil and seasonings. The batter gets made right in the Vitamix or blender and is then cooked like crepes in a skillet. I love to pile the flatbreads with a quick Greek-style salad of tomatoes, cucumber, avocado, feta and a creamy buttermilk herb dressing, but you could top them with any seasonal vegetables or dressings you'd like. While you can eat the chickpea flatbreads like wraps if you serve them right away while they're still pliant, you can also make them ahead then eat them with a fork and knife. I also love to tear off pieces of the bread and use them to grab the salad, much like you'd eat Indian food with naan bread. It's a healthy and quick lunch or weeknight dinner!
Ingredients
Flatbreads
1 ½

cups

water

1

tablespoon

fresh lemon juice

2

cups

lightly packed baby spinach

2

cups

(214g) chickpea (garbanzo bean) flour

1 ¾

teaspoons

kosher salt

¼

teaspoon

natural cane sugar

1

tablespoon

extra virgin olive oil, plus more for cooking
For serving (optional)
Sliced avocado

Diced tomatoes

Diced cucumber

Arugula

Crumbled feta

Toasted chopped walnuts

Buttermilk Herb Dressing (see below)
Instructions
Place the water, lemon juice, spinach, chickpea flour, salt and sugar in a Vitamix or blender. Blend on high until completely smooth, stopping and scraping the sides once or twice. With the motor running, pour the olive oil through the lid plug and blend until incorporated. Let sit at room temperature for 15 minutes. While the batter sits, make the buttermilk dressing (see below).

Heat about 1 teaspoon of olive oil in a 10-inch non-stick skillet over medium heat. Once the pan is hot, wipe the oil around the pan with a paper towel to coat. Pour in about ½ cup of the chickpea batter, and swirl and tilt the pan to form a thin circle with the batter. Cook until small bubbles have popped on the surface and the bottom is set, about 30-90 seconds. Slide a small offset spatula along the edge of the bread to loosen it, then use your fingers to flip it over. Cook until set on the other side, about 30 seconds longer. Slide the flatbread out onto a cooling rack. Continue with the remaining batter, rubbing the skillet with more oil as needed to prevent sticking. Stack the flatbreads on top of each other as they come out of the skillet.


I like to serve the flatbreads topped with avocado, tomatoes, cucumber, arugula, feta, walnuts and a drizzle of Buttermilk-Herb Dressing. Delicious!
Notes
Once cooled, the flatbreads can be refrigerated in a large ziptop bag for up to 3 days.
For a vegan version, omit the feta and swap out the buttermilk dressing for your favorite vinaigrette.
Buttermilk Herb Dressing
This irresistible, creamy dressing has converted salad skeptics into die-hard fans. It's creamy yet light and packed with flavor, making any vegetable it touches exponentially better. Whip up a batch on the weekend, and use it throughout the week!
Ingredients
1

small garlic clove, coarsely chopped

1

tablespoon

lightly packed basil leaves

1

tablespoon

coarsely chopped green onions

2

teaspoons

fresh lemon juice

½

cup

buttermilk

¼

cup

Greek yogurt

(preferably not nonfat)

3

tablespoons

mayonnaise

½

teaspoon

sugar

1

teaspoon

extra virgin olive oil

Kosher salt and freshly ground black pepper
Instructions
Place all of the ingredients into a Vitamix Blending Cup or mini food processor, and blend until smooth. Taste and season with additional salt and pepper, if needed.

Notes
The dressing can be refrigerated for up to 4 days. Whisk or shake before using.
Stay Connected!
I'd love to hear what you're cooking, and I'm happy to answer any questions! #FromScratchFast
Instagram: FromScratchFast
Facebook: FromScratchFast
Pinterest: FromScratchFast
YouTube: FromScratchFast
This post contains affiliate links, which means that if you purchase a product through a link you clicked on here, I receive a portion of the sale (at no cost to you). Thank you for supporting FromScratchFast!!