As someone who cooks for a living, I'd like to claim that my kids jump at any chance to help me in the kitchen. But the reality is that, while they both have their moments of wanting to pick the herbs off stems or stir the soup or mix the brownie batter (ok, I can always get them to help when brownies are involved), they are usually much more interested in their make-believe mermaid world than in what I'm doing in the kitchen. It's probably because I'm seemingly always in there, usually with my computer and a clipboard (yep, but no pocket protector, I swear) in full work mode. There's no novelty to cooking when your mom does it for a job.
Snacktime
Not to say that the girls don't love food, especially Ella, who took a week-long think like a chef camp this summer and who's in an after-school cooking class that she loves. I just need to get out of her way. She's taken to making snacks for Juniper and herself when I'm not around (and to putting Juni down for her nap, which might just be our highest achievement yet as parents), and I'm starting to see a budding little cook inside her. She'll mix yogurt with applesauce, dust the top with cinnamon and serve it with a side of raisins. She'll cut up peaches or cucumbers or cheese and arrange them on little plates. Or she'll pull gluten free granola bars from the freezer and serve them with a pot of cold fennel tea on her half broken tea set.
Chocolate makes everything better, including gluten free granola bars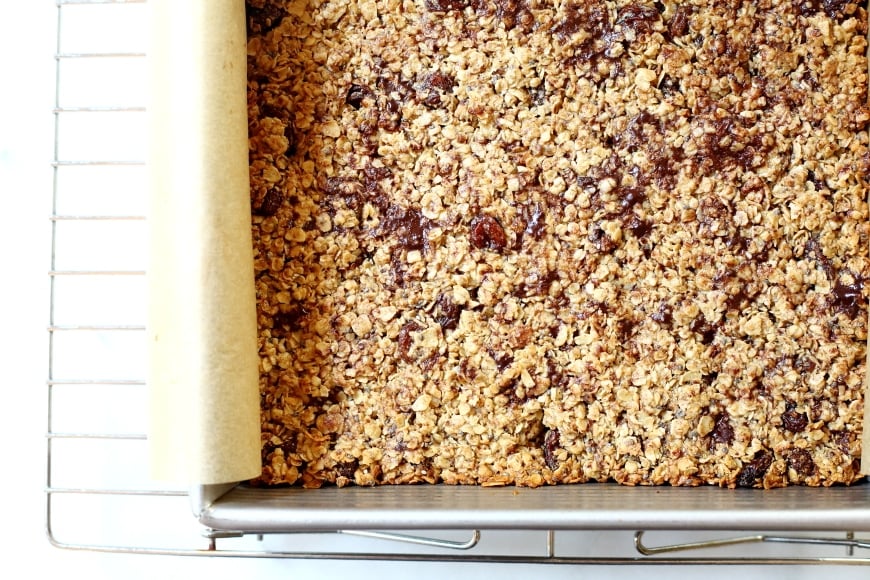 Those chocolate chunk gluten free granola bars are her favorite. It's a recipe that I can actually always count on her helping me bake (you can watch us make them in the video below!), as it's designed to be kid friendly, both in flavor and in technique. Ella is picky when it comes to granola bars—for years she begged me to buy packaged bars, scoffing at the date-sweetened versions I tried to get her to eat. Finally I arrived at this version, which is more nutritious and less sweet than store-bought bars, but which passed the Ella test with flying colors. While I have a recipe in my cookbook that uses the food processor, in this version I purposefully kept things simple so that kids could master the recipe without any special equipment. Coconut oil, nut or seed butter (I usually use sunflower seed butter, since it's allowed at school), maple syrup and honey are heated until melted and bubbling, and then in go quick cooking oats, oat flour, coconut, flax, chia seeds and raisins or dried cherries. The crowning ingredient is chopped dark chocolate, which Ella inevitably sneaks from the cutting board. The fun part comes when the she gets to help press the ingredients into the baking dish.
The mixture is baked, then cooled completely and cut into bars. They're sweet, chewy and chocolatey. Since they have less sweetener than traditional granola bars they're slightly crumbly, but we think it works in their favor—they're filling but not heavy or saccharine. I wrap the bars individually in plastic wrap and store them in a ziptop bag in the freezer. In the morning before school, I pull a bar out of the freezer, pop it in Ella's backpack, and by the time her snack-time rolls around, the bar is defrosted and ready to devour.
Soon Ella won't need my help in making these bars, which makes me both happy and a bit sad. I have no doubt she'll tinker with the recipe to make it her own (which will undoubtedly mean much more chocolate). That is, as long as I can get the heck out of the kitchen.
Some of our other favorite snacks (which are all great grab-and-go breakfasts!):
Watch the video!
Get the recipe!
Chocolate Chunk Gluten Free Granola Bars
These irresistible gluten free granola bars are packed with oats, coconut, flax, chia seeds and nut or seed butter, and are sweetened with maple syrup, honey and chopped dark chocolate. They're similar in flavor to store-bought bars, but are much more nutritious and delicious (they pass the kid test with flying colors!). The bars are easy and fun to make, especially if you have little hands around to help you. Be sure to use quick cooking oats, not old-fashioned, which won't hold together.

Ingredients
Cooking spray or oil for pan

2 ¾

cups

(248 grams) quick-cooking rolled oats

½

cup

(45 grams) unsweetened shredded coconut

¼

cup

(26 grams) oat flour

¼

cup

(30 grams) ground flax seeds

1

tablespoon

(11 grams) chia seeds

½

cup

raisins or dried cherries

⅓

cup

extra-virgin coconut oil

⅓

cup

nut or seed butter, such as peanut, almond or sunflower seed butter

⅓

cup

maple syrup

2

tablespoons

honey or agave nectar

¼

teaspoon

almond extract

½

teaspoon

ground cinnamon

½

teaspoon

kosher salt

½

cup

coarsely chopped dark chocolate or chocolate chips
Instructions
Preheat the oven to 350˚F. Spray an 8-by-8-inch pan with cooking spray or brush it with oil. Line the pan with a large piece of parchment paper, leaving an overhang (you'll use the overhang as handles to pull the bars out later).

In a medium bowl, mix together the oats, coconut, oat flour, flax seeds, chia seeds and raisins.

In a medium pot, add the coconut oil, nut butter, maple syrup, honey, almond extract, cinnamon and salt. Put the pan over medium heat and cook, stirring often with a rubber spatula, until the mixture is smooth and bubbling. Remove the pan from the heat, and dump in the dry ingredients. Stir until everything is well combined and the mixture looks like damp sand. Fold in the chocolate.

Spread the oat mixture into the prepared pan. Using damp hands, firmly press the oats into a smooth, even layer, making sure to get into the corners.

Bake 22-25 minutes, or until lightly golden around the edges. Place the pan on a wire rack and let cool 10 minutes. Put the pan in the refrigerator to cool completely (this is the hardest part!), about 30 minutes.

Gripping the foil overhang, pull out the bars and place them on a cutting board. Using a sharp knife, cut the bars: first, cut across the middle, then cut each half into 6 bars.
Notes
The bars can be stored in an airtight container at room temperature for 1 week, or they can be individually wrapped in plastic wrap and frozen in a large ziptop bag for up to 3 months.
If you happen to have a kitchen scale, it will make quick work out of measuring out the dry ingredients.
The bars are a tad crumbly (since they have less sweetener than others), but it works in their favor - they're filling without being heavy or saccharine.
Since these often go to school as snacks, I use unsweetened sunflower seed butter, since nuts aren't allowed at school.
Feel free to swap out the raisins or cherries for other chopped dried fruits, such as apricots, dates or prunes.
Stay Connected!
I'd love to hear what you're cooking, and I'm happy to answer any questions! #FromScratchFast
Instagram: FromScratchFast
Facebook: FromScratchFast
Pinterest: FromScratchFast
YouTube: FromScratchFast
Snapchat: FromScratchFast
This post contains affiliate links, which means that if you purchase a product through a link you clicked on here, I receive a portion of the sale (at no cost to you). Thank you for supporting FromScratchFast!!