This black bean brownie recipe (with cacao frosting!) might just blow your mind. Imagine a rich, fudgy and supremely chocolatey brownie with a luscious texture that melts in your mouth. What if I told you that the brownie is made with black beans instead of flour, that it contains no refined sugar? Oh yes, my friends, these black bean brownies are going to astound you. (Video below)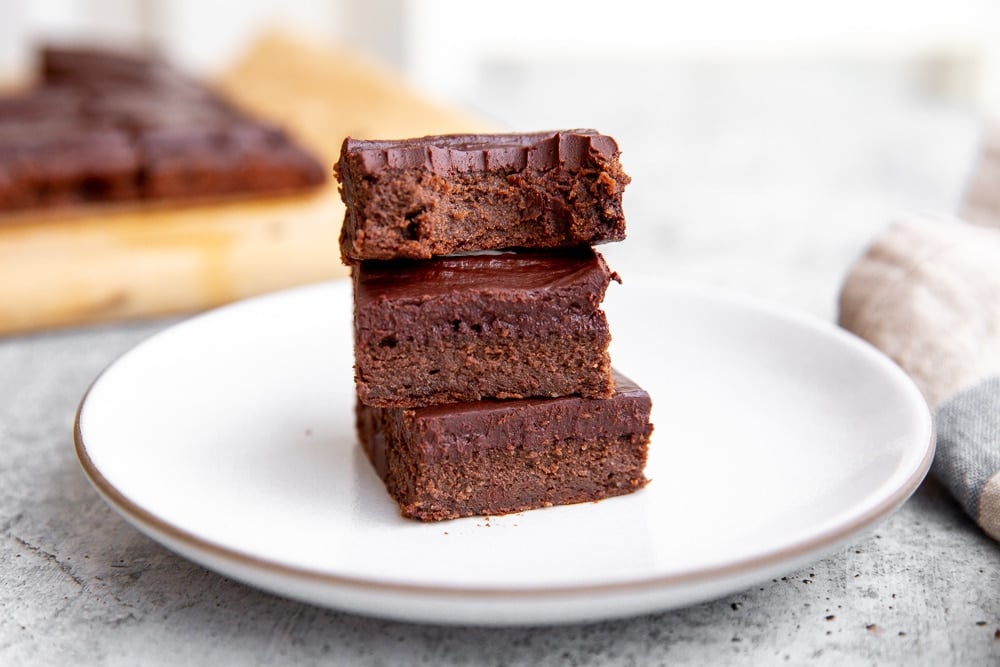 Black bean brownies with cacao frosting
I first saw black bean brownie recipes pop up on the web a few years ago, and I must admit, I was skeptical. Black beans? In brownies? But curiosity eventually got the best of me, and I was shocked at the outcome. The black beans give the brownies a luscious, almost fudge-like texture. The beans are completely undetectable (trust me, Ella can spot a bean anywhere, and she LOVES these!).
Naturally sweetened black bean brownies
In this recipe, I've replaced white sugar with maple syrup, making the brownies naturally sweetened. Chopped dark chocolate provides extra flavor (because more is always better, amiright?), and a splash of coffee liquor (or you could go for brewed coffee) provides a deep flavor. I also created a two-minute, four-ingredient chocolate frosting to slather over the top (because why not?!). The result is a sinfully delicious treat that's practically angelic.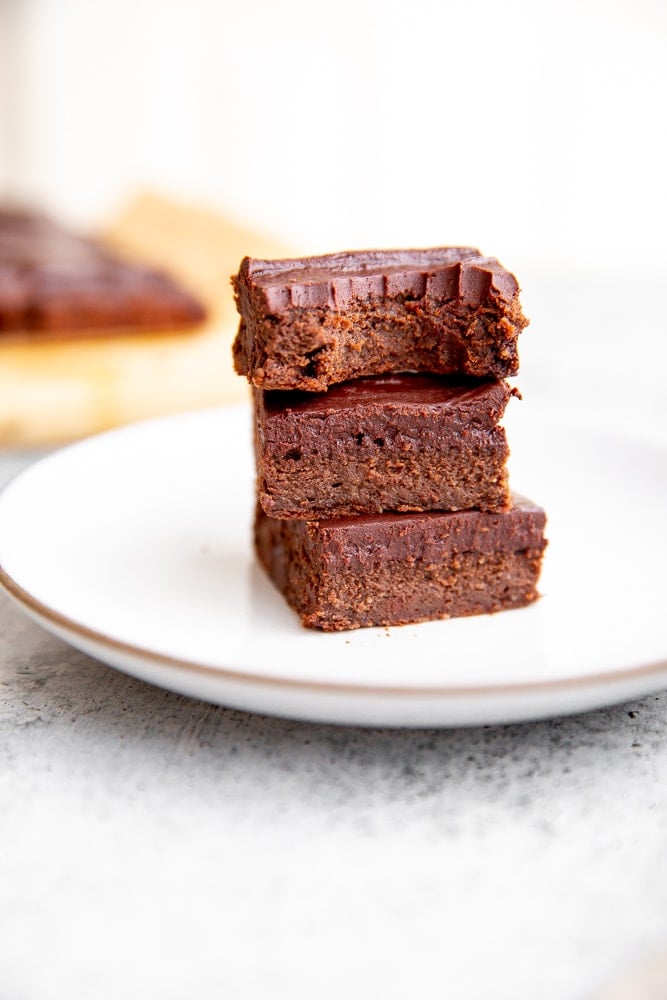 Easy black bean brownies recipe
This black bean brownie recipe is now one of my staples, and it couldn't be easier to make. The batter is made right in a high-speed blender or food processor. The ingredients are buzzed together until smooth. Instead of using all-purpose flour, they're made with almond flour, making them naturally gluten-free.
Easy cacao frosting
The frosting is made with just cacao powder, coconut oil, maple syrup and vanilla. The ingredients are stirred together until shiny and smooth. I love raw cacao powder for its rich chocolatey flavor, but you could use a high-quality cocoa powder instead.
The cacao frosting is then slathered over the cooled brownies, taking them over the top.
These black bean brownies are a quick and easy dessert. My girls adore them, and they've become a begged for mid-week treat that I don't mind giving into. As for me, I find they're best enjoyed all alone in a quiet space, preferably eaten slowly with one's eyes closed. It's the most delicious form of daily meditation (just don't tell my kids where to find me).
Other chocolate desserts to try:
Watch the Video!
Get the Recipe!
Fudgy Black Bean Brownies with 2-Minute Cacao Frosting (Gluten-Free, Dairy Free, Naturally Sweetened)
These super fudgy black bean brownies are supremely rich and chocolaty with a melt-in-your-mouth texture. Best of all, they come together in minutes right in a high-speed blender or food processor! I prefer to use raw cacao powder in these brownies, as it has a deeper flavor than regular unsweetened cocoa powder (it also happens to be higher in antioxidants). If you go for cocoa powder, just choose a high quality brand.
Ingredients
For the brownies:
Cooking spray or oil, for pan

1

cup

drained and rinsed unsalted black beans

½

cup

maple syrup

2

large eggs

¼

cup

virgin coconut oil, melted and cooled slightly

¼

cup

raw cacao powder or unsweetened cocoa powder

2

teaspoons

vanilla extract

2

teaspoons

coffee liqueur or strong brewed coffee

½

teaspoon

fine sea salt

2

tablespoons

almond flour

½

teaspoon

baking powder

⅓

cup

finely chopped bittersweet chocolate or mini chocolate chips
For the frosting:
¾

cup

raw cacao powder or unsweetened cocoa powder, sifted to remove any lumps

⅓

cup

virgin coconut oil, melted and cooled slightly

⅓

cup

maple syrup

1

teaspoon

vanilla extract

Pinch

salt
Instructions
Make the brownies
Preheat the oven to 350˚F. Grease an 8-inch baking pan with coconut oil or cooking spray. If you'd like, line the pan crosswise with parchment paper, leaving an overhang (this will make it easy to pull the brownies out later).

In a high-speed blender or food processor, add the black beans, maple syrup, eggs, coconut oil, cacao powder, vanilla, coffee liqueur and salt. Blend on high until completely smooth (stop and scrape the sides as needed). Add the almond flour and baking powder. Blend on low just until incorporated. Add the chopped chocolate and pulse to combine.

Scrape the batter into the prepared baking dish, and spread it in an even layer. Bake until the brownies look matte on top with a few small cracks, and a toothpick inserted in the center comes out mostly clean with a few sticky crumbs, 25-30 minutes. Set the pan on a wire rack, and let cool completely. Using the parchment paper as handles, transfer the brownies to a cutting board or platter.
Make the frosting
For the frosting, sift the cacao powder into a bowl and add the maple syrup, coconut oil, vanilla and salt. Using a rubber spatula (and working quickly so that the coconut oil doesn't harden), gradually stir everything together until smooth and thick. Immediately spread the frosting over the brownies (don't dally, as if the coconut oil starts to harden the frosting could turn grainy). Let the brownies sit at room temperature or refrigerate them to allow the frosting to firm up (or just dive on in; I'm not judging!).

Cut the brownies into 16 squares, and enjoy!
Notes
Do Ahead: The brownies can be covered and stored at room temperature for up to 3 days.
Tips:
You will need a high-speed blender such as a Vitamix or a food processor to make this recipe.
I prefer using raw cacao powder in this recipe, which has a richer, deeper flavor than regular cocoa powder (it's also higher in antioxidants!). I also use it in this cake.
If you don't have coffee liqueur you can swap it out for 2 teaspoons of brewed coffee or 1 scant teaspoon of instant coffee granules (or omit it altogether)!
Stay Connected!
I'd love to hear what you're cooking, and I'm happy to answer any questions! #FromScratchFast
Instagram: FromScratchFast
Facebook: FromScratchFast
Pinterest: FromScratchFast
YouTube: FromScratchFast
*This post contains affiliate links, which means that if you purchase a product through a link you clicked on here, I receive a portion of the sale (at no cost to you). Thank you for supporting FromScratchFast!!