This easy but irresistible broccoli pasta is a kid friendly meal that adults will love too!
2019 update! This one-pan broccoli pasta has been a mainstay on our table for years. The girls still love it as much as they did back in 2016, when I first published this post. And for the record, Ella still loves broccoli! 😄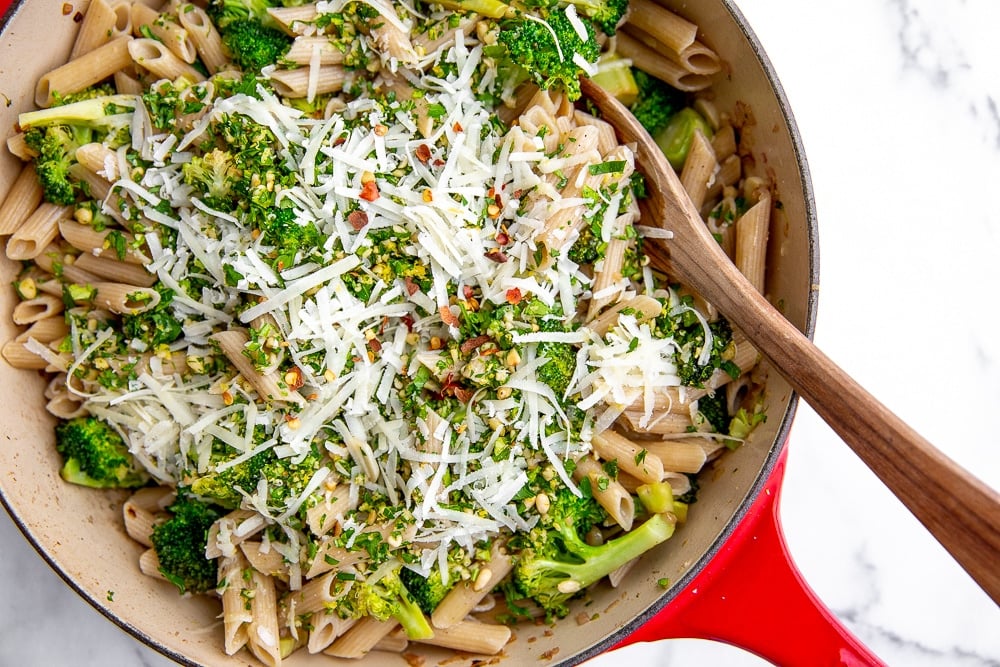 One-pan broccoli pasta (that will change lives… or at least minds)
It took Ella six years to learn to like broccoli. It didn't matter if it was roasted, steamed or pureed—from the time she could eat solid foods, Ella hated those little "green trees." That is, until she turned six. Suddenly she fell in love, not only with the vegetable but also with this pasta. I think you're going to love it too.
Feeding kids
As a parent, sometimes it's hard not to feel completely defeated when our kids won't eat the foods we spend time and effort preparing. One night when Juni was a toddler I made a baked "mac and cheese" style dish with cauliflower, which I was sure the girls would love. It had been a long day and a stressful evening. James was running late, and I was left to cook one-handed since Juniper wouldn't let me put her down. Dinner finally came together, and we sat to eat. Instead of the peaceful meal I had envisioned, Juni started screaming and threw her noodles at the dog, while Ella pushed her plate away with an upturned nose. I swear to you, with James as my witness, that the dish tasted just like macaroni and cheese! How could those crazy kids not like it??!

Ahhh; there's the rub. When feeding the girls, I have to constantly remind myself to take my ego out of the equation—to not take their food preferences or dislikes personally. The rule in our house is that you don't have to eat everything, but you do have to taste everything (2019 update: they're now old enough to help themselves to fruit or make toast if they're still hungry). It can be hard to not feel insulted when food gets snubbed or thrown (2019 update: oh thank god Juniper no longer throws her food!! 😂), but I try to remember that my kids have their own unique palates. It's not about me; it's about giving them the time to develop their own tastes and to help them learn to trust their own hunger. My goal is to remain persistent in exposing them to new flavors while trying not to get frustrated in the process. This is sometimes easier said than done—I won't claim that the cauliflower mac n'cheese massacre was a pretty one—but I believe it's how kids grow their palates while retaining a healthy relationship with food.
Broccoli for the win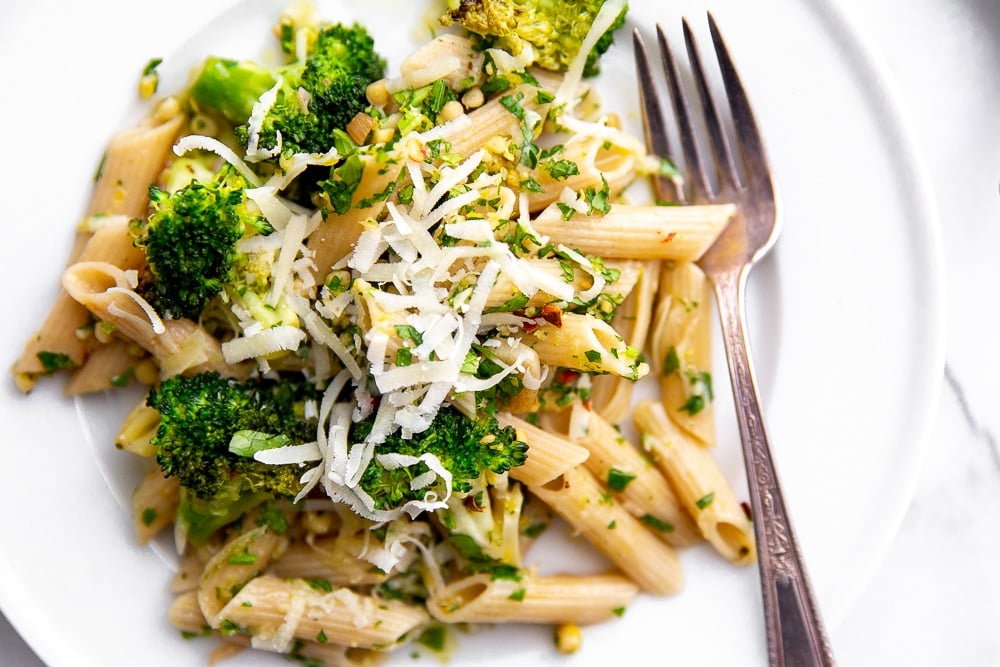 Back to the broccoli. After years of cruciferous avoidance, one night Ella suddenly ate the roasted broccoli on her plate. Not only that, but then she asked for seconds. OF BROCCOLI! I played it cool, then scurried into the kitchen and squealed like a puppy. I realize that my ego was rearing its head again (as in, "my kid loves broccoli! my kid loves broccoli!"), but, more than that, it was amazing to see Ella's palate expanding on her own terms, and with relish.
Easy broccoli pasta with gremolata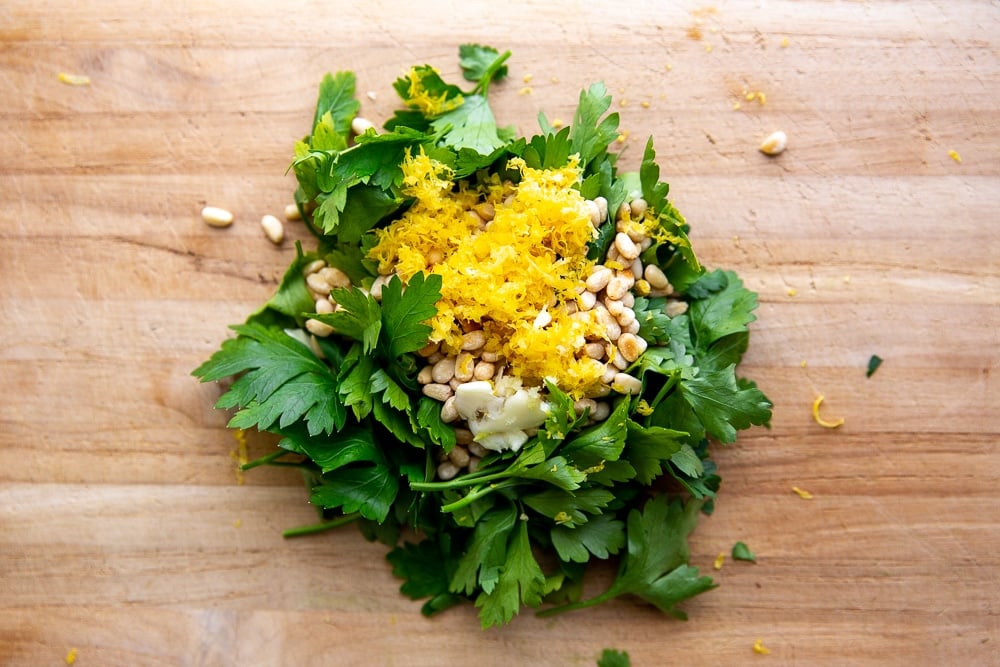 Broccoli is now a mainstay on our table (2019 update: Juni has loved the stuff since birth, go figure), and this throw-together, one dish dinner is a family favorite. Broccoli gets sautéed with garlic, shallots and anchovies (which you won't taste, but which add depth of flavor) then is tossed with pasta and gremolata, an Italian condiment of chopped herbs, garlic and lemon zest. Gremolata is most typically served over meat (think osso buco), but here it lends a burst of bright flavor, transforming the simple pasta into something special. A big handful of salty Pecorino cheese ties everything together.
I don't know if this broccoli love affair will last—kids' tastes are notoriously fickle (I still haven't gotten over the asparagus break-up of 2014)—but we have time. Hell, by the time Ella's twelve maybe she'll even love kale.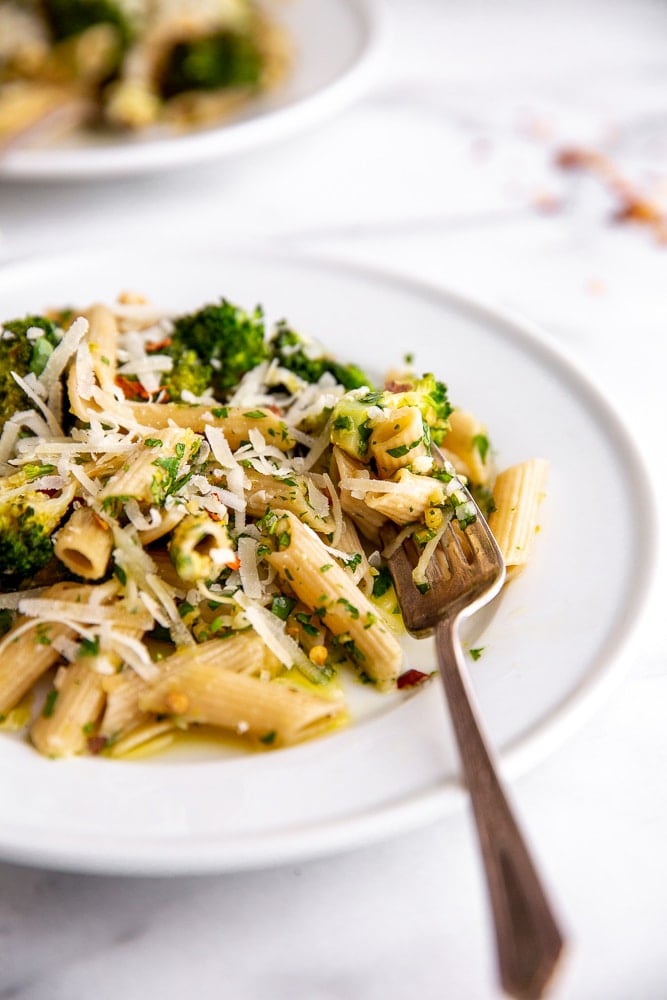 How to Make Broccoli Pasta (tips):
Chop the broccoli before cooking the shallots and garlic, since they go fast. Be sure to chop the florets nice and small so that they cook quickly.
Don't toss those stems! Broccoli stems are deliciously mild and crunchy. Use your knife to slice away the tough outer skin, then chop the tender inner stem.

You can eat the leaves too! Broccoli leaves are delicious, with a flavor similar to baby kale. Throw them in!
Don't be afraid of the anchovies in this dish, they lend an umami savoriness, but you won't really taste them. That being said, you can always omit them if you must (or add more if you're a fan!).
The gremolata is what makes this dish, lending it vibrancy and texture. It's also awesome over roasted fish, chicken, braised meats, and/or vegetables. In my book, Build-a-Bowl, I sprinkle it over roasted Brussels sprouts and mushrooms with goat cheese… SWOON! (Get the book here.)
You'll need a microplane to zest the lemon in this recipe.
Get the recipe!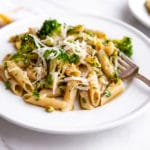 (My Kid Loves) Broccoli Pasta
This easy but irresistible broccoli pasta is a kid friendly meal that adults will love too! The secret is in sprinkling the pasta with gremolata, an Italian condiment made of chopped parsley, garlic, pine nuts and lemon zest. It adds a burst of flavor and texture, lending the dish freshness and complexity. The pasta gets showered with grated Pecorino cheese (or you could use Parmigiano), and I like to sprinkle some red pepper flakes over the adult portions. Don't be afraid of the anchovies in this recipe - they add delicious complexity but you won't really taste them (but feel free to omit them if you're feeding vegetarians).
Ingredients
¼

cup

pine nuts

¼

cup

extra virgin olive oil, plus more for serving

1

medium shallot, minced (2 tablespoons minced)

4

large garlic cloves, 3 thinly sliced and 1 minced

2-3

anchovy filets (to taste), rinsed and coarsely chopped

1 ½

pounds

broccoli (about 1 large bunch), cut into small florets, stems peeled and diced

Salt and freshly ground black pepper

1

tablespoon

sherry vinegar

½

cup

lightly packed parsley leaves

Zest from 1 lemon

1

pound

penne or other shaped pasta (gluten-free or regular)

1

cup

coarsely grated Pecorino Romano, plus more for serving

Red pepper flakes, for serving (optional)
Instructions
Bring a large pot of water to a boil.

In the meantime, place the pine nuts in a 12-inch skillet over medium heat. Cook, stirring occasionally, until golden and fragrant, about 2-3 minutes. Transfer to a bowl to cool.

In the same skillet, add the olive oil, shallot, sliced garlic (reserve the minced garlic) and anchovies. Cook over medium heat, stirring occasionally, until the shallots and garlic are fragrant, about 2 minutes. Add the broccoli and season with salt and pepper. Cook, stirring occasionally, until the broccoli is lightly caramelized and tender, about 6 minutes. Add the sherry vinegar and toss to coat. Remove the pan from the heat and keep warm.

Pile the parsley, lemon zest, toasted pine nuts, and the reserved minced garlic clove on a cutting board. Season with salt and pepper. Chop everything together to make the gremolata—the parsley should be fairly well chopped.

Once the water reaches a boil, season it with salt and add the pasta. Cook the pasta according to the package directions until just shy of al dente. Reserve about 1 cup of the cooking liquid, then drain.

Transfer the pasta to the skillet with the broccoli, along with ½ cup of the reserved cooking water. Place the pan over medium heat and cook, stirring, until the water is reduced and coats the pasta, about 1-2 minutes (add more of the water as needed if the dish looks dry). Remove the pan from the heat and add the gremolata, grated Pecorino, and 1-2 big glugs of olive oil. Season with salt and pepper and toss. Serve the pasta with additional Pecorino on the side. If you'd like, sprinkle with a few red pepper flakes.
*This post contains affiliate links, which means that if you purchase a product through a link you clicked on here, I receive a portion of the sale (at no cost to you). Thank you for supporting FromScratchFast!!
Stay Connected!
I'd love to hear what you're cooking, and I'm happy to answer any questions! #FromScratchFast
Instagram: FromScratchFast
YouTube: FromScratchFast
Facebook: FromScratchFast
Pinterest: FromScratchFast