This gluten free lemon pudding cake has a secret. It might look modest on the outside, but as you dive your spoon through the fluffy, cake-like layer on top, you encounter a sassy lemon sauce on the bottom. A dollop of whipped cream dresses things up and ties everything together.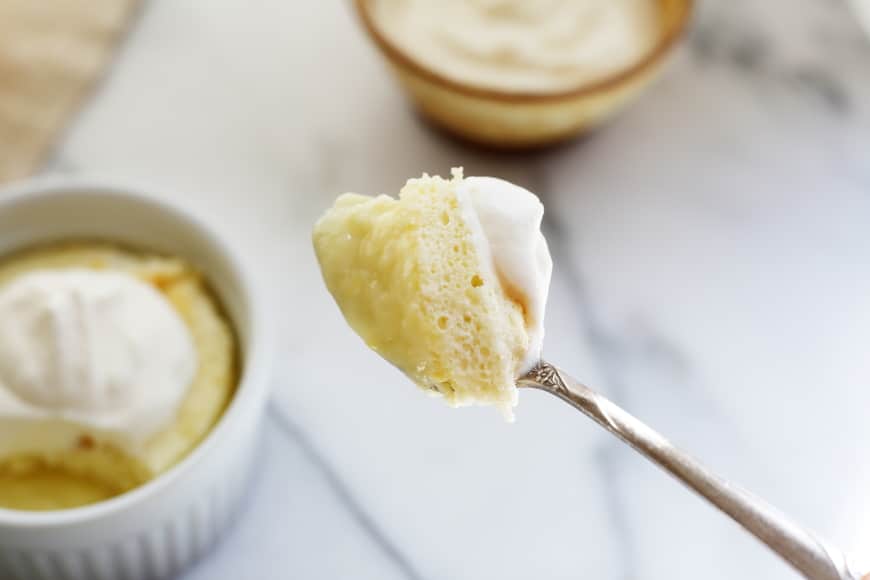 Easter = Spring
It's hard to believe that Easter is around the corner, but let me tell you, I am ready. Easter always signifies the real start of the spring for me, even though I remember always freezing my ruffled tights off in satin leather shoes during the annual Easter egg hunt at my grandma's house in Illinois. Regardless, there were flowers on the table and pastel eggs (of the chicken and chocolate varieties) to be eaten, and we'd pretend like it was warm and sunny, even if it was gray and drizzling.
No matter what the weather brings this year, we'll have these cheerful and light lemon pudding cakes to add sunshine to our Easter spread. They're adapted from my husband's great-grandmother's lemon pudding recipe, which my mother-in-law recently emailed me (along with the Oxford Dictionary definition of pudding—which, in British English essentially means dessert—because she has a PhD in English and knows everything). James never had the chance to meet his great-grandmother, but stories have it that she was a strict woman, hosting formal dinners where the positioning of plates and the arrangement of silverware was not to be messed with (so the story of how James's grandma, as a small child, snuck around and ate all the butter balls off the table before a dinner party is especially hilarious).
Gluten free lemon pudding cake – make it ahead
Great-grandma Wick would serve the lemon pudding cake for luncheon on Thanksgiving weekend to a party of twenty or more in her elegant dining room with peacock-patterned wallpaper. While I'm not sure she'd entirely approve, I've tinkered with the recipe, cutting back on the sugar to allow more of the lemon flavor to shine through, as well as cutting out the gluten by using a gluten free flour blend. I also bake individual cakes instead of one large version, which shortens the cooking time (and prevents my kids from arguing over who has the bigger serving). That being said, while these lemon pudding cakes can be assembled and baked in under an hour, they do need an hour to chill before serving. BUT the trade-off is that you can make them ahead of time, so they're perfect for holidays or entertaining!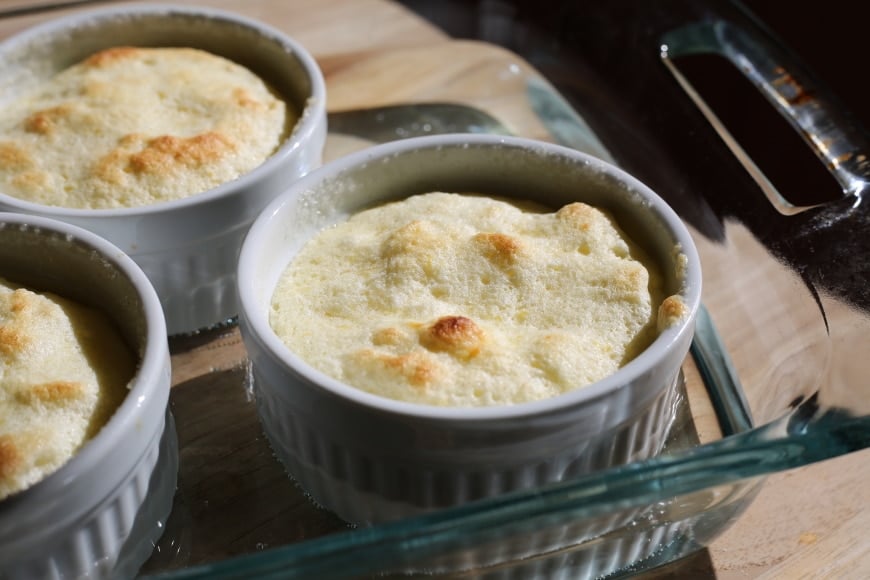 It's amazing that recipes have the power to connect us to the past. This Easter, I can't wait to introduce the girls to their great-great-grandmother.
If you're looking for more Easter inspiration, here are some of my other favorite desserts for the holiday!

Get the recipe!
Gluten Free Lemon Pudding Cake
This light but luscious gluten free lemon pudding cake has a secret. It might look modest on the outside, but as you dive your spoon through the fluffy, cake-like layer on top, you encounter a molten, golden core in the form of a sassy lemon sauce on bottom. A dollop of whipped cream dresses things up and ties everything together. While the prep and cooking time for the individual cakes is under an hour, the cakes do need to be chilled for at least 60 minutes to allow them to set up. This is a perfect do-ahead dessert for holidays or parties.
Ingredients
2

tablespoons

unsalted butter

, room temperature, plus more for ramekins

¾

cup

(155 g) organic cane sugar (or regular sugar), plus more for ramekins

3

eggs

, separated

¼

cup

gluten-free flour

(such as Bob's Red Mill 1-to-1 Baking Flour or Cup 4 Cup), or all-purpose flour

Zest from 1 lemon

(2 scant teaspoons)

5

tablespoons

fresh lemon juice

1

cup

milk

Pinch salt

Fresh whipped cream

, for serving
Instructions
Preheat the oven to 350˚F. Butter and sugar 4 8-ounce ramekins.

In a stand mixer (or using hand mixers), beat the sugar and butter until the butter is evenly incorporated into the sugar (it should look like damp sand). Add the egg yolks, flour, lemon zest, lemon juice, milk and salt. Beat until smooth.

In a clean bowl, beat the egg whites until they hold stiff peaks.

Stir a third of the egg whites into the lemon batter. Fold in the remaining whites. Divide the batter (t will still be a bit lumpy and liquidy, but that's OK) evenly among the prepared ramekins—try to get the same amount of liquid-and egg white in each. Set the ramekins in a large straight-sided roasting pan or baking dish. Pour in enough warm water to come about halfway up the sides of the ramekins (a tea kettle works great for this). Carefully slide the dish into the oven, and bake until the cakes are golden in spots on top, about 30 minutes. Let cool 10 minutes, then refrigerate until set, about 1 hour. Do Ahead: The cakes can be refrigerated for up to 1 day.

Serve the lemon cakes with a large dollop of fresh whipped cream.
Stay Connected!
I'd love to hear what you're cooking, and I'm happy to answer any questions! #FromScratchFast
Instagram: FromScratchFast
Facebook: FromScratchFast
Pinterest: FromScratchFast
Snapchat: FromScratchFast
This post contains affiliate links, which means that if you purchase a product through a link you clicked on here, I receive a portion of the sale. Thank you for supporting FromScratchFast!