I would easily name soup one of my favorite foods. Nearly every week I throw together a big pot of soup, which we eat with buttery grilled cheeses, toasted crostini topped with clean-out-the-fridge fixings, or slabs of cornbread. Usually the soup is vegetable-based and pureed until silky, and it's one of the only failsafe methods I have of getting vegetables into Ella. She's a big fan of dunking her grilled cheese into the soup to create a crispy-soggy bite. Ah, heaven—I'm guilty of the same pleasure.
These past two weeks have been nuts. Thanksgiving slid right into James's birthday, and I've been furiously trying to wrap up a bunch of work projects and finish up my Christmas shopping/cards/etc. before the baby's arrival (which could conceivably happen any day, although she's slated for the end of December). This simple sweet potato soup is just the remedy for a busy holiday season (it's also the perfect antidote to tins of sugar cookies and overindulgent holiday parties).  It's comforting, straightforward and healthful, like a soft, warm scarf on a cold night.
After scrambling on Tuesday night to finish up a slew of emails, I scratched my original dinner plans (a magazine multi-step recipe involving several skillets) for a pot of soup. We had two sweet potatoes, a giant leek and some fresh herbs leftover from Thanksgiving. Into a pot they went with garlic, warming spices (cinnamon, nutmeg and Piment d'Espelette), a cup of chicken broth (since that's all I had) and water. Once the sweet potatoes were tender, I pureed the soup until it was thick and creamy. In the meantime, James assembled some crispy Comté grilled cheese sandwiches. It was a humble meal, but it was perfect, especially with the sound of rain battering against our windows.
This is less of a recipe and more of a technique. You can swap the leek for a sweet onion, and/or change up the herbs and spices to make it your own (think ginger and curry powder, chile powder and cumin, etc). If you want to dress things up, add a swirl of crème fraiche, heavy cream or coconut milk to each bowl. Serve the soup with something crusty for dipping, and forget about the stresses of the season.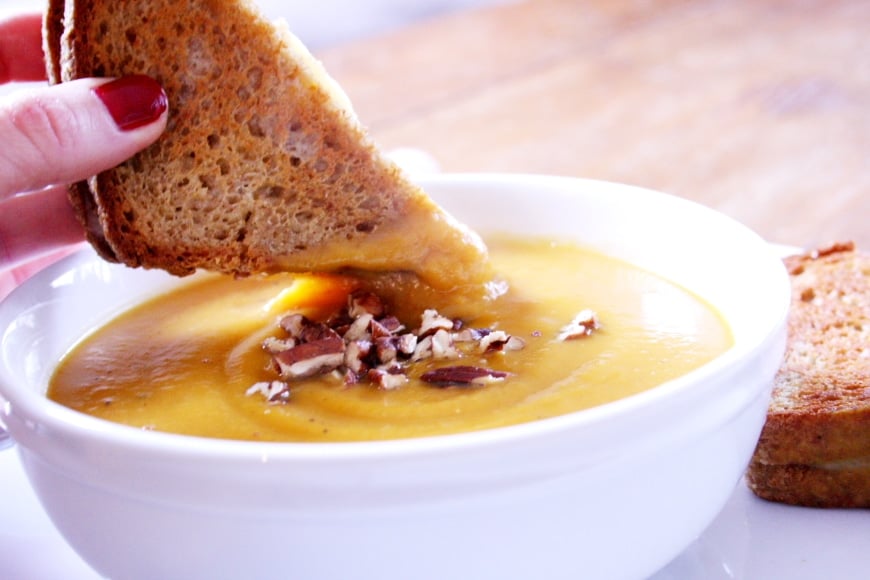 Sweet Potato Soup
This is a humble soup with big, delicious flavor. Think of it less as a recipe, and more as a technique. You can swap the leek for a sweet onion, and/or change up the herbs and spices to make it your own (think ginger and curry powder, chile powder and cumin, etc). While I love this soup for its simplicity, you can certainly dress it up by swirling a bit of crème fraiche or heavy cream into each bowl.
Ingredients
3-4

tablespoons

butter

1

large leek

(white and light green parts only), chopped

Sea salt and freshly ground black pepper

3

garlic cloves

, chopped

½

teaspoon

chopped rosemary

½

teaspoon

chopped thyme

1

bay leaf

Big pinch cinnamon

Big pinch freshly grated nutmeg

Big pinch Ancho chile powder

Pinch cayenne pepper or Piment d'Espelette

2

large sweet potatoes

, peeled and chopped

Chicken broth and/or water

Chopped toasted pecans or toasted pumpkin seeds for topping
Instructions
Melt the butter in a large pot over medium heat. Add the chopped leeks with a pinch of salt and pepper. Cook, stirring occasionally, until softened. Slide in the garlic, rosemary, thyme and bay leaf. Sprinkle in the cinnamon, nutmeg, Ancho chile powder and cayenne or Piment d'Espelette. Cook, stirring, until fragrant. Add the sweet potatoes and another pinch of salt and pepper. Cook for a few minutes, stirring, to coat the sweet potatoes in the spices. Add chicken broth and/or water (I usually do a mix of chicken broth and water, but plain water works just fine) to cover the potatoes by 1-2 inches. Bring to a boil, then reduce to a simmer and cook, partially covered, until the sweet potatoes are tender.

Remove the bay leaf and puree the soup in a blender (or you can use a hand blender). Add more water or broth to reach the consistency you want (I like it thick, but still soup-like). Taste and season with additional salt, pepper and/or spices as needed.

Serve the soup with a sprinkle of toasted chopped pecans, or with a few toasted pumpkin seeds. Do Ahead: The soup can refrigerated for up to 5 days or frozen for up to 2 months. If needed, thin with a splash of water or stock before serving.