Hello, March. Why is it that every year I have such high hopes for you? I envision you in sunglasses and a little cute dress, but instead you arrive grumpy and gray, dressed in a tattered old coat with a trash bag full of germs and allergies. Pmphffff. This year things are going to be different. This restorative, nourishing chicken soup comes together in under an hour but tastes like it simmered all day. It's rich yet light and is the ultimate feel-better meal. (New video below!)
March, you're such a tease
I'm a spring baby, and nothing gets me more excited than longer days and the sounds of birds chirping. While March promises good things to come, she can be a real bit$%. My body doesn't quite know how to handle the change in seasons, and inevitably I come down with sniffles and aches. This year, I'm going to arm myself with nutritional powerhouses to shield us from the season's snotty sneezes, like these superfood smoothies and this chicken soup.
I was hit with the flu in early January, and James whipped up a batch of this chicken soup while I was curled up on the couch watching Parent Trap with Ella (the original version—I'm happy to report that Ella loved it just as much as I do). It was the best thing I had tasted in my ENTIRE LIFE!
Chicken soup for the soul (did I really just say that?)
Ok, I might be known to exaggerate now and then, but seriously, nothing could have been more satisfying than that golden elixir after having been sick for two days. Forget the cliché, there's something so sincerely nourishing about a rich bowl of chicken noodle soup. This version comes together in under an hour, but I swear to you that it tastes like grandma or nonna or babushka spent hours tending to it at the stove. The secret is in making an enriched stock by using bone-in chicken thighs as well as low-sodium chicken broth (we used store-bought, but if you happen to have homemade stock, then all the better). The thighs get simmered with carrots, celery, garlic and herbs until tender. The meat then gets shredded and added back into the soup along with noodles. The soup is finished with a generous dose of fresh parsley and a squeeze of lemon juice to brighten things up.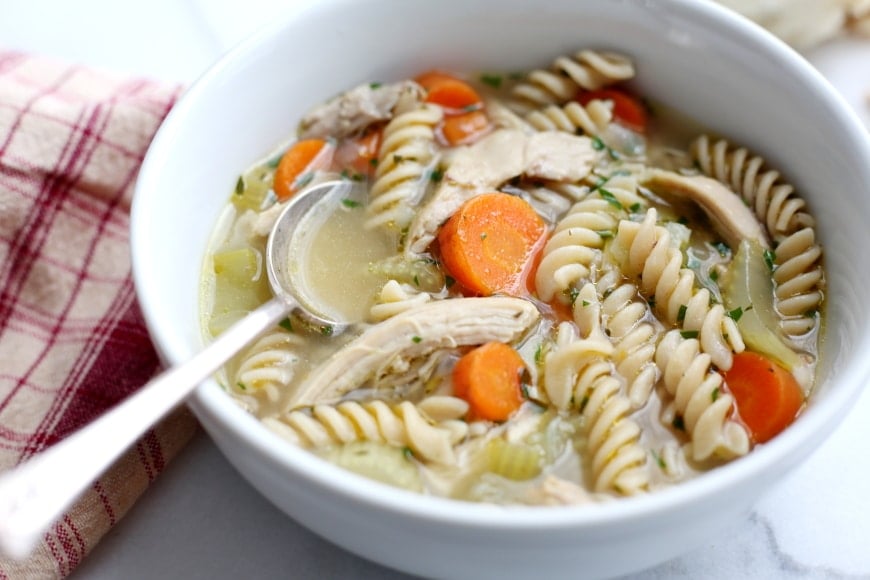 We've since made the soup several times, and the girls literally fall into silence when it hits the table, slurping their way through two- to-three bowls without stopping. It's a meal that feels like a giant hug, and I'd argue it's as good for the figurative heart as it is for the physical body.
Especially if you can get somebody else to make it for you. 😉
Watch the video!
Get the recipe!
Homemade Chicken Noodle Soup (in Under an Hour!)
This restorative, nourishing chicken noodle soup comes together in under an hour but tastes like it simmered all day. It's rich yet light, and is the ultimate feel-better meal. If you make the soup ahead, the noodles will thicken it quite a bit. I don't mind how they soak everything up (I just thin it out with a bit more broth), but if you prefer a less thick soup, cook the noodles separately, and then add them right before serving.
Ingredients
2

tablespoons

extra virgin olive oil

1

onion

, finely diced

4

medium carrots

, sliced ¼-inch thick

4

medium stalks celery

, sliced ¼-inch thick

Salt

Freshly ground black pepper

3

large garlic cloves

, minced

1

tablespoon

chopped fresh thyme

6

bone-in chicken thighs

(about 2 ¼ pounds), skin removed and discarded

3

cups

low-sodium chicken broth

3

cups

water

1

bay leaf

3-4

ounces

noodles

(regular or gluten-free)

1

teaspoon

fresh lemon juice

1

tablespoon

minced parsley
Instructions
Heat the olive oil in a large pot over medium heat. Add the onion, carrots and celery, and season with salt and pepper. Cook, stirring occasionally, until tender, about 5-7 minutes.

Scrape in the garlic and thyme. Cook, stirring, until fragrant, about 30 seconds. Add the chicken thighs, broth, water and bay leaf. Bring to a simmer, and skim off any foam that rises to the surface. Let simmer, for 15-20 minutes, or until the meat is cooked through and tender.

Transfer the chicken to a cutting board and let cool slightly. Coarsely shred the meat. Transfer the meat back into the pot, and bring the soup back to a simmer. Add the noodles. Simmer until the noodles are tender (the cooking time will vary according to the type of noodles you use).

Stir in the lemon juice and parsley. Serve warm. Do Ahead: The soup can be refrigerated for up to 5 days. If needed, thin with chicken broth or water.