This chili millet bake is reminiscent of a chili cornbread casserole but is tastier AND way more nutritious!
[2018 update: NEW video!!] A few weeks ago I was rummaging around in my fridge looking for a quick lunch and ended up heating some leftover chili over leftover millet.  The combination reminded me of the chili cornbread bakes that I used to love as a kid, and it inspired this recipe.  A quick but flavorful vegetable bean chili gets topped with a layer of cheddar-infused millet, and the whole thing is baked until bubbly.  It's a complete, nutritious meal in one dish.  If you're a football fan (which I confess I'm not, but I come from a long line of die-hards), I suspect it would taste delicious in front of a big game.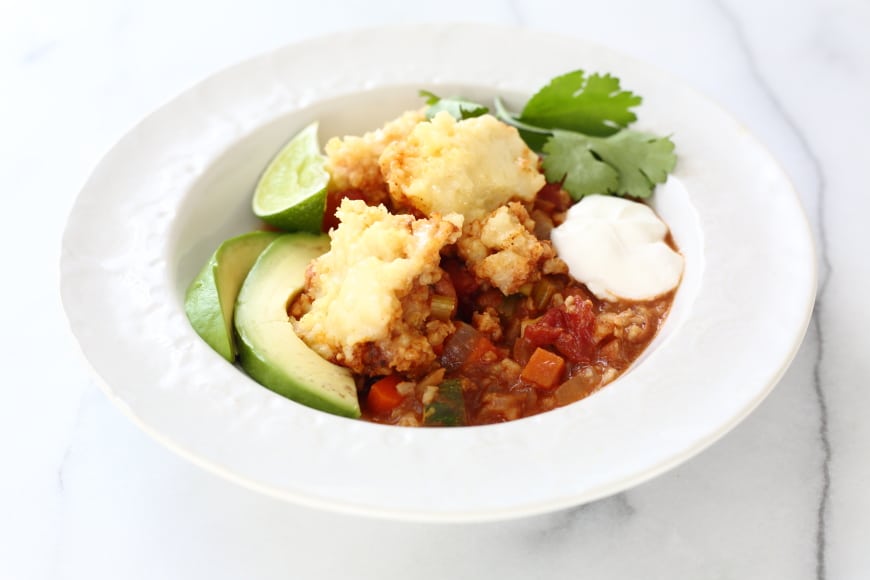 You could use the same concept for any kind of leftover chili—from black bean, to beef to turkey.  Simply pour the chili into a cast iron skillet or baking dish, top with the millet and cheese, and bake.  The result is a healthful and delicious (and gluten-free) alternative to the chili cornbread combo.
I know the ingredient list here looks daunting, but don't let it intimidate you!  Once you get going, much of the work can be done while waiting for something else to cook.  The chili gets started while the millet cooks; the garlic can be chopped while the vegetables cook; etc.  My good friend Jess is a chili wizard, and her secret is to add cocoa powder or even chocolate, which adds a depth of flavor and a subtle sweetness without actually tasting chocolaty.  Brilliant.  I use raw cacao powder instead of cocoa powder for an extra nutritional boost (but cocoa powder works fine), as well as a pinch of cinnamon for some warmth.  They make the chili taste as if it's been simmering all day, while in fact it comes together in only about 20 minutes.
This meal always brings me back to my childhood, where the sound of football and the smell of chili were synonymous.  Just in case anybody in my family happens to read this, Go Bears!
Watch the video!
Get the recipe!
Chili Millet Bake
This dish was inspired by the chili cornbread bakes of my childhood, which were most often made with canned chili and boxes of Jiffy. In this more nutritious (and tasty!) version, a quick, homemade vegetable chili gets topped with cheddar-infused millet, and the whole thing is then baked until bubbly. If you haven't cooked with millet before, this is a great time to give it a try - it's highly nutritious and has a wonderful nutty, corn-like flavor. A touch of cocoa powder and cinnamon give the chili depth and sweetness. Be sure to finely dice the vegetables so that they cook quickly.
Ingredients
1

teaspoon

salt

, plus additional for seasoning

1

cup

millet

1

tablespoon

butter

1 ½

cups

grated cheddar cheese

, divided

1

tablespoon

chili powder

1

tablespoon

raw cacao powder or unsweetened cocoa powder

1

teaspoon

ground cumin

½

teaspoon

dried oregano

1/8

teaspoon

ground cinnamon

2

tablespoons

extra virgin olive oil

1

medium onion

, finely diced

1

small carrot

, finely diced

1

celery stalk

, finely diced

Freshly ground black pepper

1

small zucchini

, finely diced

2

cloves

garlic

, minced

1

tablespoon

tomato paste

1 14.5-

oz

can diced tomatoes

1 ½

cups

or 1 15-oz can pinto beans

, drained and rinsed

¼

lime

Sour cream or Greek yogurt

, diced avocados, pumpkin seeds, cilantro and/or hot sauce for serving
Instructions
If you have the time, soak the millet for anywhere from 1-12 hours (this helps make whole grains more digestible). However, if you don't have time or if you forget, don't sweat it. Preheat the oven to 375˚F.

In a medium saucepan, bring 3 cups water to a boil. Add 1 teaspoon salt and the millet. Bring to boil. Reduce heat to low; cover and simmer 15-20 minutes, or until the water is absorbed and millet is tender. Stir in the butter along with ½ cup of the cheese. Season to taste with additional salt, if needed. Cover and keep warm.

While the millet cooks, start the chili. Combine the chili powder, cacao powder, cumin, oregano and cinnamon in a small bowl; set the spice mix aside.

In a 10-in (preferably cast iron) skillet, heat the olive oil over medium-high heat. Add the onions, carrots and celery with a pinch of salt and freshly ground black pepper. Sauté the veggies until softened, stirring occasionally, about 5-6 minutes.

Add the zucchini, garlic and another pinch of salt and pepper. Cook, stirring, 2 minutes. Stir in the tomato paste, followed by the spice mix. Cook 1-2 minutes, stirring. Add the tomatoes with their liquid, 1 cup water and the drained pinto beans. Bring to a boil; reduce to a hearty simmer and cook 5 minutes. Remove from heat; squeeze in the juice from 1/4 lime. Taste and season with salt and pepper as needed.

Dollop the millet over the chili and spread it out in a smooth layer. Sprinkle the remaining 1 cup of cheese over the top. Cover with foil and bake 10-20 minutes, or until heated through and bubbling around the edges. Let cool 5 minutes.

Spoon the chili into wide bowls and garnish with sour cream or yogurt, diced avocado, pumpkin seeds, a sprinkle of cilantro and hot sauce, if desired.