This vegetable and quinoa chili is packed with both flavor and nutrition! It's as delicious on game day as it is on a post-holiday cleanse.
January is officially chili month.  Ok, I might be making that up (although, out of curiosity I just did a Google search, and apparently there's a "national chili day" on the fourth Thursday in February every year; who invents this stuff?), but it wouldn't seem like January to me without a big bowl of steaming chili.  When I was growing up, my mom made a crock-pot batch every year on New Year's Day.  We'd shovel back steaming bowls of beef and beans crowned with melted yellow cheddar, peaks of sour cream and a sprinkle of green onions (and, let's be honest, a handful of Fritos) while watching—or pretending to watch, in my case—whatever football game was on.  This year, after a two-week, three-state holiday traveling spree to visit family and friends, which was laden with pork and beef (in a good way), we arrived home in serious need of vegetables.  I threw together a clean-out-the-vegetable-bin chili, which I thickened with leftover cooked quinoa from the freezer since I was low on beans.  The result was surprisingly rich and luxurious—as comforting as my memories and yet light enough to kick off the year on a clean slate.
Vegetables + Quinoa + Beans = Amazing Chili

Although the ingredient list looks long, once you get the vegetables diced, you're halfway there.  A generous smattering of spices gives the tomato base loads of flavor, and quinoa thickens the chili without weighing things down.  (Next time you make quinoa, double the batch and store the leftovers in the freezer; it will be waiting for you when you need it.)  A pinch of cinnamon lends subtle sweetness that rounds everything out.
This has quickly become a family favorite.  Last week I even turned on a football game for nostalgia's sake while polishing off leftovers for lunch (not that I actually watched the game).  It's a flavorful, clean start to what I hope will be a great year.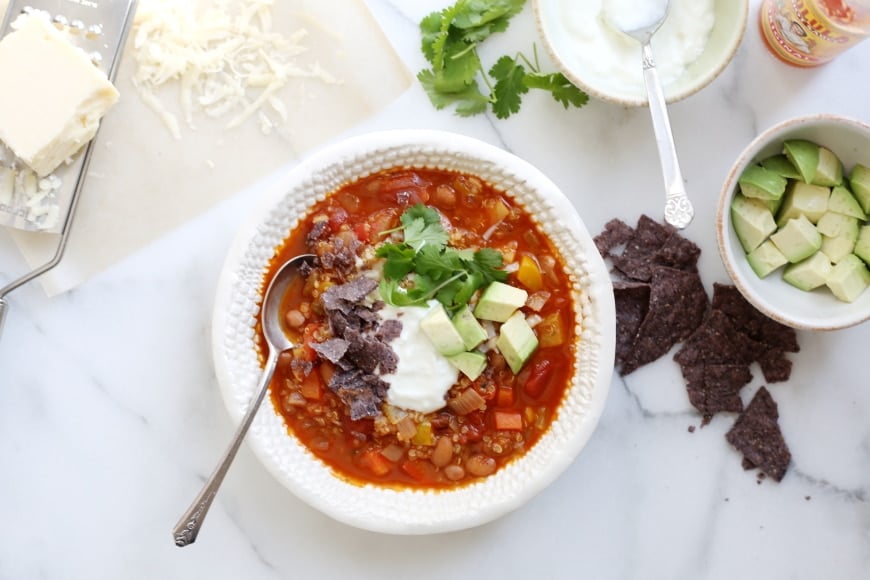 Vegetable & Quinoa Chili
Quinoa adds a lovely body and thickness to this delicious and nutritious vegetable chili. I know it looks like a ton of ingredients, but it's not hard (once you get the vegetables chopped you're halfway there)! For the diced vegetables, aim for ½ inch pieces.
Ingredients
2

tablespoons

extra virgin olive oil

1

large onion, diced

2

medium carrots, diced

1

stalk celery, diced

Salt and freshly ground black pepper

2

medium parsnips, peeled and diced

1

red bell pepper, seeded and diced

1

yellow or orange bell pepper, seeded and diced

1

jalapeño pepper, seeded and minced

3

garlic cloves, minced

1

tablespoon

chili powder (blend)

1

teaspoon

ground cumin

1

teaspoon

ground coriander

1/2

teaspoon

dried oregano

¼

teaspoon

cinnamon

1 28-

ounce

can whole tomatoes

3

cups

low sodium chicken or vegetable stock

2

large cilantro sprigs

1 15-

ounce

can pinto beans, drained and rinsed

1-1 ½

cups

cooked quinoa

Toppings, such as: diced avocado, sliced scallions, sour cream, hot sauce, and tortilla chips
Instructions
In a large saucepan, heat the oil over medium-high heat. Add the onions, carrots and celery with a pinch of salt and pepper. Cook, stirring occasionally, until slightly softened, about 3 minutes. Drop in the parsnips, bell peppers and jalapeños with another pinch of salt and pepper. Cook, stirring occasionally, for another 3-5 minutes or until the peppers and parsnips start to soften. Add the garlic and spices; cook, stirring, until fragrant, about 1-2 minutes. Scrape the vegetables to one side of the pot. Pour the tomatoes with their juices into the other side of the pot. Using kitchen scissors, cut the tomatoes into bite-sized pieces. Give everything a stir, then add the stock and cilantro sprigs. Stir again and bring to a boil. Cook at a gentle boil until slightly thickened, 5-10 minutes. Add the pinto beans and cook 5-10 minutes longer, or until the vegetables are all softened and the chili smells heavenly.

Before serving, stir in 1 – 1 ½ cups cooked quinoa (depending on how thick you like your chili) and heat through. Taste and season with salt and pepper. Remove the cilantro sprigs, if you want. Serve with the toppings of your choice. Do Ahead: If making this in advance, I prefer to add the quinoa right before serving so that the grains hold their texture, but it's still awesome if you add the quinoa right away. You can make the chili up to 3 days in advance. It also freezes well.