These quick and easy flatbread pizzas are one of my very favorite weeknight meals or party appetizers. This version gets topped with roasted mushrooms, goat cheese and arugula (plus an optional fried egg!), but you can get creative with whatever veggies you have on hand.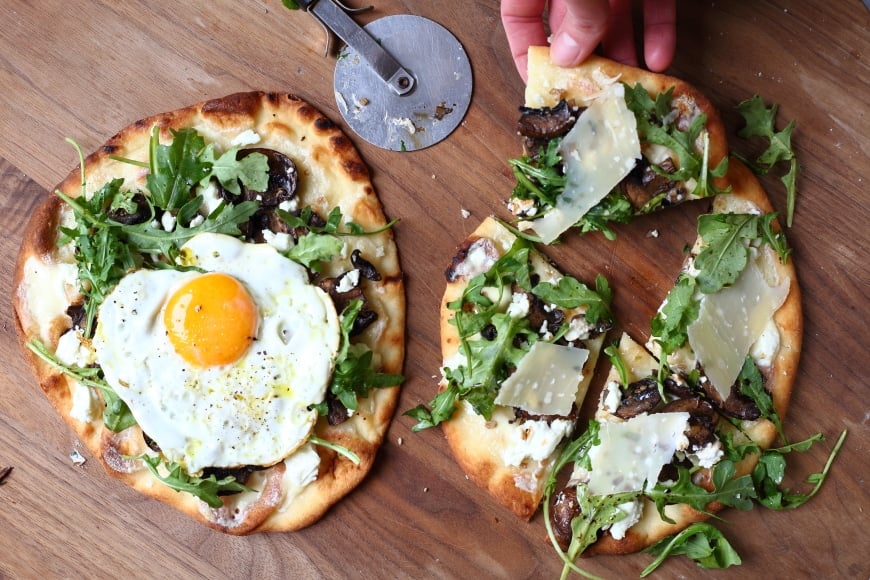 All I can say is that if spring doesn't arrive soon, I'm going to start behaving like a feral cat. I'm not sure what that would entail, but I envision lots of screaming and tearing up of furniture. This winter has been harsh. We just had another snowstorm last week, for crying out loud. Throw a new baby into the mix, and I've been locked indoors for about 6 weeks too many. I'm in dire need of sunshine and dirt (in lieu of all that snow still blanketing my front yard). Here in the Northeast spring produce is still about two months away, but I can fake the season in the kitchen. These flatbread pizzas are just the meal to make me believe that warm weather is on its way.
Naan flatbreads are topped with mascarpone, roasted mushrooms, crumbled goat cheese, arugula salad and shaved Parmesan cheese. 2018 Update: If you're gluten-free like me, you can use a GF flatbread, although I find that many store-bought packaged GF flatbreads become rather tough once toasted. Instead, I prefer to use Simple Mills Gluten Free Pizza Mix. You have to mix and shape the dough, but it's super easy and has a great texture once baked (bake the dough as directed for about 10 minutes or until firm, then add the mascarpone, mushrooms and goat cheese and pop the pizzas back in the oven). If you have any other GF flatbread suggestions, let me know in the comments below!
Cut into wedges, the flatbread pizzas make for an awesome appetizer, or served whole with an egg on top, and they become a simple but darn good dinner. The mushrooms can even be roasted the day before, so that come mealtime (or party time), all you have to do is assemble and bake.
The result is a light, spring-like meal, especially when paired with a crisp glass of rosé. Even if there's still a foot or two of snow on the ground, I can close my eyes, drink in the longer days (and another glass of wine), and envision the warmer weather to come. No screaming necessary.

Get the recipe!
Roasted Mushroom, Goat Cheese & Arugula Flatbread Pizzas
These flatbread pizzas are a breezy but brilliant weeknight meal, or an elegant appetizer for a crowd. The optional fried egg on top turns the pizzas into a full meal. For a gluten-free version, check out my tips in the post above!
Servings:
4
as main course, 6-8 as appetizer
Ingredients
Roasted Mushrooms
16

ounces

cremini mushrooms, sliced ¼-inch thick

2

tablespoons

minced shallots (about 1 small shallot)

2

garlic cloves, minced

3

tablespoons

olive oil

1

tablespoon

balsamic vinegar

Salt and freshly ground black pepper
Flatbreads
4

naan flatbreads or gluten-free flatbreads

4-8

tablespoons

mascarpone cheese

4

ounces

fresh goat cheese

4

cups

baby arugula

1

teaspoon

truffle oil

2

teaspoons

aged balsamic vinegar (this is the time to use the good stuff, if you've got it!)

Salt and freshly ground black pepper

Parmigiano Reggiano, shaved with a vegetable peeler

4

fried or poached eggs (optional)
Instructions
Roast the mushrooms:
Preheat the oven to 400˚F. Line a large baking sheet with aluminum foil. Place the mushrooms on the baking sheet and toss with the shallots, garlic, olive oil and balsamic vinegar. Season with salt and pepper. Toss everything around to coat, then spread in an even layer. Roast 20-22 minutes, stirring occasionally, or until the liquid has evaporated and the mushrooms are lightly browned and tender.
Assemble the flatbreads:
Increase the oven temperature to 450˚F. Line 2 large baking sheets with parchment paper. Arrange the flatbreads on the baking sheet and bake, flipping them over halfway through, until just slightly crisp, about 8-10 minutes.

Spread 1-2 tablespoons of mascarpone over each flatbread and divide the roasted mushrooms over top. Crumble goat cheese over each. Bake 6-8 minutes, or until the goat cheese is slightly melted and the bottoms of the flatbreads are crispy.

In the meantime, toss the arugula with the truffle oil and balsamic vinegar. Season with salt and pepper. Mound the arugula over the flatbreads, and sprinkle with shaved Parmigiano Reggiano. If you wish, top each flatbread pizza with a fried or poached egg. Cut into wedges, and serve.

Notes
The roasted mushrooms can be stored at room temperature for up to 4 hours (loosely wrapped), or refrigerated in a covered container overnight.
Stay Connected!
I'd love to hear what you're cooking, and I'm happy to answer any questions! #FromScratchFast
Instagram: FromScratchFast
Facebook: FromScratchFast
Pinterest: FromScratchFast
YouTube: FromScratchFast
*This post contains affiliate links, which means that if you purchase a product through a link you clicked on here, I receive a portion of the sale (at no cost to you). Thank you for supporting FromScratchFast!!