Our good friend Teo lives in Colombia, and we've been lucky enough to visit him twice, first for a vacation years ago with a crew of old college friends and then again a few years later for his wedding. The food was awesome. On the first trip, we traveled from the mountains of Bogota (where we dined on tapas and sushi at chic restaurants) to the small village of Barichara (where we feasted on traditional dishes, including a slow roasted sheep-goat hybrid which we nicknamed the "shoat") to the northern coast near Santa Marta, all in a tiny van crammed with 15 people. The trip to the Caribbean coast was a legendary, if slightly unfortunate 16-hour car ride involving insanely beautiful views, group-wide food poisoning and a nerve-wracking emergency pit stop in a village run by paramilitaries to find a doctor. After we finally made it to the coast and recovered from our digestive turmoil, we spent a few gorgeous days in a "camp" of sorts on the beach, where we slept in tent-like cabanas and ate incredible meals of fresh fish, coconut rice, spicy salsas and arepas. If there's a singular taste of Colombia, for me it's arepas (although tostones, or fried green plantains, come in close second). Arepas are lightly fried cornmeal cakes, and they were served with nearly every meal. At dinner they acted almost like flatbread alongside the main dish, and for breakfast they were often stuffed with cheese and whole eggs (an ingenious preparation where you split open a partially cooked arepa, slide in a raw egg, then continue to cook the arepa with the egg inside until the yolk is just runny).
Crispy on the outside and tender inside, arepas are utterly addicting. I've since made my own adaptation at home. While arepas are traditionally made with arepa flour (also known as masarepa), or dehydrated cooked cornmeal, I've adapted a version made with masa harina, as arepa flour isn't available at my local markets. I make a simple masa dough, much like if I was making corn tortillas, then wrap the dough around a filling, flatten the whole thing slightly, then pan fry it until crispy and golden on the outside.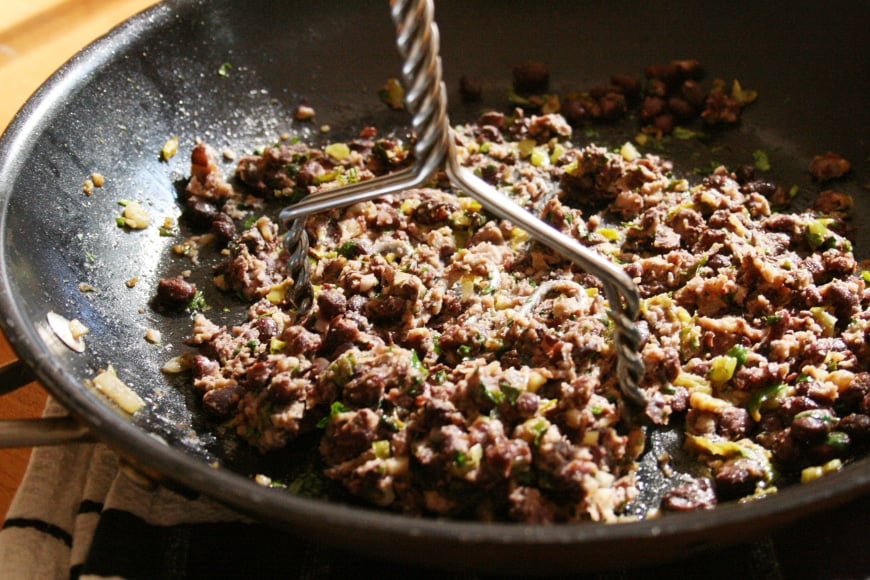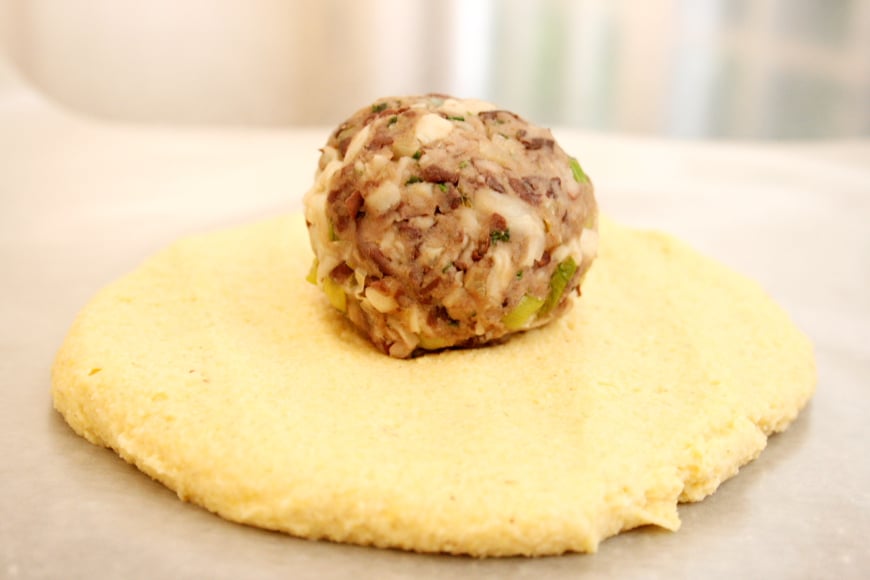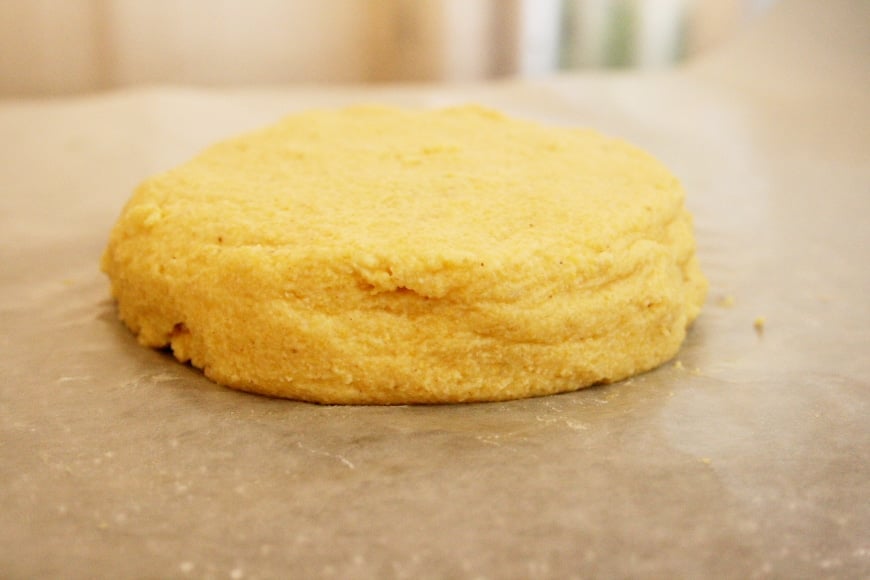 You can stuff these beauties with almost anything—leftover carnitas make a stellar filling, as do black beans and cheddar, as shown here. The arepas get topped with a quick red cabbage slaw, pickled jalapeños and sour cream for a colorful meal you can make any time of year.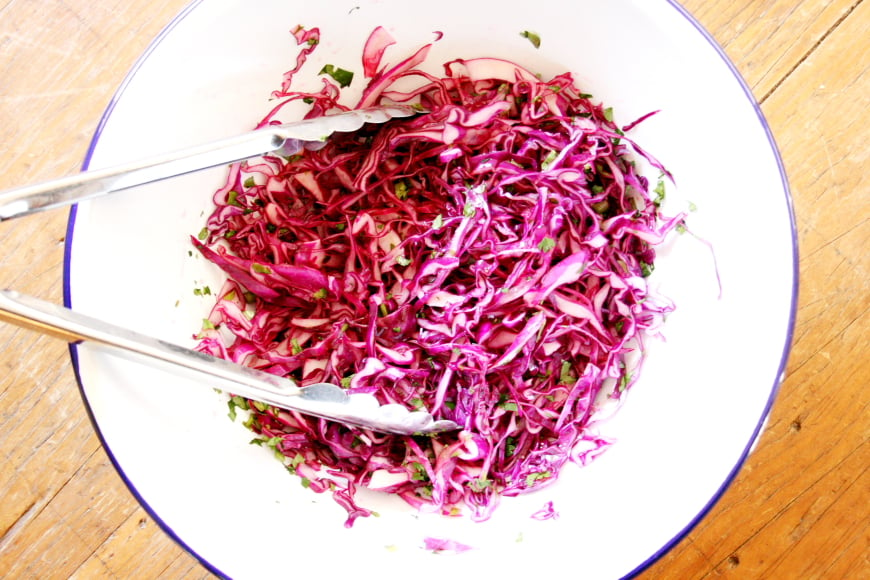 While these arepas are different from the thin, crispy versions we had in Colombia, they still bring back all the delicious memories from our travels. How lucky that we can now share a taste of them with Ella.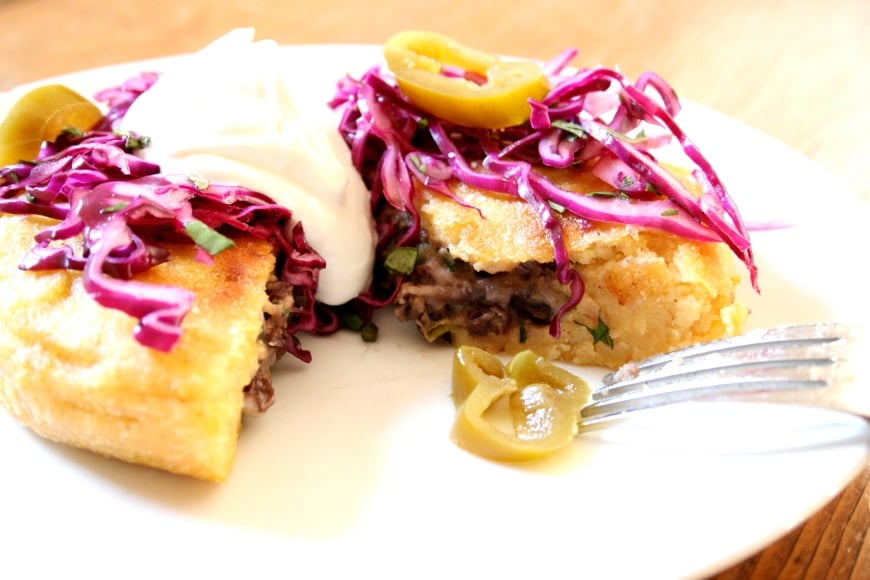 Black Bean & Cheddar Arepas
These are an adaption of arepas, which are classically made with arepa flour and either served on their own as a kind of flatbread, or split and stuffed with anything from cheese to meat to eggs. In this version, a quick masa dough gets folded around a black bean and cheddar filling, then flattened and pan fried until crisp and golden. You can adapt the recipe to use any filling you want, from leftover pork carnitas to shredded chicken. This is a great do-ahead dish, as the arepas can be assembled completely the day before.
Ingredients
2

cups

masa harina

1

teaspoon

fine sea salt

, plus more for seasoning

1 ¾

cups

warm water

2

tablespoons

extra virgin olive oil

2

scallions

, thinly sliced

2

garlic cloves

, minced

1

teaspoon

ground cumin

½

teaspoon

ground coriander

Freshly ground black pepper

1

cup

rinsed and drained black beans

Freshly ground black pepper

½

lime

2

tablespoons

chopped cilantro

⅓-1/2

cup

grated cheddar cheese

Grapeseed or vegetable oil for frying

Quick Red Cabbage Slaw*

(see below), pickled jalapeños and sour cream for serving
Instructions
In a bowl, mix the masa harina with 1 teaspoon of salt. Whisk in the warm water to form a soft dough. Cover with plastic wrap and let sit while you prep the filling.

Heat the olive oil in a medium skillet over medium heat. Add the scallions, minced garlic cloves, cumin, coriander and a pinch of salt and pepper. Cook until the scallions are softened and the garlic is fragrant, about 1 minute. Add the black beans and cook another minute. Remove from heat and squeeze in the juice from ½ lime. Stir in the cilantro, and season to taste with salt and pepper. Using a potato masher, smash the mixture until the beans are sticky, but with some whole beans remaining. Scrape the beans into a bowl and cool slightly. Stir in the grated cheddar. Form the filling into 4 balls.

Divide the masa dough into 4 balls. Working with 1 ball at a time, flatten it on a piece of wax paper into a 5-inch round. Place a black bean ball in the center and fold up the dough to cover the filling (the dough will be sticky). Flatten the ball gently into a 4-inch patty about 1-inch thick, patching up any holes or tears as necessary. Repeat with the remaining dough and filling. Do Ahead: The uncooked arepas can be transferred to a wax paper-lined baking sheet, covered with another piece of wax paper then tightly covered with plastic wrap and refrigerated for up to 24 hours. Bring to room temperature before frying.

Heat ¼ inch of grapeseed or vegetable oil in a large nonstick or cast iron skillet. Fry the arepas until golden and crisp on each side, about 3-5 minutes per side (I use a fish spatula to flip the arepas, with the help of a rubber spatula). Drain on paper towels and sprinkle with sea salt, then transfer to plates. Pile the Quick Red Cabbage Slaw on top of the arepas, and serve with pickled jalapeños and a dollop of sour cream. Do Ahead: The fried arepas (without toppings) can be transferred to a parchment-lined baking sheet and kept warm in a 200 degree oven for 30 minutes.
Quick Red Cabbage Slaw
Assemble this quick and easy slaw before frying the arepas.
Ingredients
2

cups

thinly shaved red cabbage

2

tablespoons

chopped cilantro

2

tablespoons

red wine vinegar

¼

teaspoon

sugar

Salt and freshly ground black pepper
Instructions
Toss together all of the ingredients and season with salt and pepper. Let sit 10-20 minutes, stirring occasionally.