This week's post features the Rhodes family from St. Augustine, FL. Tanya and her husband Jake both work full time at the Florida School for the Deaf and Blind and have two small boys. Even though they often have long days (did I mention that Tanya is also in grad school?!), they still manage to get home-cooked meals on the table most nights of the week. One of Tanya's favorite secret weapons is her slow cooker, which she uses year round—dinner cooks while they're at work, without heating up their Florida kitchen. Brilliant! Her pulled pork is so simple, but soooooo flavorful. It can be eaten on its own over rice, in tacos or tostados, or as killer barbeque pulled pork sandwiches. You've got to try these! Top the sandwiches with a quick homemade slaw, throw some corn on the side, and you're on your way to summertime nirvana.
Tell me a bit about you and your family.
My family and I live in St. Augustine, Florida. We love being close to the beach in the country's oldest city, in a smaller community with the number one public school district in the state, with amazing farms on the outskirts of town, and in a place that really appreciates good, local food. My husband Jake and I both work at the Florida School for the Deaf and the Blind (FSDB) – a 130 year old school on 80 acres of St. Augustine's intercostal waterway. I am in charge of a department that raises money for the school. My husband is a jack-of-all-trades and is in charge of the manual and electronic lock system, fire safety, playgrounds, and a bunch more stuff. I am also in grad school and only have one more class left until I'm done! Parker, age 3 ½, is a spitfire of a boy with tons of energy. He loves to run, play outside, and is very curious about everything! He never slows down. Hunter, 7 months, is coming into his own as the most adorable new addition to our family. He likes to sit back and watch the fun craziness of our family. Tosh, our 100 lb., 8-year-old boxer, thinks he is a lap dog. He is in love with the boys and barely leaves their sides.
Are there any picky eaters or food restrictions in the house?
Hunter has a dairy intolerance, and since he is breastfed, I stay clear of dairy.  Parker is hit or miss with food. Most of the time, he just isn't interested in food and certainly isn't a "foodie" like me—much to my dismay. Although, at 3 ½ years old I'm not sure he is supposed to be a "foodie" as of yet so perhaps there is still hope. I wouldn't call him picky because he eats what we eat, and for the most part doesn't complain. But again, he just isn't a big eater.
Do you have an overall food philosophy?
Yes. My overall philosophy is that it is important for us to eat as whole, minimally processed and organic as possible. Having said that, I don't obsess over it. I don't want food to stress me out and I certainly don't want to set my kids up to view food and eating as hard work and stressful. So, we make the right choices at the farmer's market (easy to choose wisely there) and at the grocery store. We also get a farm bag delivered to our house every Friday that contains fruits and veggies picked no more than 24 hours earlier and that come from the amazing farms that surround our town. We eat local meats, milk and eggs if at all possible and are fortunate to live on the ocean where, if we haven't caught it, fresh fish is easy to come by.
How do you plan your meals for the week? Do you plan ahead, or fly by the seat of your pants?

I am 50/50 in planning and flying by the seat of my pants. I used to meal plan on Saturday morning, go to the farmer's market and grocery store (Publix) Saturday afternoon, and meal prep as much as possible on Sunday late afternoon (while drinking a nice glass of wine). However, that has become tough to do with 2 little ones, a full time job, me being in grad school, and a husband who works around the house all weekend. So, currently, what works for us is to go to the farmers market on Saturday morning and pick up stuff that catches our eye. Parker has become very involved in this process and loves to look at, touch, smell and ask questions about what the market vendors are selling. This is also where we get our meat, eggs, milk (when available), breads and cheese for the week. We then head to the grocery store for staples – canned beans, tomatoes, pasta, and more. I then attempt to come up with a recipe or two using the things we bought and involve Parker in this step as well. I find that if he has buy in, he tends to eat more of it. For the non-planned days, I simply see what veggie needs to be used and go from there. A lot of times that means throwing sautéed, roasted or grilled veggies together with a protein. We have simplified our meals a lot lately and have found that it makes our lives easier to not have a plan sometimes.
Describe a typical morning in your household. What's for breakfast?
Jake and I wake up at 5:30 a.m. He is in charge of packing Parker's lunch and snacks, our lunches, and walking our dog Tosh. I pack school bags (our boys currently go to two different schools), get Hunter's bottles ready, pump, get breakfast ready, and get the boys up and dressed. We eat a big breakfast in our house and almost always sit down together for breakfast. It's a great way to start our day and we are fortunate to be able to do this. I find that both Jake and Parker need a lot of food in the morning. We alternate between avocado, tomato, sprouts and a hardboiled egg on whole wheat toast served alongside whole milk Greek yogurt with granola (not homemade but it is on my list of things to do), to a bowl of cereal (Joe's O's, All bran – not Parker's favorite – or Chex) served with a hard-boiled egg, to pancakes (sometimes with pumpkin, or zucchini pureed in, made on the weekend and then frozen) and eggs, to bacon, eggs, home fries (store bought) and English muffins, to peanut butter and jelly toast. We always have a fruit, and if I can I try to sneak in a veggie – avocado, tomato, etc. We always have a glass of milk (almond for me, sometimes, with carob powder for Parker), and large cups of coffee for Jake and I. After breakfast, we are out the door. Jake takes Parker to school, and I take Hunter.
What about lunch? Bagged lunch(es) or take-out?
Parker always gets a bagged lunch. Most of the time he gets leftovers from the night before. He also enjoys ham and cheese rollups or peanut butter and jelly sandwiches. He always gets a veggie (usually cucumber) and a fruit. Snacks are pretzels and hummus, yogurt, nuts and seeds, rice cakes, crackers and peanut butter, cheese sticks, hardboiled egg, or something similar. I have lunch meetings frequently – score for me! A paid for lunch that I get to eat hot and don't have to do the dishes! When I don't have lunch meetings, I also eat leftovers. I also keep salad stuff at work – lettuce, cucumber, peppers, tomatoes and carrots. I often bring some kind of protein (beans, tofu or whatever we had the night before) and throw that on my salad. It makes the perfect, healthy and not too heavy lunch. Jake also eats leftovers.
What's your dinner routine? What are some of your family's favorite meals?
During the week, we all walk in the door about 5:30. One of us does dinner (typically me – I'm a lot faster, more creative and can multitask a bit better), while the other plays outside with the kids and dog, unpacks lunch and school bags, and gets ready for what we call the "witching hour" – when everyone is hungry and tired. On the weekend, everything is much more laid back and less rushed. We have a handful of meals that we all love and look forward to such as: tacos (all variations of fish, shrimp, beef, chicken or pork) with cabbage or lettuce, cilantro, tomatoes, onions cheese, and salsa; pulled pork sandwiches [see below]; shish kebobs (lots of grilled veggies, some kind of grilled protein) served over rice; sausage, veggies and pasta – usually a chicken sausage sautéed with lots of veggies served over angel hair or pastini pasta; fried, broiled or blackened shrimp or fish; veggie sandwiches; black bean burgers; or homemade pizza.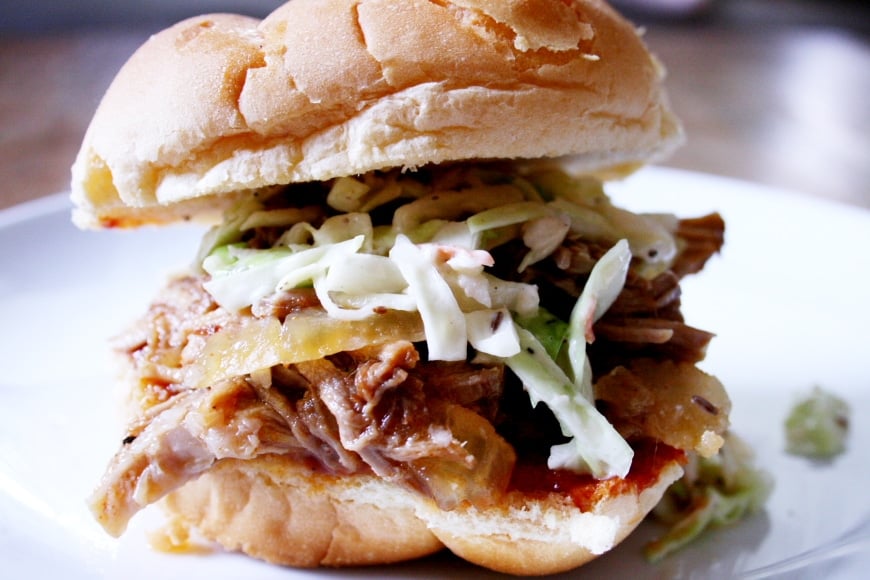 What are some of your biggest challenges in getting dinner on the table? How often do you eat-in verses go out or pick up take-out?
Our biggest challenge during the week is simply getting dinner on the table in time for all of us to enjoy it before Hunter needs to get to bed, or before we need to start bath and bed for Parker. We really only have an hour and a half from when we walk in the door until bedtime routines start, and that isn't much time to spend time together, cook and eat. We try to involve Parker in the cooking, but we all know that can slow things down quite a bit. We don't eat out much at all. For one, we simply can't afford it. We like good food. And good food out at a restaurant gets expensive. When we do eat out we do a local taco stand or sometimes Vietnamese take out – but that is pretty rare. We like to save our eating out money for when Jake and I go out without the kids. We tend to enjoy it much more that way!
Where do you find your meal inspiration?

Our meal inspiration really comes from whatever is available to us at the farmers market. From there, I find recipes. I frequent 100 Days of Real Food, foodiecrush.com, primalpalate.com and love From Scratch Fast for online resources. I also find myself longing to cook recipes that I see in my Southern Living magazine – but just haven't done so recently. I also adore my Joy of Cooking cookbook and always will.
Please share one of your family's favorite "from-scratch" meals.
Two of the easiest weekday meals we make are pulled pork sandwiches and goat cheese and veggie sandwiches. The pulled pork is great to use one night in pulled pork sandwiches, and then the next night in tacos or tostadas, or thrown over a salad, or eaten with rice. The veggie sandwiches are so filling and refreshing, and they make for a perfect no-cook weeknight quick meal—basically I mix a log of goat cheese with any fresh herbs I have lying around; spread it on nice bread; then pile on veggies (such as bell peppers, cucumbers, radishes, tomatoes, lettuce, spinach, and/or sprouts) and onions that have marinated in vinegar. If we're in the mood for protein we might add a slice or two of prosciutto. Delicious!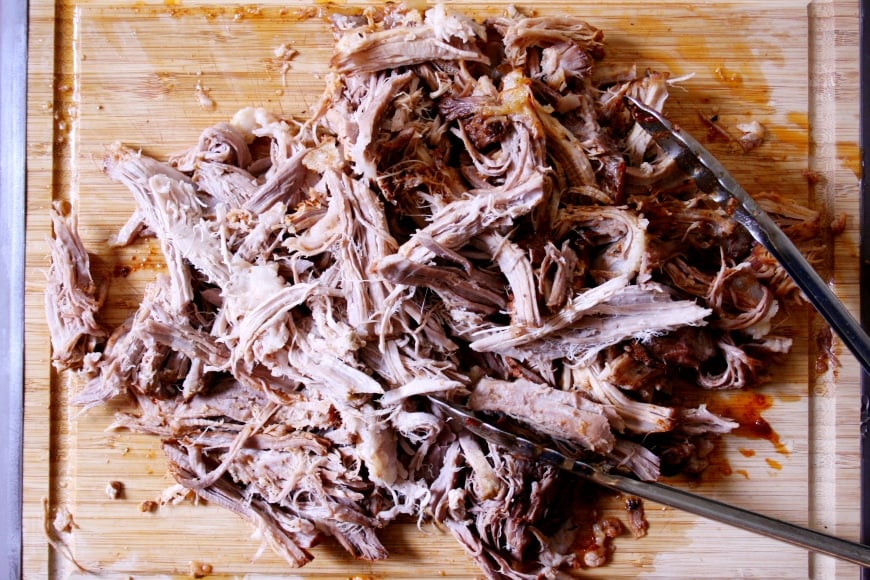 Slow Cooker Pulled Pork
While most people think of pulling out their slow cookers only in the cold months, Tanya Rhodes, who lives in Florida, relies on it year-round for quick mid-week meals. Dinner cooks while she's at work, without heating up her kitchen—so smart! One of her favorite meals is pulled pork sandwiches. I adapted her method into this recipe, and, let me tell you, it's a must-try. The pork only takes about 15 minutes to prep, which Tanya does before leaving for work (you can also get a head start the night before), and the results are finger-licking awesome. You can pile the pork into buns with barbeque sauce and slaw for sandwiches, serve it as-is over rice or polenta, stuff it into tacos or on top of tostados… the options are endless but all delicious! -Nicki
Ingredients
2

medium sweet onions

, thinly sliced

5

garlic cloves

, thinly sliced

1

cup

reduced sodium chicken broth

½

cup

red wine vinegar

½

cup

honey

1

tablespoon

kosher salt

1

teaspoon

black pepper

1

tablespoon

paprika

1

teaspoon

dried thyme

¼

teaspoon

cinnamon

1/8

teaspoon

cayenne

1

teaspoon

packed brown sugar

1 4-5

pound

boneless pork shoulder

(a.k.a. pork butt)

Barbeque sauce for serving

, optional

Sesame buns for serving

, optional

Coleslaw for serving

, optional
Instructions
Place the onions, garlic, chicken broth, vinegar and honey into a slow cooker. In a small bowl, mix together the salt, pepper, paprika, dried thyme, cinnamon, cayenne and brown sugar (feel free to just wing the amounts). Rub the mixture all over the pork (this can be done the night before—cover and refrigerate the pork). Nestle the pork on top of the onions and liquid in the slow cooker. Cook on low for 8-10 hours, or until the pork is tender and shreds easily with a fork. Remove the meat and let cool slightly. In the meantime, ladle off the fat from the top of the braising liquid (there might be quite a lot). Once it's cool enough to handle, shred the meat.

At this point you have a few options. You can add the shredded meat back into all of the braising liquid, or you can remove some of the braising liquid first if you prefer a thicker style (I usually keep all of the braising liquid, as it's delicious). Season well with salt and pepper. From here, you can serve the pulled pork as it is over rice or polenta, or in tacos or tostadas, or you can do as Tanya does and mix in ½-1 cup of your favorite barbeque sauce and serve it on buns that have been slathered with a bit more BBQ sauce, then topped with homemade coleslaw. Hello summer! Do Ahead: The pork can be rubbed with the spice mixture the night before and refrigerated. The finished pulled pork can be refrigerated for up to 5 days, or frozen for up to a month.